Mexican Albondigas en Chipotle
January 15, 2015 | Updated June 09, 2020
As an Amazon Associate I earn from qualifying purchases.
Given how many meatballs I eat, it was inevitable that I would come up with a good albondigas recipe. What can I say? I love meatballs. Anyone who doesn't lacks some critical gene required to be a good human, I suspect.
Every culture in the world makes some kind of meatball, and those cultures that are vegetarian make meatless meatball-like orbs. Meatballs are universal. They are little balls of comfort.
I've made this particular albondigas recipe with venison, duck, and wild pork. Any meat will do. Bear? Sure. Beef or pork? Of course. Skip the muskrat, though. This recipe comes together in an hour or so, making it easy enough to do on a work night. Kids love making meatballs, too, so shanghai them into it.
I mostly like eating these with rice while watching football or nature shows, but chipotle meatballs make a damn good party appetizer. I'd like to see a duel between chipotle meatballs and Swedish meatballs. Both awesome, both classic party fare, just very different.
OK, I am rambling. Make these meatballs! Seriously. Make them.
One good tip is to double the batch and, before you sauce your meatballs but after you've browned them, set them on a baking sheet or plate in the freezer until they are solid, then keep your albondigas in a freezer bag. That way you can pull out meatballs whenever the mood strikes you. Just reheat in the sauce of your choice, ideally this chipotle sauce.
Note that there is one other common way to eat albondigas, which is as a soup. Those meatballs are much smaller. And there's another Mexican recipe for a what's essentially a flattened meatball that's also well worth a look: pacholas.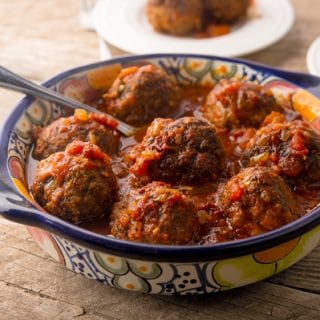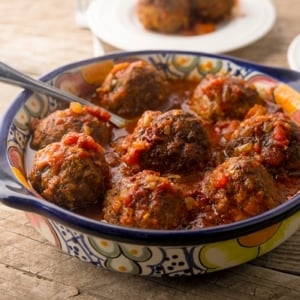 Mexican Albondigas en Chipotle
Clearly, while I tagged this a venison recipe pretty much any ground meat will work here. Just make sure it has been ground with some fat or your meatballs will be sad and dry. Other than that, this is a dead-easy recipe. Only thing even remotely challenging is finding the chipotles in adobo, but every Latin market in America sells it, as do most larger supermarkets. In a pinch, you could buy chipotles in adobo online.
Ingredients
MEATBALLS
2

pounds

ground venison,

duck, or other meat

4

garlic cloves,

minced

1

to 2 tablespoons dried mint

2

eggs

1

cup

breadcrumbs

2

teaspoons

ground cumin

2

teaspoons

salt

1

teaspoon

black pepper

Bacon fat,

lard, or oil for frying
SAUCE
2

tablespoons

lard,

bacon fat or oil

1

onion,

minced

4

garlic cloves,

minced

2

cups

tomato puree

2

cups

broth,

chicken, duck, venison, whatever

3

to 6 chipotles in adobo,

chopped

2

teaspoons

ground cumin

2

teaspoons

dried oregano

Salt to taste
Instructions
Put all the meatball ingredients together in a large bowl. Mix with your very clean hands until the mixture comes together. Don't overwork the mix or the meatballs will get tough. Roll into meatballs of whatever size you want. I like to make them by the tablespoon. If you have the time, let the meatballs sit in the fridge for up to an hour; this helps them stay together.

Brown the meatballs in the bacon fat, lard, or oil. Set aside once browned.

If you browned the meatballs in a large enough pan to hold all of them, drain all but about 2 tablespoons of the fat and keep using that pan. Otherwise, get a pot or pan large enough to hold all the meatballs and heat 2 tablespoons of fat in it. Cook the onions in this until soft and browned at the edges, about 10 minutes. Stir from time to time. Add the garlic and cook another minute.

Add the spices, chipotles, broth and tomato and mix well. Nestle the meatballs into the sauce and bring to a simmer. Simmer for about 20 to 30 minutes, until the meatballs are cooked through. Eat with rice or by themselves as an appetizer.
Notes
Serve this with rice, or by itself as an appetizer.
Nutrition
Calories:
653
kcal
|
Carbohydrates:
41
g
|
Protein:
62
g
|
Fat:
27
g
|
Saturated Fat:
13
g
|
Cholesterol:
278
mg
|
Sodium:
1833
mg
|
Potassium:
1621
mg
|
Fiber:
6
g
|
Sugar:
10
g
|
Vitamin A:
1593
IU
|
Vitamin C:
18
mg
|
Calcium:
170
mg
|
Iron:
13
mg
Nutrition information is automatically calculated, so should only be used as an approximation.