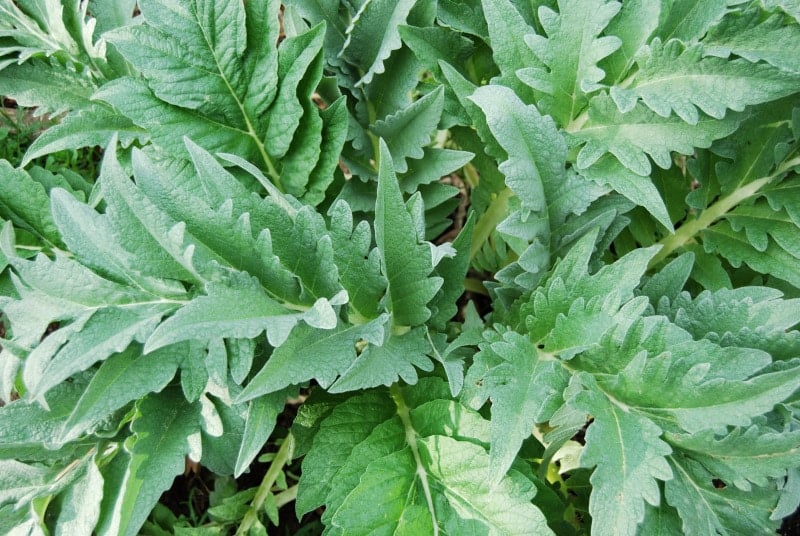 It is a good thing that growing a cardoon is a low-maintenance endeavor. For months I have watched them sprouting like fountains in my garden, and with only fleeting thoughts I've pondered how to eat them.
You see, cardoons require some work to prepare: You need to trim the spines, peel the fibers and boil them for 30 minutes in water with the juice of a lemon before doing anything else to them. You need to be in the mood for cardoons.
For those of you who are thinking, "What is a cardoon?" know that it is a relative of the artichoke; it's a giant thistle. At some point in the ancient world, gardeners gathered and domesticated the wild cardoons that grow all over the Mediterranean. Botanists believe those gardeners began their work on the artichoke, as the ancients really wanted larger, less thistly flower buds to eat with olive oil and garum.
As for the cardoon, well, it is the stalk you eat. And wild cardoon stalks were only marginally tougher and spinier than domestic ones — or so the botanists reckon. Then around the Dark Ages someone decided they wanted to improve those stalks, which have the texture of celery but a flavor something like an echo of artichoke hearts. So they bred the wild plant to be less spiny and to grow wider stalks. Thus the modern cardoon.
If you are an Italian or Spaniard you of course know the cardoni; it is common in these countries. And cardoons, being ridiculously easy to grow, are becoming more common in this country — common enough that this post will not become one of those endless "Oh my Gawd! I discovered the cardoon!" posts you can find all over the internet.
Cardoons only come around infrequently; they are only rarely seen in farmer's markets, although I have seen them at my local Raley's supermarket a few times. In my garden, I get two crops a year, and I have seven plants. That makes 14 meals of cardoon, tops. So when you get them for the first time and ask the inevitable "how do I cook a cardoon?"
You will find what I call the Canon of Cardoons:
Cardoons Gratin, in which they are baked with olive oil and cheese. Delicious and well worth making if you only plan to eat cardoons once in a great while; this recipe is Holly's favorite.
Cardoons in a bechamel sauce. Not being a fan of bechamel, I don't make this preparation.
Cardoons with the garlicky-anchovy sauce bagna cauda. Excellent as a canape.
Cardoon salad, tossed in a vinaigrette. Simple and good. Use only the innermost stalks, washed well and sliced thin.
Fried cardoons. Another excellent if simple dish. An unusual appetizer, especially when you coat the cardoons in chickpea flour and fry with olive oil.
All of these dishes are excellent. But as my co-worker would say in her best Parisian voice, "I am bored with your simple dishes." Classics are classics for a reason, but there must be something more, yes?
As for me, I decided to use the bible: I wrote recently about an unusual book called The Flavor Bible, which offers long lists of flavors and ingredients that have been proven to go well together; I have begun developing recipes using these lists.
 Now cardoons are esoteric enough to not appear in that book, but artichokes are. So I improvised.
What I came up with was honeyed cardoons with pine nuts and thyme.
Damn good. Real damn good. Can't-stop-eating-it good. Sweet, savory, meaty from the pine nuts, slightly crunchy with just a hint of saline bitterness from the cardoons and the dry Spanish sherry I used.
Another great way to eat cardoons is to brine them. Submerge the inner stalks in a brine of 1/4 cup kosher salt to 1 quart of water for a week or two, and they will be lacto-fermented cardoons. Probably my favorite way to eat cardoons other than the gratin.
All of this is to say that cardoons are worth it. They do take some time to pre-prepare, but many things in life are worth a little work and some patience. There is really nothing quite like the flavor of this odd vegetable, and it happens to be very high (for a plant) in calcium, potassium, iron — and, as befitting the stalk of a thistle — fiber.
Wondering when the Cardoon Council will come out with the slogan, "Cardoons: Worth the Work, and Keeps Your Bones Strong and Your Bowels Regular!" Guess that might not fit on a bumper sticker…
Honeyed Cardoons with Pine Nuts and Thyme
The cardoons are first boiled, then sliced into small pieces and mixed with onions sauteed with fresh thyme, pine nuts, a little dry sherry and honey. It works well — so well it is one of those I-can't-stop-eating-it dishes. Make sure to use fresh thyme, good honey and to cook the cardoons enough, as they can be overly fibrous if undercooked.
Ingredients
1

medium onion

1/2

pound

cardoons

2

tablespoons

olive oil

2

tablespoons

dry sherry

2

tablespoons

honey

1

tablespoon

fresh thyme

1/4

cup

toasted pine nuts

Salt and black pepper
Instructions
Trim the cardoons and boil them for 30-40 minutes in salty water with the juice of a lemon thrown in. (Here is a good overview of cleaning and prepping cardoons) This can be done up to a day ahead.

Slice the cardoons into 1/2 inch pieces. Slice the onion into half-moons. Toast the pine nuts — watch them, as pine nuts go from toasted to burnt in a heartbeat.

Heat the olive oil in a large saute pan over medium-high heat. Saute the onions with some salt until just beginning to brown on the edges. Add in the cardoons and stir to combine. Let this cook for a minute or two.

Add the dry sherry. If you don't have dry sherry, use a dry white wine. Turn the heat up to high and boil it furiously. Add the honey and stir to combine. Add the pine nuts. Let this boil down to a glaze. Turn off the heat and toss in the thyme and add some fresh ground black pepper. Toss well to combine and serve at once.