Shrimp Risotto
February 24, 2020 | Updated March 29, 2021
As an Amazon Associate I earn from qualifying purchases.
Shrimp risotto is a thing, and a good thing at that.
Risotto, if you are unfamiliar, is an Italian rice dish made with a particular sort of rice that sloughs off starch and absorbs quite a lot of whatever it is cooked in. The result is creamy without cream, and the rice has sucked up so much flavor from the stock it's cooked in that you get a flavor bomb in a simple package.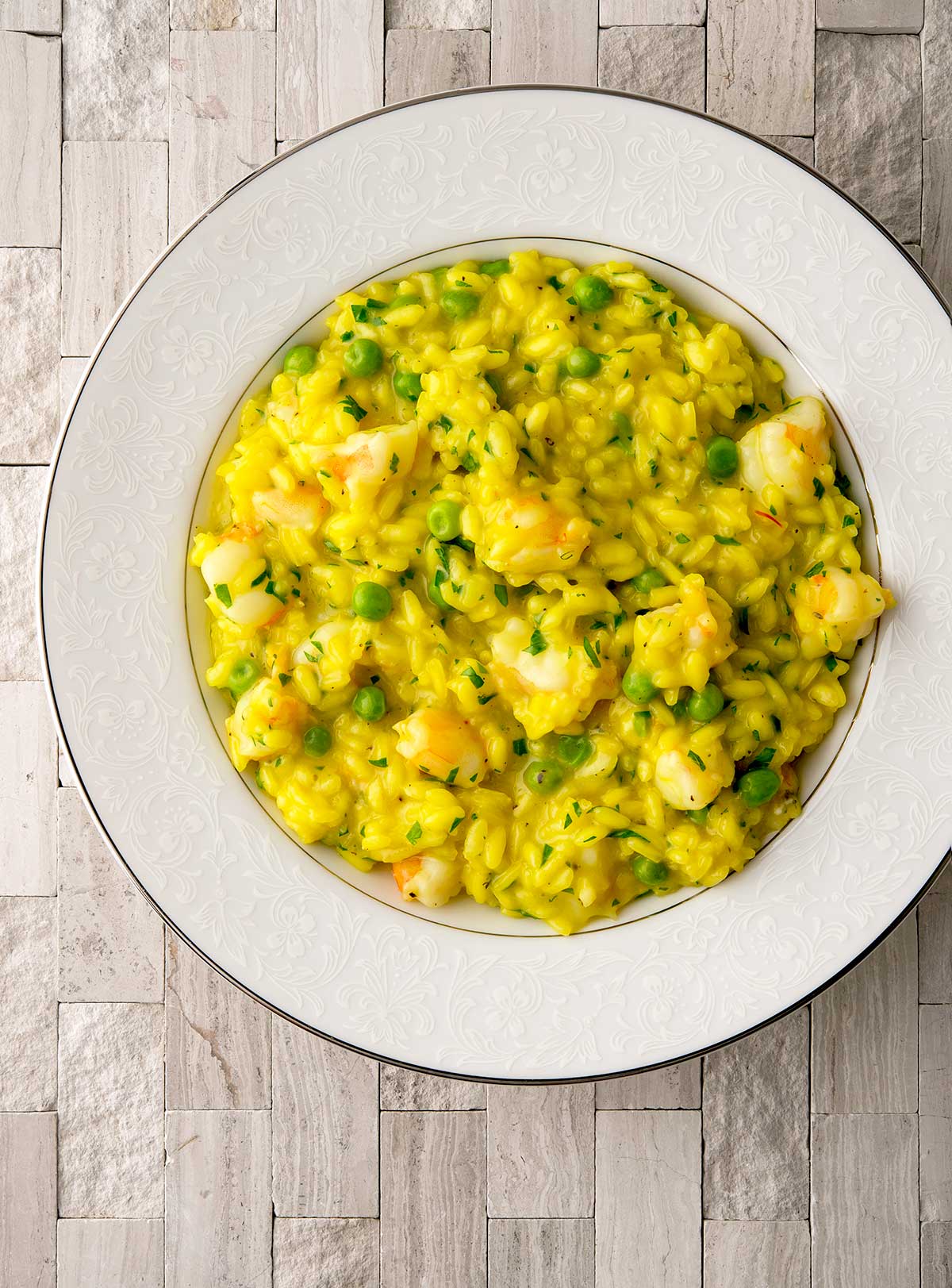 So yes, to make a really good shrimp risotto, you need shrimp stock; I have a recipe for shrimp stock here. Fear not, it doesn't take more than about an hour to make, unlike many other stocks, and you can make it with the shells from the shrimp you plant to add to your risotto.
And you can make shrimp risotto without making your own stock, too. My advice is to use a really good seafood stock or fish stock if you have it handy, or, barring that, plain ole' chicken stock.
Unlike my recipe for crab risotto, which uses tomato, and my recipe for fish risotto, which keeps things very simple, my shrimp risotto hinges on saffron. Saffron can be found in most decent supermarkets, and you can buy saffron online.
You only need a pinch, like about a quarter teaspoon, to give the rice a gorgeous canary hue and that floral, almost hay-like saffron aroma that meshes with the shrimp aroma to make something remarkable.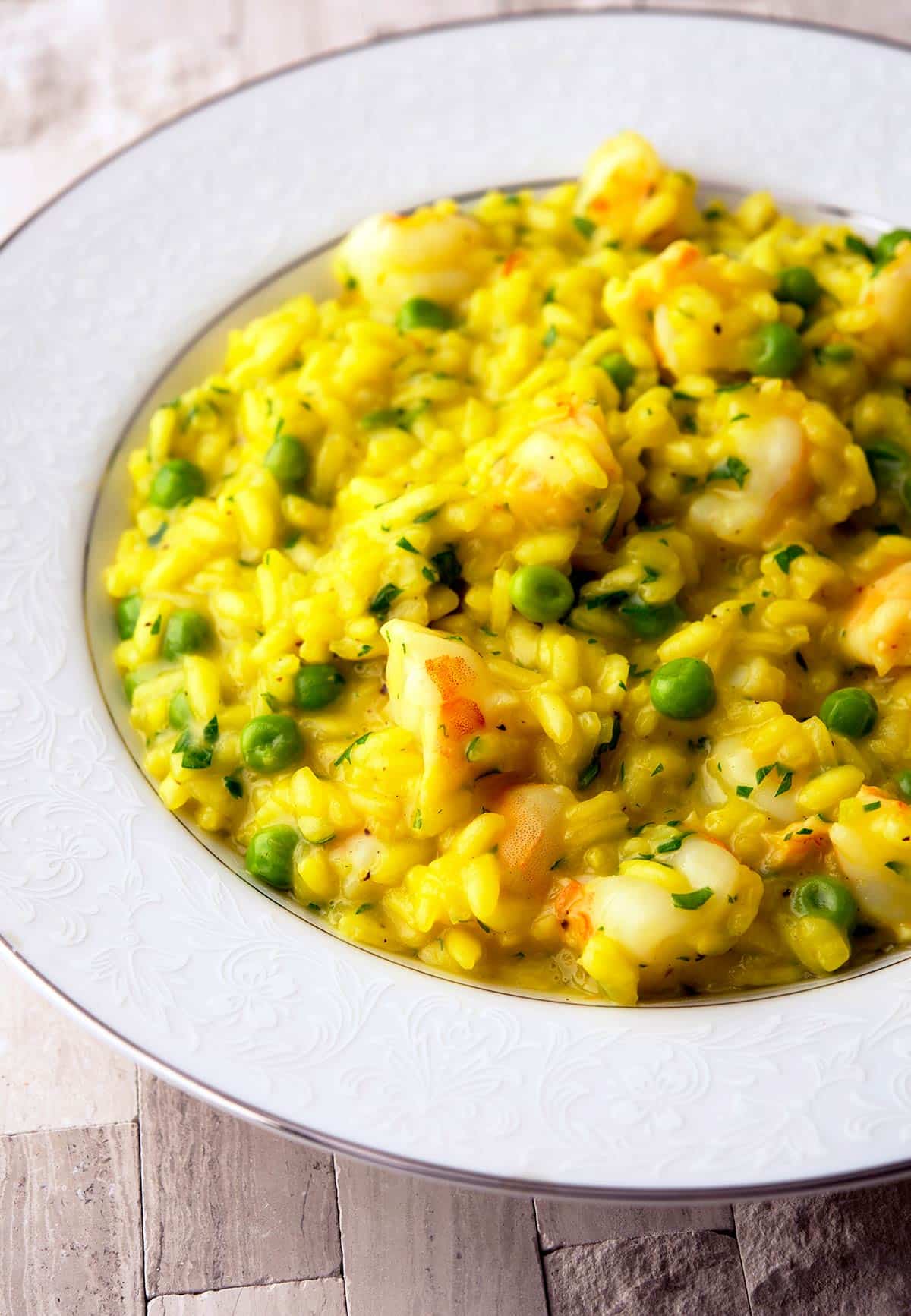 I add peas and parsley to my shrimp risotto, largely because, well, I am inordinately fond of putting vivid yellow and emerald green things together on a plate. I do it every spring because it makes me happy. My pan-roasted fish with spring vegetables is one such example, as is my trout with orange-saffron sauce and spring greens.
As for the shrimp, I use wild Gulf shrimp I brought back from Texas here. Traditionally you'd use little shrimps, like boreal shrimp from Alaska and New England, but any shrimp will do. If they are large, cut them into little pieces.
Risotto keeps well in the fridge, and if you have leftovers, you might consider making arancini the next day.
If you're looking for more risotto recipes, I have more than a dozen for fish and seafood, mushrooms and vegetables – you can check them out here.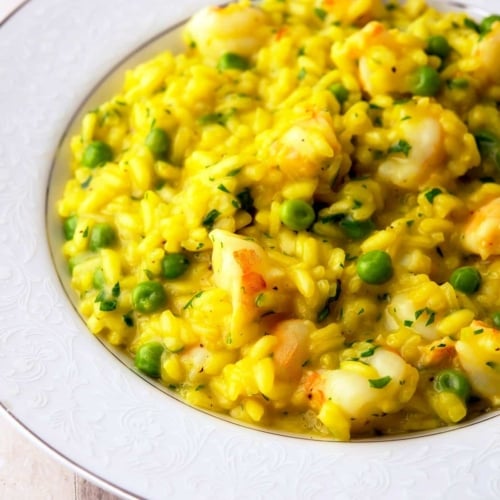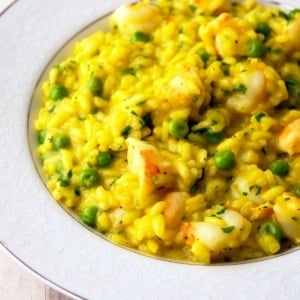 Shrimp Risotto
I use homemade shrimp stock here, but other stocks and even chicken stock will do in a pinch. Similarly, while I prefer shrimp I've caught myself, any decent shrimp will do; I recommend Gulf or boreal shrimp.
Ingredients
2

tablespoons

butter

1

shallot, minced

2

cups

risotto rice

(Arborio, vialone nano, carnaroli, bomba)

2

cloves

garlic, minced

1/2

cup

white wine

A large pinch of saffron, crumbled

6

cups

shrimp stock

(see above)

1/2

pound

peeled shrimp,

in small pieces

1

cup

peas

1/4

cup

minced parsley

2

tablespoons

butter

Black pepper to taste
Instructions
Warm the shrimp stock in a small pot.

Heat the first 2 tablespoons of butter in a medium pot over medium-high heat. Add the shallot and rice and saute, stirring often, until both are translucent, about 4 to 6 minutes. Add the garlic and cook another minute.

Pour in the white wine and stir it in. Risotto hinges on nearly constant stirring, so you will need to be at the stove for a bit. Turn on some of your favorite music. When the wine has been absorbed, add 2 ladles worth of the shrimp stock. Stir it in and add the saffron.

Stirring frequently, if not constantly, let the rice absorb the stock. The stirring sloughs off the starches from the rice and makes a creamier risotto. When that stock is nearly gone, but before the rice begins to stick to the pot, add another ladle and continue. Keep doing this until the rice is al dente -- tender, but not mushy. It'll take a solid 20 to 25 minutes.

Stir in the shrimp, peas and parsley, along with another ladle of stock. Let this cook until the shrimp are cooked through, about 3 to 5 minutes. Turn off the heat and add, little by little, more stock or water to make the risotto loose, like a porridge. Stir in the butter, then some black pepper. Serve at once.
Notes
NOTE: You must use one of the four varieties of rice I mention in the ingredients or the risotto will not work. Arborio is by far the most common, but if you can find it, Vialone Nano is my favorite for seafood. 
Nutrition
Calories:
424
kcal
|
Carbohydrates:
59
g
|
Protein:
19
g
|
Fat:
10
g
|
Saturated Fat:
5
g
|
Cholesterol:
115
mg
|
Sodium:
1141
mg
|
Potassium:
392
mg
|
Fiber:
3
g
|
Sugar:
2
g
|
Vitamin A:
638
IU
|
Vitamin C:
15
mg
|
Calcium:
143
mg
|
Iron:
5
mg
Nutrition information is automatically calculated, so should only be used as an approximation.