White Truffle Risotto
December 10, 2021 | Updated May 26, 2022
As an Amazon Associate I earn from qualifying purchases.
White truffle risotto is among the ritzier dishes you can make, but it's surprisingly easy — once you have your hands on some truffles.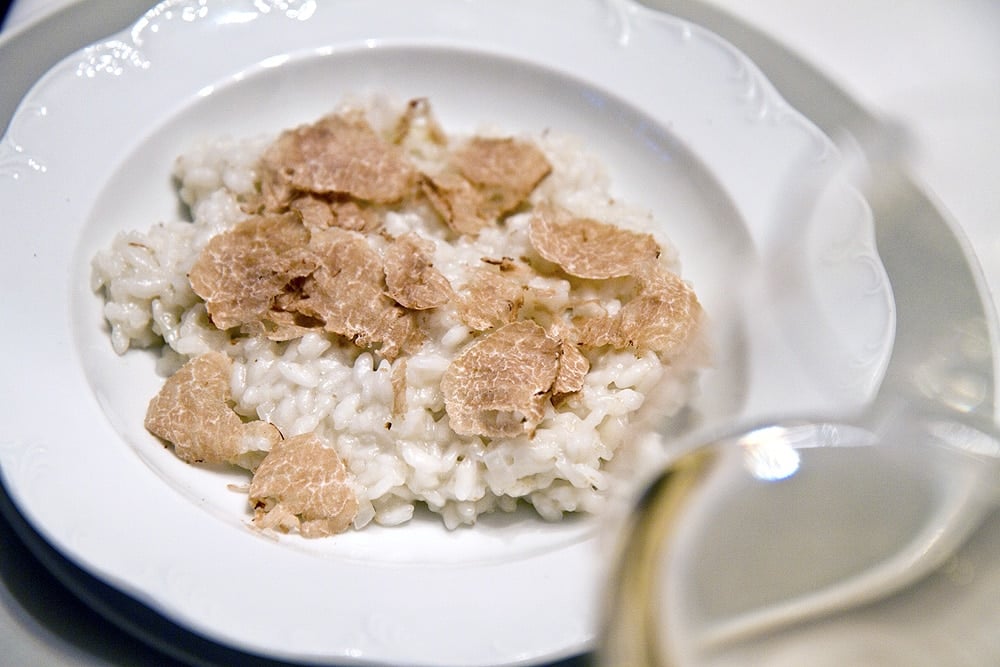 This is a classic Italian white truffle risotto that highlights the aroma of white truffles, which is so ephemeral you need to add them only at the last minute. I use Oregon white truffles for this dish, as well as Oregon white truffle oil, which you can buy online. Obviously Italian white truffles will work, too.
Take away the truffles and you still have a lovely risotto, but there is really no substitute for them.
Use good risotto rice, too, preferably imported from Italy. I prefer Carnaroli rice, but Arborio or the little Vialone nano rices will work as well. You have to use risotto rice or it won't work — different rice takes up different amounts of water, and they have different starch structures, too. Arborio is very easy to find.
I happen to like Oregon white truffle oil because, unlike every other truffle oil out there, it is made with real truffles. Yep, that's right, all the other stuff is synthetic. Ew.
You want to keep this dish simple, lush and white, so you can highlight the truffles. Needless to say, if you are going to make white truffle risotto, buy good parmigiana cheese and good quality butter.
A fun alternative, should you find black truffles instead of white ones, is to make my black squid ink risotto and add the black truffles at the end. (If you're looking for even more risotto recipes, I have more than a dozen for fish and seafood, mushrooms and vegetables – you can check them out here.)
Bottom line here is that white truffle risotto is it is a special occasion dish. While it is easy to prepare, you want the absolute best ingredients you can get — cheese, rice, butter, truffles — or else the dish will not sing.
Get these ingredients and you have the ultimate romantic dinner. Truffles are said to be an aphrodisiac, after all…
Truffle Risotto
This is a simple, but elegant white truffle risotto. I use Oregon white truffles, but obviously European truffles are great, too.
Ingredients
1 1/2

cups

risotto rice

Arborio, Carnaroli, Vialone Nano

2

shallots,

minced

4

tablespoons

unsalted butter

Salt

1/2

cup

dry white wine

1/2

cup

Parmigiano Reggiano cheese,

grated

White truffle oil,

at least 2 tablespoons

1

white truffle
Instructions
Pour 6 cups of water into a pot and bring to a simmer.

Heat the butter in another pot over medium-high heat and saute the shallots for 2 minutes. Do not let them brown. Add the rice and stir well, then cook for 2 minutes, stirring often, until the rice is well coated and hot.

Pour in the white wine and bring to a strong boil. Stir often and let this cook down. When it is almost dry, pour in 2 ladles' worth of the simmering water and sprinkle about a teaspoon of salt over the rice. Stir constantly until this has almost boiled away.

Add 2 more ladles' worth of the water and continue. Repeat until the rice is al dente. Taste for salt and add some if needed. Pour in a little more water and stir in the Parmigiano Reggiano cheese. Let this cook for 1 to 2 minutes, stirring often.

Turn off the heat and stir in the truffle oil. Use as much as you want, but at least a couple tablespoons. I would not use more than 3 tablespoons, though.

Serve in shallow bowls and shave the truffle over the top at the last moment.
Nutrition
Calories:
451
kcal
|
Carbohydrates:
64
g
|
Protein:
10
g
|
Fat:
15
g
|
Saturated Fat:
9
g
|
Cholesterol:
39
mg
|
Sodium:
211
mg
|
Potassium:
168
mg
|
Fiber:
3
g
|
Sugar:
1
g
|
Vitamin A:
447
IU
|
Vitamin C:
1
mg
|
Calcium:
159
mg
|
Iron:
4
mg
Nutrition information is automatically calculated, so should only be used as an approximation.