Spring Ramp Risotto
March 24, 2017 | Updated March 13, 2021
As an Amazon Associate I earn from qualifying purchases.
Risotto is an Italian style of cooking rice that, when properly done, will give you a bowl of creamy goodness without the use of actual cream. What you do beyond cooking the rice is up to you. There are meaty risottos, mushroom risottos, seafood risotto, and any number of risotto recipes that feature seasonal ingredients.
This ramp risotto highlights the fresh green things of spring.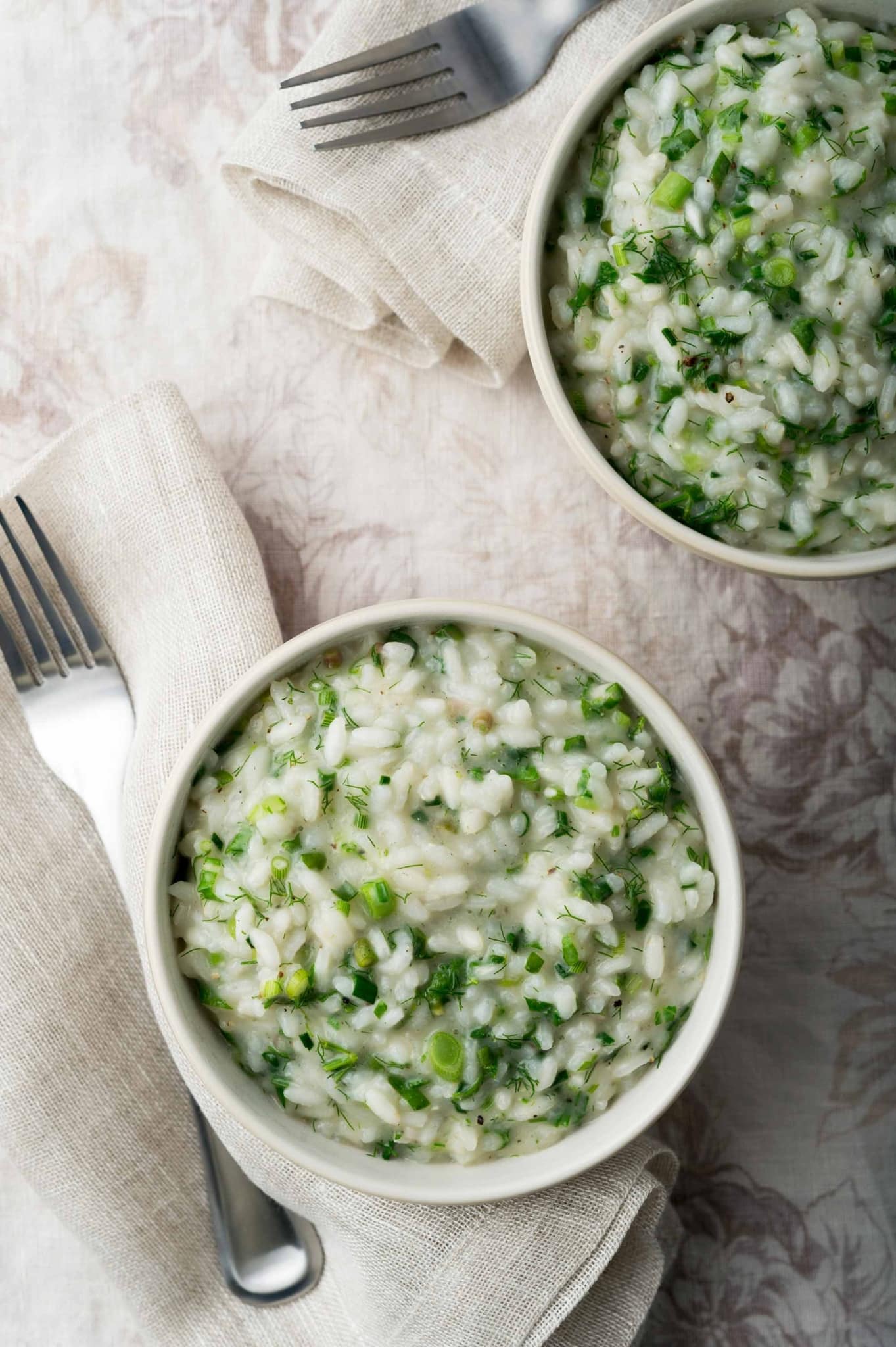 Onions and garlic are the backbone of this recipe. Specifically green onions and young garlic. Any sort of green onion works, from regular scallions to wild ramps, "lawn onions," nodding onions, you name it.
If you do make this as a full-on ramps risotto, you can make this with just the leaves, although if you have them, you can sauté the bulbs in the beginning, as you would with scallions.
Fresh garlic, whether the pretty green garlic of earlier spring or what's ripe now, which is fully formed garlic that has just been pulled from the ground. These fresh cloves are crunchy, and the flavor is warm, not biting or astringent, as old storage garlic can get.
Beyond that, toss green things into this bowl of rice right at the end of cooking. Any green will do, but this is a good place for wild greens, like lambsquarters, dandelions, wild lettuce, amaranth, orache. But spinach is a good alternate, as are turnip, beet or mustard greens. Chard will work, but kale is too burly.
My strong advice is to take your time when you cook the white parts of the onions, as well as the garlic. Slowly sweating the vegetables in butter helps them meld seamlessly into the rice. If you cook too fast, they will brown and discolor the risotto, or too short and they will be crunchy, which is off-putting.
If you've never made Italian risotto, I urge you to try it. It's not like any other rice you've probably ever eaten; only Chinese congee comes close. Silky, yet the rice has a distinct bite. Creamy, yet there is no cream. Warmth and softness is balanced by the herbiness of all those greens.
Ramp risotto is meal in a bowl, yes, but is also a perfect match for grilled poultry or fish.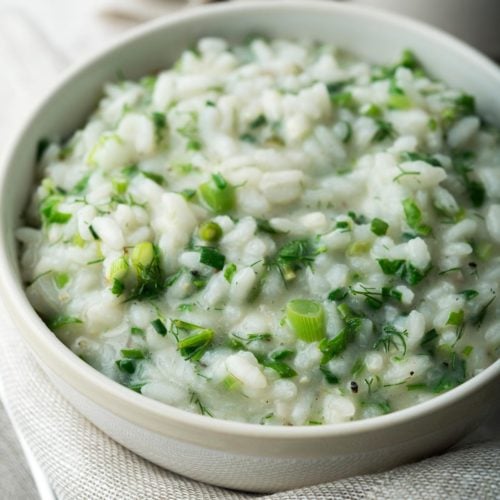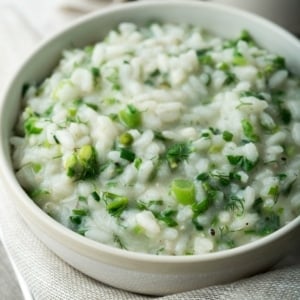 Ramp Risotto
The point of this rice dish is to add fresh, green spring vegetables to the dish. The result is creamy, rich rice brightened up with the green things. I used Sierra Nevada wild onions and wild fennel, but any green onion, as well as chopped green leafy thing will work. You might also want to toss in some fresh peas or fresh green fava beans. For the onions, you need to separate the white parts and the green parts, and you need about 1/3 to 1/2 cup chopped white parts.
Ingredients
1/4

cup

unsalted butter,

divided

About 2 dozen wild onions, white and green parts separated

1

garlic clove,

minced

1 1/2

cups

arborio or other short-grain

risotto rice

Salt

1

cup

white wine

1

cup

chicken or vegetable broth

1/4

cup

chopped greens,

mustard, lamb's quarters, spinach, amaranth, etc

3

tablespoons

minced fennel or dill fronds

1/3

cup

grated parmigiano or pecorino cheese
Instructions
Heat 3 tablespoons of the butter in a pot over medium heat. Cook the white parts of the onion in the butter gently, stirring often, until they are soft but not browned, about 6 minutes. Add the garlic and cook another minute. Add the rice and stir to coat with the butter. Cook over medium-high heat a couple minutes, until the rice gets a little bit translucent.

Add the white wine and stir well. Sprinkle some salt over everything. From this point you need to stir pretty much constantly. When the wine has almost boiled away, add the chicken broth and repeat the process.

When the chicken broth has almost boiled away, add a cup of water and repeat the stirring while the moisture boils away. You will likely need to do this at least 2 more times. Taste the rice after the second cup of water has mostly boiled away and add salt if needed. You want the rice to be al dente, not mushy.

When the rice is almost done, stir in the chopped greens and the chopped green parts of the onions. Add a little more water -- you want the rice to be almost like oatmeal in consistency, more of a porridge than set-up rice. Add the fennel fronds and the grated cheese.

Finally, right before you serve, stir in the final tablespoon of butter and adjust with a little more water if need be to loosen up the rice. Serve at once.
Notes
I serve this as a vegetarian main course, but it's also a good side dish for grilled meats or fish. If you're looking for something to drink with it, go with a white wine or a Belgian wit.
Nutrition
Calories:
305
kcal
|
Carbohydrates:
41
g
|
Protein:
5
g
|
Fat:
10
g
|
Saturated Fat:
6
g
|
Cholesterol:
26
mg
|
Sodium:
215
mg
|
Potassium:
105
mg
|
Fiber:
1
g
|
Sugar:
1
g
|
Vitamin A:
540
IU
|
Vitamin C:
4
mg
|
Calcium:
72
mg
|
Iron:
2
mg
Nutrition information is automatically calculated, so should only be used as an approximation.