Shrimp Stock
January 05, 2020 | Updated March 25, 2021
As an Amazon Associate I earn from qualifying purchases.
If you have shrimp with shells, you can make shrimp stock.
In a perfect world, you would live near the sea, or to a fishmonger good enough to stock shrimp with their heads on — and you'd use those heads for your shrimp stock. But alas, most of us do not.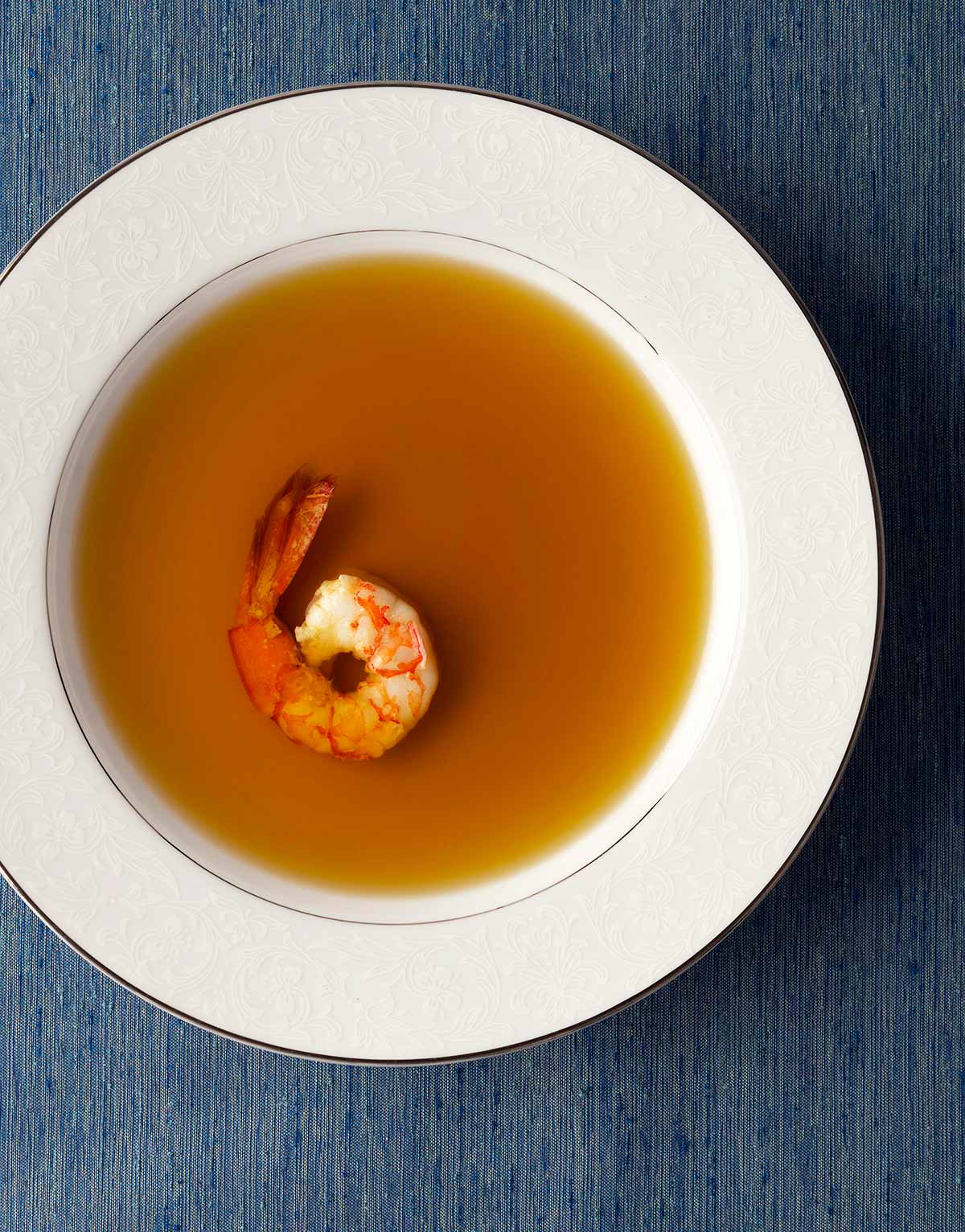 No worries, you can make a lovely shrimp stock at home using just shells. That said, you want more shells than you typically will get when you buy a pound or so of shrimp.
The thing to do is to shell your shrimp, then put the shells in a plastic bag and freeze them until you have shells from at least 2 pounds of shrimp. Note that I am not saying two pounds of shrimp shells, although if you had that many you could make a big batch of shrimp stock.
This general principle works with any shellfish. I save crab, lobster and crawfish shells for seafood stock. Fish stock is a bit different. I typically make fish stock with fresh skeletons and bones, and I rarely freeze it.
Which brings up a major difference between stocks made from birds and land animals versus stocks made with watery things. The former stocks store very well either frozen or pressure canned. The latter do not.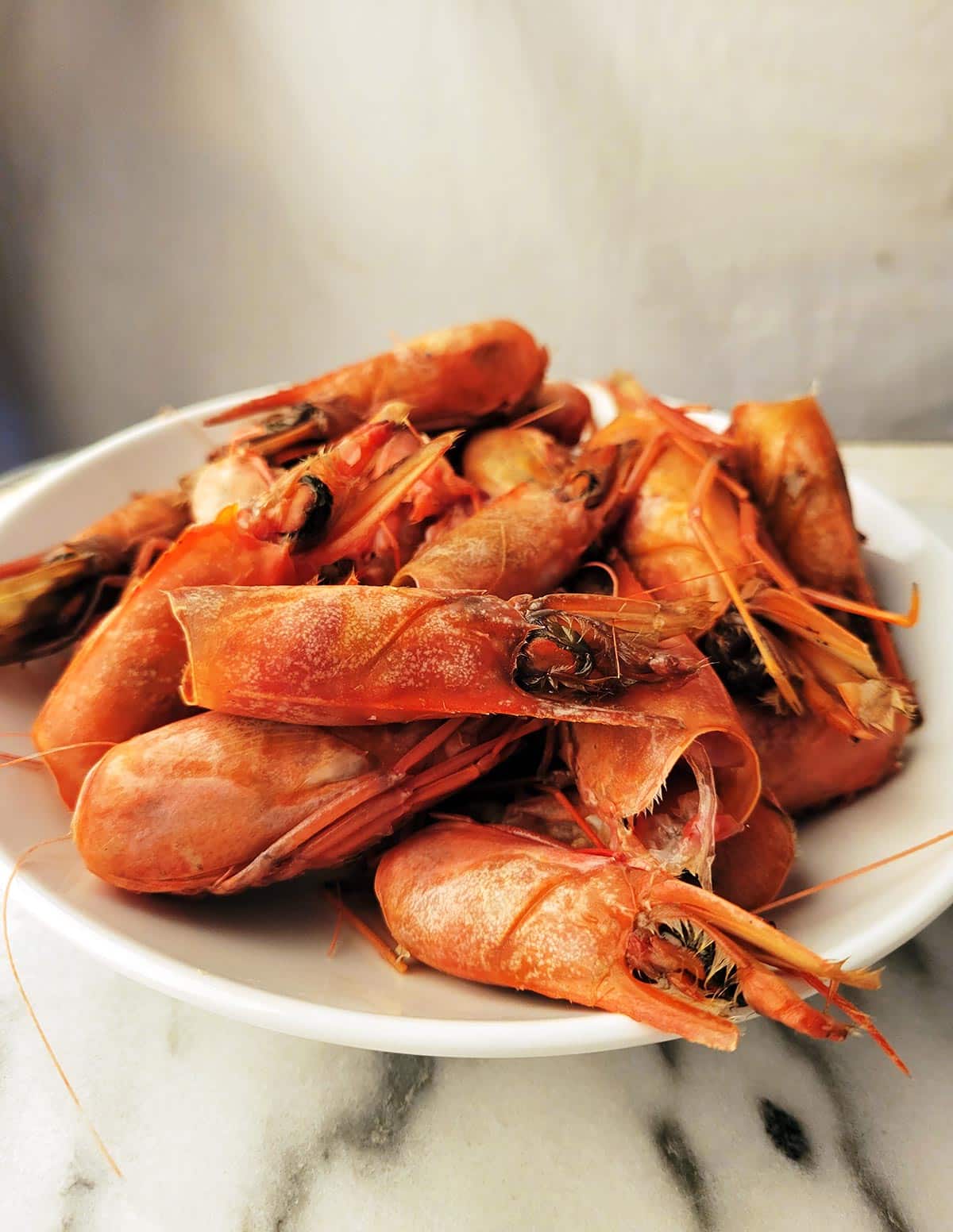 This is not to say you cannot preserve your stock. People do, and if you want to, I strongly urge you to freeze it, not pressure can it. The reason is because thawed stock will taste better than pressure canned stock from fish or seafood. The high heat involved in pressure canning does not help these stocks.
I almost always make shrimp stock and use it within a week, creating a sort of shrimp fest where I eat the shrimp in, say, Lowcountry shrimp perloo, making the stock for that dish, then using the leftover stock for a shrimp risotto or somesuch later in the week. Mexican caldo de camaron is another great use for shrimp stock.
How do you make shrimp stock? It's way easier than with mammal or bird-based stocks. In fact, it takes less than 2 hours start to finish. You don't really want to simmer it very long, or it will get overly fishy. And you also only make smaller batches, since it isn't as good frozen as, say, duck stock.
My recipe has two ingredients that are easily found in supermarkets, but are optional: saffron and fennel. Fennel, also called anise, is a white bulb that tastes faintly of licorice, and saffron adds aroma and a pretty yellow hue to the stock. Saffron + seafood is a classic match. And besides, you only need a pinch.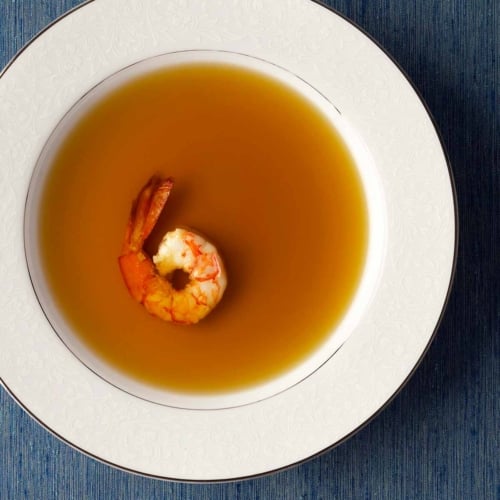 Shrimp Stock
Any sort of shrimp will do here, and if you have heads, use them along with the shells; it'll make a better stock. You can also use whole teeny shrimp, too.
Ingredients
2

tablespoons

olive oil

1

yellow or white onion, chopped

1

celery stalk, chopped

1

large carrot, chopped

The top from 1 fennel bulb, chopped

4

cups

shrimp shells, from about 2 pounds of shrimp

2

bay leaves

1

teaspoon

dried thyme

1

teaspoon

cracked black peppercorns

(not ground)

1

cup

white wine

1

pinch of saffron

Salt
Instructions
Heat the olive oil in a medium-sized pot over medium-high heat. Saute the onions, celery, carrot, fennel and shrimp shells until the vegetables are translucent and the shells turn orange, about 6 to 8 minutes.

Add the bay leaves, thyme and peppercorns, then the white wine. Bring to a boil, then cover everything with water to a depth of about 1 inch. Crumble the saffron into the broth. Let this simmer gently for 45 minutes to 1 hour.

Set a paper towel inside a strainer and put the strainer over a large bowl. Ladle the stock from the pot through the strainer to remove all debris. Add salt to the strained stock to your liking.
Notes
This recipe makes about 2 quarts.
Nutrition
Calories:
130
kcal
|
Carbohydrates:
3
g
|
Protein:
13
g
|
Fat:
4
g
|
Saturated Fat:
1
g
|
Cholesterol:
161
mg
|
Sodium:
505
mg
|
Potassium:
124
mg
|
Fiber:
1
g
|
Sugar:
1
g
|
Vitamin A:
1274
IU
|
Vitamin C:
4
mg
|
Calcium:
106
mg
|
Iron:
2
mg
Nutrition information is automatically calculated, so should only be used as an approximation.