Butternut Squash Gnocchi with Mushrooms
January 19, 2017 | Updated August 25, 2021
As an Amazon Associate I earn from qualifying purchases.
Like a lot of Italian food, squash gnocchi are super simple, but this recipe hinges on great ingredients.
The difference between, say, canned squash puree and fresh — or fresh mushrooms versus stale, store-bought ones, or, God forbid, canned mushrooms. Good butter, freshly ground black pepper, good, fresh sage. All matter.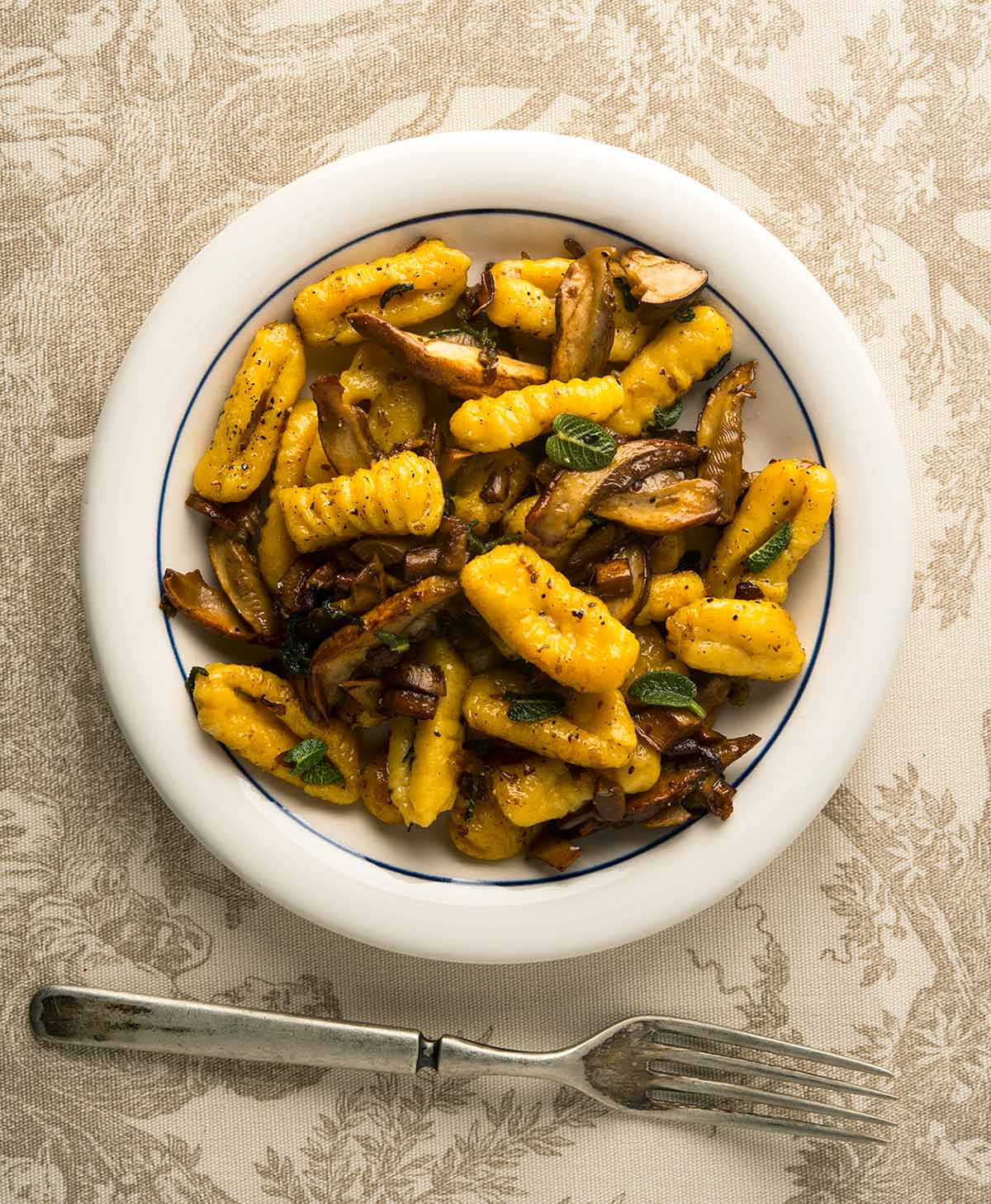 Gnocchi, pronounced something like "n-yoke-ee" if you're not familiar with them, are Italian dumplings usually made with mashed potatoes. But pumpkin or butternut squash gnocchi is also super common, as are ricotta cheese gnocchi. All are bound together with flour, and often eggs, too.
I also make gnocchi with herbs, and an absolutely lovely spring pea gnocchi that is as vernal as butternut squash gnocchi are autumnal.
No matter what you make them from, gnocchi can range from light, airy pillows of awesome, to leaden lumps the Italians, in their earthy way, call "asshole stoppers." You get the idea.
Whether yours are one or the other hinges on the amount of flour you use. The better you get making gnocchi, the less flour you use, and the lighter the gnocchi. It takes practice.
Butter, sage and winter squash are an eternal combination, and I repeat that here.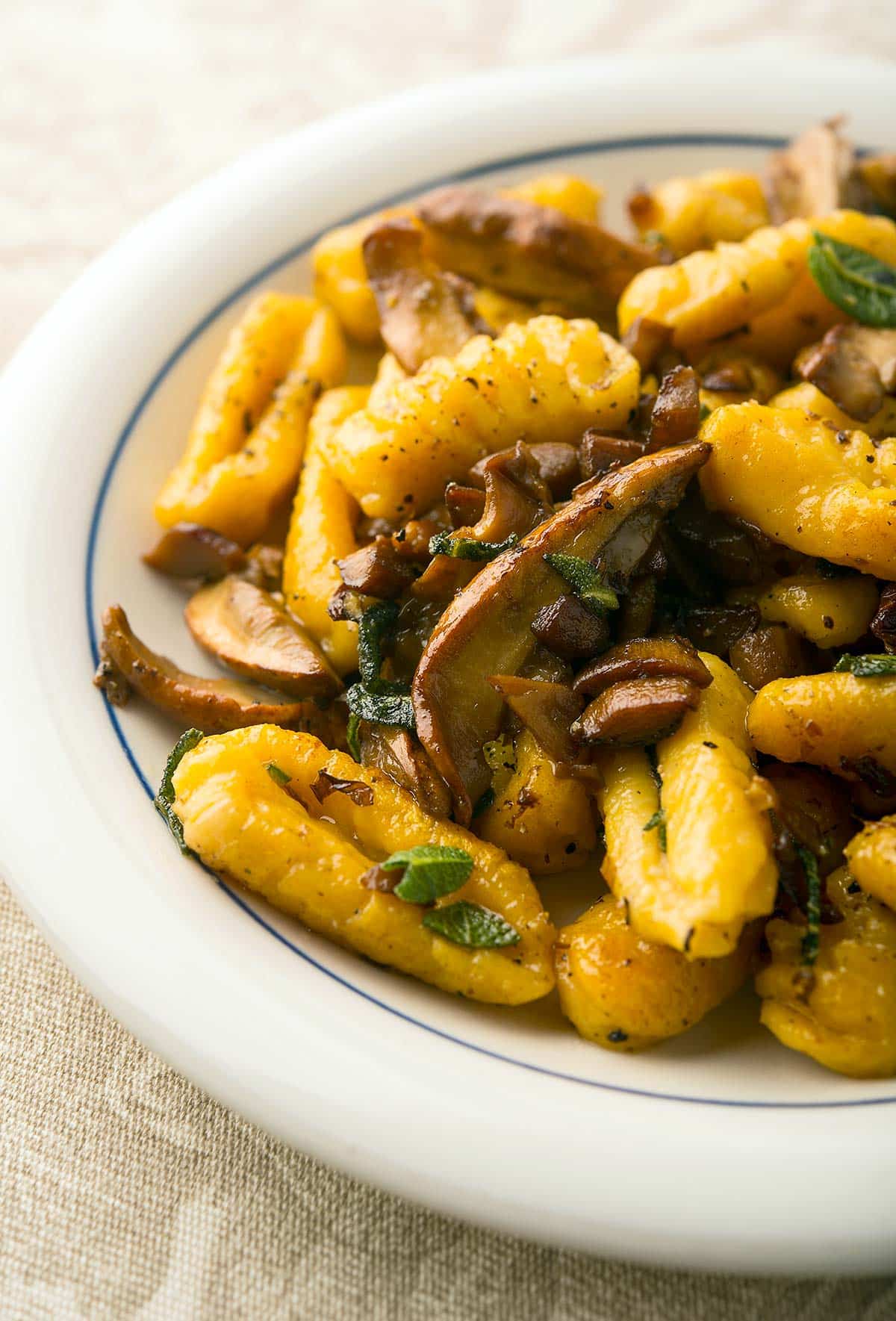 I also include lots of wild mushrooms, too, in this case Agaricus augustus, a mushroom known as the Prince. You can use whatever fresh wild or store-bought mushroom you want. The combination screams winter here in California, and it is crazy good.
A big, bold white wine would be what I'd pair with this recipe, but I suppose you could use a light red like a Grenache or Gamay. This isn't really beer food, though.
Another cool thing is this: Since butternut squash gnocchi are really just flour, eggs, and squash, once you learn how to make them, this is something you can whip together in very rustic circumstances, like duck or deer camp. Good way to impress your friends…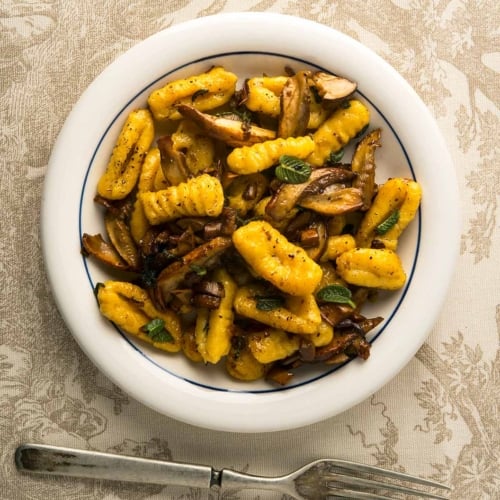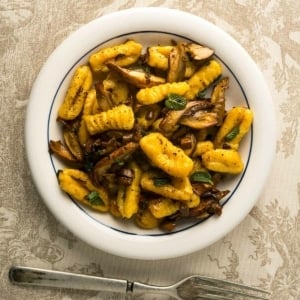 Butternut Squash Gnocchi with Wild Mushrooms
This is a recipe that can be easily modified to work with whatever squash or whatever mushrooms you happen to have around. I use butternut squash and a wild mushroom known as the Prince, but you can get very close using cremini or Portobello mushrooms -- they're related. You can also use other winter squash here, but remember some are wetter than others; many pumpkins happen to be very wet, for instance. Butternut and kabocha squash are my favorites, but you can also acorn squash or other members of the Curcurbita maxima species.
Ingredients
GNOCCHI
1

cup

of cooked,

pureed squash

1

cup

ricotta cheese

2 3/4

cup

flour

2

eggs,

lightly beaten

1/4

cup

parmesan cheese

A big pinch of salt

A few swipes of fresh nutmeg,

or 1/4 teaspoon ground
MUSHROOMS
1

pound

fresh mushrooms,

chopped

3

tablespoons

butter,

divided

1

to 2 tablespoons fresh sage

Salt and freshly ground black pepper
Instructions
Prep the mushrooms. Put the mushrooms in a large pan and set them over high heat. Shake them around a bit and sprinkle them with salt. Heat, shaking often, until they release their water, about 3 minutes. Add 1 tablespoon of butter and saute until nicely browned. Set aside.

Make the gnocchi dough. Mix all the gnocchi ingredients together in a large bowl. If you are new to making gnocchi, you might need a little more flour than I call for; add it 1/4 cup at a time. The dough should be sticky, but workable.

Form the gnocchi. Cut the dough into 4 pieces, and lay a damp towel over those you aren't using while working with 1 piece at a time. Gently roll out the dough into a snake -- you will likely make several as they get long -- and cut the dough into pieces the size of your thumbnail. Roll the little pieces against a fork or a gnocchi roller and dust with a little flour. Set aside and repeat with the rest of the dough.

Boil the gnocchi. Get a large pot of water boiling and add a small handful of salt. Add about a dozen gnocchi at a time and simmer until they float. Move them to a pan and drizzle a little olive oil over them. Set aside until you have all the gnocchi finished.

Finish the dish. Add the rest of the butter to the pan you cooked the mushrooms in and put it over medium-high heat. Add the gnocchi, mushrooms and sage and toss to combine. Let them cook now for 1 minute undisturbed, so you get a little browning on the gnocchi. Repeat this one more time, then serve with black pepper.
Nutrition
Calories:
592
kcal
|
Carbohydrates:
76
g
|
Protein:
25
g
|
Fat:
21
g
|
Saturated Fat:
12
g
|
Cholesterol:
140
mg
|
Sodium:
267
mg
|
Potassium:
671
mg
|
Fiber:
4
g
|
Sugar:
4
g
|
Vitamin A:
4424
IU
|
Vitamin C:
10
mg
|
Calcium:
249
mg
|
Iron:
5
mg
Nutrition information is automatically calculated, so should only be used as an approximation.