Squid Ink Risotto
February 25, 2011 | Updated April 07, 2021
As an Amazon Associate I earn from qualifying purchases.
Squid ink risotto is one of the more dramatic ways to make this classic Italian rice dish.
Risotto uses particular kinds of rice cooked in a particular way to make a sort of porridge. Really almost anything works as a flavoring. In this case, I use squid ink as well as the squid itself, plus a little lemon.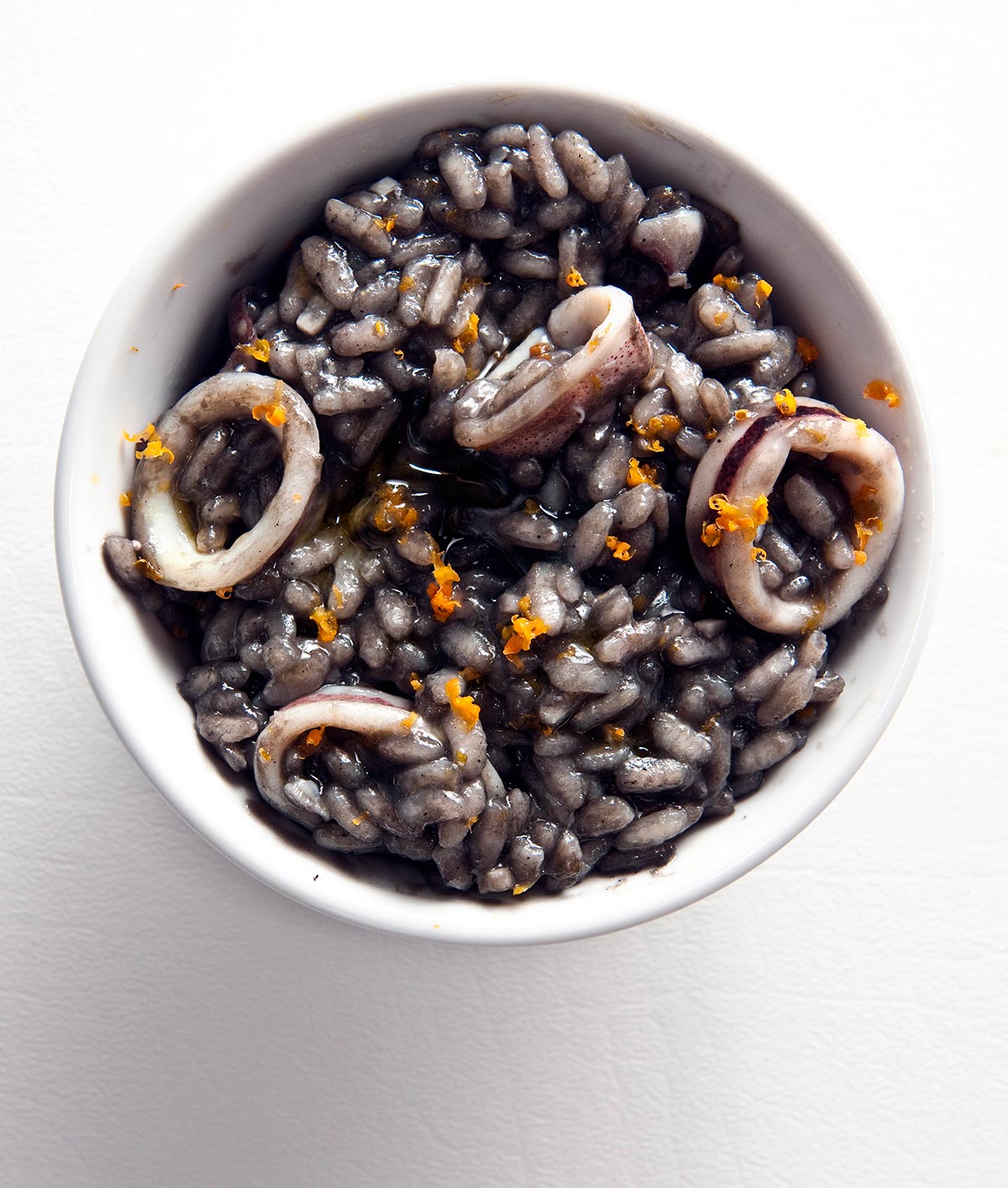 This is a pretty simple risotto recipe, actually, although you do need risotto rice and you do need squid ink to make it properly.
The ink comes in little packets you can sometimes find in Italian specialty stores, or you can buy squid ink online. For the rice, in a perfect world, you'd buy vialone nano rice, which is my preferred risotto rice when making fish and seafood risottos. The more common Arborio and carnaroli are also good risotto rice varieties, and you can use Spanish bomba rice, too.
You cannot use long grain rice. It lacks the proper starch. And Asian short-grain rices won't absorb enough moisture to work very well. Fortunately, pretty much any decent supermarket will have some sort of risotto rice, usually Arborio.
As for the calamari, you can find it frozen in many supermarkets, and occasionally fresh. Since this is a squid ink risotto, it would be weird to use another protein, but I suppose cuttlefish or octopus would fit. And sure, bits of white fish or crab or small shrimp would still be nice if that's all you can find.
What does squid ink taste like? Briny like the sea, savory — like a wisp of soy sauce — with an aroma almost like cucumbers when the squid ink is fresh. You add it at the end so you notice all these qualities.
Serve this risotto as the starch component in an Italian seafood feast. Other great options to go with this would be Italian salsa verde halibut or halibut puttanesca, or a really simple dish of sautéed shrimp with garlic.
If you're looking for more risotto recipes, I have more than a dozen for fish and seafood, mushrooms and vegetables – you can check them out here.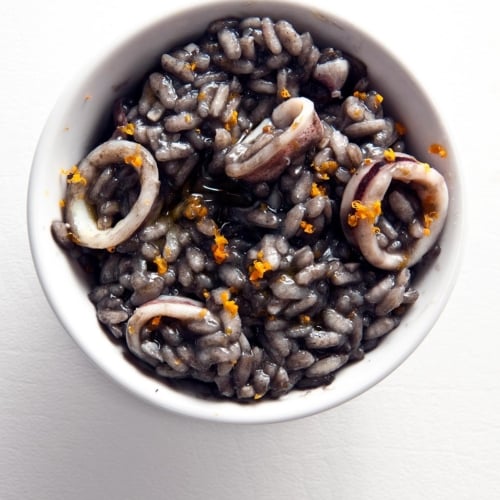 Squid Ink Risotto
To really make this you will need squid ink, which you can buy online. Everything else should be at any decent supermarket or fish market. Serve this with an austere white wine, like a Sancerre or Pinot Grigio.
Ingredients
3

tablespoons

olive oil

3

cloves

garlic cloves,

minced

1 1/2

cups

risotto rice

1/4

cup

white wine

1

quart

fish broth, or

chicken or vegetable broth

1

packet

squid ink,

about 4 grams

1/2

pound

calamari,

cut into rings

Salt

Lemon zest
Instructions
Pour the fish broth into a pot and bring it to a simmer. Drop in the calamari rings and let them cook for 30 seconds, then fish them out and set aside in a bowl.

In another medium-sized, heavy pot, heat the olive oil over medium-high heat and sauté the garlic for 1 minute. Add the rice and stir to combine. Cook this for 2 to 3 minutes, stirring often.

Add the white wine and stir to combine. Stirring constantly, cook this until the wine has almost cooked away.  Add about 1/2 cup of the simmering stock and continue the process. It is important to add stock slowly, stir constantly and let the liquid almost cook away before adding more. This should take about 20 to 30 minutes.

When the rice has cooked, add the squid ink and salt to taste. Add the calamari rings and cook for 1 minute. Turn the heat off and mix in half the lemon zest. Sprinkle the rest of the zest on top as you serve.
Nutrition
Calories:
467
kcal
|
Carbohydrates:
63
g
|
Protein:
19
g
|
Fat:
13
g
|
Saturated Fat:
2
g
|
Cholesterol:
132
mg
|
Sodium:
779
mg
|
Potassium:
420
mg
|
Fiber:
2
g
|
Sugar:
1
g
|
Vitamin A:
28
IU
|
Vitamin C:
3
mg
|
Calcium:
97
mg
|
Iron:
4
mg
Nutrition information is automatically calculated, so should only be used as an approximation.