As an Amazon Associate I earn from qualifying purchases.
Barley risotto is a dish with ancient roots. Barley predates the appearance of rice in Italy by many thousands of years, and thick porridges of barley date back to ancient Rome. Here's a modern version kicked up with mushrooms and a rich stock.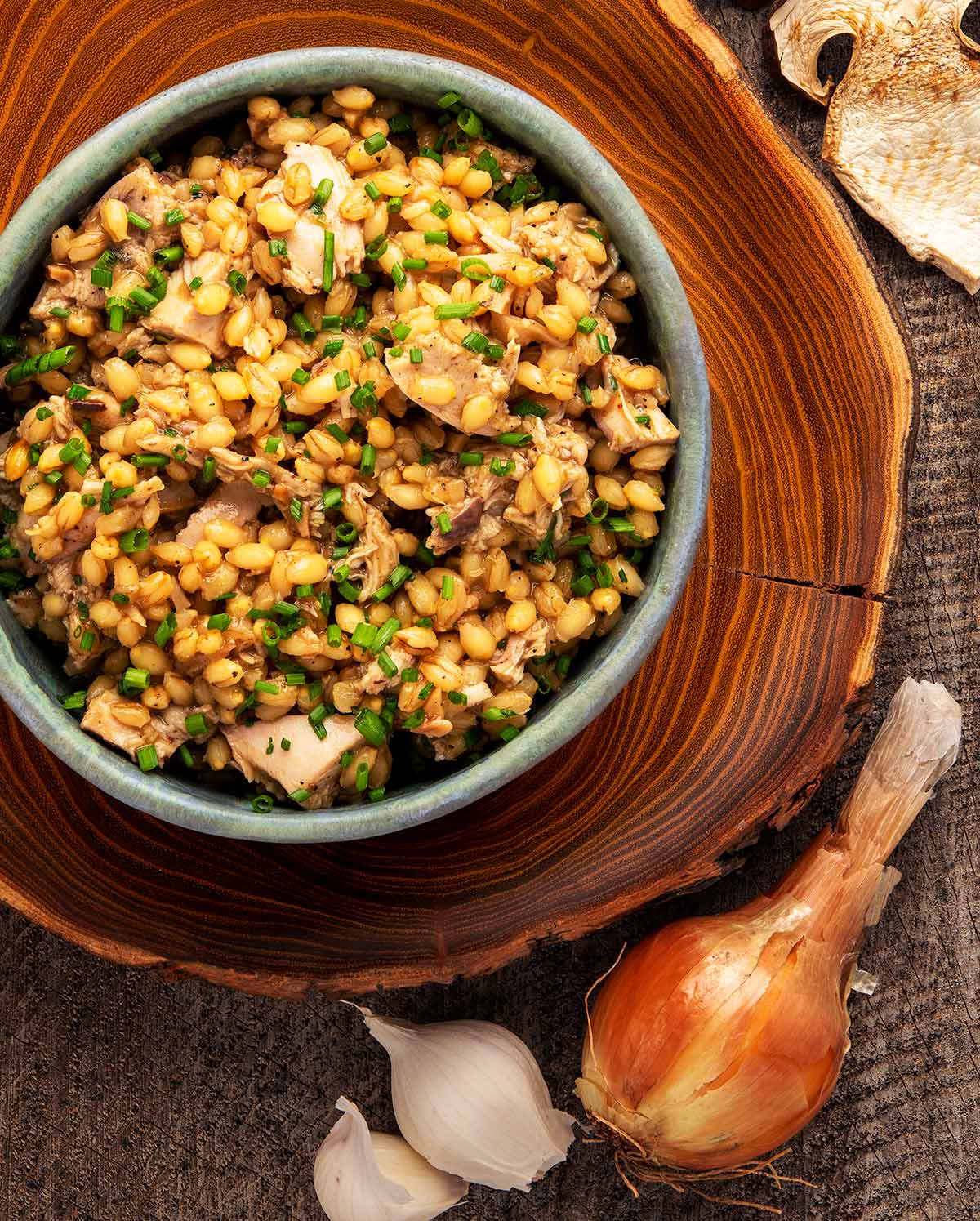 The primary reason barley risotto works is because barley and short-grained rice share the same type of starch, which sloughs off into the liquid if you stir it while cooking.
To that end, you can't make barley risotto by baking or really any other means than by making it exactly like a regular rice risotto — which is to say adding liquid little by little, stirring almost constantly, until the barley is tender and has released enough of its starch to make a creamy sauce.
You will see all sorts of other recipes claiming to make a creamy, starch-rich barley risotto without this method, but none will make a proper risotto.
(Looking for lots and lots of risotto recipes? I have a compilation of more than a dozen risotto recipes here.)
Note that you really want pearled barley for this recipe because the other variety, hulled barley, takes a lot longer to cook and doesn't release its starch as easily. You can still make a risotto with hulled barley, but it will require more elbow grease and time.
Side note: Barley is not gluten-free. Nor is rye. Moving on.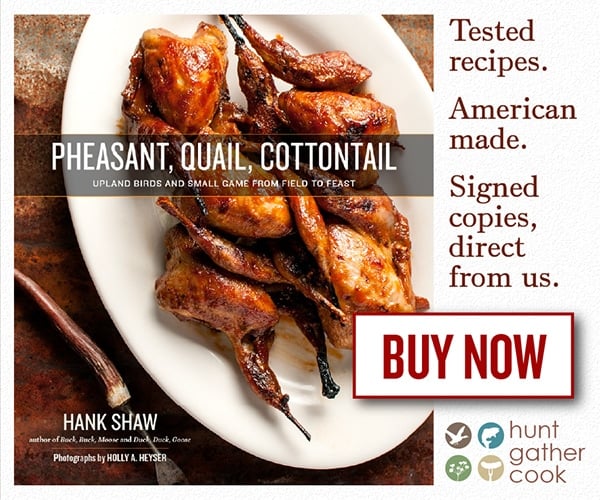 Why use barley for a risotto? First, it is a way to touch the food of the ancients, which I find pretty cool. You can eat like the hordearii, the gladiators!
Second, barley is super healthy, high in fiber and vitamins and such. Third, barley is a main crop in the cold places of the world, so this method of cooking really works with northern ingredients.
That's where I took this barley risotto.
Elements of This Barley Risotto
I thought about this dish as I was flying home from Alaska, where I had completed the Grand Slam of Grouse with a spruce grouse and ptarmigan hunt; you can read the story of that hunt here.
I had two spruce grouse, and I wanted to feature them in some sort of spruce grouse recipe. They're not large birds, so I decided to toss them in the stock pot with the ptarmigan carcasses. Then, when the meat was done on the breasts and then, later, legs, I stripped it off, shredded it and held it aside.
Stock made (I used the same general principles as my pheasant stock recipe), that plus some onion and garlic from my garden formed the base of this barley risotto.
I rehydrated some porcini mushrooms I'd gathered earlier this year, and added the soaking water to the liquid for the risotto. Chopped fine, they went in with the onions at the beginning.
Once the barley was tender — keep in mind barley risotto takes longer to make than a rice risotto — I added the shredded spruce grouse, grated pecorino cheese and a big knob of butter.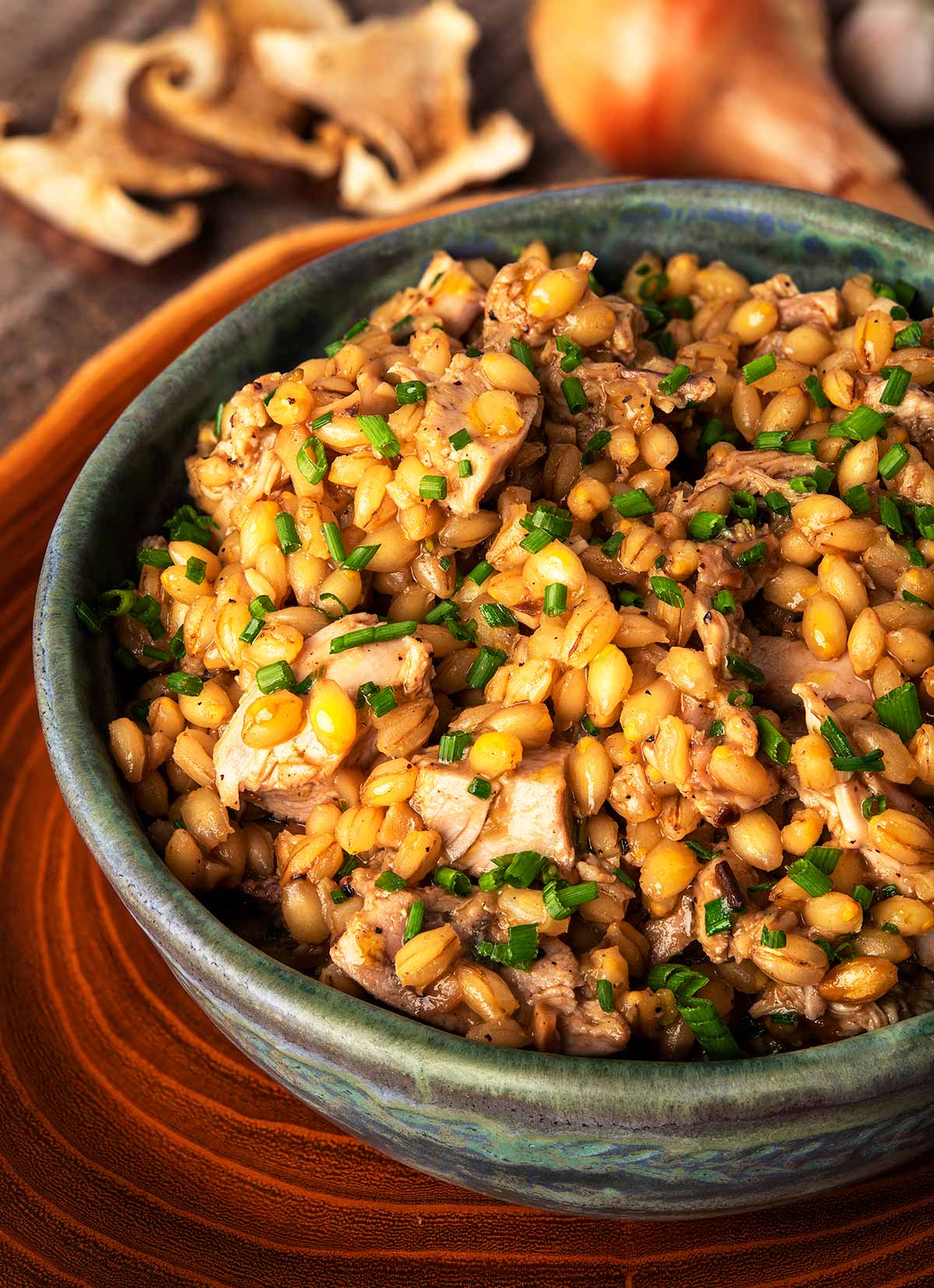 Substitutions
Clearly most of you won't have spruce grouse or porcini lying around. Don't worry about it.
Any dried mushroom, or fresh, for that matter, will work. You can buy little packets of dried porcini in most supermarkets, and if you can't find them and want to use fresh, go for shiitakes or cremini.
If you are a gatherer and have other mushrooms to play with, by all means use them. Morels or black trumpets would be particularly good in a barley risotto.
As for the meat, any white meat works, from chicken and turkey to other grouse, quail, partridges, squirrel or rabbit.
Barley risotto doesn't keep very long, although you could reheat it with a little more stock the following day. It does not freeze well at all.
If you liked this recipe, please leave a ⭐️⭐️⭐️⭐️⭐️ rating and a comment below; I'd love to hear how everything went. If you're on Instagram, share a picture and tag me at huntgathercook.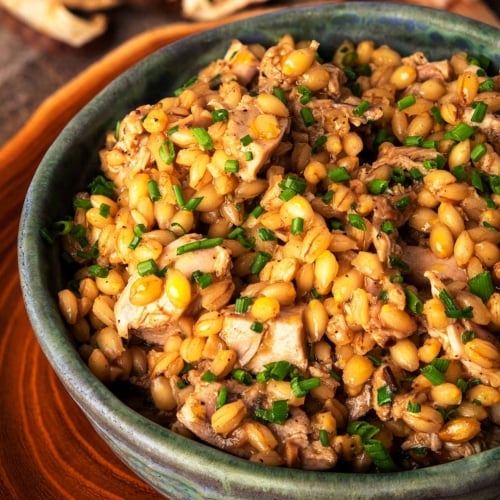 Barley Risotto
I add mushrooms and spruce grouse to this; chicken or any other white meat would be fine, too.
Ingredients
1

ounce

dried mushrooms

4

tablespoons

butter,

divided

1

cup

minced onion

2

cloves

garlic

minced

2

cups

barley

1

tablespoon

fresh lovage, parsley or savory,

minced

2

teaspoons

ground juniper

(optional)

5

cups

stock

(chicken, grouse, vegetable, etc.)

8

ounces

shredded grouse,

chicken or other meat

1/4

cup

grated pecorino cheese

2

tablespoons

minced chives
Instructions
Pour a couple cups of boiling water over the mushrooms to rehydrate them. Chop and shred the other ingredients while the mushrooms are softening. When they are rehydrated, chop them fine. Reserve 1 cup of the soaking water.

Heat 3 tablespoons of the butter in a medium pot over medium-high heat. Sauté the onions and the mushrooms until the onions are soft and starting to brown, about 5 minutes. Add the garlic and the barley and stir well.

Stir in the cup of mushroom soaking water, then add the herbs and juniper, if using. Stir constantly until the water has mostly been absorbed, then add a cup of the stock and repeat.

Keep this process up until the barley is tender. Once you have a couple cups of liquid absorbed, you can drop the heat to medium and slow down on the stirring. You still need to stir often, just not constantly.

When the barley is tender, stir in a little more stock, the shredded grouse and the cheese. When that's incorporated, mix in the last tablespoon of butter. Serve garnished with chives.
Nutrition
Calories:
639
kcal
|
Carbohydrates:
82
g
|
Protein:
35
g
|
Fat:
21
g
|
Saturated Fat:
10
g
|
Polyunsaturated Fat:
3
g
|
Monounsaturated Fat:
6
g
|
Trans Fat:
0.5
g
|
Cholesterol:
79
mg
|
Sodium:
310
mg
|
Potassium:
991
mg
|
Fiber:
18
g
|
Sugar:
3
g
|
Vitamin A:
570
IU
|
Vitamin C:
6
mg
|
Calcium:
134
mg
|
Iron:
5
mg
Nutrition information is automatically calculated, so should only be used as an approximation.