As an Amazon Associate I earn from qualifying purchases.
Salmon stock is not something you really hear much about, but it's a thing in Salmon Country, and it is really, really good when used fresh. My recipe takes a tip from Japan and uses dried kelp, but you can skip that if it's hard to find.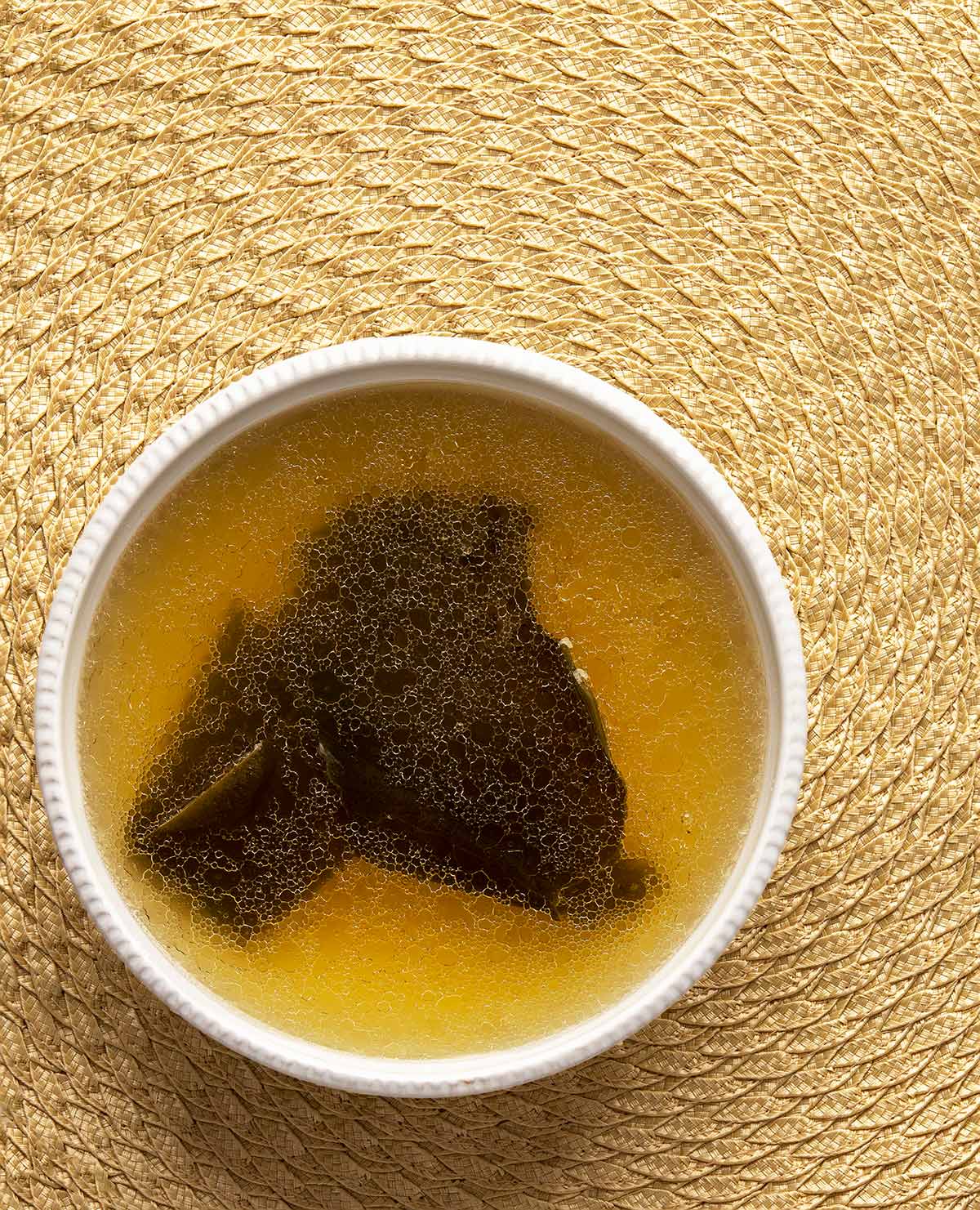 First thing you need to know when making stock from salmon, trout or char is that it will be fatty. See all those pearls of omega-3 goodness in the bowl? That's a good thing… until it isn't. More on that in a moment.
Why make salmon stock? Because it tastes rich and wonderful, that's why. Regular fish stock is austere, and even seafood stock or shrimp stock won't be overly fatty, although all are wonderful in their own way.
This lovely broth is best served as part of a larger dish, notably a salmon miso soup, or Japanese salmon rice, or salmon risotto, or a salmon chowder. That said, you can drink it as a clear soup as you see in the picture.
Know that any salmonid, i.e., any species of salmon, trout or char, will work here. So whatever you catch, or buy, will do. You will want to make your salmon stock with heads and the racks.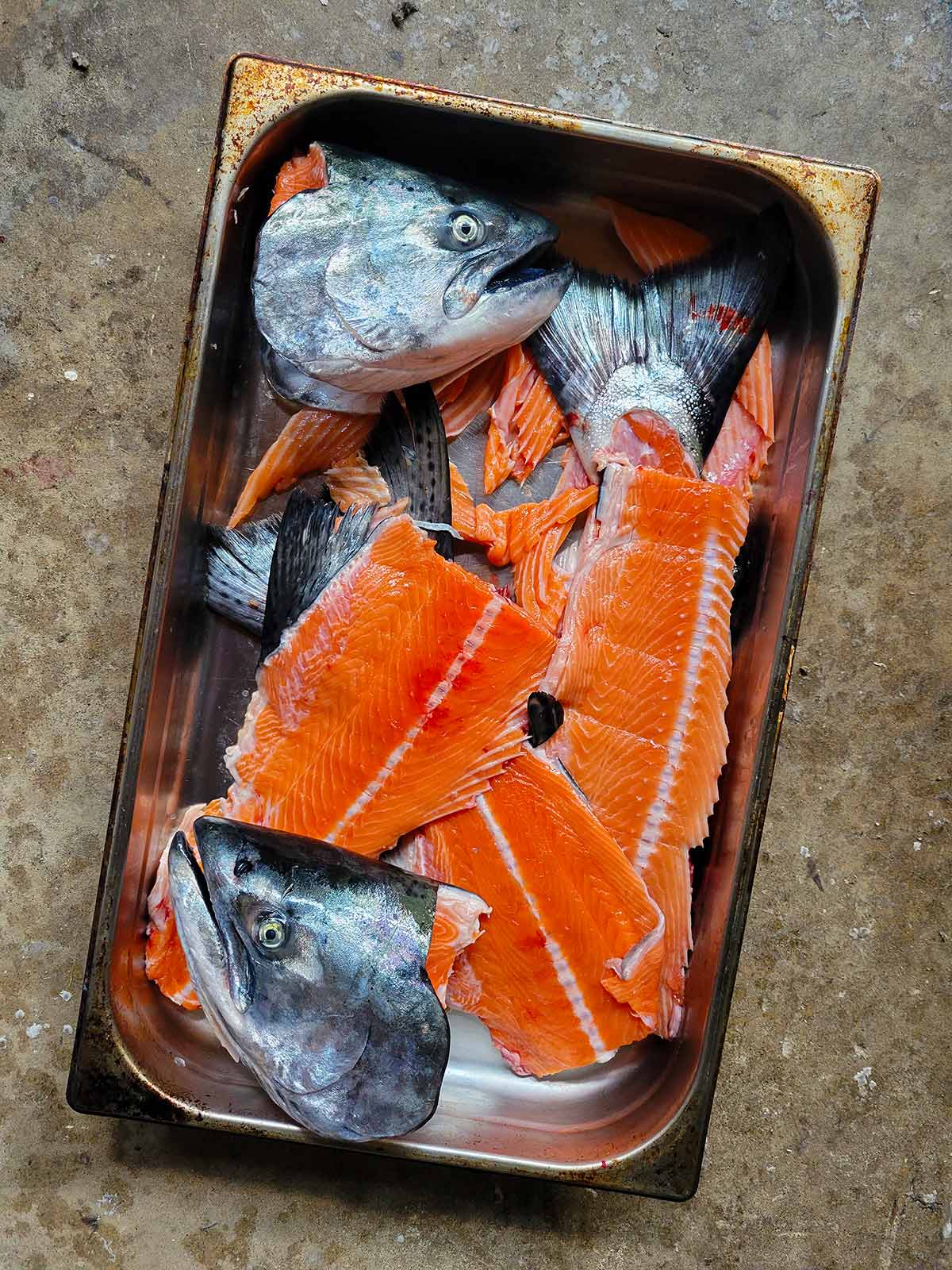 It's your choice to keep the meat on the bones, or scrape it off and use it for something else. Either way makes a good stock, and I will often use that "spoon meat," which is what I call the meat scraped off the bones with a spoon, for salmon rice, or salmon cakes.
Other than the salmon, I use your typical mirepoix in my salmon stock: carrots, celery and onion. I also use a few bay leaves, and a couple lesser known ingredients: A fennel bulb or it's tops, and sheets of kombu, which is dried kelp.
You can find fennel bulbs in most stores, and you can gather your own wild fennel in many parts of the United States. Kombu will be in the Asian aisle in many supermarkets, in all Asian markets, or you can buy kombu online. If you live by the sea, you can also gather kelp fronds that wash ashore.
What's the point? Fennel adds a nice, if subtle, anise aroma, and the kombu adds both brininess as well as a wallop of savory umami. You will absolutely notice the difference between salmon stock made with kombu and that made without.
Think about making your salmon stock more like a tea than a soup in that you never want to let it boil. This is one of the main ways that this stuff can get nasty-fishy. The other two ways to ruin your salmon stock are cooking it for a very long time, and keeping it too long in the fridge.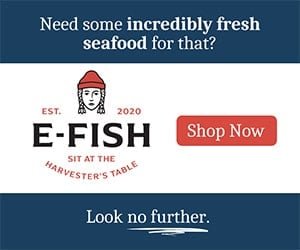 I am admittedly a salmon snob. I don't like that "salmon stink" you get a lot with not-so-fresh fish. So I make my stock and use it that day, the day after, and maybe one more time. That's it.
But then I can always go catch another salmon. If you want to store your salmon stock, my advice is to freeze it. I have heard that people will put raw ingredients, like bones, vegetables, etc, in Mason jars and pressure can that, but I've never done it. Seems like it would be stinky when you used it.
So definitely, definitely use your stock the day you make it, or the day after. Then you'll know why it's so good.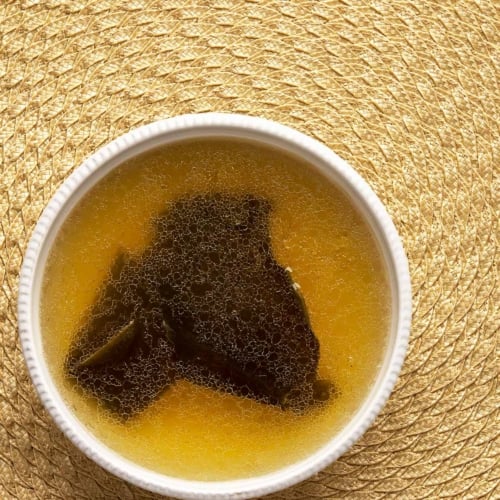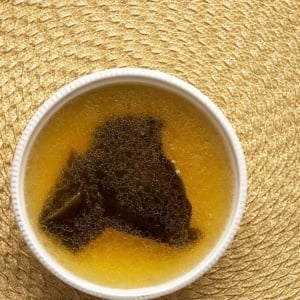 Salmon Stock
This is a quick stock that I mostly use in soups, rice and chowders. You can of course sip it clear, too.
Ingredients
4 to 6

pounds

salmon heads and bones

1

fennel bulb,

chopped

2

celery stalks,

chopped

2

carrots,

chopped

1

large white or yellow onion,

chopped

2

bay leaves

2 to 4

ounces

dried kelp
Instructions
Cut the bones up to fit into a large pot. Add the heads, the bay leaves and all the chopped vegetables. Cover with water by one inch. Set over medium-high heat and bring just barely to a simmer. This should take a solid 15 minutes or so. Let the stock steep at the steaming point, not even simmering, for another 15 to 30 minutes, no more.

Turn off the heat. Set a fine-mesh strainer over a large bowl. Ladle the stock through this to strain out debris, but keeping the fat. You can line the strainer with a paper towel to remove most of the fat, but it will clog repeatedly and you will need to replace the paper towel.

Clean out the stockpot and discard the solids. Pour the broth back into the pot and set the heat to medium. Add all the dried kelp. Bring this just to a simmer, taking about 30 minutes to get there. The moment it simmers, turn off the heat and remove the kelp. Add salt to taste -- it might not need any because the kelp is salty -- and serve.
Notes
I mostly use king salmon bones and heads, but any salmon or trout will work, as will char. 
Keys to Success
When you add heads and bones, make sure there are no gills. Gills will make a stock bitter and cloudy. 
Don't boil the stock. It will be fishy if you do. Just a bare simmer or even just steaming is what you want. 
Don't cook the stock too long, or it will be fishy. This is why you pack the pot with ingredients and just barely cover, so you get a lot of flavor in a short time. 
You can skip the whole kombu step, and you can also do it the following day. It really makes the stock better though.
Try to use your stock within a few days. It's much nicer then. It will get fishy as it ages. 
Nutrition
Calories:
71
kcal
|
Carbohydrates:
4
g
|
Protein:
8
g
|
Fat:
3
g
|
Saturated Fat:
1
g
|
Polyunsaturated Fat:
1
g
|
Monounsaturated Fat:
1
g
|
Cholesterol:
21
mg
|
Sodium:
51
mg
|
Potassium:
333
mg
|
Fiber:
1
g
|
Sugar:
1
g
|
Vitamin A:
1776
IU
|
Vitamin C:
4
mg
|
Calcium:
30
mg
|
Iron:
1
mg
Nutrition information is automatically calculated, so should only be used as an approximation.