Morel Mushroom Risotto
June 10, 2012 | Updated May 12, 2022
As an Amazon Associate I earn from qualifying purchases.
Mushrooms make a great risotto, the creamy Italian rice dish that is a meal in a bowl. And every spring, I look forward to making a morel risotto with the first harvest of the season.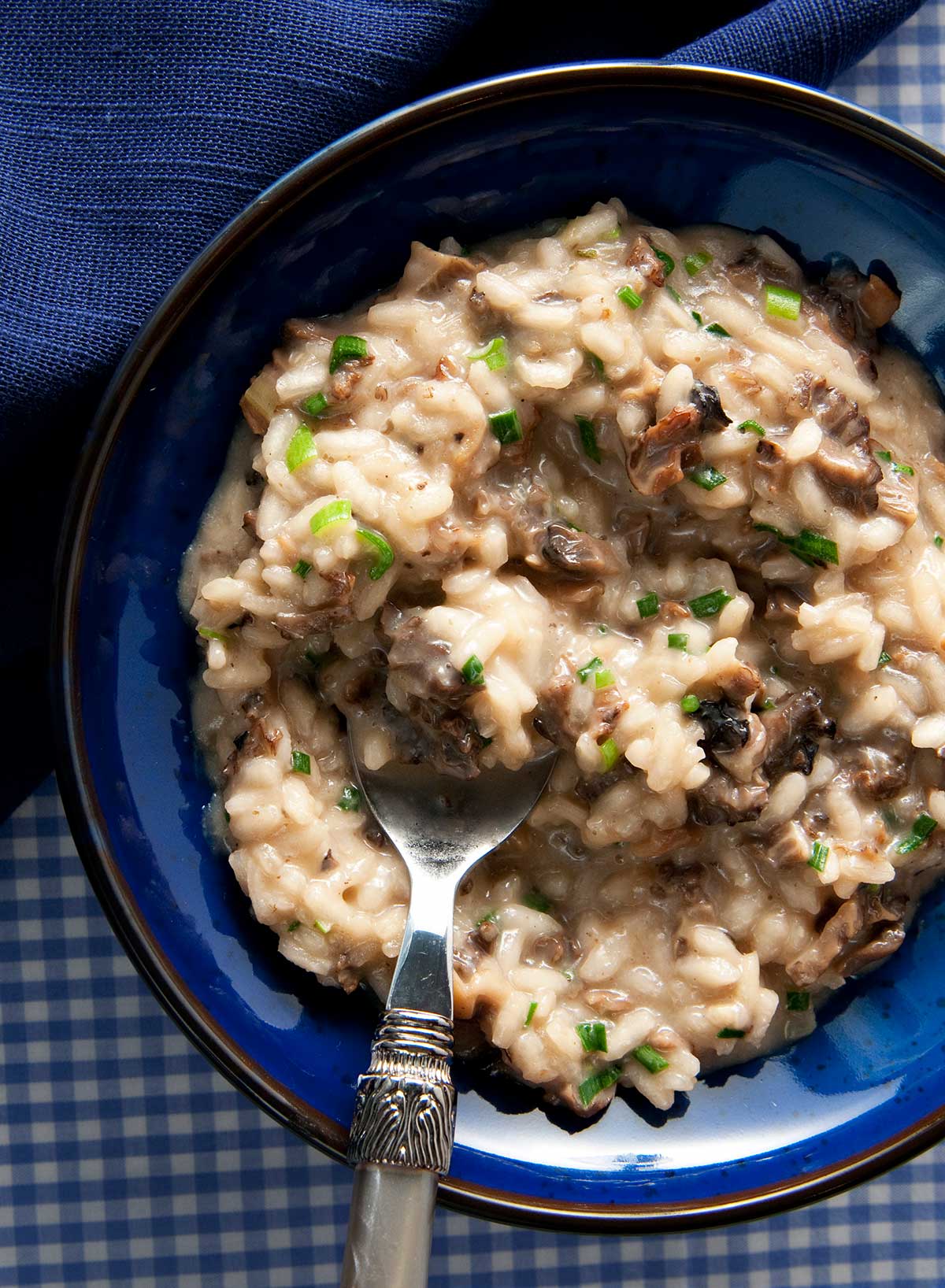 Morels are almost exclusively a springtime mushroom, although at very high altitudes in the West, or at high latitudes in Canada you can get them into August, so you will either want to make your morel risotto in spring, or use dried ones during the remainder of the year. I have instructions for both below.
There are lots of different species of morel mushrooms, and any will work well here. If you should be lucky enough to find Morchella tomentosa, the gray morel of the West, this risotto is a kingly way to highlight their dense meatiness.
As a cook, I often have a hard time highlighting morels. I find myself using them not as the star of the plate, but as a bit player in some other dish. But the morel is such a wonderful mushroom it really ought to be given a chance for center stage. Thus this morel risotto.
(And yes, I know a lot of people prefer them simply dusted in flour and fried.)
Why risotto? Because this particular way of making rice is tailor-made for mushrooms, especially dried ones. The water you use to rehydrate your dried mushrooms becomes an instant broth to cook the rice in. If you've never made a risotto, which is Italy's signature rice dish, it uses a lot of liquid and requires near-constant stirring to be perfect.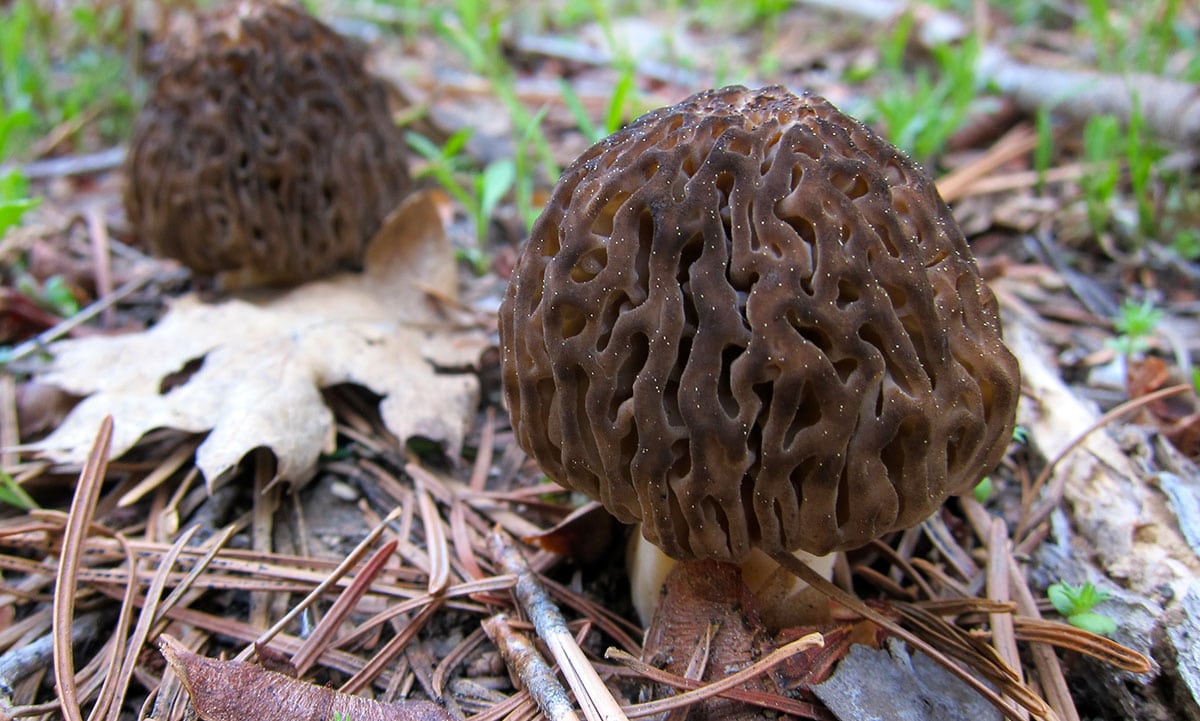 You do need risotto rice to make it, though. That's usually Arborio, which is in most supermarkets, but there are other varieties, such as Carnaroli and Vialone nano. If you have your choice, go for Carnaroli here.
Constantly stirring these rices agitates the starches in them, causing some of it to slough off into the liquid, which results in a creamy sauce, only without the cream.
Most good risotto is served loose, almost soupy, with rice that is cooked al dente. Mushy risotto is a crime against God and Nature. A tighter risotto — one that could be served on a plate instead of in a bowl — is an acceptable style, although I am not overly fond of it.
Risotto can also be built around each variety of mushroom. My porcini risotto is different from this morel risotto, and in summertime I really like a good chanterelle risotto. If you're looking for even more risotto recipes, I have more than a dozen for mushrooms, fish and seafood, and vegetables here.
In this recipe, I am pairing the morel risotto with fresh wild onions I gathered in the Sierra Nevada. I know you won't have wild Sierra onions, but it doesn't matter: Any sort of green onion will work. Chives are good, too.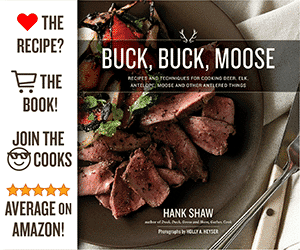 Even if you are not a forager, I urge you to make this dish. You can easily buy a packet of dried morels at most supermarkets, or you can buy morels online. You only need 1/2 to 1 ounce of dried ones to make enough risotto for four people, and it is worth the effort, I guarantee it.
If you want to make a morel feast, you can pair this recipe with a cooked morel salad, and a morel sauce for venison or beef. These three together make quite the morel celebration!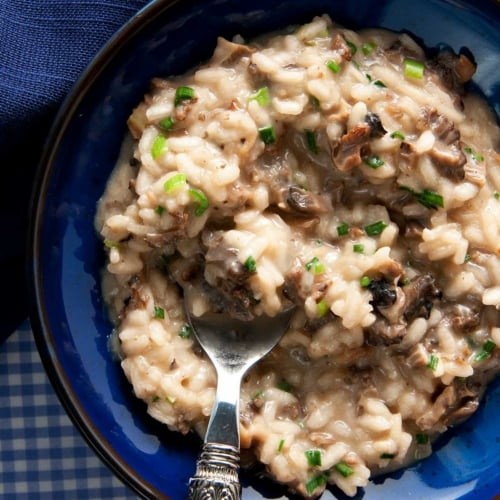 Morel Mushroom Risotto
This risotto is pretty simple: You want to revel in the flavor of these mushrooms, so not much else should compete with it.
Ingredients
1

quart

stock,

beef, chicken or vegetable stock

2 to 3

cups

water

2

tablespoons

butter

1/2

cup

minced shallot,

leek or onion

2

garlic cloves,

minced

2

cups

risotto rice

1/2

pound

fresh morels,

or 1 ounce dried, chopped

Salt

2

tablespoons

chopped chives or parsley

1/2

cup

grated pecorino or parmesan cheese
Instructions
FOR FRESH MORELS
Pour the stock and 2 cups water into a pot and bring it to a gentle simmer.

In another medium pot, heat the duck fat or butter over medium-high heat and sauté the minced shallot or onion until it softens and turns translucent, about 3 to 4 minutes. Add the garlic cloves, the morels and the rice and mix well. Cook for 2 to 3 minutes, stirring often.

When the liquid from the morels has evaporated, add 1/2 cup of hot stock to the rice and stir well. Sprinkle a little salt over everything. The key to making a great risotto is to constantly stir, or at least stir every minute or so. As each 1/2 cup of stock is absorbed, add another, then another until the rice is cooked through, but still firm.

When you reach that point, add the grated cheese and a little more stock. Stir to incorporate the cheese into the risotto. Add the chopped chives and serve at once.
FOR DRIED MORELS
Start by setting the morels in a bowl. Pour 2 cups of boiling water over the morels and cover the bowl. Let the mushrooms steep for 30 minutes. Remove the mushrooms, squeeze them dry with your hands over the bowl, catching the juices. Chop the morels and set aside. Strain the soaking water through a paper towel set in a colander; you will be cooking with this soaking water, and you want it free of debris.

Now follow the directions as above, but instead of 2 cups of water, use the 2 cups of the mushroom soaking water.
Notes
The final green garnish should be something like ramp leaves, chives, garlic chives or the leaves of green garlic, or the green parts of a green onion. 
Nutrition
Calories:
536
kcal
|
Carbohydrates:
91
g
|
Protein:
18
g
|
Fat:
11
g
|
Saturated Fat:
6
g
|
Polyunsaturated Fat:
1
g
|
Monounsaturated Fat:
3
g
|
Trans Fat:
1
g
|
Cholesterol:
28
mg
|
Sodium:
289
mg
|
Potassium:
634
mg
|
Fiber:
5
g
|
Sugar:
3
g
|
Vitamin A:
293
IU
|
Vitamin C:
4
mg
|
Calcium:
190
mg
|
Iron:
12
mg
Nutrition information is automatically calculated, so should only be used as an approximation.