As an Amazon Associate I earn from qualifying purchases.
This is an incredibly satisfying, yet simple recipe for salmon risotto that you can make with leftover or smoked salmon — or trout, or char — that is kicked up with a few spoonfuls of pesto.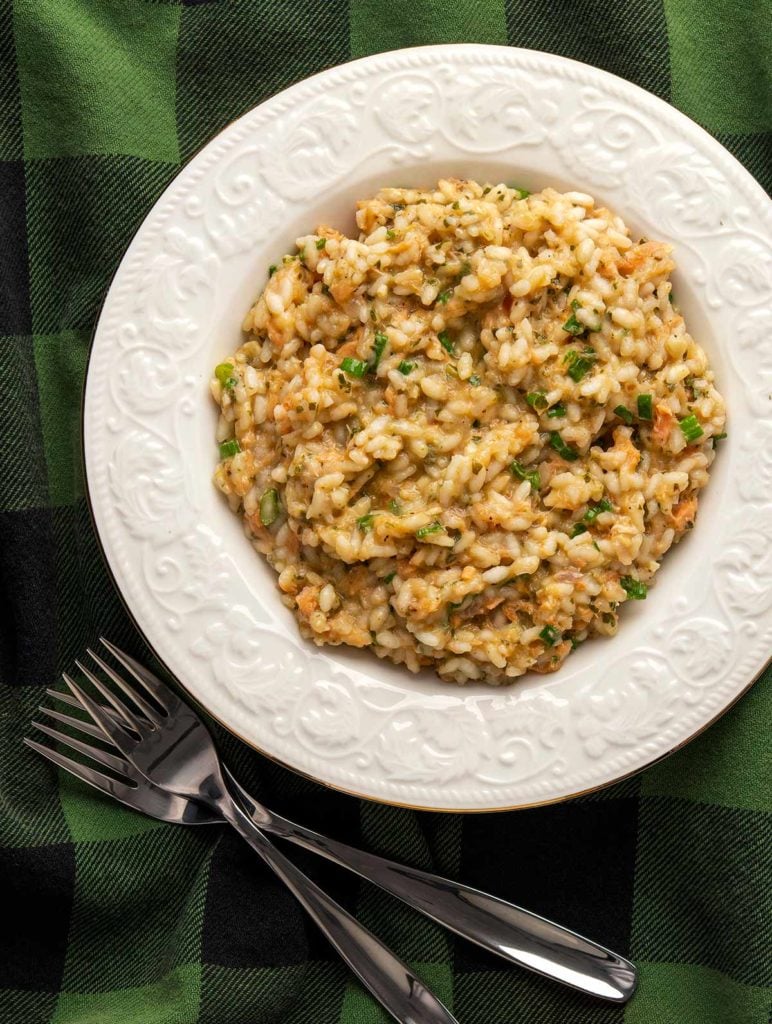 As with a lot of recipes on this site, you can make this as hard or as easy as you want.
The simplest way to make salmon risotto would be with leftover salmon and chicken broth and store-bought pesto. This makes a fine salmon risotto perfectly good for a worknight.
But I'll walk you through some upgrades to make this dish fit for date night or a special occasion.
Before that, we have to talk rice. You need risotto rice to make risotto. Duh, right? But I get the question a lot. No, you cannot make risotto with long-grain rice, nor can you really make it well with Japanese short-grain rice. You need a short- or medium-grain rice that absorbs a lot of liquid.
The standard is Arborio rice. That will be the easiest to find and it's fine. You may also find Carnaroli and Spanish bomba rice. Both are better. But the finest risotto rice for a salmon risotto, or any other seafood risotto, is Vialone nano. It's smaller and just seems to play well with fish and seafood.
I use it in my Venetian fish risotto, as well as my recipes for shrimp risotto and crab risotto. You can buy Vialone nano online, but Arborio should be in your supermarket.
Once you have the rice, you're in business.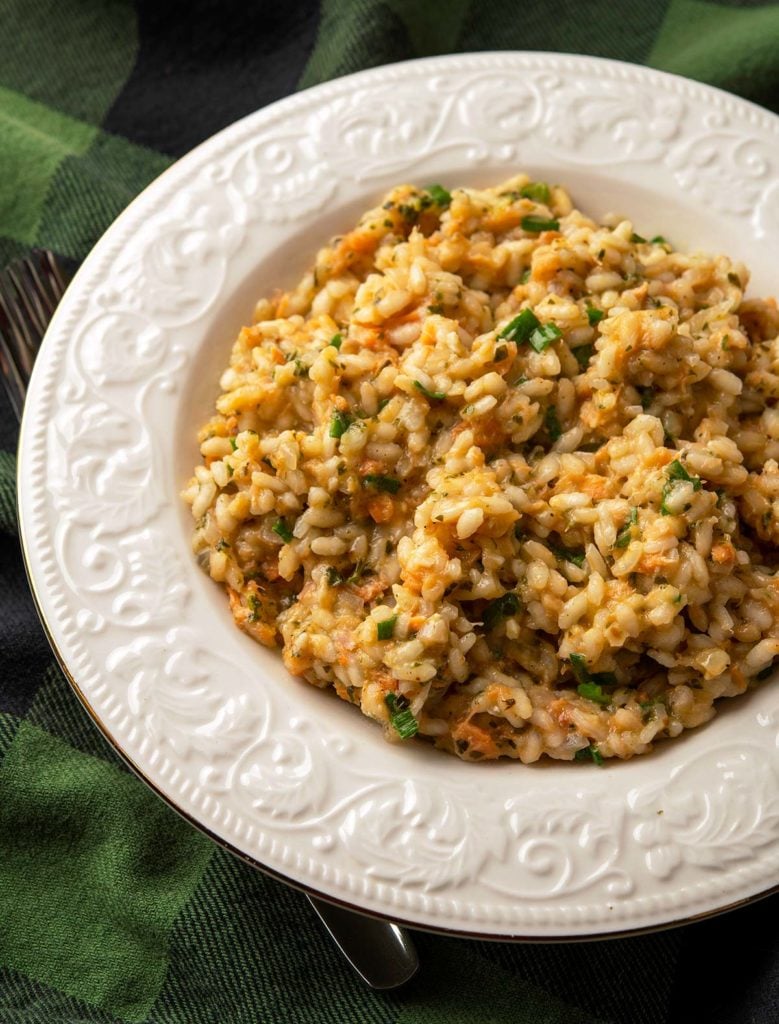 Like I said, the easiest route with the fish is to use leftovers. But if you don't have leftover salmon, smoked salmon works really well (hot-smoked salmon is what I am talking about), as does smoked trout, or you can make a bit of poached salmon and flake the meat off.
Canned salmon will work in a pinch, but personally I am not a fan.
By far the coolest method this is what I do in salmon season, is to make a salmon stock from the carcass and heads of salmon, then pick the meat out and use the stock: That makes a super salmon risotto.
As for the pesto, my favorite is to use a wintry parsley-walnut pesto or an arugula pesto. But a regular basil pesto is perfectly good. If you are a forager, I can recommend either a nettle pesto or a ramp pesto, too.
Once you've determined a game plan, making the actual salmon risotto is a breeze.
It's simple: Butter, onions or shallots, a splash of Marsala or white wine or sherry, whatever stock you've chosen. That's it. You add the salmon and the pesto right at the end, with another dollop of butter.
If you're looking for more risotto recipes, I have more than a dozen for fish and seafood, mushrooms and vegetables – you can check them out here.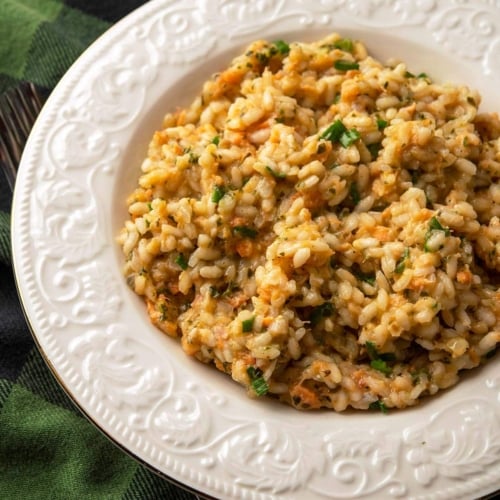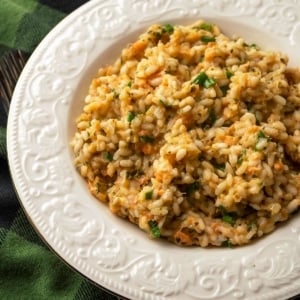 Salmon Risotto
I'll give you the fanciest method below, but look in the Notes at bottom for shortcuts or alternatives.
Ingredients
4

tablespoons

butter,

divided

1/2

cup

minced shallots,

or yellow onion

2

cups

risotto rice

(see above for varieties)

1/2

cup

Marsala or white wine

6

cups

salmon stock,

or low-sodium chicken stock

6

ounces

flaked, cooked salmon

3

tablespoons

pesto

Black pepper to taste
Instructions
Heat the butter in a medium pot over medium-high heat. When it's hot, add the minced shallots and sauté, stirring often. When the shallots are soft, add the rice and stir well. Cook, stirring often, a few minutes, then add the Marsala or white wine. Stir constantly until the liquid has mostly evaporated.

Start adding the stock 1 cup at a time, stirring it in well. Turn the heat down to medium-low, and cook this, stirring often, until the liquid has mostly been absorbed. Repeat with another cup of stock, and so on until the rice is tender, but still a little al dente. It's possible you will need another cup of liquid. If this is the case, use water.

Once the rice is about ready, stir in the salmon and the pesto and cook another few minutes. You want your risotto to be loose enough to serve in a bowl, not a plate, so add water if need be. Grind some pepper over it and serve.
Notes
Keep in mind this works just as well with trout or char. 
Keys to Success
When you add the stock or water, it needs to be at least room temperature, or warm. So if you want to speed things up a little, put all the stock in another pot and bring it to the steaming point.
It is the stirring that makes good risotto. No getting around it. No matter what someone may tell you, you need to stir risotto to get that starchy creaminess. Comes with the territory. 
As I mention above, the salmon or trout can be leftover, smoked, poached or whatever. I rarely cook salmon just for this recipe. 
Any pesto will do. Store-bought basil pesto is nice and easy, but if you can make it or find it, a parsley-walnut pesto goes better with the salmon. 
Nutrition
Calories:
688
kcal
|
Carbohydrates:
93
g
|
Protein:
23
g
|
Fat:
21
g
|
Saturated Fat:
9
g
|
Polyunsaturated Fat:
2
g
|
Monounsaturated Fat:
5
g
|
Trans Fat:
1
g
|
Cholesterol:
54
mg
|
Sodium:
337
mg
|
Potassium:
719
mg
|
Fiber:
4
g
|
Sugar:
5
g
|
Vitamin A:
595
IU
|
Vitamin C:
2
mg
|
Calcium:
57
mg
|
Iron:
6
mg
Nutrition information is automatically calculated, so should only be used as an approximation.