Fire Roasted Salsa
July 30, 2020 | Updated March 20, 2021
As an Amazon Associate I earn from qualifying purchases.
This roasted salsa recipe is my go-to when I'm cooking Mexican food in summertime.
Think about it: When you are making grilled skirt steak, or grilled flat iron steak, or hell, any version of carne asada or grilled chicken or fish or whatever, you have this whole production of setting up the grill — if you use charcoal or wood, which I always do these days.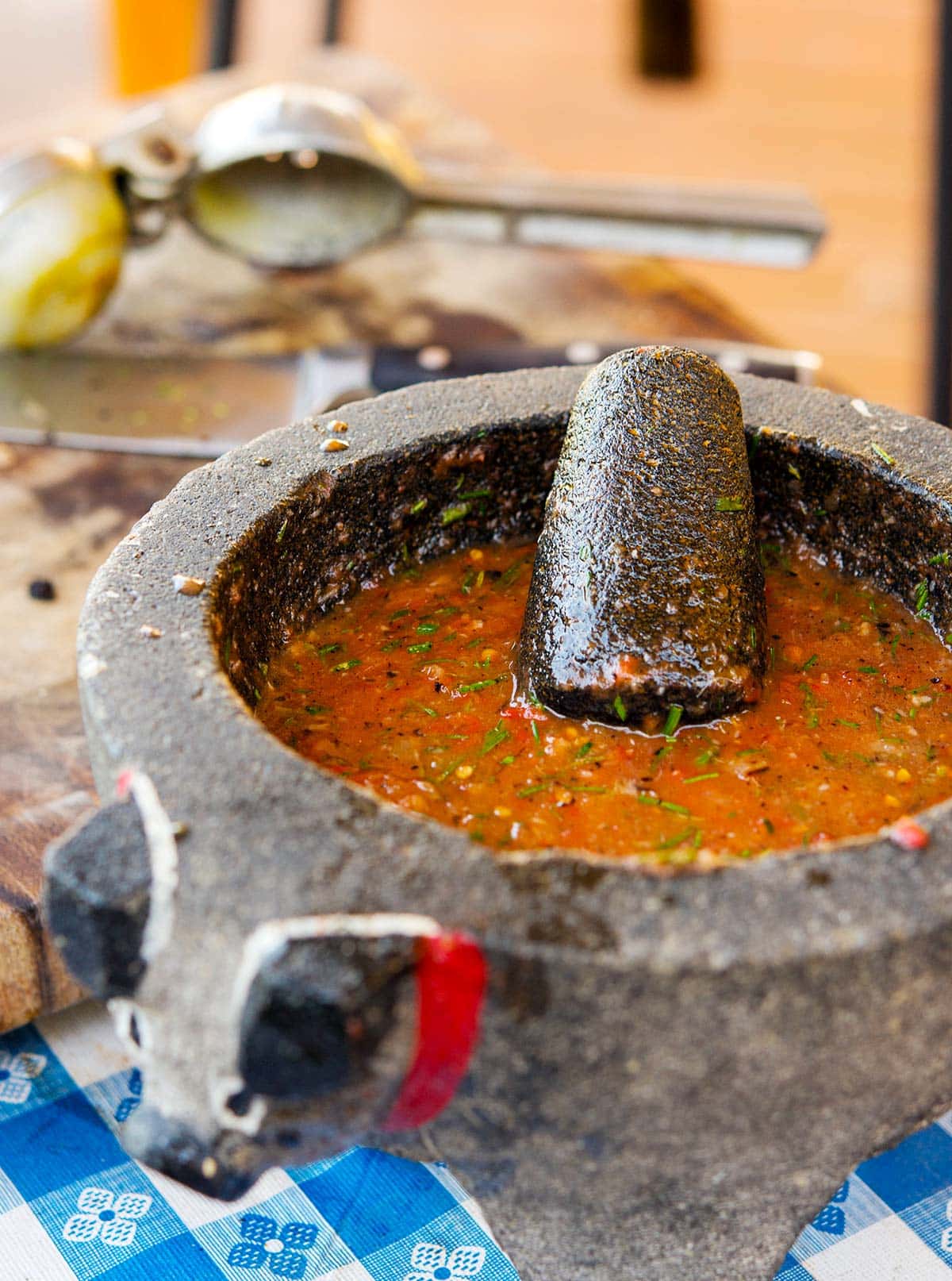 Many times what you're grilling doesn't take very long, so you are left with really good coals still plenty hot. Seems a shame to leave them.
The answer is to make fire roasted salsa. Specifically, make your roasted salsa before you put the meat on the grill. Since you know your coals will be fine, grill your tomatoes, chiles, onions and garlic first, make this salsa, then you can enjoy it with chips as your meat grills, and then put more on your tacos.
I like to grind my roasted salsa with a basalt mortar and pestle called a molcajete, which gives it a far better texture than if you blast it in a food processor or blender. But it's fine in either.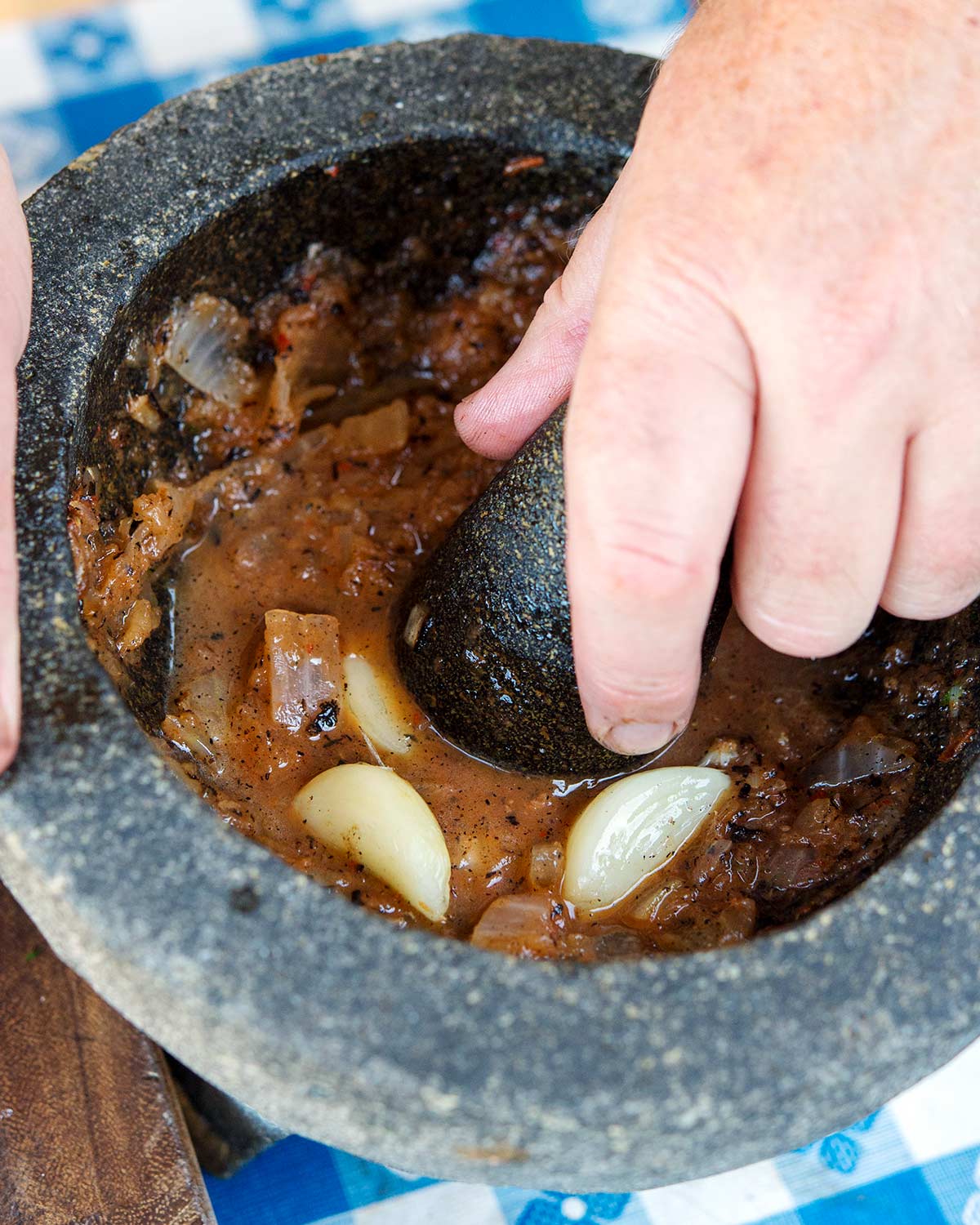 Roasted salsa is also fine if you have a gas grill, or no grill at all. You can make it in winter using your broiler, or a comal — a cast iron pan used in Mexico that's like a frying pan with almost no sides. A cast iron frying pan works, too.
A few tips to make this roasted salsa recipe better than your friends' versions:
If you are using a grill, get the grates very hot and scrape them well. Food sticks to dirty grates…
Use plum tomatoes, like Romas or San Marzanos. They grill or broil more easily than regular tomatoes. Also, if you have to buy crappy supermarket tomatoes, buy them several days before you make this salsa and sit them on the kitchen table. They will improve dramatically.
Peel your tomatoes after grilling or searing. The peels should pull right off and they're hard to digest, anyway.
Keep your garlic in its skin. This gives you some protection from the searing heat. Also, put the garlic cloves around the edges of the grill or broiler.
Always make sure you have some of the root attached to your quartered onion. This keeps the layers together. Also, if you are using a molcajete, chop your onions after they've been charred. You'll thank me later.
Set your charred chiles in a plastic produce bag to steam after you've blackened the skins. Then use the back of a knife to scrape off the skins. Do not rinse them with water, as this removes a ton of flavor. Use the knife to scrape away seeds.
If you are using the molcajete for your roasted salsa, start the grinding process with salt and your garlic, then add onions, then chiles, then finally tomatoes and herbs. Always harder to grind stuff first!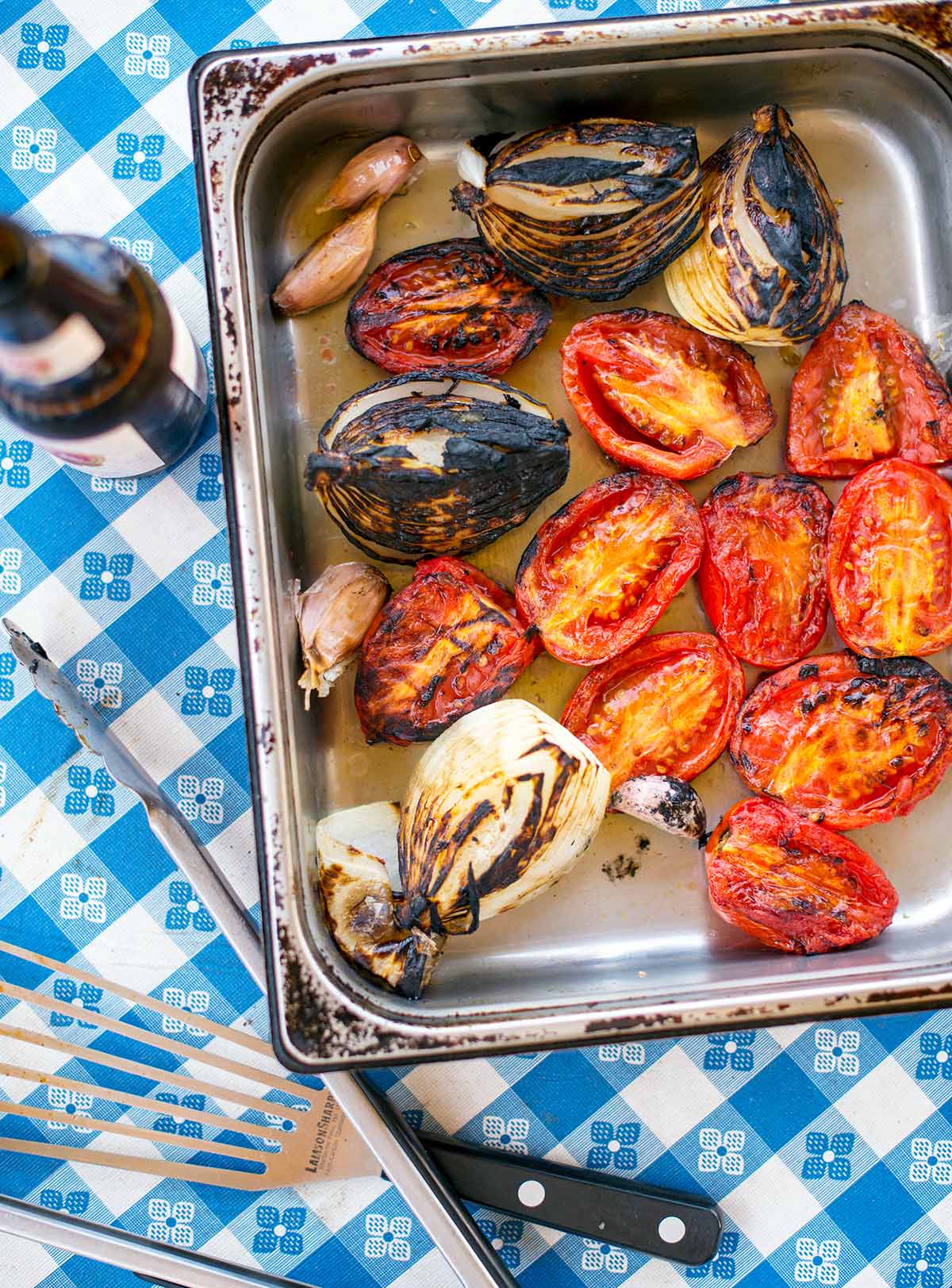 You have some options to play around with for a good roasted salsa. I mentioned the plum tomatoes, but I suppose others would work. For a green version, substitute tomatillos that have been husked and halved. White onions are traditional in most of Mexico, except for the Yucatan area, where they use red onions.
Your chiles should make you happy. I grow many odd varieties, and use whatever strikes my fancy that day. For the pictures, I used tiny chiltepins, which I did not char, but ground directly into salt to start the salsa. Most normal would be serrano, jalapeno or habanero chiles.
Add salt as you go. Start with the 1/2 teaspoon, then add a pinch here, a pinch there until it's to your liking.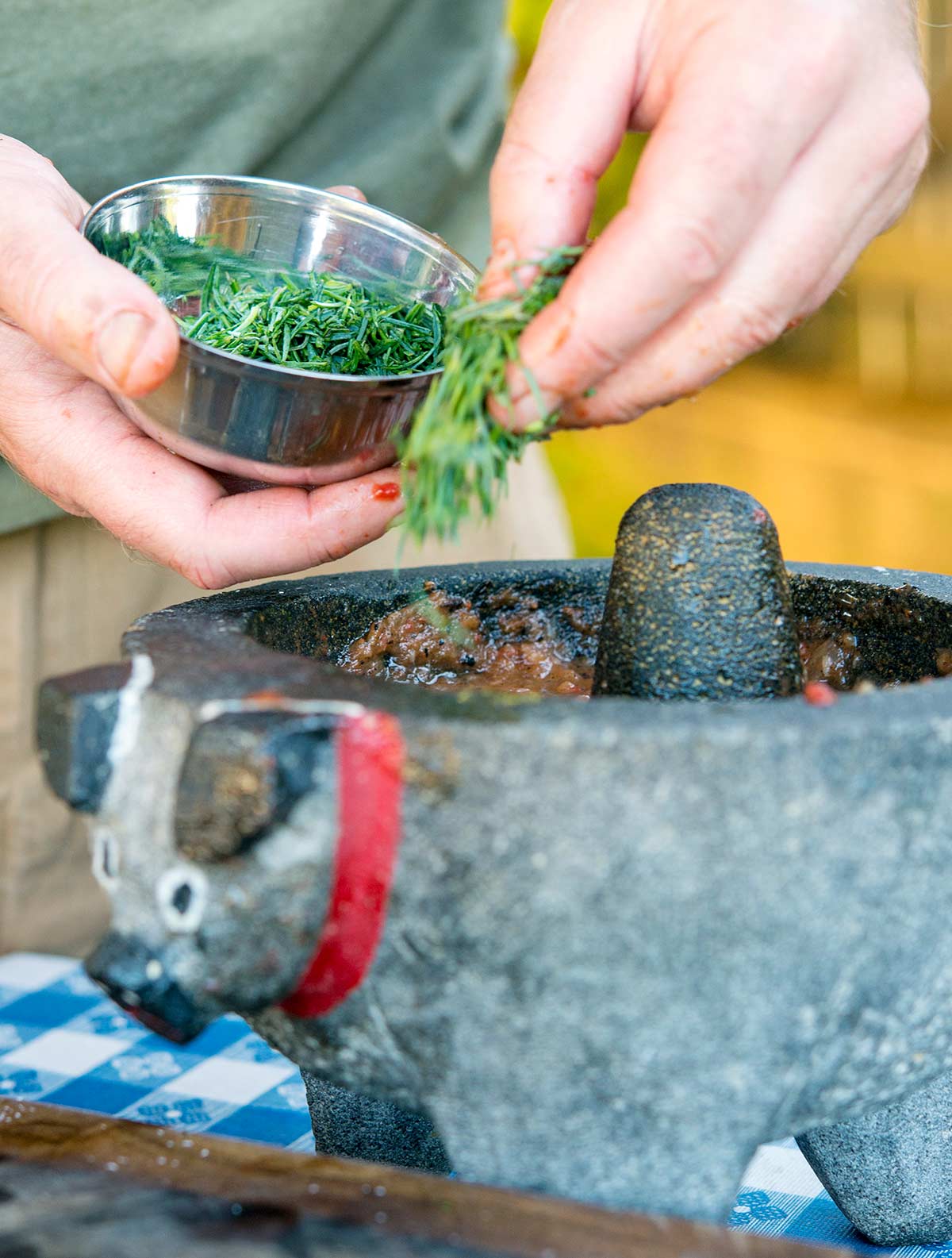 Finally a word on the herbal component. Not all roasted salsa has herbs in it, but mine always does. I will use whatever looks good in my garden: cilantro, pipicha, papalo, fresh Mexican oregano, even pitiona, which is an unusual herb from Oaxaca. For most people, cilantro is the ticket. Hate cilantro? Use chives.
If you can choose between a food processor and a blender, go with the food processor. Roasted salsa, or at least my version of it, should not be a smooth liquid. You want some texture.
Once made, your roasted salsa will keep a week or so in the fridge, and, if you add some citric acid to it, about a teaspoon per pint, you can water-bath can it for winter.
I make a lot of different salsas. You might like my Mexican salsa verde, or a salsa morita, which uses chipotles, or if you like things picante, my salsa de chile de arbol.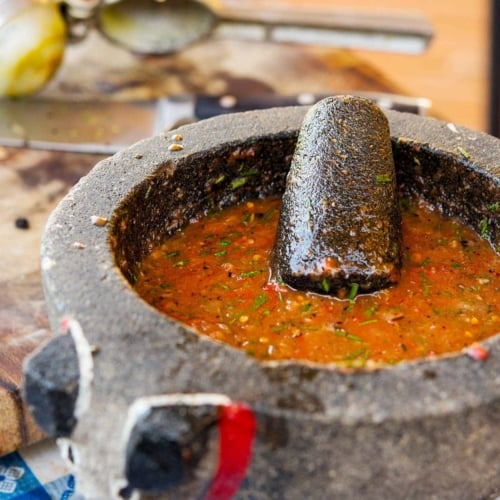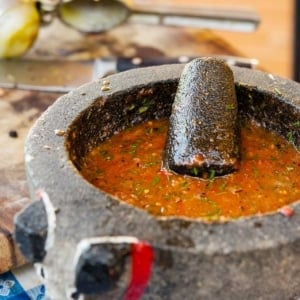 Fire Roasted Salsa
I go through a lot of the potential variables you'll face in the headnotes above in terms of ingredients and cooking method. I prefer to make this salsa over a charcoal grill, but I'll offer other ways below.
Ingredients
4 to 6

plum tomatoes, cut in half

1 or 2

white onions, cut in quarters

3 or 4

garlic cloves,

unpeeled

1 to 4

serrano or jalapeno chiles

(See note below)

1

teaspoon

salt

1

teaspoon

Mexican oregano

(optional)

3

tablespoons

chopped cilantro, pipicha, etc.
Instructions
If you are grilling, get your grates hot and scrape them clean. Place your onions and tomatoes cut side down on the grill. Place the chiles and garlic cloves on the grill, too. If you are broiling, arrange everything on a baking sheet, cut side up.

Let the onions and tomatoes grill a solid 5 minutes before trying to move them. You want significant blackening. Turn the garlic cloves as the peel blackens, and rotate the chiles so their skins blacken. Remove the garlic when several sides of the cloves have some char, when the skins of the chiles are well blackened, when both cut sides of the onion quarters are charred, and when the cut face of the tomatoes are well blackened. You will want to use a thin metal spatula to do this. If you are broiling, simply wait until you get good char on most of the vegetables.

Put the chiles into a plastic bag to steam. Chop the onion roughly. Peel the garlic and if the cloves are large, chop into a few pieces. Remove the skins from the tomatoes. After 10 minutes or so, peel the chiles with the back of a butter knife, then open them up and scrape away their seeds. Chop them roughly.

If you are grinding your salsa in a molcajete, add the salt, oregano and garlic and pound to a paste. Add the onion bit by bit, grinding and pounding all the way. Next comes the chiles, then the tomatoes. Finally, grind in the chopped herbs into the salsa. If you are not using a molcajete, simply put everything into a food processor and blitz it a few times. You want this salsa to have some texture. Add salt if you need it, and you are good to go.
Notes
NOTE: I also like to add tiny chiltepin or pequin chiles instead of the serranos. If you have those, simply grind them in with the salt and garlic. 
Nutrition
Calories:
13
kcal
|
Carbohydrates:
3
g
|
Protein:
1
g
|
Fat:
1
g
|
Saturated Fat:
1
g
|
Sodium:
147
mg
|
Potassium:
72
mg
|
Fiber:
1
g
|
Sugar:
1
g
|
Vitamin A:
138
IU
|
Vitamin C:
4
mg
|
Calcium:
11
mg
|
Iron:
1
mg
Nutrition information is automatically calculated, so should only be used as an approximation.