As an Amazon Associate I earn from qualifying purchases.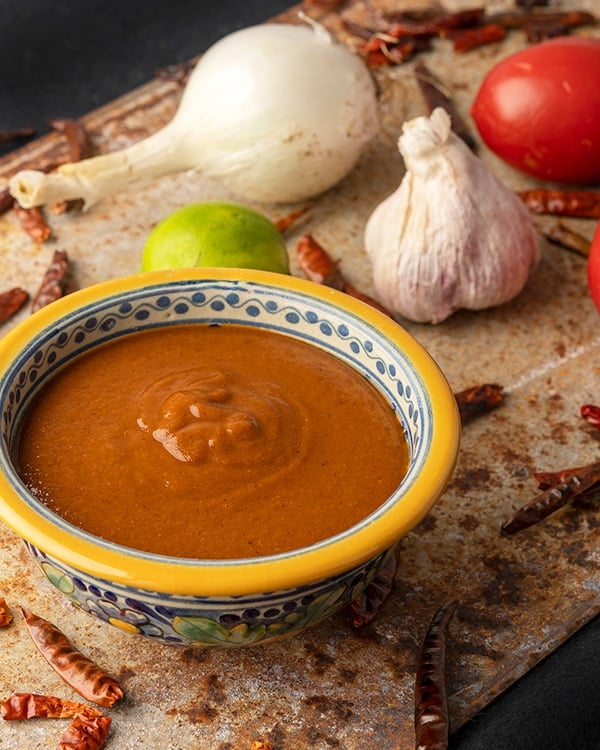 Even though salsa de chile de arbol, arbol salsa, might seem exotic to some, I am betting you will be familiar with this salsa once you make it.
Salsa de chile de arbol is that really picante salsa you will see in practically every Mexican restaurant in America. You know, the one you challenge your friends to try, and, hopefully the one you like better than the humdrum pico de gallo sitting next to it.
At its core, arbol salsa is simply chiles, garlic, a little tomato and tomatillo, maybe a little onion and Mexican oregano, and lime juice or vinegar to brighten it up. If it sounds like a pureed pico de gallo, it's kinda close. No cilantro, and, well, you need arbol chiles.
Arbol means tree in Spanish, and if you've ever grown these chiles, you'll understand: The plant grows very tall, up to five feet in my garden, and it littered with chiles that ripen from green to red that are about the size of your pinkie finger, or a touch smaller. So it looks like a Christmas tree with red ornaments.
Arbol chiles are thin-walled, a bit citrusy and most definitely picante. They are good fresh but since they dry so well, you usually see them that way. In Latin markets you will see them in big bags either simply dried, or pre-toasted. Either is fine here, but if you buy the pre-toasted ones, you can skip the step of toasting the chiles for this salsa.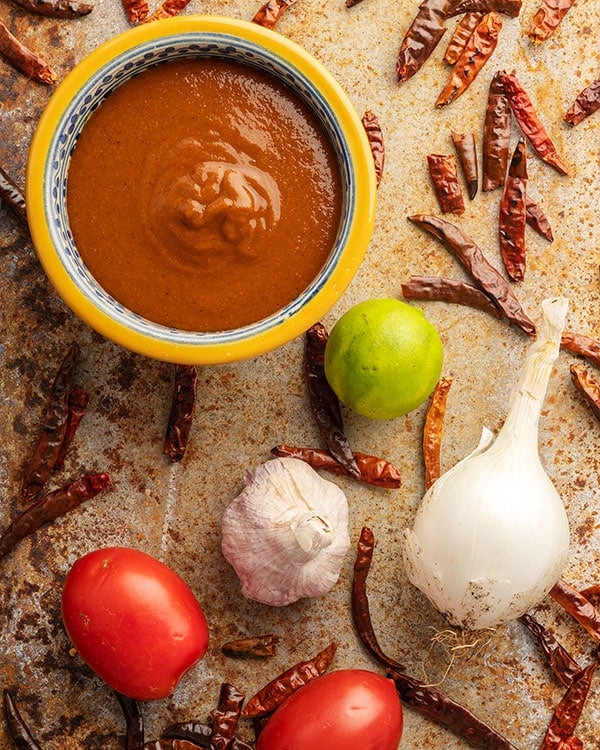 To my mind, a really good salsa de chile de arbol is made with toasted or charred ingredients: The chiles, the tomatoes and tomatillos, the onion and garlic. That extra step adds so much to the flavor that even though this is a spicy salsa, you will want to keep eating it.
You can char everything in the broiler if you want, but I prefer to char them on a comal, which is a cast iron pan with low sides, like a skillet; a cast iron pan is fine, too. One tip to charring the vegetables is to get the pan very hot first, so you get an almost instant sear. You want some blackening. Actually you want a lot of it.
Whether you seed your arbol chiles is up to you. I don't, but I like things hot. Deseeding will make your salsa a bit milder.
Use your salsa de chile de arbol with tortilla chips (totopos), or on any taco. You can find all my taco recipes here, and I have another whole page full of great salsas and sauces here.
Once made, this salsa will keep a couple weeks in the fridge.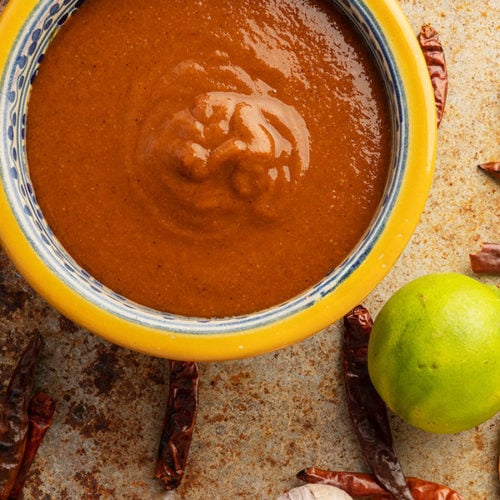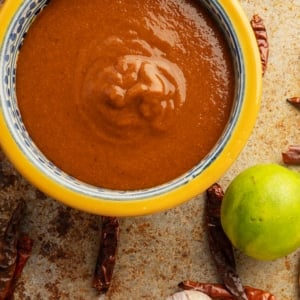 Salsa de Chile de Arbol
This is a smooth hot salsa that hinges on arbol chiles. You of course use other dried chiles if you want, but then it will not be an arbol salsa -- but it'll still be good.
Ingredients
3/4

ounce

dried, toasted arbol chiles,

20 grams

1/2

pound

plum tomatoes,

sliced in half lengthwise

1/4

pound

tomatillos,

husked and slice in half

1

small white onion,

peeled and sliced in quarters

3

cloves

garlic,

unpeeled

Juice of a lime

Salt to taste
Instructions
Get your comal or pan very hot. If your arbol chiles are not already toasted, arrange them in one layer in the hot pan and let them toast about 15 to 30 seconds -- not too long, or they will get bitter. Turn them over to toast the other side, then move them to the bowl of your blender.

Arrange the tomatoes, onion, tomatillos, and garlic cloves on the hot pan, cut side down. Let them char for a solid 5 to 10 minutes. Try to move them after 5 minutes with a metal spatula, and if they are still stuck to the pan, let them be another minute or two until they release. Once the cut sides of the tomatoes and tomatillos are charred, move them to the blender. Flip the onions and garlic to char a little on the other side.

When the onions and garlic are nicely charred a bit, move them to a cutting board. Peel the garlic and put the cloves in the blender. Roughly chop the onion and put that in the blender. Add the lime juice, a pinch of salt and about 1/4 cup of water. Puree, adding more water if you need to make a smooth, pourable sauce. Adjust for salt and serve.
Nutrition
Calories:
20
kcal
|
Carbohydrates:
4
g
|
Protein:
1
g
|
Fat:
1
g
|
Saturated Fat:
1
g
|
Sodium:
4
mg
|
Potassium:
144
mg
|
Fiber:
1
g
|
Sugar:
2
g
|
Vitamin A:
765
IU
|
Vitamin C:
6
mg
|
Calcium:
6
mg
|
Iron:
1
mg
Nutrition information is automatically calculated, so should only be used as an approximation.