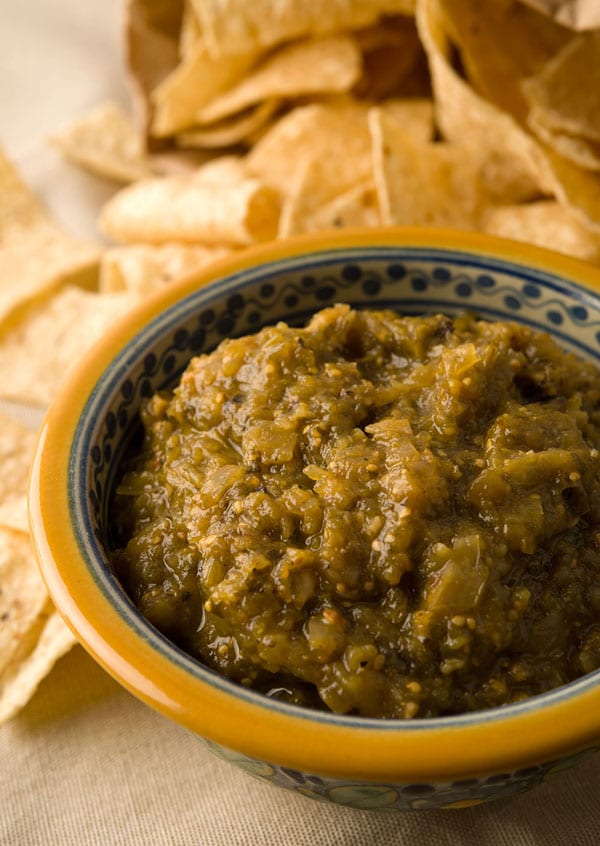 While this salsa verde is Mexican, pretty much every culture has a green sauce of some sort. Elsewhere on this site I have a German green sauce and an Italian salsa verde, both with fish. I like both sauces, but they're not this one. This is what most Americans think of when you hear the words salsa verde. It's a Mexican classic, and a good thing to know how to make.
The recipe below is one I've tinkered with over the years, after eating lots of them and trying recipes from such greats as Rick Bayless and Diana Kennedy. What I like most about this version of salsa verde is that almost everything is grilled or charred, and that adds a ton of flavor to the final salsa.
I prefer to use the tiny, "wild" tomatillos for this recipe, which are known as milpa in Mexican markets. But really any tomatillo will work. Just don't use the purple ones, as they're too ripe for this. You want the acidity of green tomatillos, especially if you are canning. I happen to have them growing uncontrollably in my garden. How they got there, I have no idea.
I also like to use New Mexican Hatch green chiles here, too. They're cheap, plentiful and will often grow pretty straight, making them easier to roast and peel. Anaheim or poblanos are excellent, too. You could use a regular green bell pepper if you had to.
How do you use this salsa verde? Well, with tortilla chips, of course. But also as a base for chile verde with pork, chicken, pheasant or whatever. And like all green sauces, it's fantastic with fish.
This recipe can be canned, with a couple minor alterations I detail below. Since you need to do a lot of charring and roasting to make it, it's a good idea to whip up a big batch and can what you don't eat straight away.
Tomatillo Salsa Verde
You don't have to can your salsa -- in fact it's better fresh. But having real-deal salsa verde in your pantry in winter is a good thing, so put up at least a few jars of this stuff. If you are canning, please don't mess with this recipe, as it is tested to work in a boiling water bath. Tomatillos are acidic, and the addition of the lime juice and the citric acid will keep everything safe. If you must mess with this recipe, and you do intend to can it, use a pressure canner, which can handle less acidic foods. How long? No idea. You're on your own.
Ingredients
1 to 2

pounds

husked tomatillos,

preferably the little milpa tomatillos

1 1/2

cups

poblano or Anaheim chiles,

roasted, peeled, seeded and chopped (about 4)

1/2

cup

jalapenos,

peeled, seeded and chopped (about 3 to 5)

4

cups

white or yellow onions,

sliced

6

cloves

garlic,

whole and unpeeled

1

tablespoon

cumin

1

tablespoon

dried oregano,

preferably Mexican

1

tablespoon

kosher salt

2

tablespoons

chopped epazote

(optional)

1/4

cup

chopped cilantro

Lime juice to taste

Fruit Fresh or other source of citric acid

(only if canning)
Instructions
If you don't have your green chiles and jalapenos prepped, follow these directions for roasting peppers. Arrange the tomatillos, sliced onions and the garlic cloves on a cooking sheet (or two) and set under the broiler until they are a bit charred.

Once you have all the vegetables prepped, peel the garlic and put it and everything else into a food processor and pulse to make a rough salsa. You're done if you don't want to can your salsa. Kept in a covered container, it will keep a week in the fridge.

If you are canning, add 1 teaspoon of the Fruit Fresh (citric acid) to each pint jar; the jars should be sterilized beforehand. Pack the salsa into the jars, and use a knife of chopstick to remove as many air pockets as you can find. Leave about 1/2 inch headspace. Seal the jars and process in a boiling water bath for 15 minutes.

When the jars are ready, lift out of the boiling water and let them rest until their lids plink. Once they've cooled to room temperature, the salsa will keep in the pantry for more than a year.
Nutrition
Serving:
1
ounce
|
Calories:
27
kcal
|
Carbohydrates:
6
g
|
Protein:
1
g
|
Fat:
1
g
|
Saturated Fat:
1
g
|
Sodium:
352
mg
|
Potassium:
154
mg
|
Fiber:
1
g
|
Sugar:
3
g
|
Vitamin A:
113
IU
|
Vitamin C:
17
mg
|
Calcium:
23
mg
|
Iron:
1
mg