Chilorio, Sinaloa-Style Braised Pork
As an Amazon Associate I earn from qualifying purchases.
Sadly, most Americans know the Mexican state of Sinaloa only for the drug cartels. But there is so, so much more to the place, notably the food. Chilorio, braised, shredded pork, is easy to make and so versatile you'll want to learn how to make it.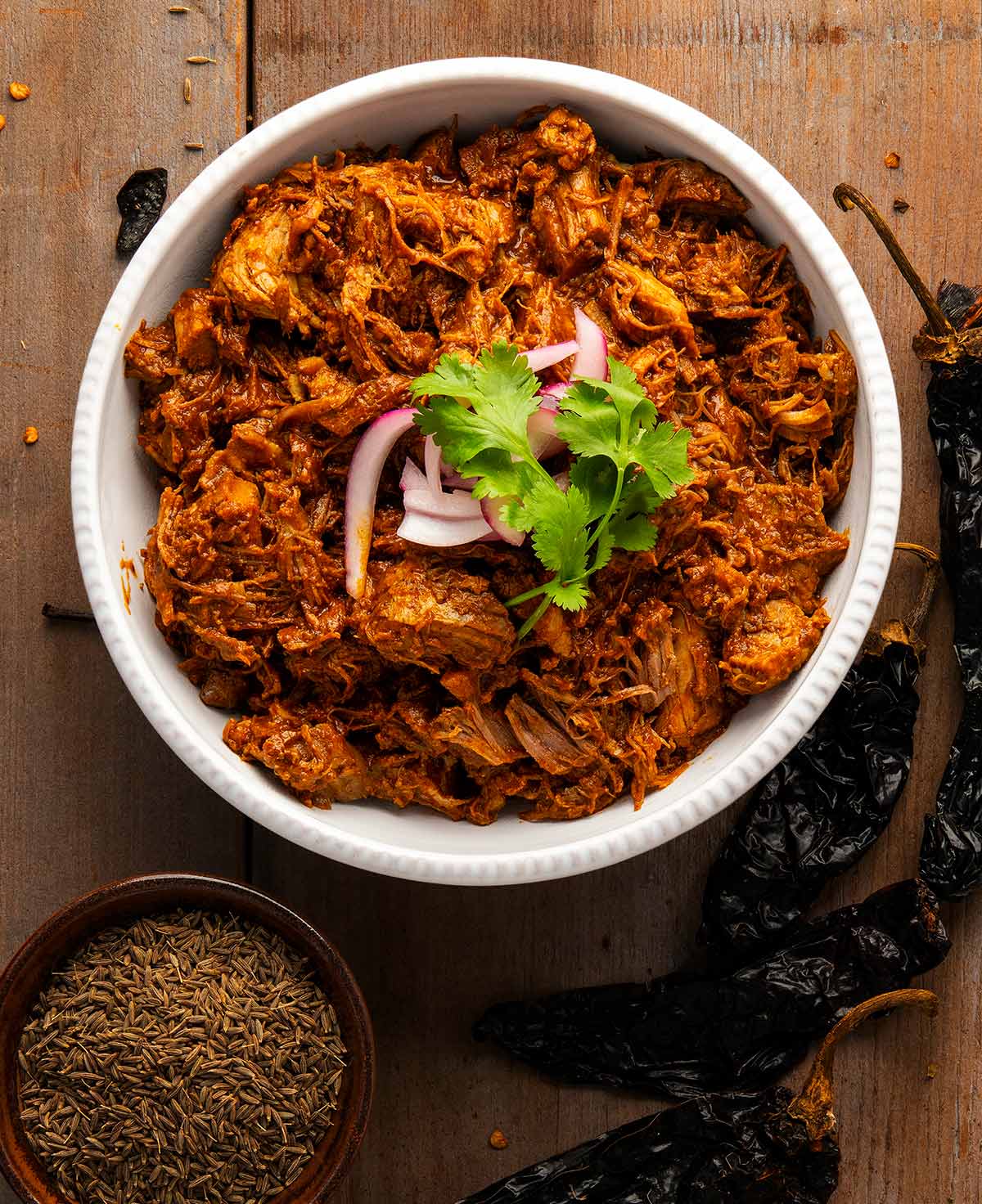 I first ate chilorio back in the late 1990s, when Holly made some for me. At the time, my knowledge of Mexican food wasn't great, but I loved that it was tangy and flavorful without blowing my head off with chiles — and how great it was as leftovers.
Since then, I've only eaten chilorio in Baja California; I've not yet been to Sinaloa. But since Baja Sur and Sinaloa are "connected" by a popular ferry service across the Sea of Cortez, many Sinaloan specialties have taken root in Baja, notably shrimp tacos gobernador.
The soul of chilorio is the combination of chiles, cumin and something acidic, usually vinegar. This sets it apart from a similar dish from Sonora, carne con chile, which has a less acidic salsa and is usually served with a red meat in larger pieces.
I'd like to say it's always pork, but I've seen chicken versions, too. We used some wild hog shoulder here. Pork, wild or farmed, javelina, chicken, pheasant, chukars, grouse, or rabbits would all work.
Chilorio is always shredded, because it is intended to be used in tacos, burritos, tortas (Mexican sandwiches), or alongside rice and beans. I've seen it served in sopes, too; sopes are little corn masa boats filled with good things. And I imagine it would be fantastic in empanadas.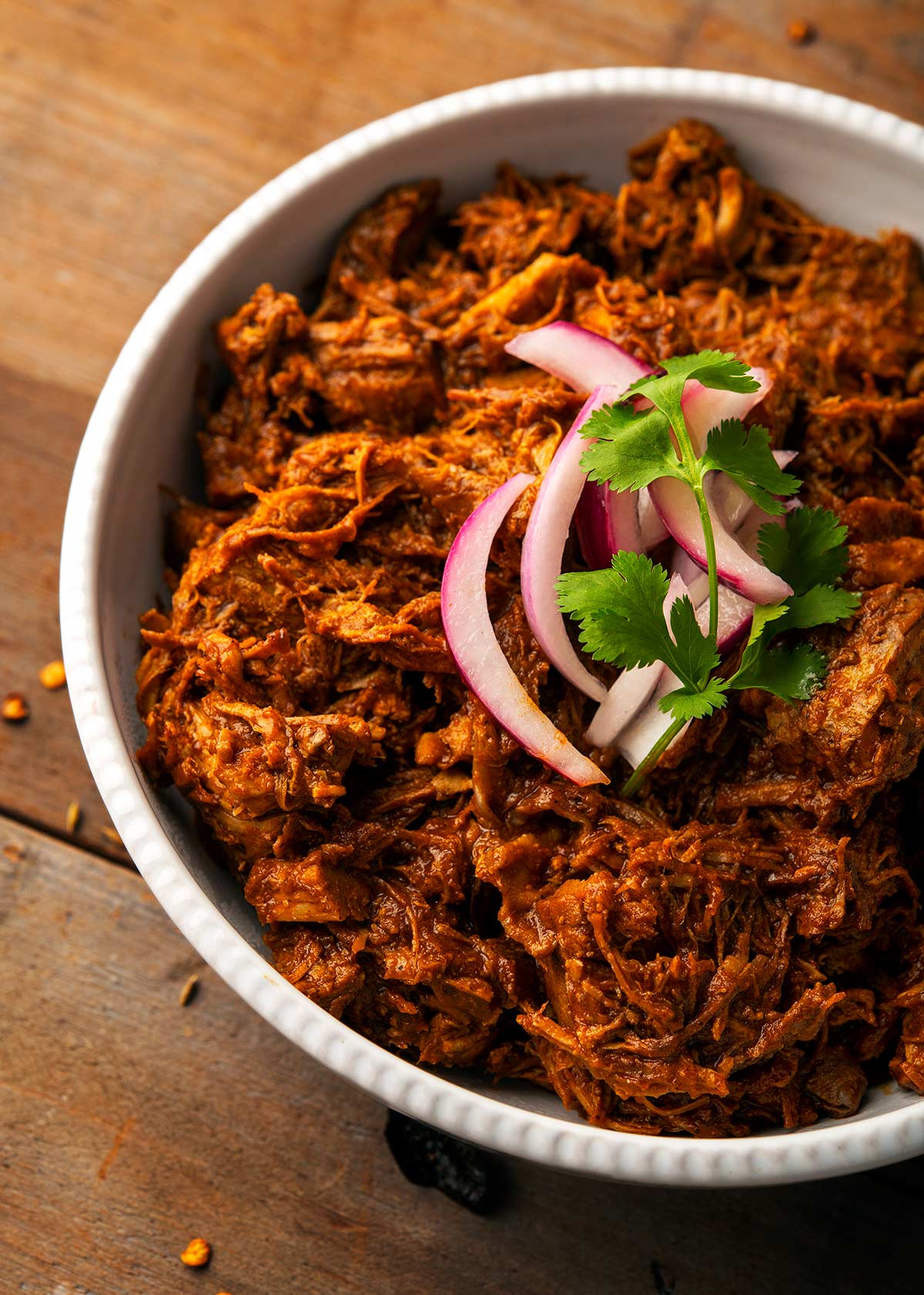 You make chilorio by simmering the meat with some onion, bay leaves and maybe some peppercorns and garlic cloves.
Either you simmer it in just enough water so that it will boil away and the meat sears in the fat that has rendered, or, you can do what I do, which is simmer until tender, then put in a pan with lard and sear that way.
I do this because wild pork takes a lot longer to get tender, and has little fat. Either way, you will want a good amount of lard to sear the meat and cook the salsa with.
The salsa is pretty standard: Char onions and garlic, and toast the cumin and dried chiles if you want to, put it all in a blender with Mexican oregano, water and salt and puree.
That goes into the searing meat and gets cooked by the lard, and, after a bit, you smash it all together to get a pan of shredded amazingness.
Once made, chilorio keeps for a few days in the fridge, and reheats well. If you're looking for more braised pork recipes, check out asado de puerco, an intriguing dish out of northern Mexico.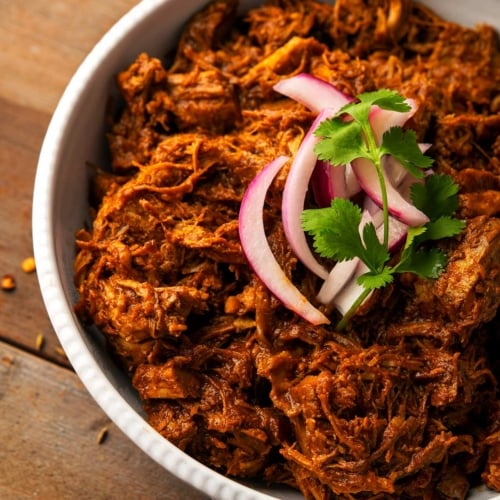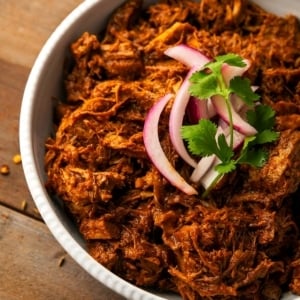 Chilorio, Sinaloan Braised Pork
This recipe comes together easily, and the ingredients can be found in many supermarkets, and in all Latin markets. Serve it on tacos, burritos, sandwiches, sopes, or just alongside some rice.
Ingredients
2 to 3

pounds

pork shoulder

1

large white onion,

sliced in quarters

8

cloves

garlic,

unpeeled

2 to 5

bay leaves

Salt and black pepper

4

guajillo chiles

4

pasilla or ancho chiles

4

chipotle chiles

1

tablespoon

cumin seeds,

or 2 teaspoons ground

2

teaspoons

coriander seeds,

or 1 teaspoon ground

1

tablespon

oregano,

Mexican if possible

1/2

cup

apple cider vinegar,

or more to taste

1/3

cup

lard
Instructions
Cut the pork into large chunks about 3 inches across. Put them into a large, lidded pot and cover with water by 1 inch. Bring to a boil and skim any froth off. Lower the heat to a simmer and add 1/4 of the onion, 2 garlic cloves and the bay leaves. Salt to taste and cook until the pork is tender.

Remove the seeds and stems of all the chiles. It's OK if a few seeds get stuck.

Meanwhile, make the salsa. Heat a comal or griddle or heavy frying pan over high heat and char the rest of the onion and the garlic cloves.

While the vegetables are charring, bring a medium pot of water to a boil. While that is heating, quickly toast the chiles on the hot comal — about 30 seconds total, flipping a couple times. You want the dried chiles to blister a little, but not blacken. When they are toasted and the pot of water hits a boil, put the chiles in the water and turn off the heat.

If you want, toast the cumin and coriander seeds in a hot, dry pan until they smell nice. Put them in a spice grinder or a blender and grind. This step does add a lot of flavor.

When the onions and garlic are nicely charred and the chiles soft, put them in a blender with the oregano and spices, salt, vinegar and enough water to make a sauce with the consistency of cream. Puree.

Once the pork is tender, drain the broth and discard it or use in another recipe. Wipe out the pot and add the lard. When it's hot, add the chunks of pork and sear hard on one side — you want a combination of crispy and soft.

When you have achieved that, pour in the salsa and mix well. Turn the heat to a simmer and cook for 10 to 20 minutes, then serve.
Notes
The timing reflects farmed pork or a young wild hog. Older animals might take longer to get tender. 
Keys to Success
Pork shoulder is preferred, but really any cut of pork will work. And as I mentioned, you can use chicken thighs, upland game birds, rabbits or even venison if you wanted to. 
The chile mix determines the heat level. Skip the chipotles if you want to keep it mild, and for a redder sauce, use only guajillos, or New Mexican red chiles or California chiles, which are dried red Anaheims. 
If you hate vinegar, use lots of lime juice. 
Hate lard? Use some other oil. 
Once made, you can keep this for a week in the fridge, and it freezes well. 
Nutrition
Calories:
362
kcal
|
Carbohydrates:
25
g
|
Protein:
22
g
|
Fat:
20
g
|
Saturated Fat:
7
g
|
Polyunsaturated Fat:
3
g
|
Monounsaturated Fat:
8
g
|
Cholesterol:
73
mg
|
Sodium:
102
mg
|
Potassium:
880
mg
|
Fiber:
10
g
|
Sugar:
13
g
|
Vitamin A:
6822
IU
|
Vitamin C:
12
mg
|
Calcium:
54
mg
|
Iron:
4
mg
Nutrition information is automatically calculated, so should only be used as an approximation.