Mushroom Sauce for Steak
June 22, 2020 | Updated February 27, 2022
As an Amazon Associate I earn from qualifying purchases.
This is a classic French mushroom sauce for steak that you can manipulate depending on what sort of mushrooms, as well as steak, you happen to have on hand.
Whichever route you go, this is classically French. Lots of butter, shallots, a splash of brandy or Madeira or Marsala, a pinch of thyme, and parsley or chervil at the end.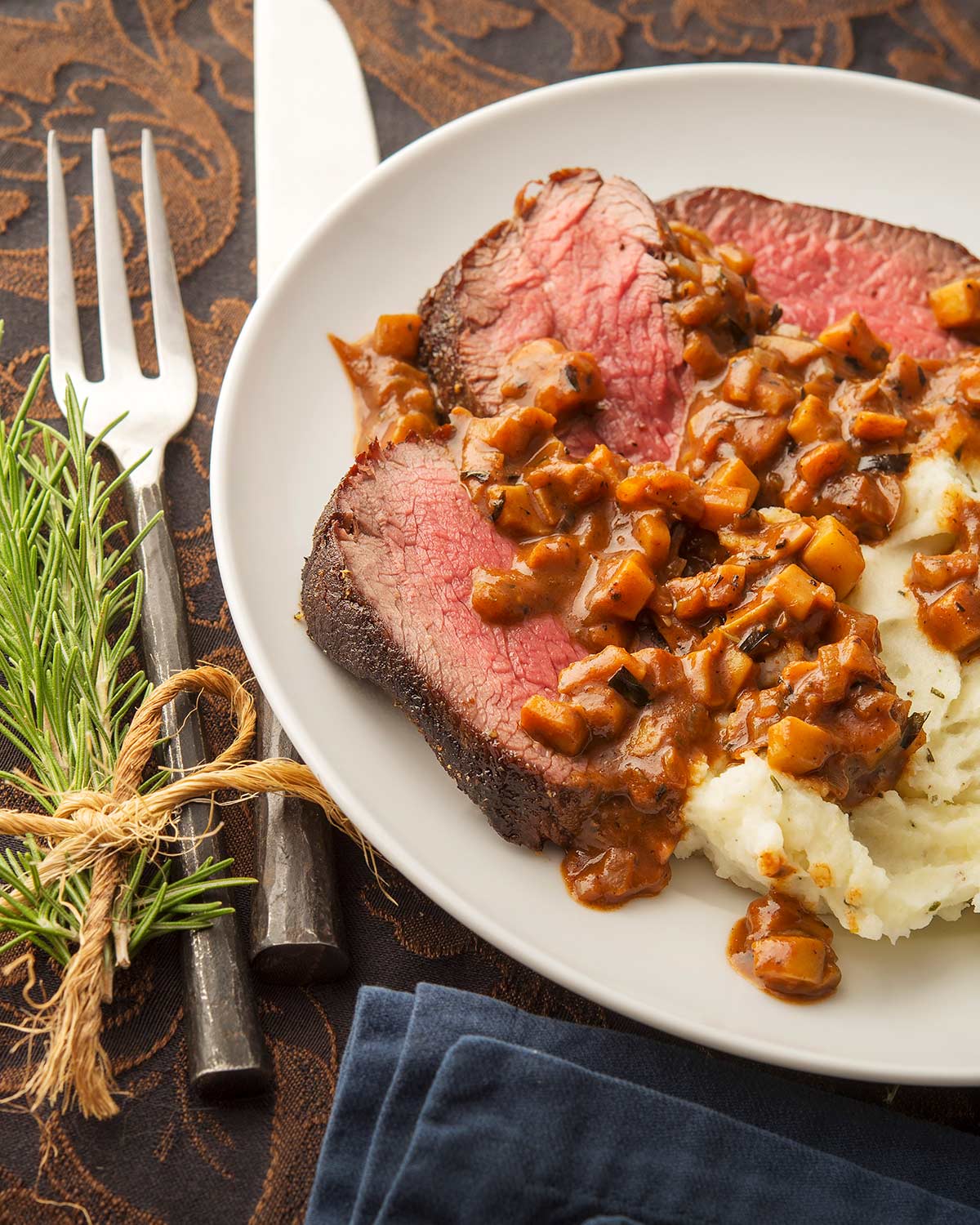 For the pictures, I used elk steaks and spring porcini mushrooms, but obviously beef and button mushrooms from the store will work fine. I'll get into some mushroom recommendations in a moment.
I have to thank the great Julia Child for this mushroom sauce for steak. It's very close to her tournedos sautés chasseur from Mastering the Art of French Cooking, which if you don't own you are missing out on one of the greatest cookbooks in the English language.
There are two ways to go about this mushroom sauce: You can dice the mushrooms and make this more of a cohesive sauce, as I did — or you can slice the mushrooms thin but otherwise whole, which makes a brown sauce that has mushrooms in it rather than a mushroom sauce, if you get my meaning.
And while this is a mushroom sauce for steak, you will want to serve it with something else to eat it with: Mashed potatoes with lots of butter, cream and some garlic is a good call. Crusty bread would be, too, as is polenta or grits.
(You can find more recipes for sauces that go well with fish and game here.)
As for the steak, Julia Childs' recipe calls for beef filet mignon, and by all means use that if you have it. I used elk backstrap, seared medium-rare, and then sliced so I can see the pretty rosy color. Any venison backstrap or tenderloin would be a good choice, as would any cut of beef steak that pleases you.
And even though this is billed as a mushroom sauce for steak, try it on a pork chop, which is, more or less, a pork steak. Or grilled chicken. It's actually very good with salmon, too.
Once made, you really do need to eat it, though. While this sauce will reheat OK after a day or two in the fridge, it won't be quite as good.
Here is another excellent recipe using venison steaks and mushrooms. Hope you like it!)
Mushroom Sauce for Steak
I am using porcini mushrooms for this recipe, but you can use any flavorful mushroom. Other than regular button mushrooms, some good options are shiitake, beech mushrooms, hen of the woods, black trumpets, other boletes, morels and even chanterelles.
Ingredients
3/4

pound

fresh mushrooms,

diced or sliced

3

tablespoons

unsalted butter

1

shallot,

minced

Salt and black pepper

1/2

teaspoon

dried thyme

1

tablespoon

tomato paste

1/2

cup

venison, mushroom or beef stock

1/3

cup

brandy, Madeira or Marsala wine

2

tablespoons

heavy cream

2

tablespoons

Minced parsley, tarragon or chervil
Instructions
The best way to make this sauce is something of a two-step: Sear the mushrooms first, then cook the steak in the same pan, then, while the steak is resting, finish the sauce. So start with a large saute pan set over high heat. Add all the mushrooms. Shake the pan and let them release their water, which should happen in a minute or three.

Add the butter and toss to combine. Saute the mushrooms until nicely browned, then remove them to a bowl with any stray butter. Wipe out the pan and cook the steaks.

When the steaks are resting, add the minced shallot to the pan, adding a little butter if it's too dry. Brown the shallot for a minute or two -- it will pick up any browned bits from the pan quickly -- and add the mushrooms and any juices from the bowl. Toss to combine.

Add salt, pepper and thyme, then the tomato paste. Mix well and let this cook a minute. When the tomato paste is well incorporated, add the venison or beef stock and mix well. Pour in the brandy and bring everything to a boil. Let this boil until it thickens to the consistency of heavy cream, which will take a couple minutes depending on how big your pan is.

Turn off the heat and stir in the heavy cream and the minced fresh herbs. Taste once more for salt and serve.
Video
Nutrition
Calories:
149
kcal
|
Carbohydrates:
6
g
|
Protein:
4
g
|
Fat:
12
g
|
Saturated Fat:
7
g
|
Cholesterol:
33
mg
|
Sodium:
102
mg
|
Potassium:
413
mg
|
Fiber:
1
g
|
Sugar:
3
g
|
Vitamin A:
602
IU
|
Vitamin C:
6
mg
|
Calcium:
13
mg
|
Iron:
1
mg
Nutrition information is automatically calculated, so should only be used as an approximation.