Grilled Venison Steak
August 31, 2011 | Updated February 01, 2022
As an Amazon Associate I earn from qualifying purchases.
Properly grilled venison steak, whether it's tenderloin or backstrap, is one of the great rewards of deer hunting, and it is one of the basic skills any deer hunter needs to know. Here's how to go about making a perfect grilled venison backstrap.
Grilling meats in general can be tricky, but this is especially true with grilled venison, because it is so lean you have little leeway between perfect and overdone — and overcooked venison is gray, dry and livery. Blech.
By the way, everything I say here for grilled venison steaks also works for elk or antelope, or a fillet mignon of beef, moose or bison.
You can grill any venison steak, and I am especially fond of grilled flat-iron steaks from the shoulder as well as venison fajitas from flank, or arrachera tacos from the skirt steak.
But for the most part, when you think of grilled venison you are thinking of grilled venison backstrap or loin. And here's your first tip: Keep the venison backstrap whole. Don't cut it into medallions. Yes, you can grill venison medallions, but they are far harder to grill successfully without drying them out.
Besides, you would be grilling the cut sides of the medallion, leaving the sides pinkish. Not so pretty. With a whole loin, you grill the sides and then, when you cut into it, you get to see that pink perfection.
Large animals, such as elk, moose or nilgai, can be cut into the sort of steaks we are familiar with with beef.
Getting Started
Start with a piece of backstrap that's at least 10 inches long, which is usually about 1 pound. Depending on how wide it is, that will feed 2 to 4 people, depending on how much else you have on the plate.
Your first question is to marinate or not? You do not need to marinate a grilled venison steak, but it doesn't hurt, either. I have a list of really good venison marinades here if you are interested.
Coat your venison backstrap in olive oil and salt it really well. If you used a marinade, wipe the meat dry first and then coat it in the oil. Let the venison come to room temperature for 30 minutes to 1 hour. This prevents the dreaded "black and blue" problem, where the outside is nicely grilled but the inside is raw and cold.
Venison should be grilled over high heat, but with the grill cover open. This is important. You can grill-roast a venison loin, with the lid down, but it will overcook way faster — heat under the grill cover will cook the top of the loin almost as fast as the part that is closest to the fire. I rarely do this, preferring instead to take my time and let the fire do the cooking.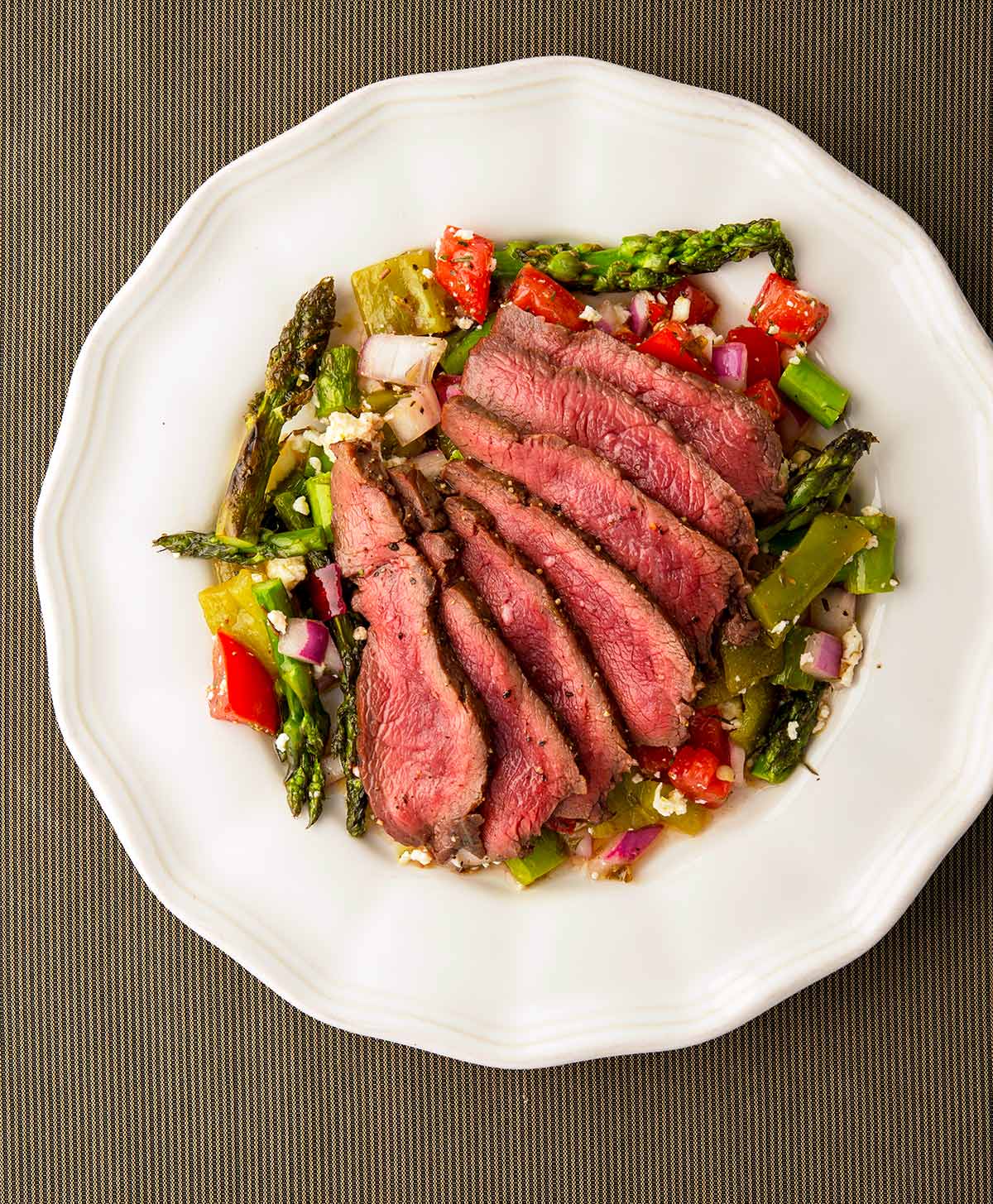 Also know that because venison has no internal marbling of fat, it can go from undercooked to overcooked quickly. So when in doubt, undercook your venison steaks. Why? You can always cook it more. You can't uncook something.
Sauces for Grilled Venison
Grilling with the lid open also lets you baste the meat with your favorite sauce, if you haven't already marinated it. I often skip this, but I do happen to like my Jack Daniels-based BBQ sauce when I am in the mood for BBQ sauce. A lot of times I will just let fire, salt and smoke flavor the venison, with maybe a splash of lemon at the table.
That said, some really good sauces for grilled venison steak are green chimichurri, red chimichurri, a mild ancho sauce, or maple-bourbon gravy.
How do you know when it's done? Use the finger test, which gives you a good idea about the doneness of the center of a piece of meat by touching it with your finger. My friend Elise has a good breakdown of the finger test here.
If you're looking for an internal temperature, most grilled venison backstrap will be ready at about 130°F. A thicker piece of meat, say, from an elk or moose, will have more carryover heat, so I'd pull it at an internal of 125°F, while a flat iron steak, flank or skirt you want closer to 135°F. All of this presupposes you want your grilled venison cooked medium to medium-rare.
No matter what temperature you choose, let your grilled venison rest for at least 5 to 10 minutes before cutting into it. You can wait up to 15 minutes before losing too much heat if your backstrap is very thick. If you learn nothing else from this venison tenderloin recipe, remember to rest your meat.
If you don't have a sauce in mind and you feel like adding a dry spice rub, now is the time to roll the venison in it. I am partial to porcini powder and black pepper.
One tip: If you've pulled your venison and it's too cool, like 115°F or something, tent it with foil and that will get you an extra five degrees or so.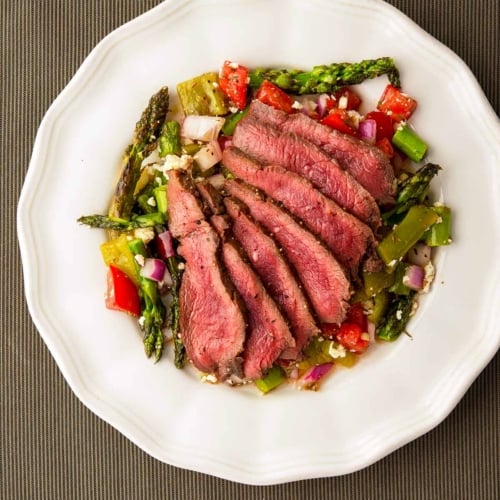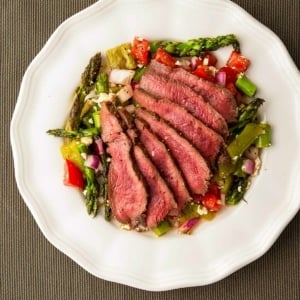 Grilled Venison Steaks
I've gone through much of the detail on how to properly grill a backstrap of venison (or elk, antelope, bison, moose etc.) above, but remember that this is done over high heat with the grill top open, and that it takes a good 15 to 20 minutes. Be patient and you will be rewarded.
Ingredients
1 to 2

pounds

venison loin, ideally in one piece

Olive oil

Salt and pepper

Your favorite sauce
Instructions
Coat the venison backstrap in oil and salt well. Set aside for 30 minutes to 1 hour at room temperature.

Get your grill hot, clean the grates and lay the venison on the grill. Keep the grill cover open. Let this cook 5 to 7 minutes without moving, depending on how hot your grill is and how thick your venison loin is. You want a good sear, with good grill marks, on that side of the meat. Flip and repeat on the other side.

Do the finger test to check for doneness. If the venison needs some more time, turn it to sides that have not had direct exposure to the grill and cook for 2 to 3 more minutes, checking all the way. If you are using a barbecue sauce, paint the meat with it and let it caramelize on the meat for a minute or three.

When the meat has been cooked to your liking, take it off the fire and let it rest for 5 to 10 minutes. If you are using a spice rub now is the time to roll the meat in it.
Notes
If you use a sauce with this recipe, serve the venison with a side salad like potato, macaroni or bean salad, plus maybe some tomatoes and basil, corn on the cob, dinner rolls --- you get the idea. Nothing overly fancy.
Keys to Success
If you want to use a marinade, I have lots of potential venison marinades here. You can marinate a venison steak up to a day in advance. 
Let the venison come to room temperature. It will help it cook more evenly. Salting it when it comes out of the fridge helps season the steak better, too. 
All meats taste best grilled over wood. Charcoal is good, too, but gas isn't. If that's what you have, soak some wood chips in water for an hour or two and burn them as you grill. The smoke will help flavor the meat. 
Leftover grilled venison, if there is any, is good for sandwiches the next day. 
Nutrition
Calories:
170
kcal
|
Protein:
34
g
|
Fat:
3
g
|
Saturated Fat:
1
g
|
Cholesterol:
90
mg
|
Sodium:
65
mg
|
Potassium:
451
mg
|
Calcium:
7
mg
|
Iron:
5
mg
Nutrition information is automatically calculated, so should only be used as an approximation.