Tepary Beans, Desert Friend
As an Amazon Associate I earn from qualifying purchases.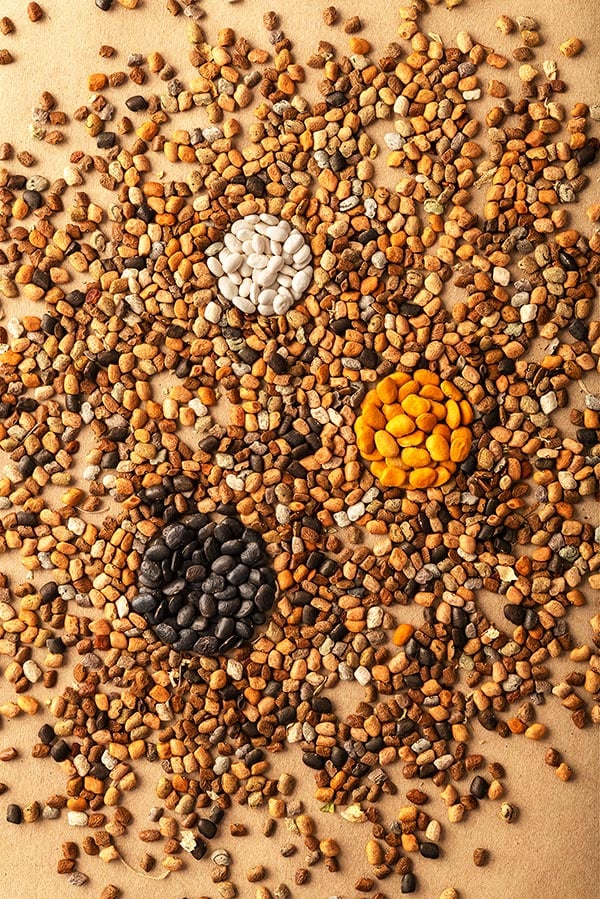 If you're looking for the easiest bean in the world to grow, it would be tepary beans — if you live in a dry place.
Tepary beans, Phaseolus acutifolius, are related to but not the same as the common bean, and they will not crossbreed. This makes them an excellent addition to a garden that has other beans, which are notorious for crossing inadvertently. Blame the bees.
Their origin is believed to be in northern Mexico, but they are grown in arid regions all the way down to Costa Rica. In southern Mexico they call them escomite beans. I first read about them in my colleague Ken Albala's charming book Beans: A History, and I knew immediately that they would be a good choice for my garden in Sacramento.
But would I want to eat them? Deciding to buy some first, I found that you can indeed buy tepary beans online, mostly brownish tan ones, and a few places will sell you black tepary beans as well as white tepary beans.
I bought all of them and settled on the orangey-brownish tan ones. The black ones are nice, but regular black beans are better. Ditto with the white tepary beans. They are good, but there are other white beans better. The brown ones are meaty, dense and vaguely sweet. I use them in place of pinto beans.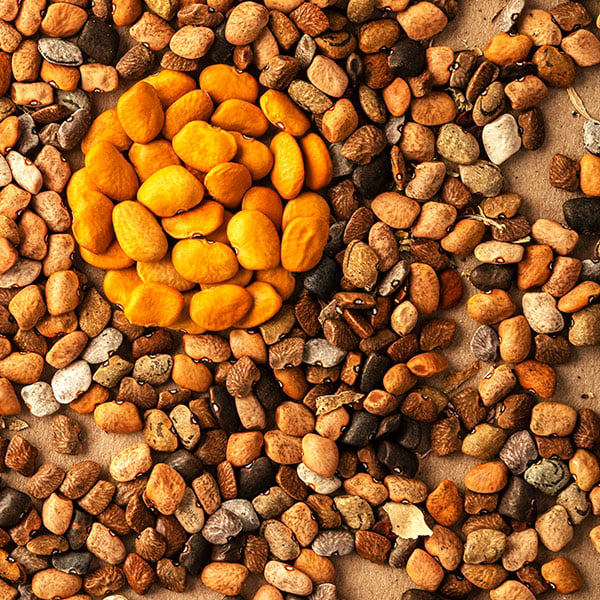 So why grow tepary beans? Unlike pretty much every other bean out there, this one is drought and heat tolerant. It gets hot where I live; 100°F is pretty close to the norm in summer here. And it's dry, with afternoon humidity typically falling to about 5 to 10 percent. And no rain from about Memorial Day to often October.
My other beans struggle in this, and some, like runner beans, downright hate it. But tepary beans thrive. In fact, they will not do well until and unless it gets really hot and the plants undergo stress. As an experiment, I watered the hell out of one bean and it grew to enormous size… no flowers. And then, as soon as I cut water off from the plant, boom — lots of flowers and then lots of beans.
I've also noted that tepary beans are "half runner" beans, in that they really want to coil up a pole or trellis, but only to a point. Unlike, say, a runner bean which is likely the origin of the Jack and the Beanstalk story, tepary beans will only run up a pole a few feet. But let them do this if at all possible because your yield on a tepary that runs up a support will be triple that of one grown as a bush bean.
As a side note, I have not yet used them in a Three Sisters garden (corn + beans + squash), but they are on the list for next year because the way I grow my corn is probably better for a drought tolerant bean than a common bean.
You can eat tepary beans as fresh, shell beans, but I never do. I always let them dry fully and eat them like a pinto bean. Be careful, though. Since teparies are like cats — only kinda-sorta domesticated — tepary pods will spontaneously pop open if you let them dry too long. This is not always a bad thing. I miss several every year, and find volunteer tepary beans in my garden, which I will often let live.
Speaking of semi wildness, you can actually grow wild teparies, which are the speckly beans in the photos. Native Seeds Search in Arizona sells them, and they are pretty cool. They look like pebbles. But they will pop open almost as soon as they dry fully, so you need to pick them early if you want to eat them.
Incidentally, Native Seeds Search has by far the largest selection of tepary seeds I've found yet. I highly recommend them.
One other fun note on tepary beans? They are genetically wobbly, so you will see variation in your crop. What I've been doing over the past few years is selecting the beans that are the most orange, with the goal of eventually stabilizing an orange tepary down the road. So far, so good. I've also seen variation in the thickness of the pod as well as bean size.
As far as cooking tepary beans, you need to know that they take a bit longer to cook than any other bean, despite their small size. It's because they are so dense.
Conversely, they are less likely to turn to mush or lose their skins, making them fantastic frijoles de olla, or bean pot beans. If you like Boston baked beans, tepary beans are a great choice.
Since they are firmer than pintos, I like to cook a big batch on, say, a Sunday, eat them as regular beans for the first few days, reheating them each time. Then, by the second or third day, they are cooked a bit past their prime, and then they are perfect for refried beans. This rhythm is similar to common practice in Mexico for all beans.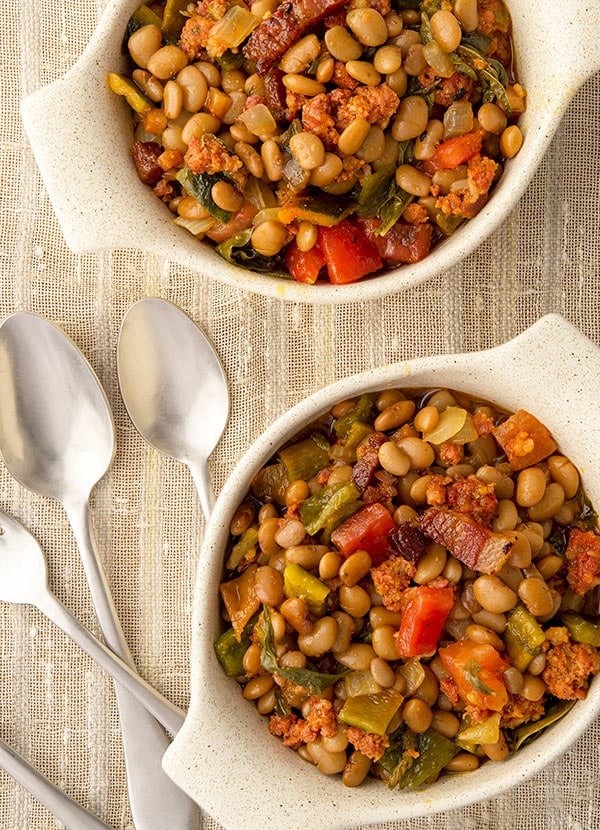 So how to I like my tepary beans on that first night? I do a version of a classic northern Mexican dish called frijoles fronterizos, or Border Beans. It's basically a hot bean salad, with cooked beans, chopped crispy bacon, chopped tomatoes and herbs, chiles, onions and garlic.
Served by itself or on tortillas, or mixed into simple rice, it's a wonderful way to enjoy your harvest.
That said, I have a number of recipes that use tepary beans here on Hunter Angler Gardener Cook, including a New Mexican turkey leg stew, squirrel carnitas, and turkey black bean chile, with black tepary beans.
But frijoles fronterizos puts the tepary beans front and center.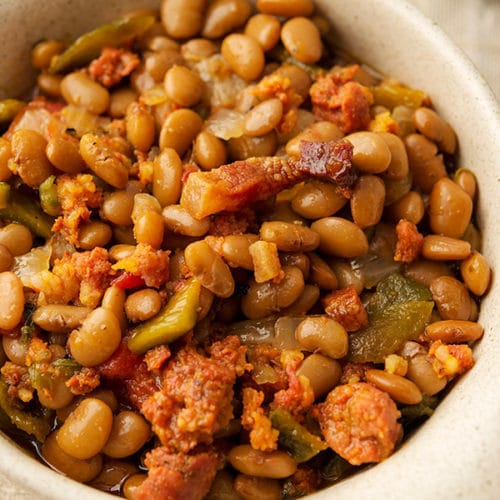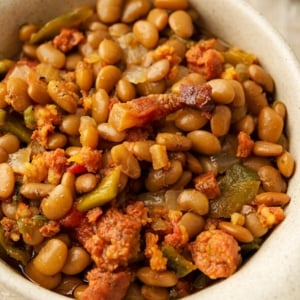 Border Beans
This version of frijole fronterizos is based on a recipe in Spanish I found in the book La Cocina Familiar en el Estado de Baja California, but there are many versions of it, so feel free to play with amounts and ingredients within these general guidelines. And yes, regular pintos work well, too.
Ingredients
1

sprig

epazote

4

slices

bacon

1/2

pound

Mexican chorizo,

loose, not cased

1

small white onion, chopped

2

cloves

garlic, chopped

1

poblano chile, roasted, skinned, seeded and roughly chopped

(See note below)

4

cups

cooked beans

2 to 4

Roma tomatoes, chopped

1/2

cup

queso fresco or cotija cheese,

crumbled

Salt and pepper to taste

Crushed chiltepin chiles, to taste

(optional)
Instructions
Cook the beans - generally you will need 2 cups dry beans to get around 4 cups, but it's not an exact science - in lots of water at a very slow simmer. After about 90 minutes, add the epazote, if using. When the beans are reasonably soft, about 2 hours, add salt. This can all be done up to a couple days ahead of time. If you do cook them ahead of time, store them in their cooking liquid in the fridge.

When you are ready, cook the bacon in a large frying pan over medium heat until crispy. Remove and chop. Set it aside.

Add the chorizo, onions and garlic to the pan and cook over medium-high heat until the chorizo is nicely browned. Add the chopped poblanos, the cooked beans and a little of the cooking water. Mix well and let this cook gently. for 10 to 20 minutes. Don't let the beans stick to the bottom of the pot. Keep adding cooking liquid, stock or water as needed. You want it a little wet, but not soupy.

Mix in the chopped tomatoes and let this cook a couple minutes, then remove from the heat. Add the cheese and serve. I like to crush a bunch of dried chiltepin chiles over everything, too.
Nutrition
Calories:
233
kcal
|
Carbohydrates:
23
g
|
Protein:
13
g
|
Fat:
10
g
|
Saturated Fat:
5
g
|
Cholesterol:
33
mg
|
Sodium:
551
mg
|
Potassium:
383
mg
|
Fiber:
8
g
|
Sugar:
4
g
|
Vitamin A:
413
IU
|
Vitamin C:
21
mg
|
Calcium:
84
mg
|
Iron:
2
mg
Nutrition information is automatically calculated, so should only be used as an approximation.