Greek Venison or Lamb Shanks
December 28, 2020 | Updated March 25, 2021
As an Amazon Associate I earn from qualifying purchases.
There's something sexy about a well cooked shank. Silky, tender, and deeply flavored in a way only a well-used muscle can be. Most cooks work primarily with lamb shanks, and indeed, this is a Greek lamb shank recipe that I have modified for venison.
Before you stop reading, know that the difference between a lamb shank and a deer shank is basically about two hours; they are otherwise the same in the kitchen. Deer, being athletes, run around a lot, and are often several years old, whereas lambs are, well, not athletes and are young. Thus the time difference.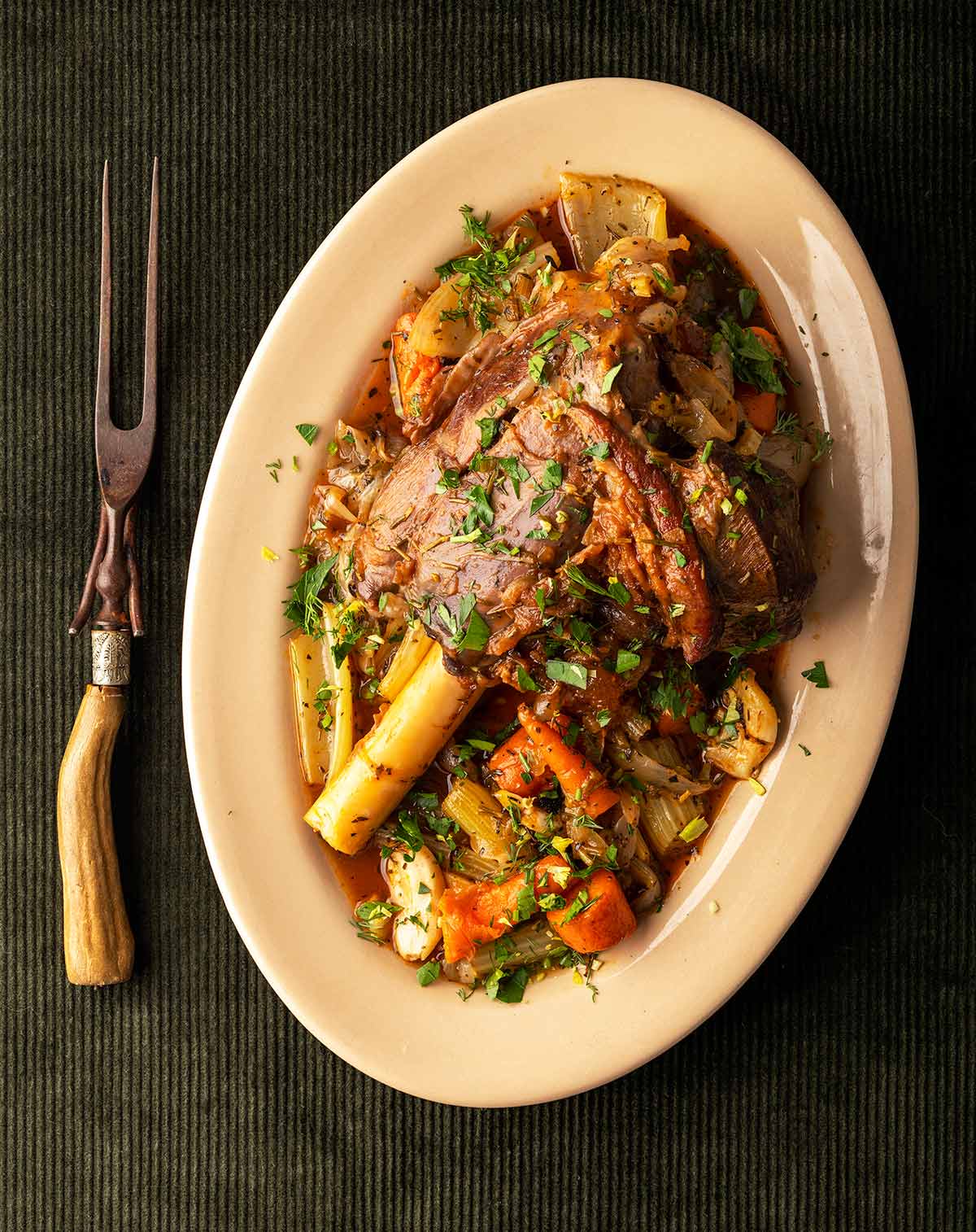 I am using shanks from a whitetail deer I hunted in Oklahoma, and any deer shank will work as-is. If you are using very large shanks, like those from elk or moose or bear — or beef, for that matter, you will want to cross-cut them like I do for my ossobuco recipe.
My inspiration for this recipe is from a wonderful, if little known, cookbook by the great chef Michael Psilakis, called How to Roast a Lamb. It's a classic Greek lamb shank recipe, with sturdy vegetables, lots of herbs and a little tomato and red wine.
The general procedure is to brown the meat in olive oil, then cook some vegetables in the pot, braise everything, then reduce the cooking liquid to serve as a sauce. This last step can take some time, like 30 minutes or so, which means if you are serving your shanks with mashed potatoes or rice, you can make them while the sauce is reducing.
A key to the flavor of the dish is to use a variety of fresh herbs. It brightens up an otherwise wintry, moody dish. I used a combination of parsley, dill and the leaves from the center of a bunch of celery. Other options would be fresh oregano or thyme, lovage, savory or fennel fronds.
There is one modification you'll need to do if you are using venison instead of lamb: After you cook your vegetables in the olive oil, you'll need to remove them until the meat is close to being tender — otherwise they will cook into mush. You don't need to do this with lamb shanks.
Once made, this will keep for a week in the fridge, and it freezes well. My advice would be to debone it after the first night, then use it as a topping for mashed potatoes or rice later in the week.
If you are looking for other great recipes to make with a shank, try my Austrian braised shanks, shanks with lots and lots of garlic, Portuguese braised shanks or a Senegalese mafe recipe using elk shanks.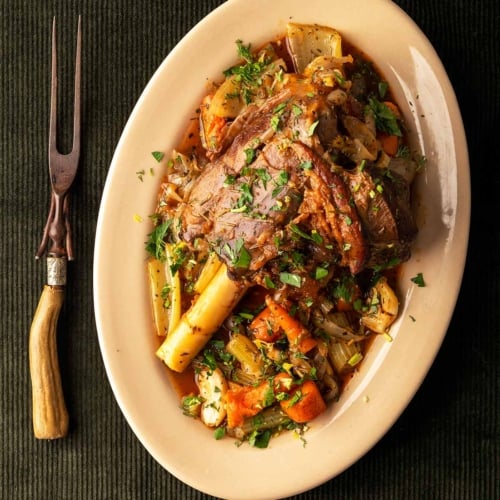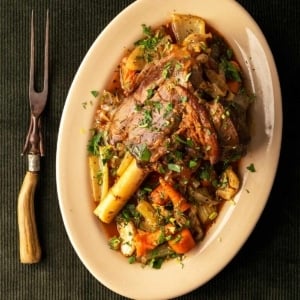 Greek Lamb or Venison Shank
This is a great recipe to make with smallish shanks of any animal, from lamb and pork to venison.
Ingredients
4

tablespoons

olive oil

2

large deer shanks, or 4 lamb shanks

Salt

2

carrots, peeled and cut into large chunks

1

white or yellow onion, sliced thickly

3

celery stalks, cut unto large chunks

5

cloves

garlic, peeled but whole

4

bay leaves

1

teaspoon

dried thyme

2

teaspoons

dried oregano

3

tablespoons

tomato paste

1/2

cup

red wine

2

tablespoons

cold butter

2

tablespoons

chopped fresh parsley

2

tablespoons

chopped fresh dill

Black pepper to taste
Instructions
In a large Dutch oven or other heavy, lidded pot, heat the olive oil over medium-high heat. Salt the shanks, then brown them well on all sides except the one with the bone; this helps the shanks hold together better. Preheat the oven to 325°F.

When the shanks are nicely browned, remove them to a bowl. Add the carrots, onion and celery and sauté until slightly browned, about 6 to 8 minutes. Add the garlic cloves and cook another minute, stirring often. If you are cooking lamb shanks, leave the vegetables in. If you are cooking deer or other wild game shanks, remove the vegetables.

Add the tomato paste, wine, thyme and oregano to the pot. Mix well, and once it thickens, add a cup of water and mix well. Add the venison shanks back in now, along with any juice that has accumulated in the bowl. Cover with more water by just a little, bring to a simmer and add salt to taste. Cover the pot and let this cook in the oven for 90 minutes.

At this point, lamb shanks will be done. Deer shanks will still need some time, but you can add back the vegetables now. Keep cooking until the meat wants to fall off the bone, anywhere from another 30 minutes to another 2 hours. It's wild game, so you never know...

When the meat is tender, remove it gently to an ovenproof pan, along with all the vegetables. Turn off the oven and set this pan in the oven to keep warm. Set the pot on a strong burner and boil down the braising liquid. This will take roughly 20 to 30 minutes, so now is a good moment to make rice or mashed potatoes.

When the sauce has reduced and thickened a bit, turn off the heat. When it stops, bubbling, add the cold butter a tablespoon at a time, swirling until it disappears. Use this as your sauce for the shanks and vegetables. Top it all with fresh herbs and black pepper.
Nutrition
Calories:
358
kcal
|
Carbohydrates:
12
g
|
Protein:
21
g
|
Fat:
23
g
|
Saturated Fat:
7
g
|
Cholesterol:
79
mg
|
Sodium:
268
mg
|
Potassium:
633
mg
|
Fiber:
3
g
|
Sugar:
5
g
|
Vitamin A:
5789
IU
|
Vitamin C:
11
mg
|
Calcium:
71
mg
|
Iron:
3
mg
Nutrition information is automatically calculated, so should only be used as an approximation.