Mexican Enmoladas
December 21, 2019 | Updated August 11, 2022
As an Amazon Associate I earn from qualifying purchases.
Enmoladas are more or less enchiladas with a different sauce: Yep, mole instead of a chile sauce. And while you can use any mole for enmoladas, my favorites are mole negro enmoladas: dark, rich, savory, dramatic.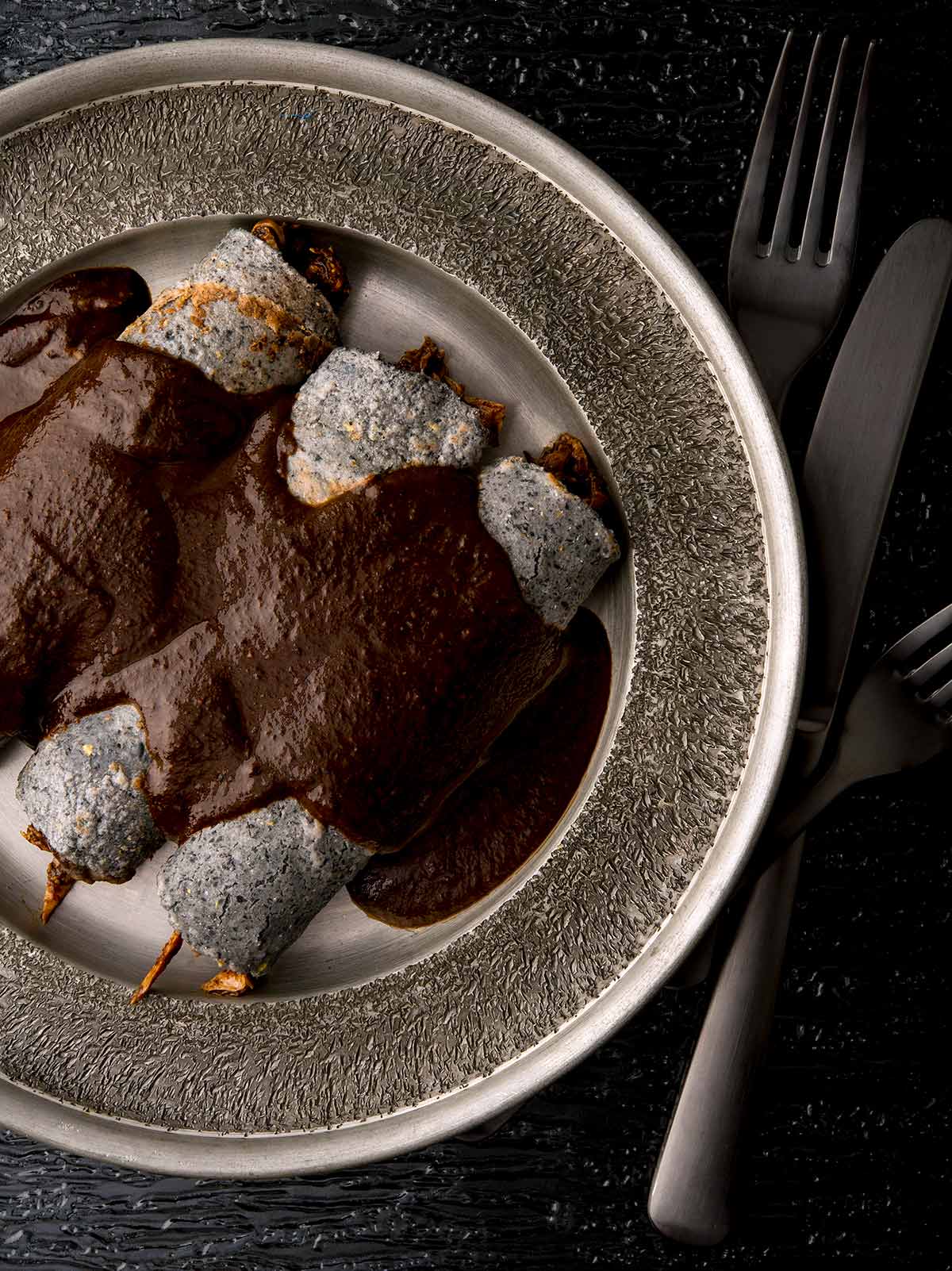 If you're not familiar with it, mole, pronounced "mole-ay," represents a variety of sauces, not just the chocolate one you may have run across in pretty much every Mexican restaurant in America; that one, incidentally, is, more or less, mole poblano.
Oaxaca, in southern Mexico, has the richest tradition with these sauces, which tend to be baroque, time-consuming and filled with lots of ingredients. You don't make mole on a whim, and when you make it you make a lot.
That leaves lots of leftover sauce, and one of the chief uses of leftover mole is in enmoladas. You may have seen them here in the U.S. as "mole enchiladas," which is indeed another way to put it, but enmolada, meaning "covered in mole," is more common south of the border.
Enmoladas have only a few rules. You really only need some sort of mole, and soft corn tortillas. Everything else is up to you.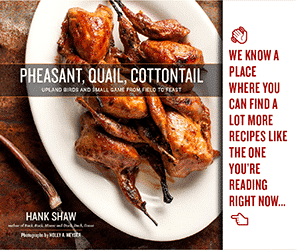 What Mole to Use?
In this case, I chose mole negro, the darkest mole there is, and I made some dark blue corn tortillas. Here is my recipe for mole negro, and if you're interested in making your own tortillas, here is a tutorial on how to make corn tortillas.
I do have a number of other mole recipes on this site, however, and any of them will work. Some other options for enmoladas include:
You can also buy mole negro paste online or at Latin markets for your enmoladas, then thin it down with broth, typically chicken broth. Lots of people do this, and in a pinch, go for it. But you will appreciate it more if you make your own mole.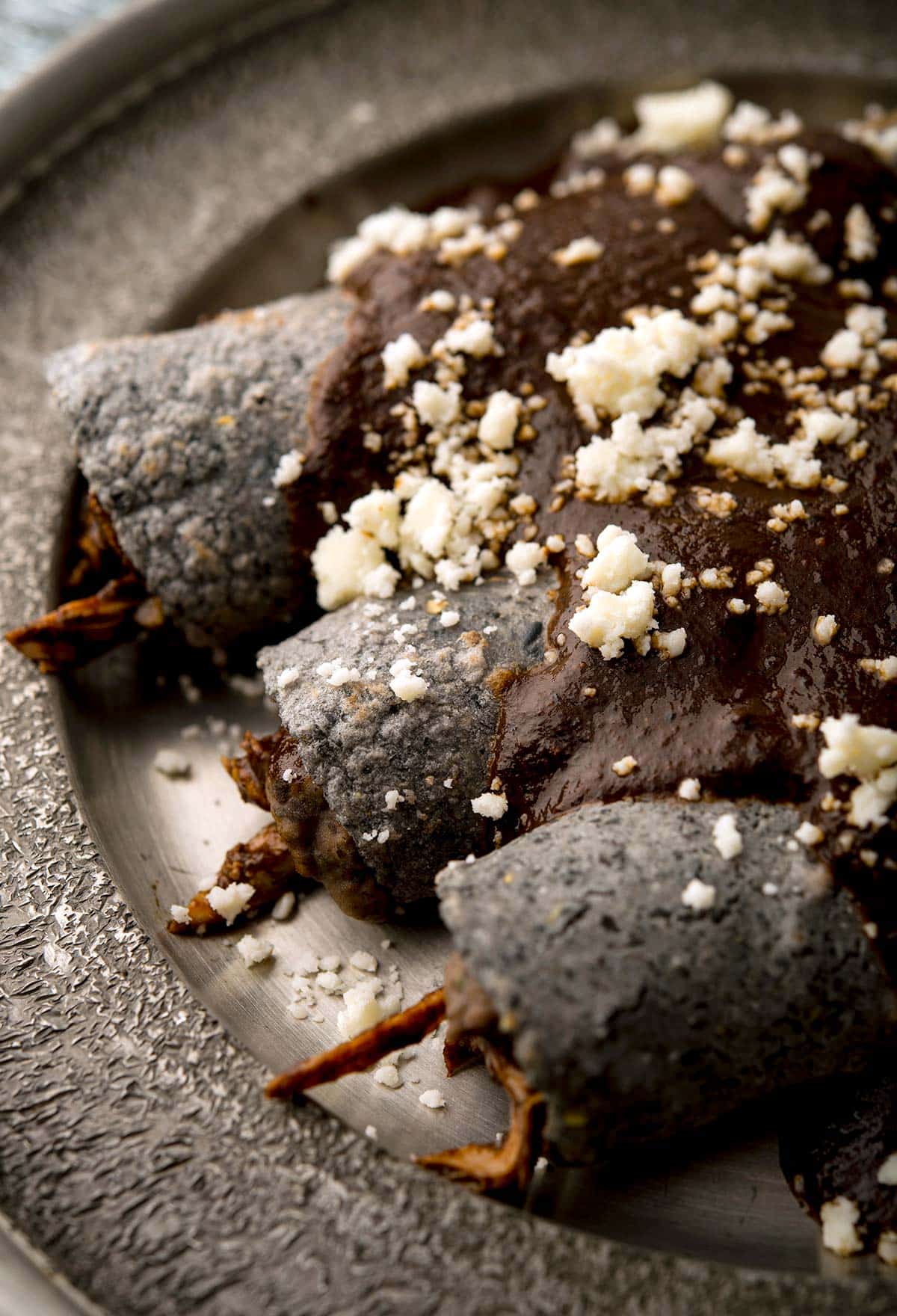 Filling Enmoladas
As for a filling, you will want something shredded or diced — often turkey, chicken or pork — tossed with the mole sauce and topped with some melty cheese and maybe some herbs. In my case, I had some leftover shredded wild turkey thighs I used, and that was it for the filling. I did top the enmoladas with some crumbly cotija cheese, though.
For vegetarian enmoladas, use refried beans, mashed squash, potatoes or mushrooms.
Other great options would be barbacoa, carnitas, shredded rabbit or pheasant.
Constructing Enmoladas
Unlike enchiladas, enmoladas are not always baked. They are more often served individually: Stuffed, rolled, put on a plate and topped with the mole, rather than pulled out of a casserole dish.
You can heat them like a regular tortilla, and that's great if you are serving them quickly. But if you are making a tray of enmoladas, you will want to briefly fry the tortillas in vegetable oil, just for a few seconds — this makes them pliable and the coating of oil helps slow the process of disintegration. Sauce + unprotected corn tortillas = a mess after about 10 minutes.
Enmoladas don't store too well. But they are so easy to make, once you have mole in the fridge, leftover meat and some corn tortillas, that you can make them in about 30 minutes on a worknight.
Mexican Enmoladas
Enmoladas are very easy to make if you have all the elements on hand: filling, tortillas and mole. It's usually a weeknight meal after you made the mole on the weekend. Since these are not baked, you want to have everything ready do you can roll your enmoladas quickly and serve, so it all stays hot.
Ingredients
3

cups

mole,

any kind

1

pound

leftover turkey, chicken or pork,

shredded

Salt

3

tablespoons

chopped fresh cilantro

(optional)

12

corn tortillas

1/4

cup

vegetable oil or lard

(optional)

1/2

cup

cotija or other cheese to top enmoladas
Instructions
Preheat the oven to "warm." Set your dinner plates in the oven. Start by heating up the mole in a pot over low heat. You want to thin it to the consistency of melted ice cream. If it's too thick, add some broth. Keep it warm for now.

Shred the meat (I used wild turkey thighs) and set them in an ovenproof bowl. Sprinkle some salt over them and mix in the chopped cilantro, if using. Ladle some mole over the meat and mix well. Set this in the warm oven.

You need to make your tortillas pliable. There are two ways to do this. You can simply set them on a ragingly hot comal or heavy pan -- 600°F is not too hot -- for a few seconds per side to get them soft, or you can heat the vegetable oil or lard over medium heat and pass the tortillas through the hot oil for just a few seconds. Don't leave them too long or you'll make tostadas. I prefer the oil-free method. Either way, you need to keep your tortillas hot, so put them in foil if you fried them, or in a tortilla warmer or wrapped in towels if you just heated them up.

OPTIONAL: You can get more mole flavor by dipping the warm tortillas into thinned mole before rolling them. I do this for normal enchiladas, but not for enmoladas. That said, many people do dip their tortillas. To do so, ladle out some more mole from the pot and thin it with broth until it's just a touch thicker than the broth. Dip your tortillas in that quickly, shake off the excess, then fill them.

Turn the heat up on your mole pot until it's bubbling gently. Get your plates ready and pull the meat from the oven, too. Working quickly, fill three tortillas with the meat mixture and set them, seam side down, on the warm plates. Top with the mole sauce and crumbled cheese and serve. Repeat with the remaining plates and tortillas.
Notes
NOTE:
You can make these vegetarian by filling them with cooked beans and rice, or pickled nopales.
Nutrition
Calories:
506
kcal
|
Carbohydrates:
51
g
|
Protein:
42
g
|
Fat:
15
g
|
Saturated Fat:
6
g
|
Cholesterol:
140
mg
|
Sodium:
1922
mg
|
Potassium:
428
mg
|
Fiber:
8
g
|
Sugar:
13
g
|
Vitamin A:
1344
IU
|
Vitamin C:
4
mg
|
Calcium:
171
mg
|
Iron:
3
mg
Nutrition information is automatically calculated, so should only be used as an approximation.