Green Chile Elk Burger
November 08, 2021 | Updated August 09, 2022
As an Amazon Associate I earn from qualifying purchases.
If you want to know how to make elk burgers with the "elk burger" you grind yourself or get from your processor, you're in the right place. An elk burger can be every bit as amazing as a beef burger, if you know a few tricks. Here's how I go about green chile burgers with elk or deer.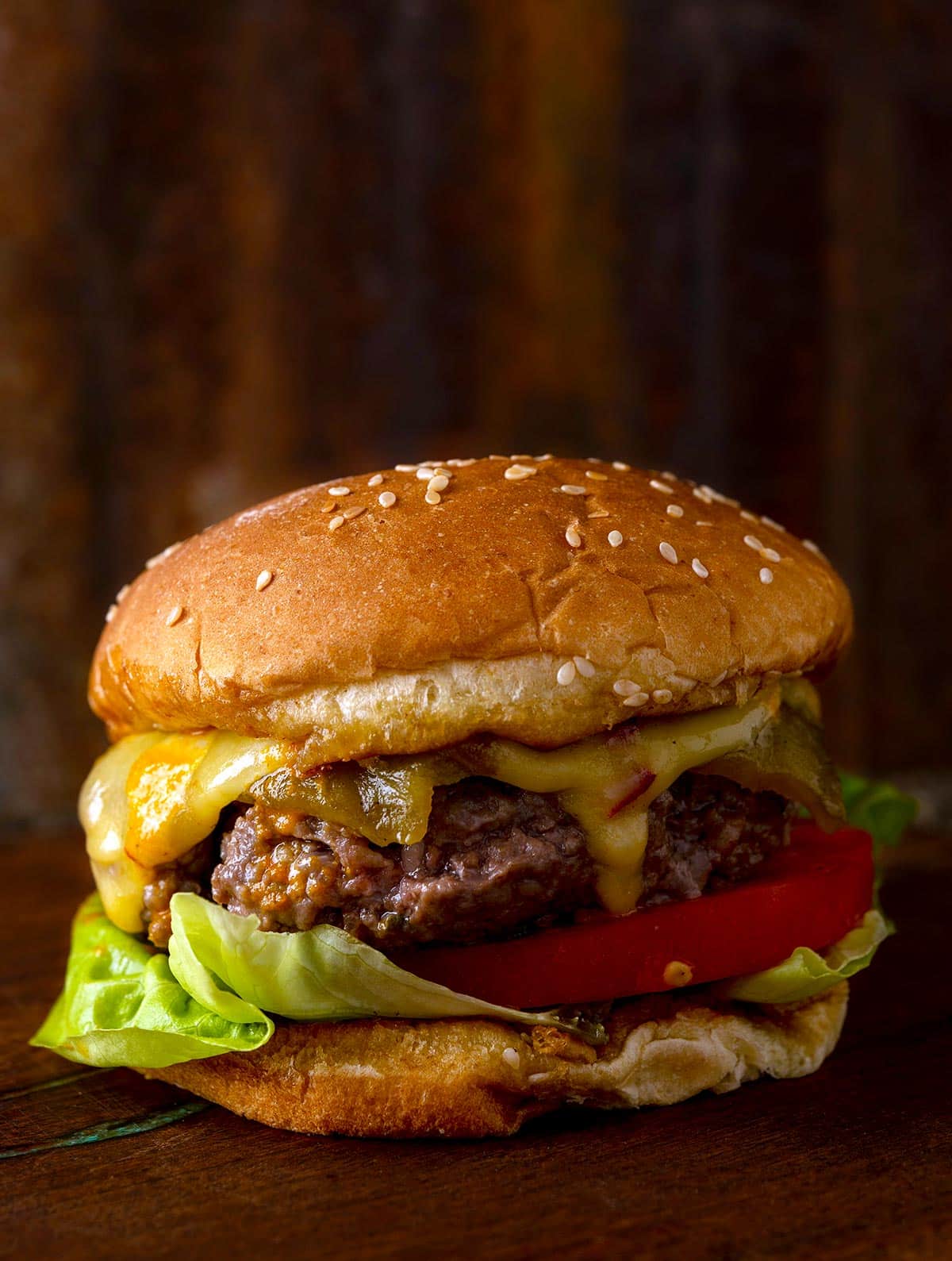 Interestingly enough, elk burgers are not just for hunters. I've even seen them at my local bar from time to time; this is because you can buy farmed elk. Most people are attracted to an elk burger because they suspect it will be healthier and leaner than a regular hamburger. They're partially correct.
Elk, even farmed elk, are raised without the industrial intensity that permeates the beef industry. So the animals were healthier. But being cervids, elk fat isn't as tasty as beef fat — the fat's structure is very different — so most purveyors grind beef or pork fat in with the elk burger.
Elk Burgers Falling Apart?
If you don't want your elk burgers to fall apart, you need at least 5 percent fat, and 10 percent is my minimum. Since I hunt elk, I grind my own elk burger, and with a more fat; 15 percent normally. Fat = flavor. Burgers you eat in restaurants are typically 15 percent fat.
What if you are one of those people who doesn't want any fat in your elk burger at all? Well, sorry. Strictly speaking, you are not making burgers. Burgers in the United States don't have ingredients in the patty other than meat, fat, and salt. Anything else is a sausage patty made into the shape of a burger.
So if that's the route you want to go, you can use egg whites, bulgur wheat, flour, breadcrumbs — I've even heard of people using fruit.
The Perfect Elk Burger
Readers of this site know that I am particular about hamburgers, what they should be a what they should not be. I've worked at restaurants that specialized in serious burgers, so I got my personal rules from there. This elk burger recipe follows those rules, which I detail in my basic recipe for venison burgers.
Short version: A perfect elk burger is just elk, fat (pork or beef) and salt. And the salt is added after I make the patties.
(While this is an elk burger recipe, and why I'll get to in a moment, you can of course apply these tips to deer, beef, pronghorn, caribou, moose, nilgai, etc.)
If you are not a hunter and want to make burgers at home, you can buy elk burger at high end supermarkets or online.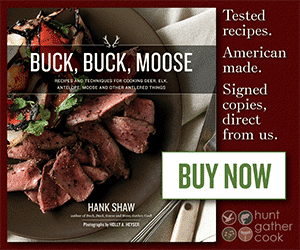 Green Chile Burgers
Chances are, if you've been anywhere from Texas to Colorado to Southern California, you've at least heard of a green chile burger. It's a thing in the Southwest, and I am thankful for it. This is a green chile elk burger, and I used elk largely because the best elk hunting is in this region.
What makes them so special? The green chiles, of course. I use Hatch green chiles from New Mexico, and that is the standard.
A Hatch chile is a long, light green, reasonably hot chile with a very thick skin that you need to char off to really enjoy the pepper. Late August to September is the season for fresh ones, and if you are a chile head as I am, you too will buy crates of them, roast your own and either pickle or freeze them in batches for the rest of the year. This chile grown in other places is an Anaheim.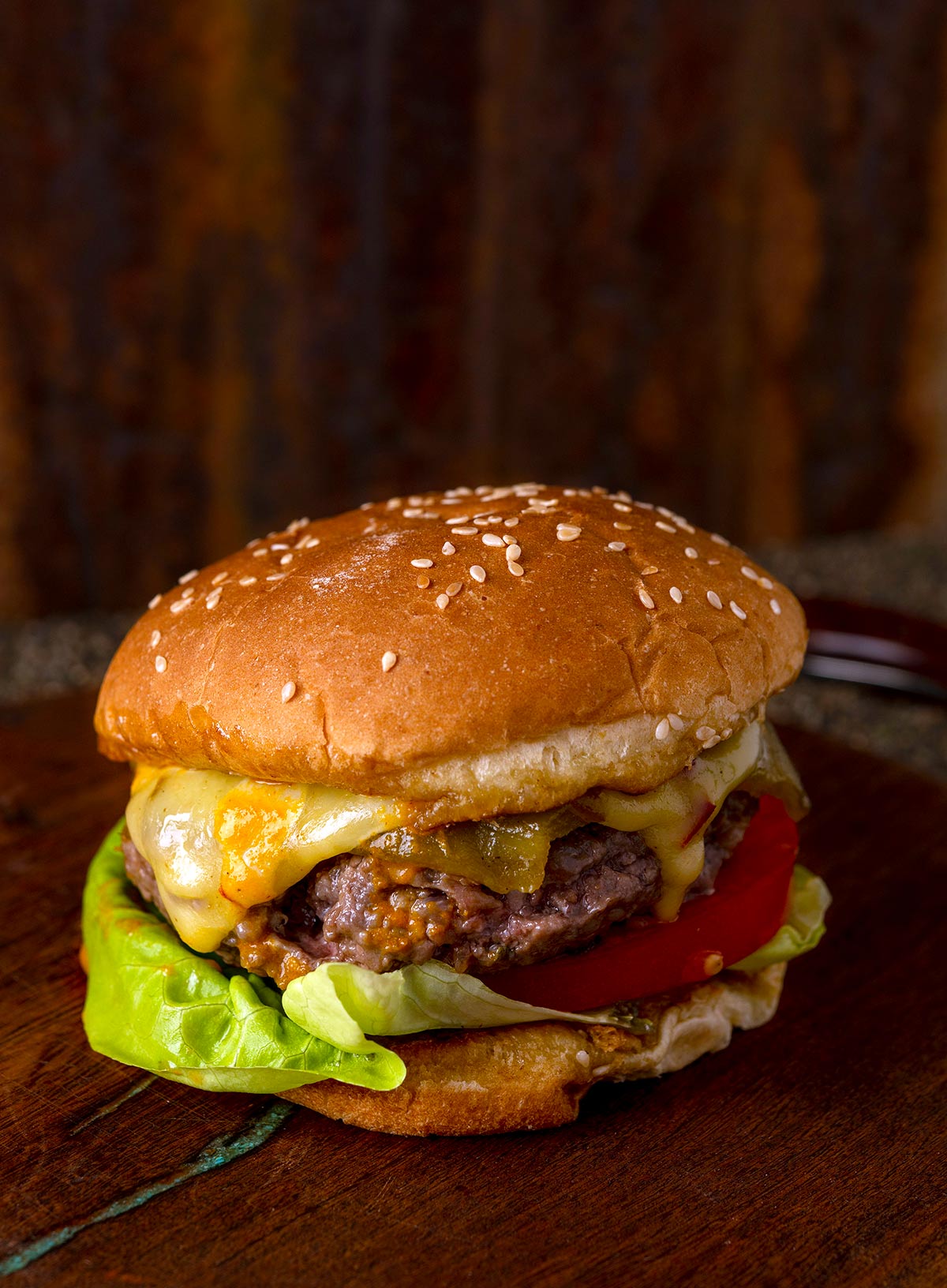 Of course, you can always find them canned, too. And there's no reason other than authenticity not to use some other green chile, or even a red one if you wanted to made red chile elk burgers or somesuch. In fact, I really like using my smoked, roasted jalapenos for this when I run out of Hatch chiles. Poblanos are an excellent supermarket substitute.
And, as you can see, green chile burgers are almost always actually green chile cheeseburgers, because you use cheese to glue the chiles onto the burger patties.
What cheese you use is up to you, but cheddar cheese and Monterey jack, specifically pepper jack, are my favorites.
Making Burger Patties
This one is sort of up to you. If you have elk burger with some fat in it, you have your choice of ways, thick or thin. Fatless patties fall apart if they are too thin.
Your grind matters, too. The finer the grind, the thinner the patty can be. If you want to make thin, diner-style patties for something like a smash burger or an Oklahoma onion burger, you will need a fine grind. Grilled burgers are better with a coarser grind, in my opinion.
Either way, when you form your burger patties, make sure you press an indentation in the centers. This keeps your elk burger from balling up when it cooks. This happens because when raw meat hits the hot pan, it contracts. The indentation in the center offsets this.
Salting the outside of the patties, not the mix, for a more classic burger. What this does is help keep the elk burger, or whatever it's made from, slightly loose and tender. Think crab cake, not meatball.
Cooking Elk Burger
Like all hamburgers, you have your choice of cooking methods. And I've done most of them with this elk burger recipe.
When it's warm out, I like to grill my burgers, and when it's cool, I use either a cast iron skillet or some other pan that can handle high heat. Non-stick is out.
If you are grilling, get your grill hot and clean your grates. Set your patties down and press with a spatula, but not too hard. Just a light press. This holds true if you are using a skillet or frying pan, too. Don't mush the patties. (unless you are making a smash burger) You just want good solid contact with the pan or grill.
Depending on how hot your heat is, it will take about 3 to 5 minutes per side for elk burger cooked medium, which is how I like my elk or venison. Add or subtract time if you like your burgers rare or well done.
After you flip, grind some black pepper on the burgers, lay down the chiles and top with cheese. Now bring the lid down on the grill or cover the pan with a lid to melt the cheese. It should be nicely melted by the time the other side is ready.
Elk Burger Toppings
Other than the green chile and cheese, and honestly you can skip that if you want, it's up to you.
I do like the classic lettuce and tomato, and if your green chiles are mild, a good splash of hot sauce. Obviously ketchup is common, as would be mayo. In this case, a Sriracha mayo would be fun. You can play around as much as you like.
I am particularly fond of the Mexican toppings and flavorings I use in my recipe for chorizo burgers, if that interests you.
Keep it simple. Use great ingredients. You won't be sorry.
OTHER GREEN CHILE DISHES
Here are more recipes that make good use of roasted green Hatch chiles, which I love.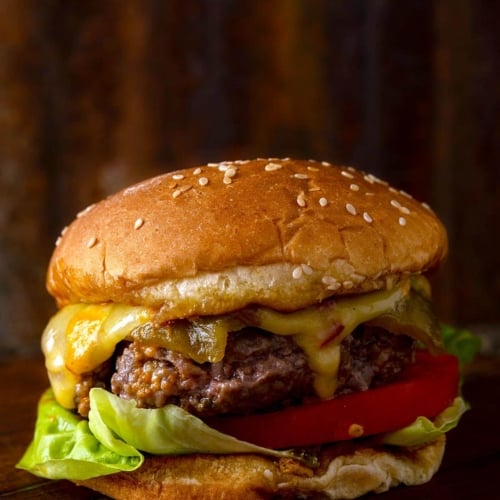 Green Chile Elk Burgers
I prefer to use green Hatch chiles from New Mexico here, but any roasted green chile will work; Anaheims, poblanos or jalapenos are good alternatives. Don't know how to roast chiles? Here is a tutorial from my friend Elise at Simply Recipes. And any ground meat works well here, too. 
Ingredients
4 to 8

green chiles, such as Hatch, Poblano or Anaheim

1 1/4

pounds

ground elk or other meat

Salt

4

large slices of tomato

4 to 8

lettuce leaves

4

burger buns

2

tablespoons

butter or vegetable oil

4

slices

cheddar or Monterey Jack cheese
Instructions
If you are starting with fresh chiles, roast them, remove the skins and seeds, salt them and set aside. You can either keep them in fairly large pieces if they are well-roasted, or chop them roughly. Your call. This can be done a few days ahead of time, and of course you can use canned or frozen chiles.

Make four burger patties. I prefer one-third pound burgers, but you can make them any size you want. Pro tips: Press the weighed out ground meat into a large circle mold for more even patties. Press a dimple about the diameter of a walnut in the center of each patty - this prevents them from balling up when cooked. Salt your patties well. 
Cooking Options
Grilling. Get your grill hot. Scrape down the grates well, and grill your burgers with the grill cover open. Leave them on the grates for at least 3 or 4 minutes so you get grill marks and a good crust. Flip and cook to order. Typically a medium burger will need another 3 minutes. 

Stovetop. Preheat oven to 200°F and set a rack over a baking sheet. Heat a cast iron pan or pan that can handle high heat over medium high heat. When it's hot, slick the pan with some canola or other high smoke point oil, like grapeseed or safflower. Set the patties down and press gently with a spatula to get good contact with the pan. Leave them for at least 3 or 4 minutes so you get a good crust. Flip and cook to order. Typically a medium burger will need another 3 minutes. 

No matter how you cook your burgers, when you flip them, lay the chiles over them, then cover with a slice of cheese. Close the grill cover or put a lid over the pan to melt the cheese. 

On the stovetop you usually have to cook in batches, so you will put each finished burger in the warm oven as you do the rest.

When you are ready, paint your burger buns with the butter or oil and set them on the grill or pan to brown. Keep an eye on the buns so they don't burn. Set aside once browned to your liking. 

Build your burgers. I like to go bun, lettuce, tomato slice, patty, bun. But do whatever you like best. Enjoy!
Notes
Note that prep time does not include roasting the chiles. 
Keys to Success
Make sure to have some fat in your burger patties otherwise they will be dry and will fall apart. Absolute minimum would be 5%, but most people prefer 15%. 
Don't skip the indentation step in making the patties, unless you are going to squash them when they hit the pan. 
If you are worried about undercooked elk burgers, leave the patties out on a cutting board for 30 minutes or so before you cook them. Salt them at this time. 
Freshly roasted green chiles are best, but often it's easier to use frozen or canned. Do whatever works for you.
Nutrition
Calories:
615
kcal
|
Carbohydrates:
40
g
|
Protein:
44
g
|
Fat:
31
g
|
Saturated Fat:
17
g
|
Cholesterol:
123
mg
|
Sodium:
1087
mg
|
Potassium:
970
mg
|
Fiber:
9
g
|
Sugar:
12
g
|
Vitamin A:
6635
IU
|
Vitamin C:
50.6
mg
|
Calcium:
331
mg
|
Iron:
6.6
mg
Nutrition information is automatically calculated, so should only be used as an approximation.