Venison Bratwurst
September 07, 2021 | Updated June 06, 2022
As an Amazon Associate I earn from qualifying purchases.
Typical bratwurst recipes make a light colored sausage, like the classic Sheboygan bratwurst recipe I make with pork or turkey. But for venison bratwurst, I want a darker, smokier link. That means red brats.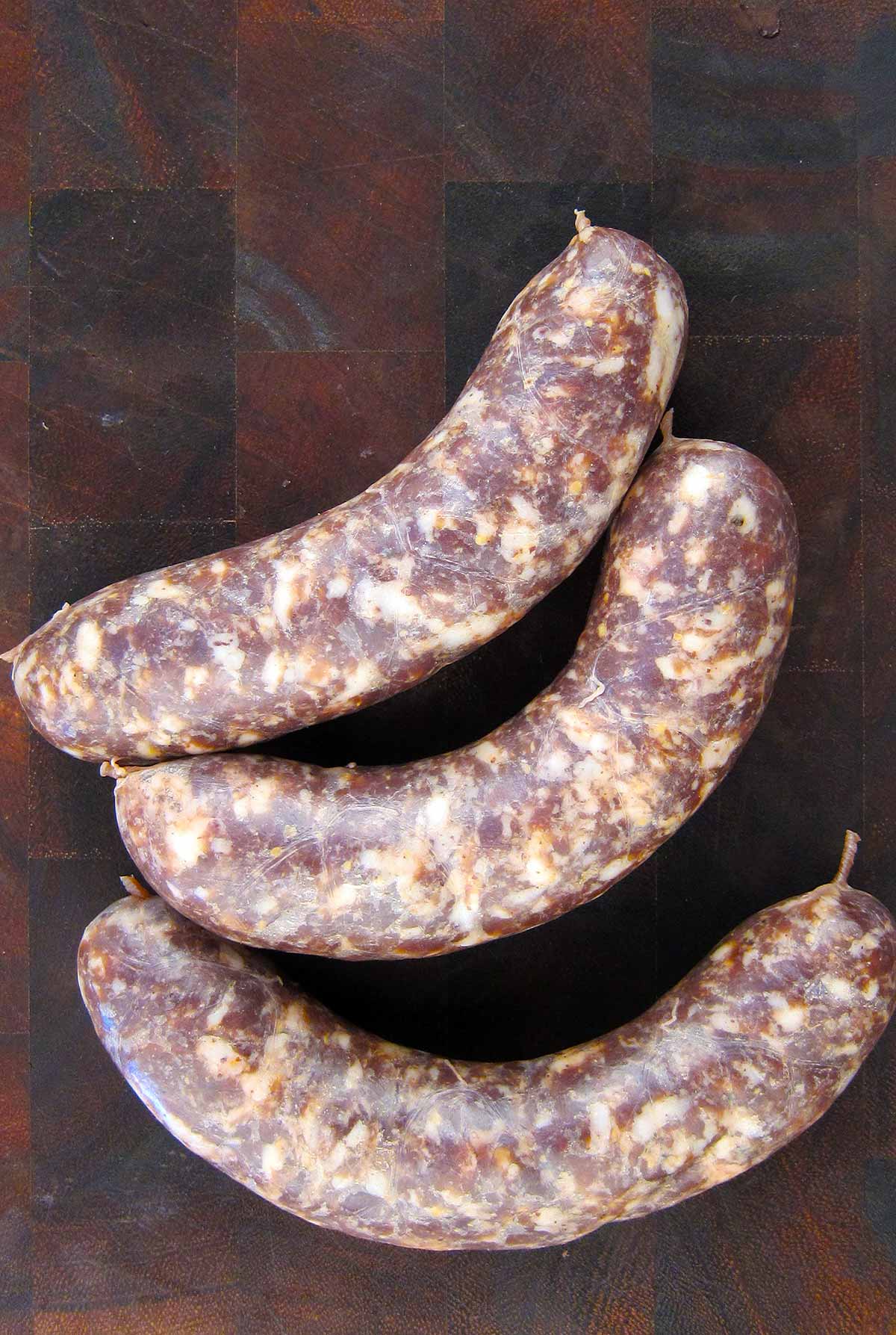 What is a red brat? It's apparently unique to Madison, Wisconsin.
I am a proud graduate of the University of Wisconsin, and I spent many an evening drinking beer, watching the Badgers and eating these red brats from State Street Brats in Madison. Red brats are smoky and addicting. Learn to make this recipe and you'll find yourself rooting for my Badgers, at least a little…
State Street Brats does theirs with beef, but this is venison bratwurst, albeit cut with pork for beef fat. In this case, you choose. I typically go for lean venison and pork belly or fatty shoulder, but beef fat trimmed from roasts or steaks is also a good choice here.
Red brats are always smoked. I prefer to smoke these over oak or fruit woods, with cherry being my favorite, but you can smoke your bratwurst over any wood that makes you happy.
That said, I won't come to your house and beat you up if you don't smoke your venison bratwurst, so you do you. I have in fact skipped the smoking step and just grilled them, or poached them in beer with sauerkraut and onions.
The seasoning is pretty classic bratwurst: garlic, black pepper, mustard seeds, a little sage, a little mace or nutmeg. And where a Sheboygan bratwurst uses cream for the liquid, here you use beer. Lager is my choice, and a macro brew like Miller is fine here, although I prefer to use Stevens Point when I can get it.
Venison bratwurst should be grilled or poached in beer as I mentioned above, served with mustard on a bun or not, with sauerkraut. I like using my fennel sauerkraut. If you hate sauerkraut, caramelize some onions instead.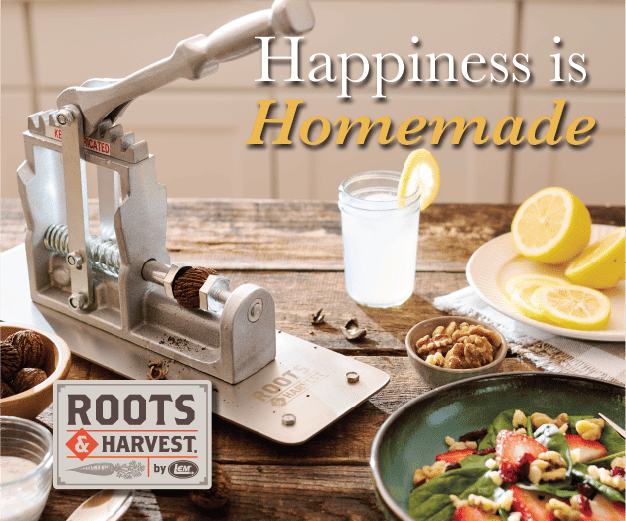 The sausages will keep in the fridge for a week or so, and freeze very well. One question I get asked a lot is whether you can thaw frozen venison, make these brats, then refreeze. If you smoke them or otherwise cook them through, the answer is yes. Just remember that they will be heat-and-eat when you thaw them again.
Looking for other venison sausages? Try my venison garlic sausage, or my smoked Cajun andouille sausage, or my Greek loukaniko sausage.
New to making sausage? You can find my detailed tutorial on how to make sausages at home here.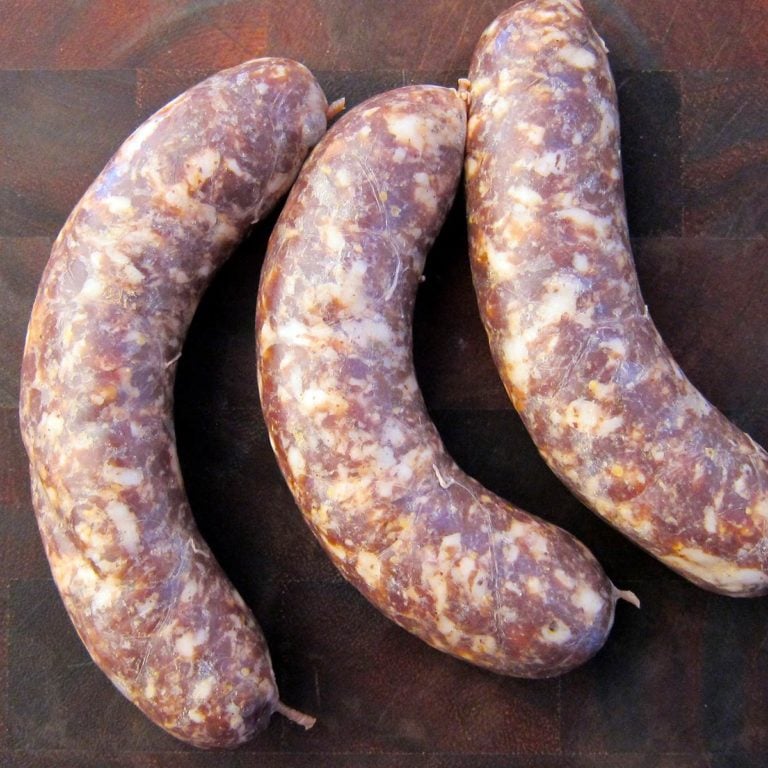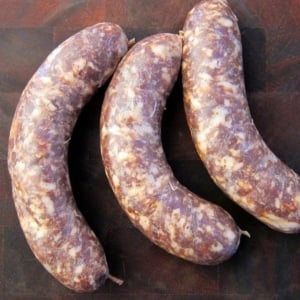 Venison Bratwurst
This is a pretty standard bratwurst recipe modified for venison. It's a smoked brat, although it's perfectly fine unsmoked, too.
Ingredients
3

pounds

venison

2

pounds

very fatty pork shoulder or pork belly

34

grams

kosher salt

4

grams

Instacure No. 1

1

tablespoon

sugar

25

grams

powdered milk

3

tablespoons

minced garlic

1

tablespoon

freshly ground black pepper

2

teaspoons

coarsely ground mustard seed

1 ½

teaspoons

ground mace or nutmeg

1 ½

teaspoons

dried sage

1/2

cup

cold lager beer

Hog casings
Instructions
Get out about 10 to 15 feet of hog casings and soak them in warm water. If you don't trust your source, run water through them to check for punctures or weak spots.

Cut the venison and pork into chunks that will fit into your grinder. Mix with the salt, sugar, and curing salt (Instacure No. 1) and refrigerate overnight. Doing this helps the sausage bind to itself later. You can skip the overnight rest, but your sausage will not be as firm in the casing.

When you are ready to make the sausage, freeze your grinder's grinding plate and blades, and the bowl you will put the meat into for 30 minutes to an hour. Do the same for the meat and fat. When everything's nice and cold—no warmer than 38°F — mix the meat and fat with the powdered milk and all the spices.

Grind it all through a coarse plate; I use a 7 mm plate. Test the temperature of the mixture, and if it's 35°F or colder, go ahead and grind half the mixture again through a fine die, like a 4.5 mm or some such. Set it back with the rest of the ground meat mixture. If it's warmer than 35°F, put the mix back in the freezer to chill. This might take an hour or so if you've let the meat warm up too much. Use the time to clean up.

Once the sausage has been ground twice, test the temperature again to make sure it's 35°F or colder. I prefer to chill the mix down to 28°F to 32°F for this next stage. Chill the mix and when it's cold enough, take it out and add the beer. Now, mix and knead this all up in a big bin or bowl with your (very clean) hands for a solid 2 minutes — your hands will ache with cold, which is good. You want everything to almost emulsify.

Stuff the sausage into hog casings rather loosely. Do this in a coil before you make the links. I like this sausage in links of about 6 to 8 inches long, but it's your choice. To twist them into individual sausages, tie off one end of the coil you just made. Pinch off links with your two hands and roll the link between them forward a few times. Move down the coil and repeat, only this time roll backwards a few times. Repeat until you do the whole coil. (This video shows how I do it.)

Now look at the links, which will probably have air pockets in them. Use a sterile needle or sausage pricker (set it aglow in your stovetop flame) to puncture the casing over all the air pockets. Gently compress the links together to squeeze out the air pockets and rotate the links a bit more to tighten; this takes practice.

Dry your links in a cool place for at least 24 hours and up to 3 days. I hang mine in a curing fridge set to 55°F, with about 75 percent humidity. The curing salt will protect them during this time. If you haven't used curing salt, dry the sausage uncovered in the fridge for a day.

To smoke the links, hang in a cool smoker and let the heat come up slowly until it hits about 200°F. Smoke the links until their internal temperature hits 150°F. This may be less than 3 hours, but internal temperature is more important. As soon as the sausages are cooked, submerge them in an ice water bath until cool. Pat dry and store in the fridge.
Notes
Keep in mind that any red meat works here, from deer and elk to antelope, moose, caribou, nilgai, oryx, etc. Sheep and goats, too. 
Keys to Success
You kinda want these to be fatty, so don't skimp on it. 25 percent fat by weight at least, and I prefer closer to 35 percent with this recipe. 
You can play around with the spices, but not the salt. The salt and curing salt are there for food safety. 
The powdered milk is there to absorb moisture, which prevents shrinkage when the sausages come out of the smoker. 
Nutrition
Calories:
154
kcal
|
Carbohydrates:
2
g
|
Protein:
26
g
|
Fat:
4
g
|
Saturated Fat:
1
g
|
Polyunsaturated Fat:
1
g
|
Monounsaturated Fat:
1
g
|
Trans Fat:
1
g
|
Cholesterol:
86
mg
|
Sodium:
723
mg
|
Potassium:
416
mg
|
Fiber:
1
g
|
Sugar:
1
g
|
Vitamin A:
15
IU
|
Vitamin C:
1
mg
|
Calcium:
23
mg
|
Iron:
3
mg
Nutrition information is automatically calculated, so should only be used as an approximation.