Pan Seared Red Snapper with Cherry Tomatoes
June 21, 2014 | Updated September 01, 2022
As an Amazon Associate I earn from qualifying purchases.
One of the things I love about summer cooking is its simplicity: Dead ripe summer produce and simply cooked, freshly caught fish. This pan seared red snapper recipe combines the two.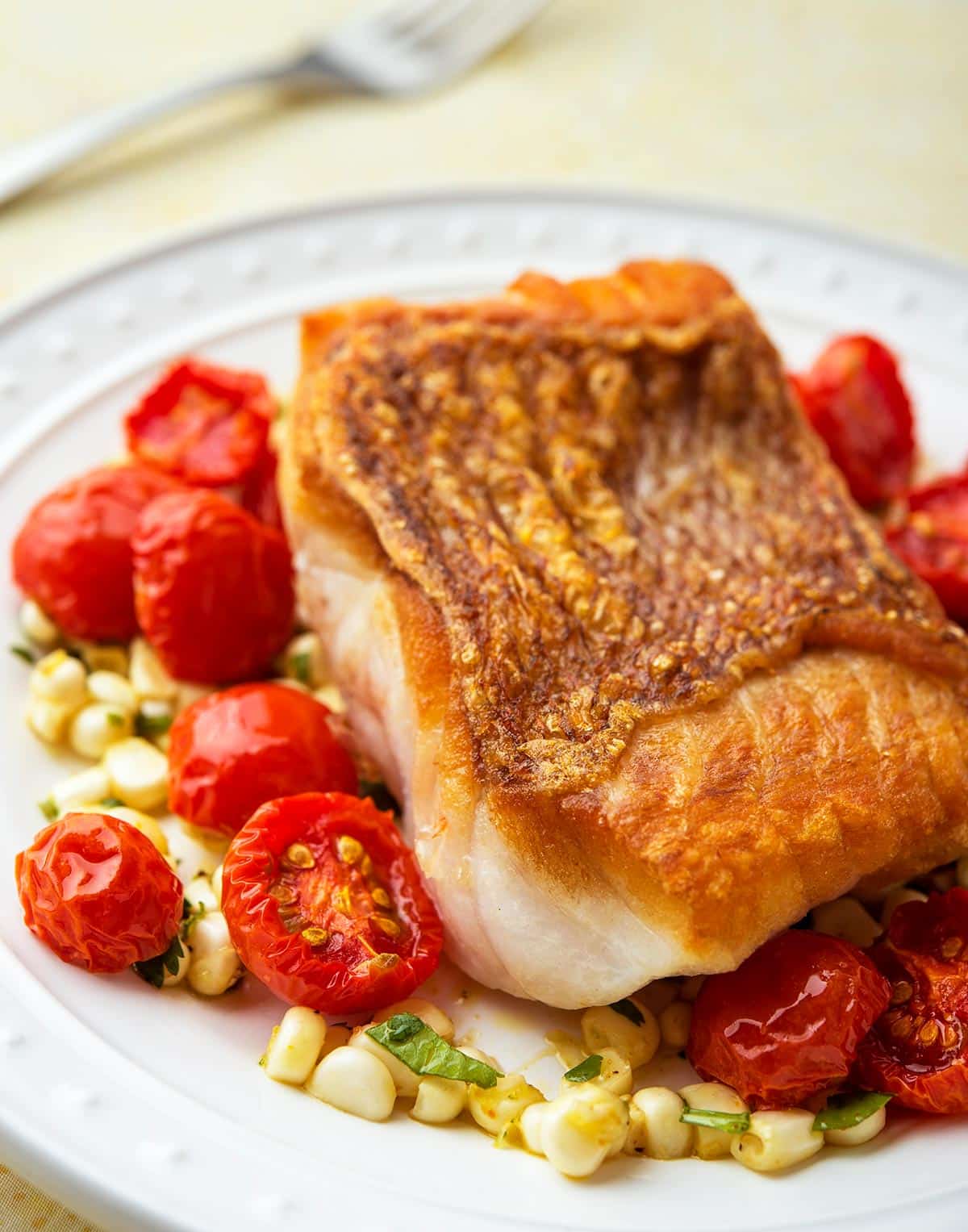 And while pan seared red snapper ain't rocket science, there are a couple things that set it apart from your typical fish-with-seasonal-veggies recipe: The way I cook the fish and what I do with the tomatoes.
Before we start, know that you don't need red snapper to make this dish. Any firm, white fish works. Other snappers, black seabass, striped bass, Pacific rockfish or lingcod, smallmouth bass, walleye, grouper… you get the point.
Pan Seared Red Snapper Made Easy
As you can see, the red snapper a) has the skin on (although it contracted a lot when I cooked it), and b) is really only cooked on one side. That's on purpose.
First, the skin. The skin on a scaled bass-like fish is usually tasty. Red snapper is one of those fish. I like to scale these fish, then fillet and leave the skin on because, when properly cooked, the skin gets crispy like a potato chip. These are usually lean fish, so the small amount of fat under the skin adds a touch of richness, too.
To address the second point, pan seared red snapper, or whatever fish you use, is a great way to cook any fish so you get that crispy side — and yes, you can do this with a skinless piece of fish — and you don't overcook the inside of the fish because you are just basting the other side with the hot oil or butter.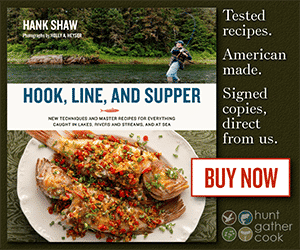 I prefer to use clarified butter when cooking fish, as it has a reasonably high smoke point and adds a ton of flavor. You can buy is as Indian ghee in the store, or you can make it yourself. Or just use oil.
The one piece of equipment I fell is borderline critical for pan searing fish is a fish spatula, which is thinner, flexible and has something of a cutting edge on the end.
Here's a full tutorial on pan seared fish. And here are some fish-specific recipes with other species: grouper with a Lowcountry salad, and mahi mahi with a Cuban flair.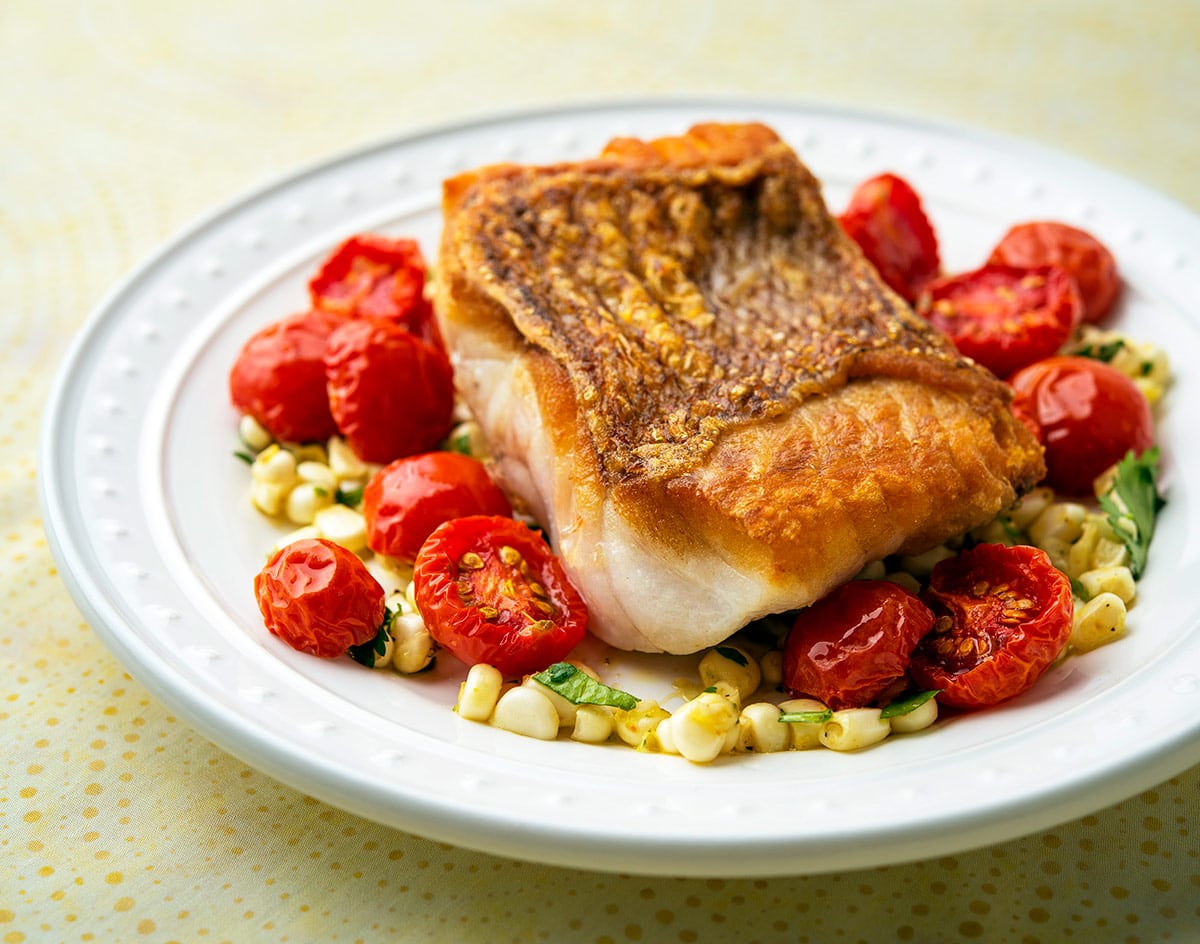 Putting It All Together
Now, the tomatoes. Of course you can just halve your cherry tomatoes and toss them in the pan for a few seconds, and yes, I do this myself sometimes. But I find that most cherry tomatoes are pretty watery, so I like to concentrate their flavor by slightly dehydrating them.
I put the tomatoes in my dehydrator for a few hours to get them halfway there: Not hard, not even leathery, but definitely concentrated. You can do the same thing in a 275°F oven, especially if you have a convection oven. It gives the dish a lot more punch to do this, if you have the time.
Finally, the herb element is also up to you. I like the combination of mint, corn and tomatoes, but parsley, cilantro, oregano, marjoram and chives will all work, and give you different results.
Try pan seared red snapper the next time you come home with one, or any similar fish. And feel free to play with the recipe. After all, it's summertime!
If you liked this recipe, please leave a ⭐️⭐️⭐️⭐️⭐️ rating and a comment below; I'd love to hear how everything went. If you're on Instagram, share a picture and tag me at huntgathercook.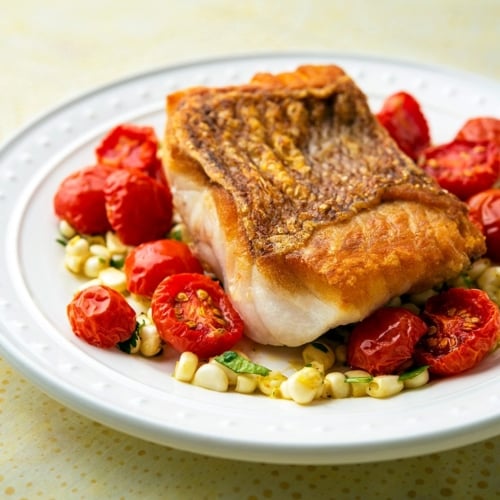 Red Snapper with Cherry Tomatoes
The crux of this dish is fresh fish, cooked simply, with the freshest produce of summer. So if you don't have red snapper, use any lean, firm, white fish.
Ingredients
1 1/2

pounds

cherry tomatoes,

sliced in half

Olive oil to coat tomatoes

Salt

4

red snapper fillets,

skin on or off

1/4

cup

clarified butter or vegetable oil

2

to 3 ears of sweet corn,

kernels cut off (about 2 cups)

3

tablespoons

minced parsley,

cilantro or mint

Black pepper to taste
Instructions
Coat the halved cherry tomatoes in some oil and salt them well. Place them, cut side up, on a baking sheet and put in the oven at 275°F; no need to preheat. If you have a convection oven, turn the fan on. Or, you can put the tomatoes on a rack in your dehydrator and set it to 135°F. It will take longer for the tomatoes to get semi-dry, but it won't heat up your kitchen. Cook the tomatoes until they are about half dried, about 45 minutes to 1 hour in the oven, a bit longer in a dehydrator. Keep an eye on the tomatoes every 20 minutes or so, as different tomatoes and different ovens will give you different results.

About 20 minutes before the tomatoes are ready, take the fish out of the fridge and salt it well.

When the tomatoes are ready, heat the clarified butter in a large sauté pan over high heat. As the butter is heating, pat the fish dry with paper towels. If you want a crispy skin, use a butter knife to scrape down the skin; this removes a but more moisture and results in a crispier skin.

When the butter is hot, lay the fish skin side down in the pan, even if there is no skin; this side is flatter. Jiggle the pan the second the fish hits the heat; this helps keep it from sticking. Turn the heat down to medium-high and sear the fish well. As it cooks, use a spoon to baste the other side of the fish until it's just barely cooked: About 30 seconds of basting will do the trick. When the bottom of the fish is nicely browned, about 6 to 8 minutes, it should be ready. It should also lift up from the pan easily. Set the fish on a cutting board skin side up.

Add the corn to the pan and toss to combine. Sprinkle it with salt. Add the tomatoes and the parsley and toss to combine. Cook for about 30 seconds and turn off the heat. Grind some black pepper over everything. To serve, give everyone some of the corn-tomato mixture and set a piece of fish on top. Serve with bread, potatoes or rice.
Notes
If you want to just make this a lightning quick weeknight meal, skip the drying part on the cherry tomatoes and just toss them in at the last minute.
Nutrition
Calories:
581
kcal
|
Carbohydrates:
7
g
|
Protein:
94
g
|
Fat:
17
g
|
Saturated Fat:
8
g
|
Cholesterol:
195
mg
|
Sodium:
309
mg
|
Potassium:
2264
mg
|
Fiber:
1
g
|
Sugar:
4
g
|
Vitamin A:
1561
IU
|
Vitamin C:
50
mg
|
Calcium:
167
mg
|
Iron:
2
mg
Nutrition information is automatically calculated, so should only be used as an approximation.