Hank's Turkey Mole
April 02, 2018 | Updated September 08, 2021
As an Amazon Associate I earn from qualifying purchases.
Turkey mole is a Mexican classic, one with thousands of variations. This is mine.
You should know at the start that this is not a true, authentic Mole Poblano, although it is similar. That mole (pronounced mole-ay) is darker and sweeter and uses more Mexican chocolate. My mole is a hybrid between that one and a mole rojo, a red mole from Oaxaca.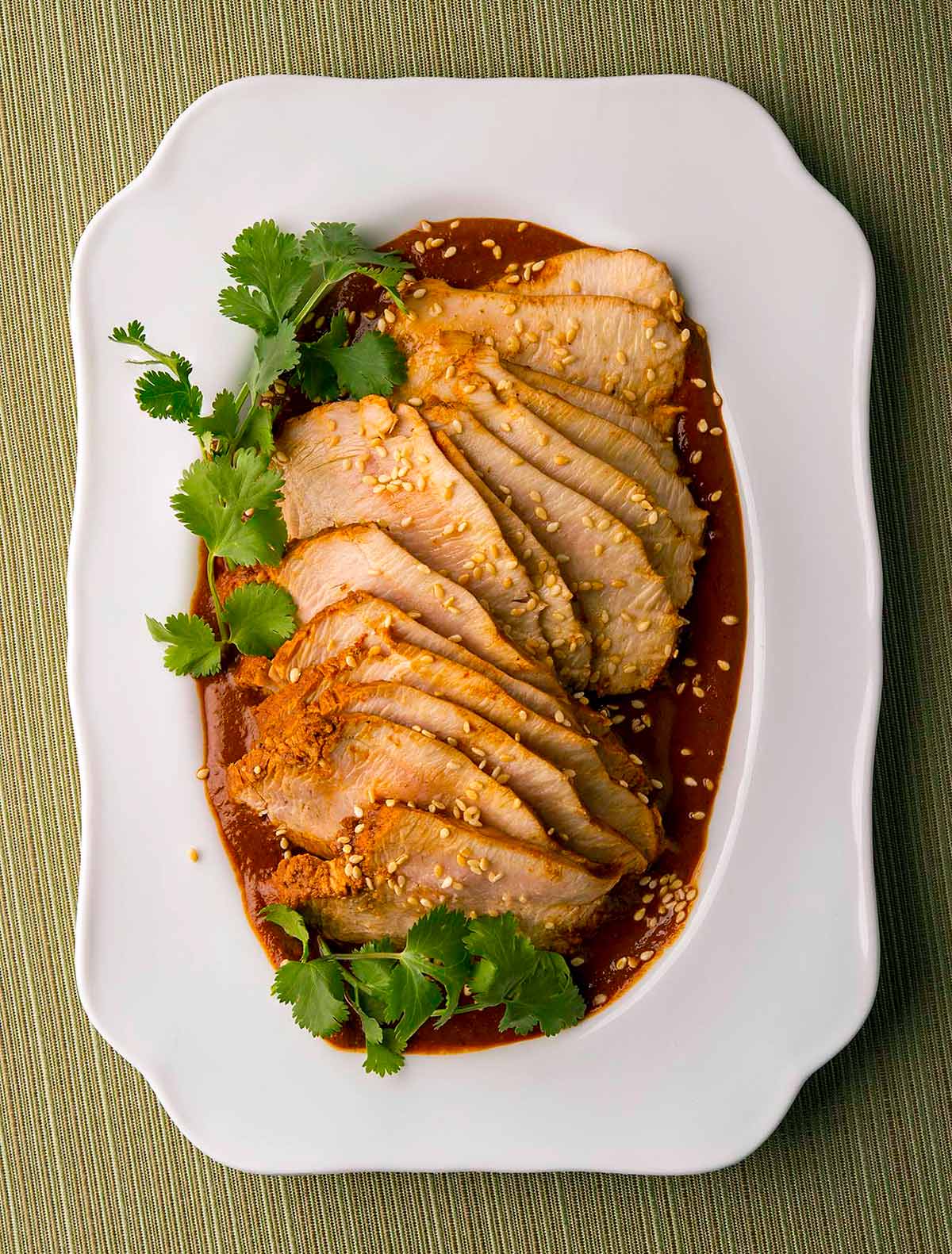 This mole is rich, warming, only a tiny bit picante, and very smooth. The sauce surrounds food like a velvet blanket. It takes some doing to make, but my mole, indeed all moles, keeps for a week or two in the fridge and freezes well. Use leftover sauce on enmoladas (enchiladas covered in mole) or to coat taco meat.
But for the first meal you really ought to make turkey mole. Why? Mole in general — a layered, complex sauce — is thought to originate among the Maya in southern Mexico, and, as it happens, that is where the turkey was first domesticated, too.
Yes, really. I am surprised at how few people know that domesticated turkeys are a Central American thing. So are Muscovy ducks, for what it's worth. At any rate, pairing an ancient sauce with a meat it was likely matched with seems like a good thing. And it is.
Wild or domesticated turkeys work well here, but the key with either is to not overcook them. I achieve this by simmering turkey in the mole with a meat thermometer stuck in the fattest part of the breast. When it hits 150°F, I remove it, slice and serve.
You'll notice that this mole, really all moles, have a lot of ingredients. Don't let this put you off. Most are easily available in regular supermarkets, and even the Mexican bittersweet chocolate can be switched out for any dark, bittersweet chocolate; just don't use milk chocolate, OK?
Chile choice really makes a mole yours. My choices are a significant part of what makes this "Hank's Mole," and if you choose others, it'll be your mole. Anchos are smoky and raisiny and not very hot, pasilla are mellow and also not too hot, guajillos are bright red and are moderately hot, and chipotles tend to be beige and roaring hot.
Chile choice largely determines the classic moles, too. I have recipes for most of them on this site, from mole negro — the queen of them all — to it's almost equally dark mole chichilo, to the lighter, brighter and easier moles, mole amarillo and mole coloradito.
And while I prefer my turkey mole with the sauce in the recipe below, you can absolutely serve turkey with mole negro, chichilo and coloradito. It might be a little weird with amarillo, but go for it if you like.
As I said, once made, your mole with keep for a couple weeks in the fridge, and it freezes well.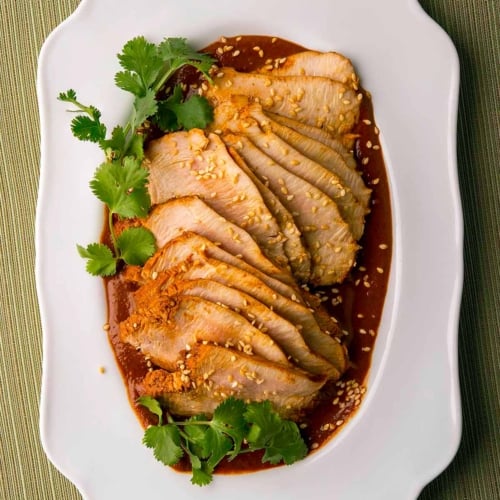 Hank's Turkey Mole
This is my version of the classic Mexican turkey mole. It's not strictly speaking a mole poblano, but it's similar. I simmer the turkey in the finished mole only until it's just barely cooked through, which keeps the meat tender and moist.
Ingredients
CHILES
6

anchos

6

pasilla or mulatto chiles

6

guajillo chiles

1

chipotle
MOLE
1/4

cup

sesame seeds

1/4

cup

pumpkin or squash seeds

(pepitas)

1/3

cup

pecans or walnuts

1

teaspoon

coriander seeds

2

ounces

Mexican bittersweet chocolate,

crushed up

1/4

cup

lard, duck fat or vegetable oil

1

cup

chopped onion

4

cloves

garlic, chopped

1/3

cup

raisins,

about 2 ounces

3

small corn tortillas, or 1 large,

slightly charred

1/2

teaspoon

black pepper

8

cloves,

about 1/2 teaspoon ground

1

teaspoon

cinnamon

1

large tomato, charred under a broiler

1/2

cup

roasted and pureed tomatillos, about 3 large ones

1

quart

chicken or turkey broth

2

pounds

turkey breast
Instructions
Remove the stems and seeds from the chiles. Flatten them out as best you can and toast them on a comal or cast iron pan set over high heat. You'll want a spatula to hold them down. You'll only need to toast the chiles for a few seconds on either side; watch for blistering, and when you see it, you're good. 

Toss the toasted dried chiles into some warm water to soak, and, when they're soft, puree in a blender with some turkey or chicken broth. You want a consistency like thick BBQ sauce. Set aside.

In a large, dry pan, toast - one at a time - the sesame seeds, pepitas, pecans and coriander seeds. Set them all in a bowl to cool, then grind into a paste in a spice grinder. Set aside. 

Put the 1/4 cup of lard into a large, heavy pot like a Dutch oven. Set the heat to medium-high and sauté the onions until they begin to brown a bit. Add the garlic and raisins, then sauté another minute. Turn off the heat and let this mixture cool a bit, then put it in the blender. 

Smash up the charred tortillas and put them in the blender. Add the ground nuts, seeds and coriander to the blender. Add the black pepper, cloves, cinnamon, charred tomato and tomatillos to the blender, and turn it on. Add enough turkey stock to make the blades work, and puree this mixture. It should be thick, but pourable. 

Pour this into the Dutch oven. Add a little more broth to the blender to get all the stray sauce sticking to its sides and pour that in the pot. Add the Mexican chocolate and all the pureed chiles, too, mix well and bring to a bare simmer. You want the mole to have the consistency of melted ice cream. Add salt to taste. 

Simmer this mole for 20 minutes. As this is happening, salt the turkey breast well. After 20 minutes has elapsed, submerge the turkey breast in the mole. Simmer gently until it's done. I do this by sticking a meat thermometer into the fattest part of the turkey breast, and I pull the meat when it hits 150°F. 

Remove the turkey from the mole and scrape most of the sauce back into the pot. Slice against the grain, then serve with the mole, some cilantro and sesame seeds as garnish. 
Notes
NOTE: This recipe makes a lot more mole sauce than you need for one sitting, but it keeps well in the fridge and freezes, too. Use leftover mole for enmoladas or in tacos. 
Keys to Success
Put some music on and settle in for a fairly long series of steps when making mole. It's not hard, but you do need to pay attention to detail to make a great mole. Don't make it when rushed. 
All the toasting and charring steps really matter. Don't skip them.
Other meats that work well with this sauce would be chicken, rabbit, pork, squirrel, pheasant or partridge. 
Nutrition
Calories:
468
kcal
|
Carbohydrates:
43
g
|
Protein:
33
g
|
Fat:
22
g
|
Saturated Fat:
9
g
|
Polyunsaturated Fat:
5
g
|
Monounsaturated Fat:
6
g
|
Trans Fat:
1
g
|
Cholesterol:
62
mg
|
Sodium:
718
mg
|
Potassium:
1303
mg
|
Fiber:
14
g
|
Sugar:
17
g
|
Vitamin A:
9697
IU
|
Vitamin C:
23
mg
|
Calcium:
121
mg
|
Iron:
5
mg
Nutrition information is automatically calculated, so should only be used as an approximation.