Pipian Rojo
January 10, 2019 | Updated December 29, 2020
As an Amazon Associate I earn from qualifying purchases.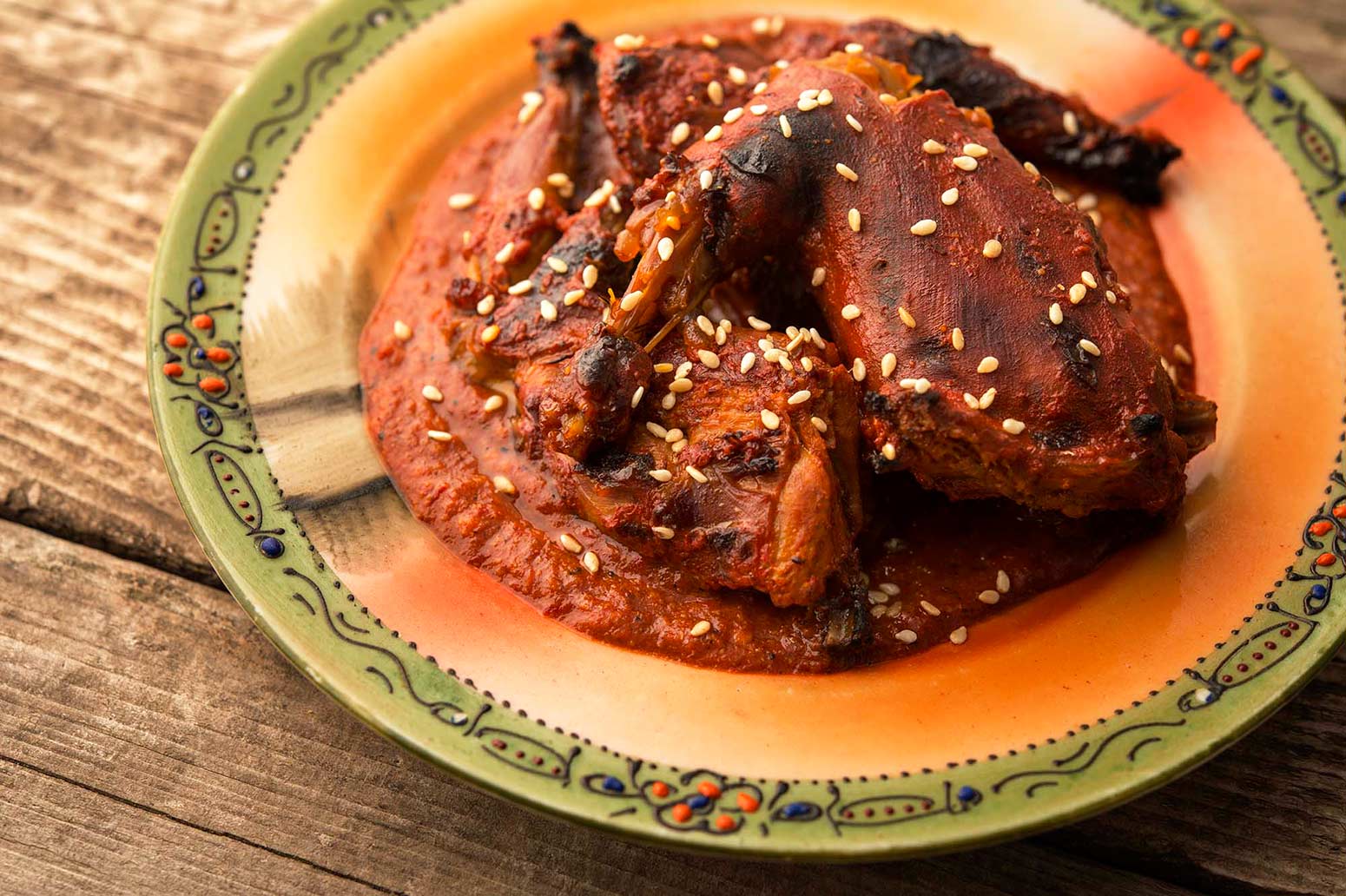 Pipian rojo, or red pipian, is one of the classic sauces in Mexican cuisine. It's like a mole, only a bit simpler, and it hinges on seeds or nuts in addition to the chiles.
So I knew I had to make it after I managed to bring home a Mexican fox squirrel from the Chiracahua Mountains of southeast Arizona. These are big, orange squirrels that spend a lot of time eating pine nuts. So making a reddish-orange sauce that hinges on nuts was a natural choice.
Of course you can put your pipian rojo on whatever makes you happy. Pronounced "pip-ee-ahn row-ho," it is traditionally served with chicken, turkey, fish, pork, and other light meats such as rabbit.
There's a green version, too, and I use that one as a sauce for my turkey tamales.
It's not a hard sauce to make, but you need dried chiles to make it. Thankfully the dried ones you need are readily available in many supermarkets and in every Mexican market. You want red ones, like guajillo, California, New Mexican, and, if you like it picante, some smaller hot chiles such as arbol, puya or chiltepin. You'll also want a chipotle or three, either dried or in adobo.
After that you need nothing that a normal supermarket won't have: sesame seeds, peanuts, pine nuts or pepitas, which are green shelled squash seeds, some spices, onion, garlic, a tomato and some nice stock, hopefully handmade.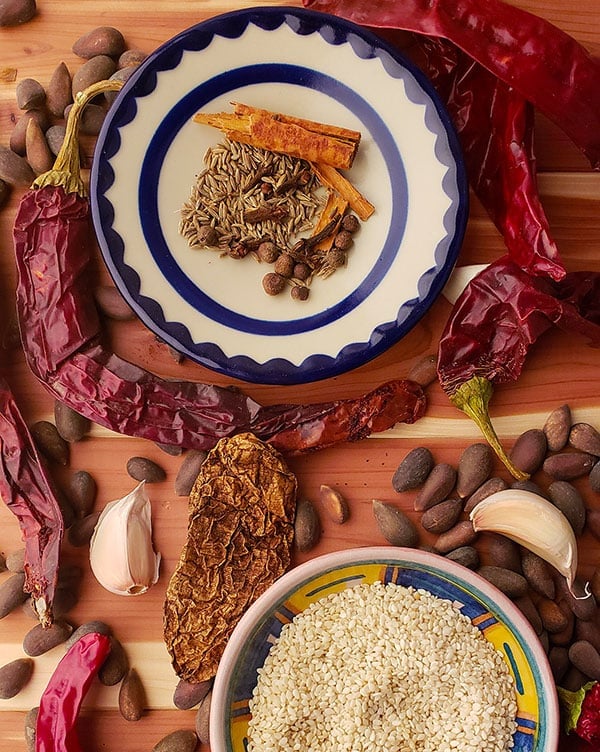 What separates a mediocre pipian from a good one is, aside from the quality of ingredients, how much care you take in toasting and charring everything.
Chiles get toasted but not charred, same with spices. Onions, tomato and garlic gets charred. Hard. As in lots of blackening. You might also want to season everything with smoked salt in this dish, as the smokiness adds a lot.
I used grouse stock to make my pipian, because, well, I have a lot of odd stocks lying around. If you don't, go with chicken or vegetable stock.
Since I was serving this pipian rojo with a pine nut-eating squirrel, I used pine nuts I'd gathered. You can of course use store-bought pine nuts, but you can also sub in peanuts if you're on a budget. You do need sesame seeds, though.
Traditionally you would braise whatever meat or fish you'd serve your pipian with in the sauce itself, but I find this dulls the flavor a lot. So I cook all my Mexican sauces minimally except for the deep, dark moles you see in Mexican restaurants. Those are better long cooked. You can do whatever you'd like.
If you do go my route and braise separately, do this:
Brown your meat in lard or vegetable oil.
Add stock or water to cover, along with some chopped onion, a smashed clove of garlic or three, and a few bay leaves or avocado leaves.
Simmer until tender. Pro Tip: Save the braising liquid and use it over and over as you cook. Freeze if you're not making a Mexican braise in the next few days. I borrowed this concept of "master stock" from the Chinese. It really make a difference over time.
Heat your pipian rojo and coat your braised meat with it, then serve.
This is one of my all time favorite Mexican sauces. I like it even more than most moles, although my turkey mole is pretty damn good.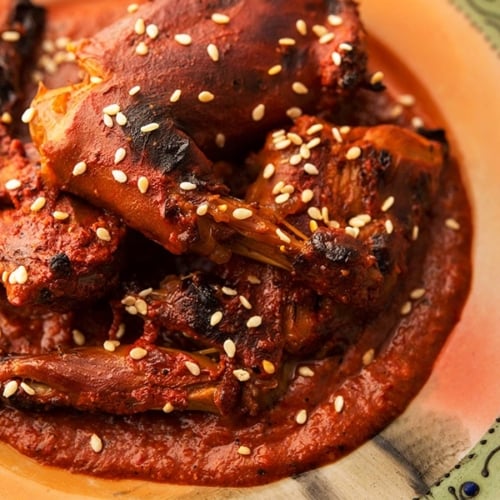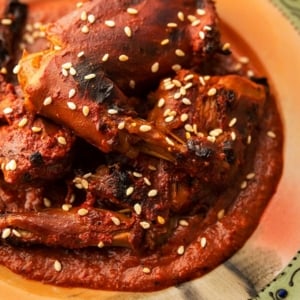 Pipian Rojo
This is a classic Mexican sauce that hinges on red chiles and various nuts and seeds. I served it over squirrel in the picture, but any lighter meat is a good choice: pork, chicken, turkey, and even fish or shrimp. Pipian rojo keeps for a week in the fridge and freezes well.
Ingredients
4 to 6

dried guajillo or puya chiles

4 to 6

dried California or New Mexican chiles

1 or 2

dried chipotles or chipotles in adobo

4 to 6

dried chiltepin or pequin or arbol chiles

(optional)

1/2

cup

pine nuts or peanuts, toasted

1/3

cup

sesame seeds, toasted

A 1-inch piece of cinnamon

4 to 6

cloves

4 to 6

allspice berries

1

teaspoon

whole cumin seed

1

plum or paste tomato

2 to 4

cloves

garlic

1

white onion, sliced

2

cups

light stock, chicken or vegetable or game

Salt, smoked if you have it.
Instructions
Remove the stems and shake out as many seeds as you can from the various chiles. Open the chiles up so you can press them flat as best you can. Old chiles will be brittle and break. If they're all like that, just leave them whole.

In a medium pot, heat the stock to a bare simmer. Add the chipotles.

Set the oven to broil and put a rack close to the burner. Slice the tomato in half and peel the garlic, but leave the cloves whole. Toss the tomato, garlic and onion slices with a little oil and set them on a baking sheet. Broil them until you see quite a bit of blackening, about 10 to 15 minutes. You want the vegetables to be about 50 percent blackened. Remove and put in the pot with the stock.

Heat up a comal or cast iron skillet, griddle or other heavy frying pan over medium-high heat. Toast all the chiles, one by one. Set a chile down on the hot, dry pan and press it with a spatula. Let this toast for a few seconds. You want to smell the aroma and see a little blistering. Turn the chile over and toast the other side. Do this with all the chiles except for the chipotles and the chiltepins, if using. Set the toasted chiles in a bowl. When all the chiles are toasted, put them in the pot with the stock.

Meanwhile, toast the pine nuts in the pan until aromatic and slightly browned in places. Be careful, as pine nuts can scorch easily. Remove them and put the nuts in the bowl of a blender. Do the same thing with the sesame seeds.

Now toast the spices in the same pan. This shouldn't take more than a minute or two. Move the spices to the bowl of the blender.

Pour the contents of the pot into the blender; you may need to do this in batches if you have a small blender. Buzz to a puree. Add the smoked salt to taste.

The sauce is good as it is this way, but traditionally you would cook it in about 3 tablespoons of lard or vegetable oil over medium heat, stirring often, for about 10 minutes. Either way is nice.
Nutrition
Calories:
127
kcal
|
Carbohydrates:
9
g
|
Protein:
4
g
|
Fat:
10
g
|
Saturated Fat:
1
g
|
Sodium:
25
mg
|
Potassium:
215
mg
|
Fiber:
3
g
|
Sugar:
3
g
|
Vitamin A:
661
IU
|
Vitamin C:
3
mg
|
Calcium:
71
mg
|
Iron:
2
mg
Nutrition information is automatically calculated, so should only be used as an approximation.