Sopa de Lima
March 16, 2020 | Updated March 20, 2021
As an Amazon Associate I earn from qualifying purchases.
After I got my first-ever chachalacas in Texas, I went looking for a recipe that would highlight these amazing chicken-like birds: Classic sopa de lima from the Yucatan fit the bill.
Sopa de lima is essentially a hybrid between chicken soup and tortilla soup, spiked with the zest and juice of limas, which are themselves a hybrid of a citron and a lime. Yes, real deal sopa de lima is not a lime soup.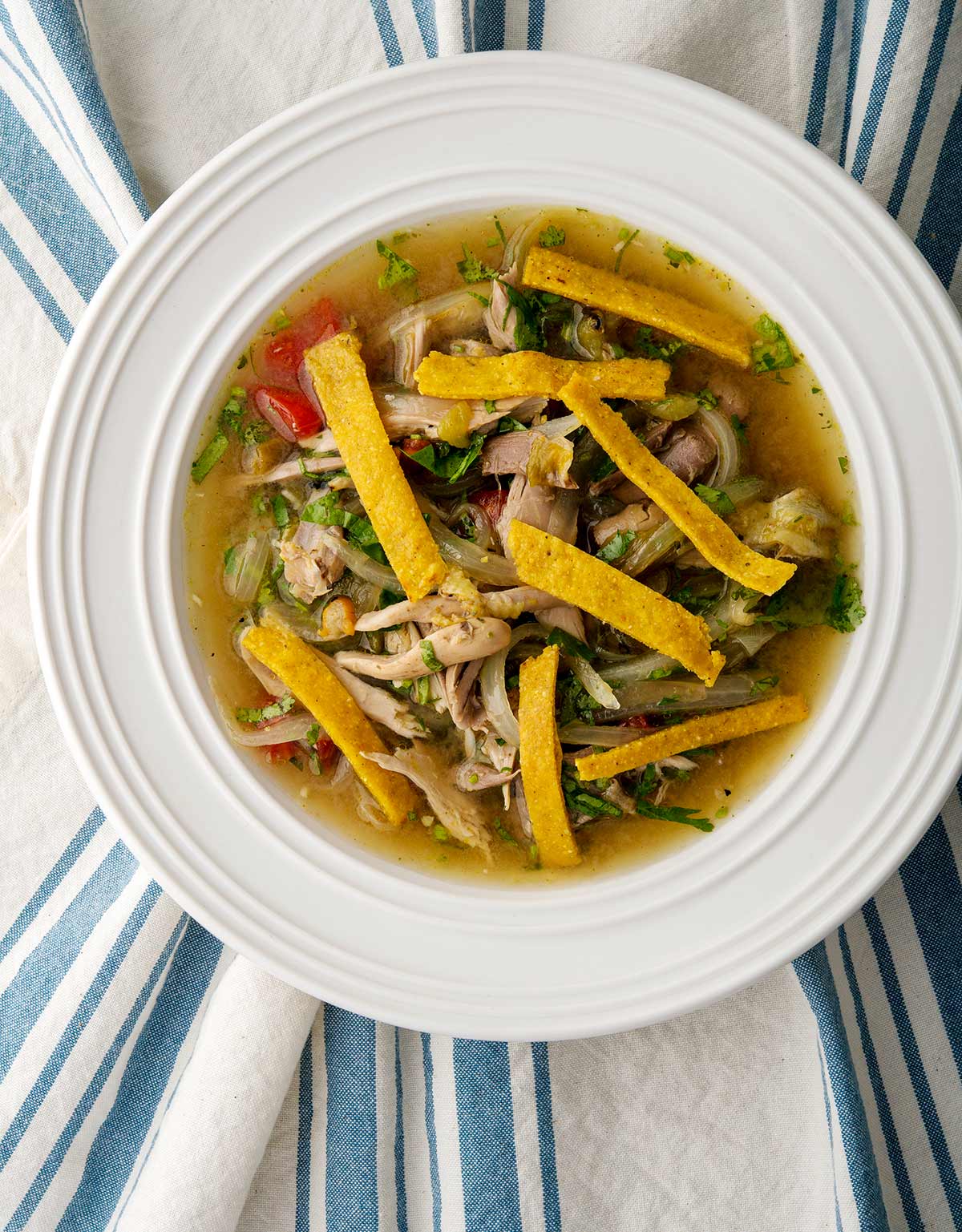 That said, it can be very hard to find real limas, even here in Sacramento, where we basically grow every sort of citrus there is. My advice is to use the smaller key limes if you can, and if not, a mix of Meyer lemons and regular limes is another good choice. Failing that, just use a regular lime.
You will almost always see sopa de lima as a chicken soup, but I happened to have a rare alternative: chachalaca. Wha? You heard me, chachalaca. It's a cousin of a chicken that is native to the Yucatan, so I am guessing that somewhere, someone has made sopa de lima as a chachalaca recipe.
I chose it because you can really taste the bird in this recipe, as opposed to some dish where the meat is covered up in chiles. It isn't every day I get to hunt chachalacas, which can only be found in a few counties in Texas, if you happen to be north of the border. They are very common in Mexico and all the way down to Argentina.
The best way to make sopa de lima is to cook a whole bird gently in water, vegetables and some herbs, then pull the meat off the bones, strain the stock and make the soup from there.
You can make things a lot faster by using shredded leftover chicken (or any other white meat) and pre-made chicken broth. But you will notice the difference, so if you have time, it's better from scratch.
My recipe for sopa de lima is an amalgam of one I found in David Sterling's excellent book Yucatán: Recipes from a Culinary Expedition and another from a Spanish language cookbook called La Cocina Familiar en el Estado de Yucatan.
Once made, this soup keeps for a few days in the fridge, but if you want to freeze it, leave out the garnishes and add them when you thaw and reheat it.
I cook quite a lot of Yucatecan food, so if you like this recipe, you might want to try my rendition of cochinita pibil, poc chuc, which is grilled pork, dzik, which is a shredded venison salad, a stew called ajiaco, or a braised Yucatecan turkey dish I like to make with turkey thighs.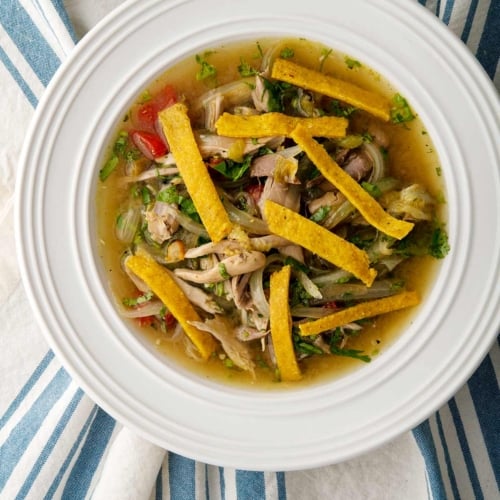 Sopa de Lima
This is normally a chicken dish, but I used chachalaca. Any white meat will work, and I can recommend quail, grouse, partridges, pheasants, rabbits or squirrels as alternatives.
Ingredients
SOUP BASE
3

pounds

white meat, chicken, grouse, quail, turkey, etc.

1

quart

chicken or other light stock

1/2

teaspoon

dried thyme

2

teaspoons

dried oregano,

Mexican if possible

2

teaspoons

black peppercorns, cracked

8

allspice berries,

or 1/4 teaspoon ground

8

whole cloves,

or 1/4 teaspoon ground

2

bay leaves

1

small white or yellow onion, chopped

2

celery stalks, chopped
SOUP
2

tablespoons

chicken fat, olive oil or vegetable oil

1

white or yellow onion, chopped

1

poblano or green bell pepper, diced

4

cloves

garlic, minced

1

habanero chile, minced

(optional)

3

paste tomatoes, seeded and diced

Zest from 2 limas or limes

1/3

cup

lima juice

(see above for options)

Cilantro and tortilla chips for garnish
Instructions
SOUP BASE
Either put the chicken into a large soup pot whole, or cut it into pieces. Your choice. Add the remaining soup base ingredients plus enough water to cover by 1 inch. Bring this to a simmer and cook gently until the meat is tender, anywhere from 30 minutes for quail to 3 hours for an old rooster or turkey legs.

Remove the bird and strip the meat from the bones. Reserve the meat and discard the bones -- unless you have lots of time, in which case return the bones to the pot and keep cooking for another hour. Whenever you are ready, strain the soup base into a large bowl through a strainer lined with a paper towel. Discard the solids and reserve the broth.
TO FINISH THE SOUP
Heat the chicken fat or olive oil in a clean pot over medium heat. Add the onions and stir to coat with the oil. Cook until soft and translucent, but not browned, about 5 minutes. After about 3 minutes of cooking, add the diced poblano or bell pepper.

When the onions are soft, add the garlic and habanero, if using. Let this cook for a minute or two, then add the shredded meat, the tomatoes and the broth. Bring this to a simmer and add salt to taste. Let it all cook for 20 minutes, then add the lime zest and juice. Turn off the heat, and serve the soup with the tortilla chips and cilantro.
Notes
NOTE: This will take a lot less time if you use leftover chicken and pre-made chicken broth. 
Nutrition
Calories:
341
kcal
|
Carbohydrates:
12
g
|
Protein:
25
g
|
Fat:
22
g
|
Saturated Fat:
6
g
|
Cholesterol:
82
mg
|
Sodium:
140
mg
|
Potassium:
589
mg
|
Fiber:
2
g
|
Sugar:
4
g
|
Vitamin A:
571
IU
|
Vitamin C:
32
mg
|
Calcium:
61
mg
|
Iron:
2
mg
Nutrition information is automatically calculated, so should only be used as an approximation.