Pozole Verde
January 21, 2015 | Updated November 05, 2021
As an Amazon Associate I earn from qualifying purchases.
Pozole exists in a galaxy of varieties throughout Central and Northern Mexico, and, like many dishes there, mimics the flag's colors of red, white and green. This is my rendition of pozole verde, green pozole.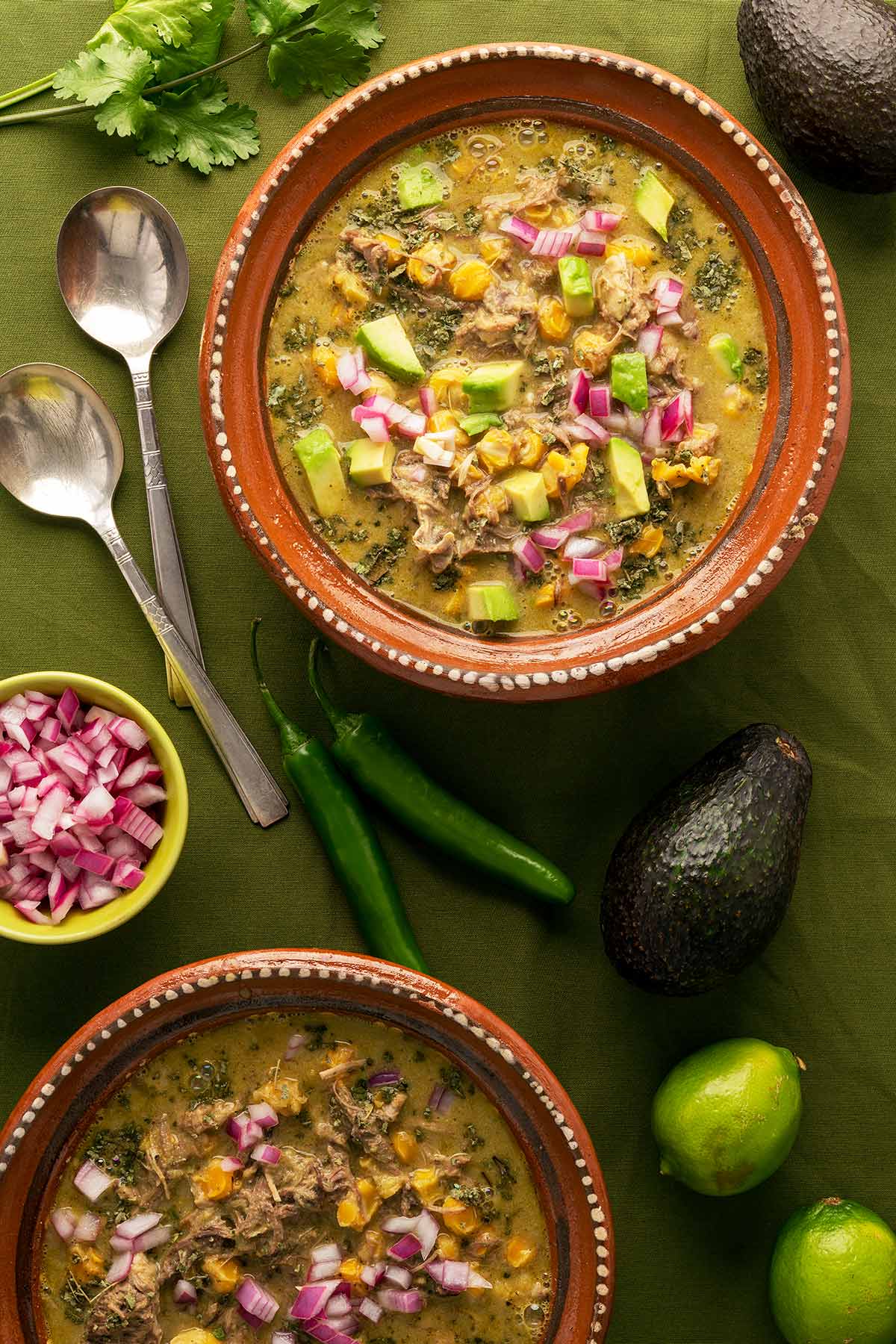 If you are not familiar with pozole at all, it is, arguably, the national dish of Mexico. Stripped down, this stew is protein, hominy, water, some sort of onion or garlic, and Mexican oregano. Those ingredients are (or should) be in every pozole worthy of the name.
My pozole verde recipe is essentially my pozole blanco recipe, which is rather spare, with added green things — what green things I'll get to in a minute. (I also have a recipe for pozole rojo, too, as well as a Sonoran variant called gallina pinta, which has beans.)
Variations on pozole verde exist in a number of places throughout Mexico, from Mexico City to Guanajuato, Michoacan to Guerrero, where it is a huge deal on Thursdays, for whatever reason. There's even a sort of green pozole in Oaxaca, where they will sometimes make a white pozole, then add a big dollop of mole — and this can be mole verde — that you can stir into your soup.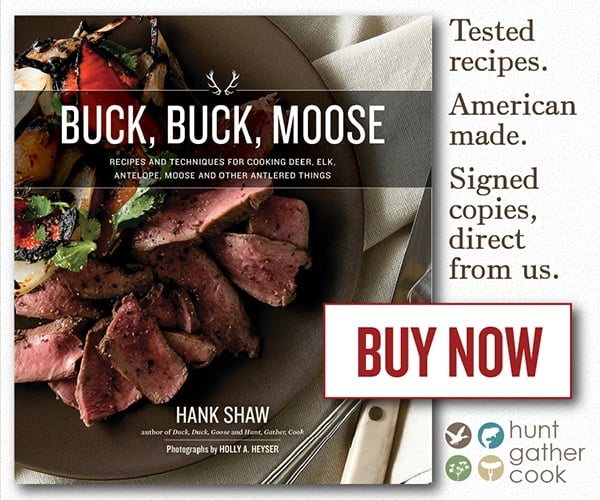 Flavorwise, if you have never eaten pozole verde, it's a cascade of Mexican flavors. You get acidic tomatillos, but you get alkaline hominy kernels to balance that out, and a bit of brightness from herbs, lime juice and chiles.
It's not supposed to be über hot, but it does have a nice gentle heat. The stew broth gets a lot of body from toasted, ground-up pumpkin seeds (pepitas), and little shreds of meat round everything out.
I have mixed and matched the additions I've seen from these places, but I rely most heavily on pozole verde from Guerrero. I've eaten it in many variations, and tip my hat to Chef Rick Bayless in his book Authentic Mexican, as well as the wonderful, yet hard to find series of books by the Mexican government that detail the cuisines of each of that nation's states.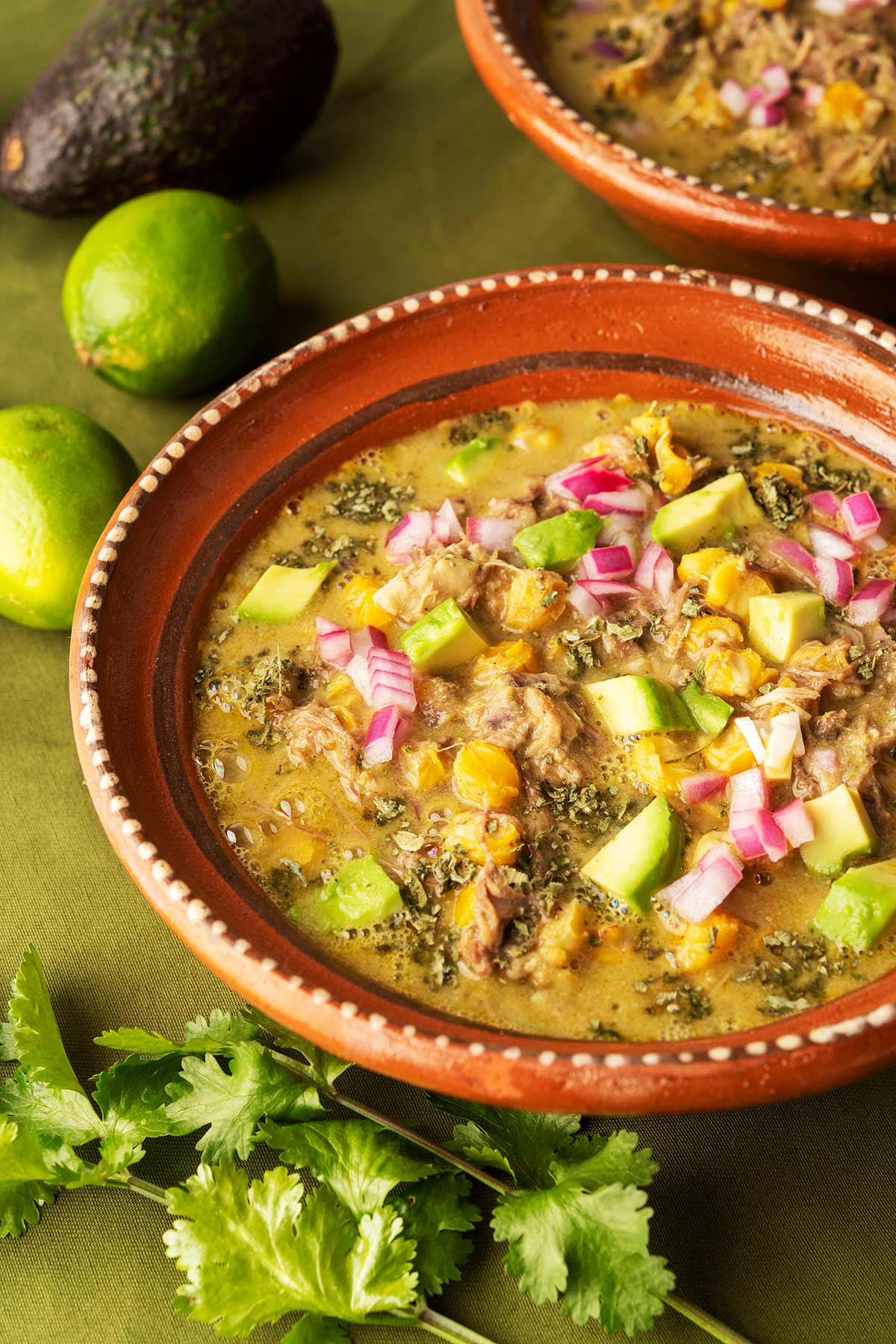 In this case, the book I leaned on most is La Cocina Familiar en el Estado de Guerrero.
The meat in most pozole verde is pork, and that is what I use here. I happen to have access to pig's heads, which is traditional, but if you don't have a cabeza lying around, hocks, jowls, shoulder, "country ribs" and even some belly will all do nicely. Vary it up so you have some different colors and textures.
Don't like pork? Chicken, or something like it, is the way to go. In a perfect world you would use wild pheasants, grouse or a young wild turkey, but a stewing hen or older chicken would be awesome, too. You can find stewing hens in Latin or Asian markets.
To make this recipe taste right, you do need tomatillos, pepitas and hominy, which are gigantic kernels of corn. All of these ingredients are common in every Latin market in America, and I've seen hominy in regular markets, too. Pepitas are often in regular markets' "Hispanic Aisle" and can be found in the bulk bins and even in convenience stores as a snack.
I prefer to make my own nixtamal — what Mexicans call hominy — and start with that. Masienda sells a spectacular corn for pozole online, if you are interested. But canned hominy is fine. Just know that if you use canned corn, it goes in towards the end of cooking.
Like chili or Vietnamese pho, pozole verde is one of those stews where half the fun is adding all sorts of toppings at the table. Some pozole recipes add chicharrones and even sardines to their toppings, but I stuck to the more familiar cilantro, avocado, onion and lime. Chopped green chiles would be another good idea. Just keep it green.
Three optional items will make the dish better, but you can skip them if you can't find them: Epazote, hoja santa, and sorrel. Epazote is a green herb that is pretty easy to find in Latin markets (it's also a common urban weed), and sorrel can sometimes be found in farmer's markets. Hoja santa can also sometimes be found in Latin markets dried, but it's rare fresh unless you grow it.
¡Buen provecho!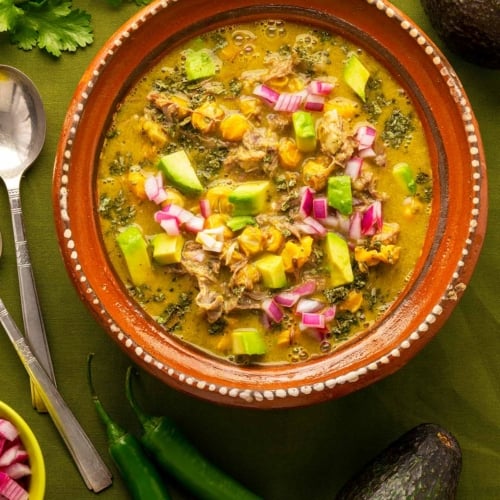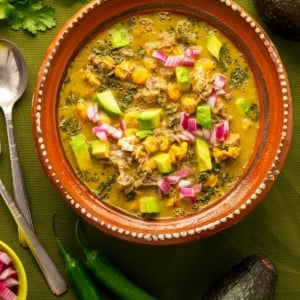 Pozole Verde
There are many versions of pozole verde; this is mine. I use a pig's head, but since that's not easy to find, use about 3 pounds of various pig parts, or, if you want to make this with poultry, one large stewing hen, or 2 pheasants would work well.
Ingredients
1

pig's head, or

3 pounds pork shoulder, hocks, jowls, or ribs

2

pounds

nixtamal, or

two 28-ounce cans of hominy

1

tablespoon

of dried oregano,

Mexican if possible

Salt

20

tomatillos

(not the little ones)

2 or 3

serranos or jalapenos,

chopped

3

tablespoons

lard,

or other cooking oil

1/2

cup

pepitas,

toasted in a frying pan until aromatic and then ground

10

large sorrel leaves

(optional)

1

small bunch of epazote

(optional)

3

hoja santa leaves

(optional)

1

small red onion,

minced

1/4

cup

lime juice

1

avocado,

diced

1/2

cup

chopped cilantro

Lime wedges
Instructions
If you happen to be using a pig's head, submerge it in water in a very large pot and bring to a boil. Add the nixtamal, if using. Drop the heat to a gentle simmer and cook for 1 hour. Add the oregano, then keep cooking it until the meat wants to fall off the bone, about 2 1/2 hours. You will want to pull the head before it collapses, however, or things will get messy when you pick off all the meat.

If you are using nixtamal but not a pig's head, cover the corn with about 1 1/2 gallons of water and cook for 1 hour. Then add all the pork bits you have decided to put in your pozole. Simmer until tender as above. Once tender, break up the meat into bits you'd like to eat in a soup.

While this is happening, marinate the red onion in the 1/4 cup of lime juice. This removes any sulfur sting from the onion.

Once the corn is tender, add salt, but not before. Adding salt too early makes the kernels tough. After the meat and corn is all ready, or close to it, make it a green pozole by doing the following:
Making it Green
If you are using canned hominy, now is the time to stir it into the pot.

Cover the tomatillos with just enough water to cover and boil. Drop the heat to a bare simmer and let this cook for 15 minutes. Move the tomatillos to a blender and add to the blender the ground pumpkin seeds, epazote, hoja santa and sorrel (or any of these you happen to be using) and the chopped chiles. Buzz into a smooth puree; you might need to add some of the broth from the pozole.

Heat the lard in a Dutch oven or other large, heavy pot and add the blender mixture. Stirring constantly, cook this on medium-high for about 5 minutes, then scrape it all into the soup pot. Stir well, bring to a simmer and cook at least 10 more minutes, and up to 1 hour, but no more.

To serve, ladle out some pozole and let everyone top it with the marinated onion, avocado, cilantro and lime.
Notes
If you want to make this with chicken, pheasant or rabbit, follow the guidelines above for the pork shoulder version. 
Keys to Success
At least once in your life you need to try the nixtamal version. The corn is so much better. You can actually buy nixtamalized corn from Rancho Gordo, so you don't need to do the overnight soak. 
An iron rule when dealing with the heads of things: What looks like meat, keep large. What is sketchy, chop small. 
Time is your friend here. You can't rush good pozole. Do this when you have more time than you need, because you can turn off the pozole and eat it later if it's done before dinnertime. 
Yes, this works with wild hogs. 
Other topping options besides avocado, red onion and cilantro would be radishes, cabbage, more Mexican oregano, or other herbs like pipicha or pitiona. 
This is not a picante stew. If you want it hotter, use hotter green chiles, or add hot sauce at the end. 
Nutrition
Calories:
430
kcal
|
Carbohydrates:
26
g
|
Protein:
32
g
|
Fat:
22
g
|
Saturated Fat:
6
g
|
Polyunsaturated Fat:
4
g
|
Monounsaturated Fat:
10
g
|
Trans Fat:
1
g
|
Cholesterol:
97
mg
|
Sodium:
501
mg
|
Potassium:
918
mg
|
Fiber:
7
g
|
Sugar:
7
g
|
Vitamin A:
291
IU
|
Vitamin C:
20
mg
|
Calcium:
57
mg
|
Iron:
4
mg
Nutrition information is automatically calculated, so should only be used as an approximation.