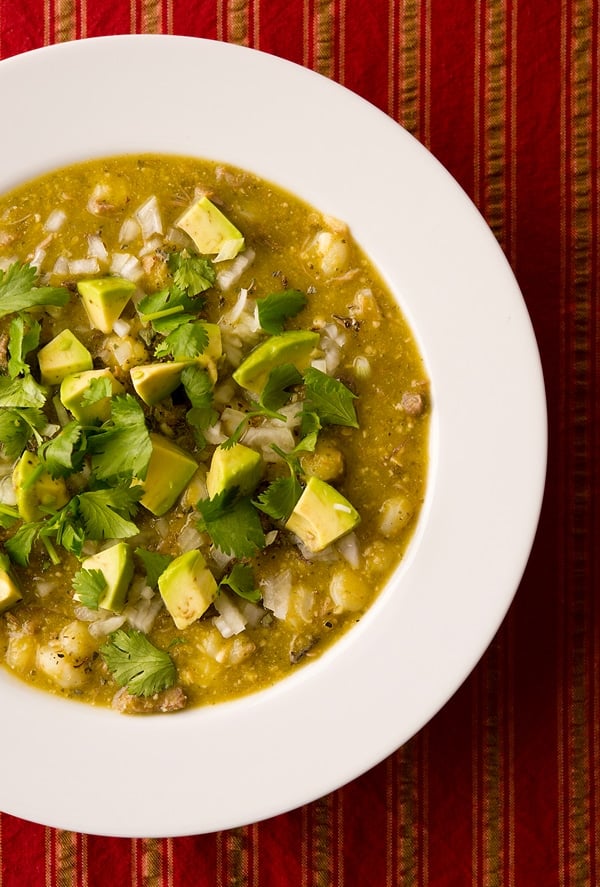 Pozole (puh-zo-lay) is one of those classic stews that every culture seems to hold dear. Like chili in Texas, burgoo in Kentucky, Brunswick stew in Virginia, chowder in New England, pozole is that stew that everyone makes, but is slightly different depending on the region and cook.
Most pozole recipes are for pozole rojo, the red stew most of us are familiar with. This is the green version, pozole verde, which is common in Guerrero, a southern Mexican state next to Oaxaca; Acapulco is in Guerrero. I see pozole verde occasionally here in Sacramento.
To make this recipe, I had to hit the books. My version is an amalgam of recipes from both Diana Kennedy's The Art of Mexican Cooking and Margarita Carrillo Arronte's Mexico: The Cookbook.
Like chili or Vietnamese pho, pozole is one of those stews where half the fun is adding all sorts of toppings at the table. A lot of pozole recipes add chicharrons and even sardines to their toppings, but I stuck to the more familiar cilantro, avocado, onion and lime. Chopped green chiles would be another good idea. Just keep it green.
Flavorwise, if you have never eaten pozole verde, it's a cascade of Mexican flavors. The stew base hinges on acidic tomatillos, but you get alkaline hominy kernels to balance that out. There's a bit of brightness from the sorrel leaves, lime juice and chiles.
It's not supposed to be über hot, but it does have a nice gentle heat. The stew broth gets a lot of body from toasted, ground-up pumpkin seeds (pepitas), and little shreds of meat round everything out. It is truly one of the great stews of the world.
To make this recipe taste right, you do need tomatillos, pepitas and hominy, which are gigantic kernels of corn. All of these ingredients are common in every Latin market in America, and I've seen hominy in regular markets, too. Pepitas are often in regular markets' "Hispanic Aisle."
Two optional items will make the dish better, but you can skip them if you have to: Epazote, a strange-smelling green herb, and sorrel, a lemony green. Epazote is pretty easy to find in Latin markets (it's also a common urban weed), and sorrel can sometimes be found in farmer's markets.
¡Buen provecho!
Pozole Verde, with Pheasant
Pozole verde can be made with any light-colored meat. Traditionally it's pork or chicken, but pheasant, quail, turkey, wild boar or rabbit will all work, too.
Ingredients
2

to 4 pounds of pheasant legs

or 2 pounds of pork shoulder

1

quart

of chicken broth

20

to 30 tomatillos

(not the little ones)

10

large sorrel leaves

(optional)

2

to 3 serrano or jalapenos,

chopped

2

or 3 tablespoons lard,

or other cooking oil

1/2

cup

pepitas

, toasted in a frying pan until aromatic and then ground

1 28-

to 32-ounce can of white hominy

1

teaspoon

of dried oregano,

Mexican if possible

1

small bunch of epazote

(optional)

1

small onion,

minced

1

avocado,

diced

1/2

cup

chopped cilantro

Lime wedges
Instructions
You'll need to simmer the pork shoulder or pheasant legs in the broth, plus enough water to cover, until they are tender enough to shred, about 90 minutes to 2 hours. You can do this up to 5 days in advance if you want, or use leftovers. Basically you simmer the meat (or meats) until tender, then shred, then set aside. Save the cooking liquid.

Cover the tomatillos with just enough water to cover and boil. Drop the heat to a bare simmer and let this cook for 15 minutes. Move the tomatillos to a blender and add to the blender the sorrel and the chopped chiles. Buzz into a rough puree; you might need to add some of the tomatillo cooking liquid.

Heat the lard in a Dutch oven or other large, heavy pot and add the tomatillo puree. Cook this over medium-high heat for a couple minutes. Add the ground pumpkin seeds, the shredded meats, the oregano and the epazote if you have some. Add enough of the reserved liquid from cooking the meats to make this a stew. Simmer this gently for 25 minutes. Add salt to taste.

Serve everyone some of the pozole and let everyone top it with the onion, avocado, cilantro and lime.
Notes
This is a one-pot meal, but you could serve it with rice if you wanted to. As for something to drink? Cerveza, mi amigo, cerveza.
Nutrition
Calories:
231
kcal
|
Carbohydrates:
13
g
|
Protein:
12
g
|
Fat:
16
g
|
Saturated Fat:
3
g
|
Cholesterol:
40
mg
|
Sodium:
703
mg
|
Potassium:
684
mg
|
Fiber:
5
g
|
Sugar:
6
g
|
Vitamin A:
366
IU
|
Vitamin C:
20
mg
|
Calcium:
34
mg
|
Iron:
2
mg