As an Amazon Associate I earn from qualifying purchases.
Pulled duck is simply slow-cooked duck legs and wings — or goose legs and wings — shredded and served in any number of ways: tacos, a sandwich, a burrito, empanadas, etc.
That said, there are a few ways to go about it, depending on what sort of equipment and time you have available.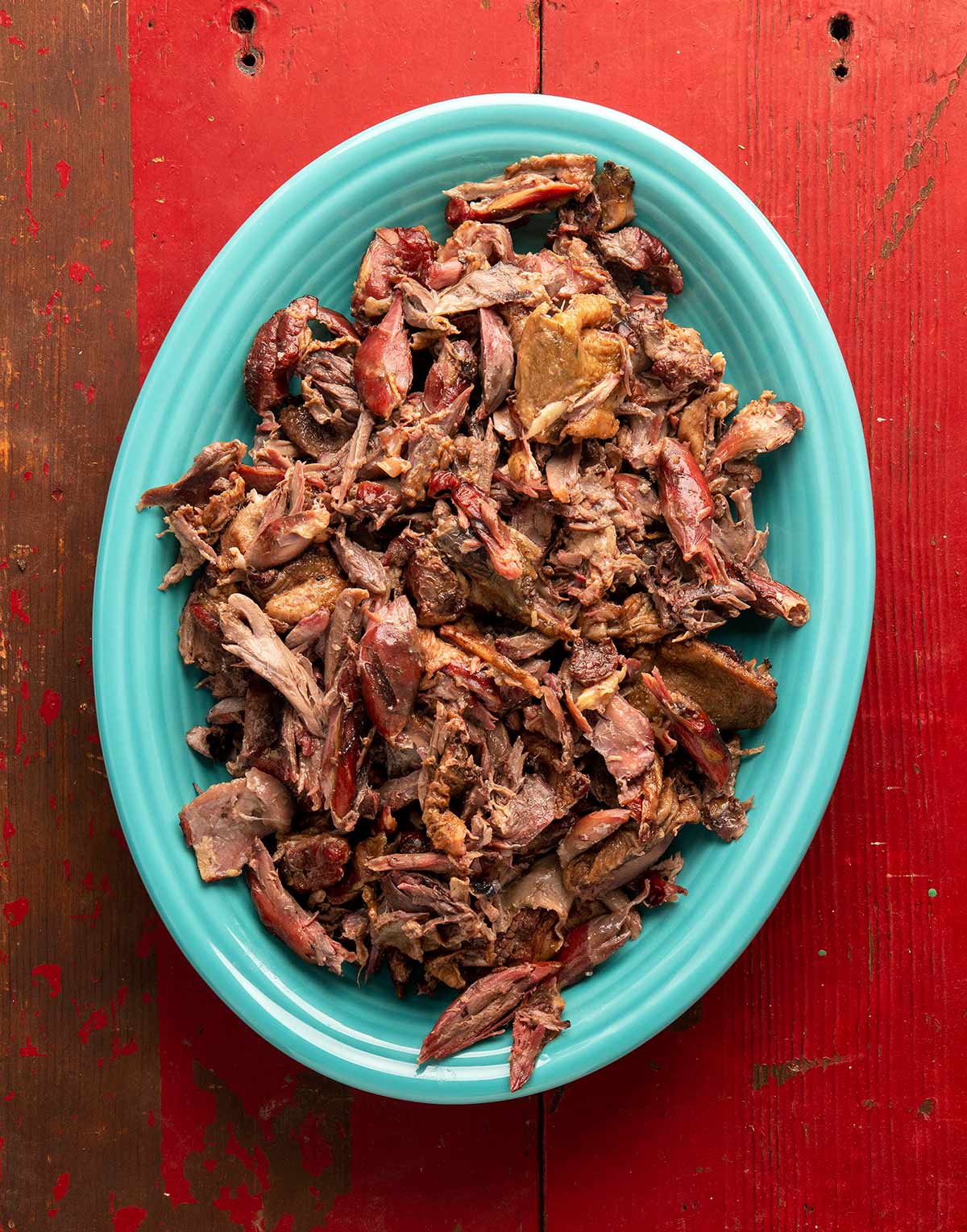 By far the easiest way to make pulled duck is to toss a bunch of duck or goose legs or wings into a pot, cover with water, add salt to taste and simmer until the meat falls off the bone. Shred, discard the bones, eat.
Skinless legs and wings are fine, but you will want fat in there somewhere, so I normally do this with with skin-on legs.
If you do have skin-on legs and wings, you can essentially make an easy duck confit by packing them into a casserole, covering with water or broth, adding salt and slowly baking until the water has cooked away. The fat will render, and you can shred and chop the skin and meat.
And while both of those methods are fine, to make pulled duck in the style of pulled pork, which I like a lot, you will want instead to smoke your duck or goose legs and wings first, then braise in broth until the meat falls off the bone, then chop and shred with more duck fat.
Now that's some pulled duck I can get behind, and it's what you see in the pictures.
Even with the added steps, this isn't rocket science. Salt your duck legs, smoke at low-ish temperatures for a few hours, then simmer in a pot until the meat is super tender.
Choice of wood for the smoke is up to you. I prefer fruit wood with duck, like cherry or apple.
I use homemade duck stock, but you can use beef, vegetable or chicken broth, or water, or a combination thereof.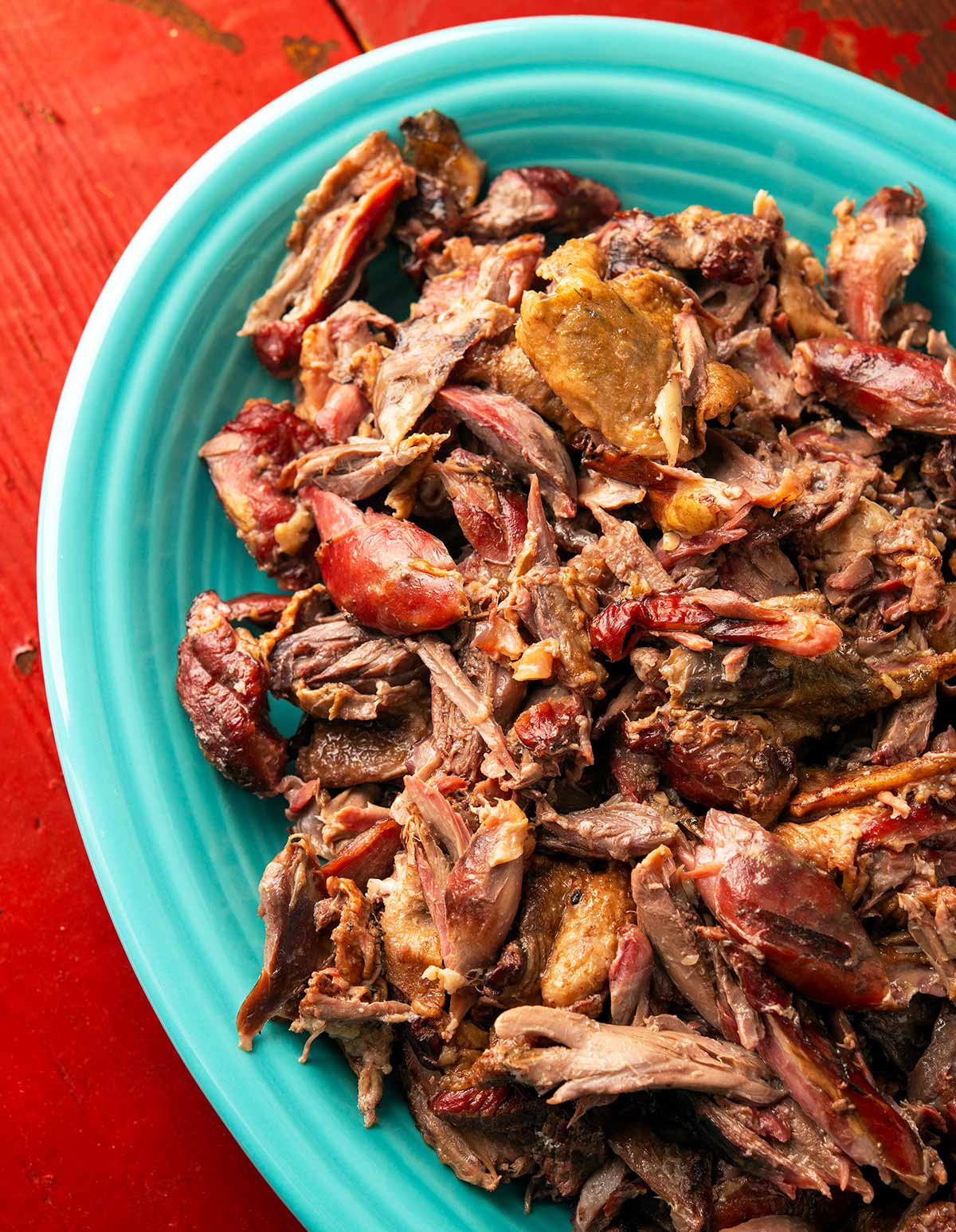 If you don't have a smoker but want to get some of that smoky flavor in there, I highly recommend seasoning your duck or goose with cherry wood smoked salt, which you can buy online. Any smoked salt will do.
Using Pulled Duck
Once you have a mess of pulled duck, you can use it as a fantastic taco or burrito or enchilada filling, put it on a sandwich with, say, Korean BBQ sauce, or any other sauce you like, serve it tossed with pasta, or chop it small and put it in ravioli or empanadas or German bierocks or English pasties.
My personal favorites are as a taco filling with homemade flour tortillas and an avocado-tomatillo salsa, or with a South Carolina-style mustard barbecue sauce and some cole slaw on a bun.
But you do you.
Once made, pulled duck will keep a week in the fridge and it freezes well.
Other Cooking Alternatives
If you want to use an Instant Pot or other pressure cooker, cook the legs at high pressure for 1 hour, letting the pressure drop naturally. A normal pressure cooker should render the legs tender in 35 minutes, again letting the pressure drop naturally.
For a slow cooker pulled duck, after the legs have been smoked, put them in the slow cooker, cover with broth or water (with some salt to taste), and cook on "high" for 6 to 8 hours.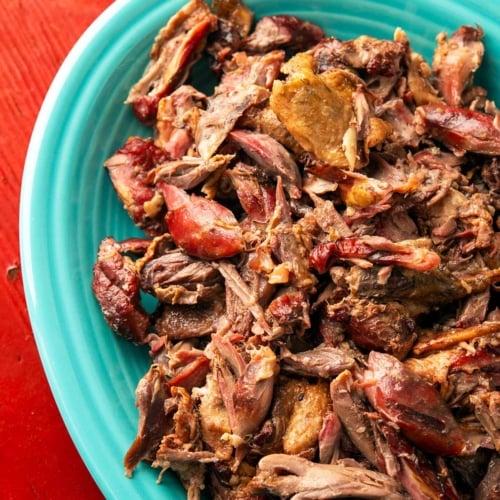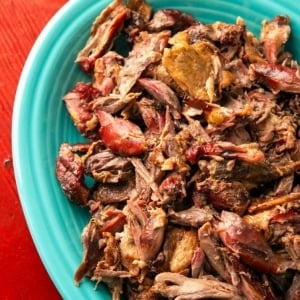 Pulled Duck
These instructions are for a sort of barbecued pulled duck, with a preliminary smoking step. See the post above for alternative cooking methods, which are easier, but a bit less flavorful.
Ingredients
3

pounds

duck or goose legs and wings,

skin on or off

Salt

1

quart

duck or chicken broth
Instructions
Salt the legs and wings well. Get your smoker ready and set it to about 200°F. Put the duck legs in the smoker — if they are very fatty, set a drip tray under them. Reserve any fat that collects because it tastes amazing! Smoke the legs for 1 to 3 hours; I do 2 hours.

Put the legs in a heavy, lidded pot and cover with the broth and enough water to cover the legs by about 1 inch. Cover and either cook in the oven at 350°F or on the stovetop on medium-low until the meat is beginning to fall off the bone, about 2 to 4 hours — the low end is for domesticated ducks, the high end for very old wild ducks and geese.

Remove the legs and pull the meat and skin off the bones. Discard the bones. Shred with forks or your fingers, or chop. Season with salt and black pepper, and mix in some of the smoked duck fat, and whatever sauce you want.
Notes
The remaining broth is fantastic, and can be used as a base for my recipe for duck soup, or Nordic "pho." 
Keys to Success
Any sort of wild or farmed duck or goose will work with this method, as will sharp-tailed grouse, wild turkeys, guinea hens or even pork. 
Don't smoke longer than 3 hours, or the meat will be unpleasantly smoky. 
Take your time on braising, especially with wild birds. There are always a couple that are tougher than the rest. Just keep braising until you can pull the meat off. It won't hurt the final result. 
I prefer to just leave the pulled duck with salt, pepper and some of its fat, adding different sauces later for different meals. 
Nutrition
Calories:
259
kcal
|
Carbohydrates:
1
g
|
Protein:
32
g
|
Fat:
14
g
|
Saturated Fat:
3
g
|
Polyunsaturated Fat:
2
g
|
Monounsaturated Fat:
7
g
|
Cholesterol:
134
mg
|
Sodium:
613
mg
|
Potassium:
35
mg
|
Sugar:
1
g
|
Vitamin C:
2
mg
|
Calcium:
16
mg
|
Iron:
3
mg
Nutrition information is automatically calculated, so should only be used as an approximation.