As an Amazon Associate I earn from qualifying purchases.
There are lots of ways to make empanadas, but my favorite is with a wheat flour-based dough that is then fried in oil or lard. Low fat? Nope. But fried empanadas are craveable snacks or appetizers you'll want to learn how to make. Here's how.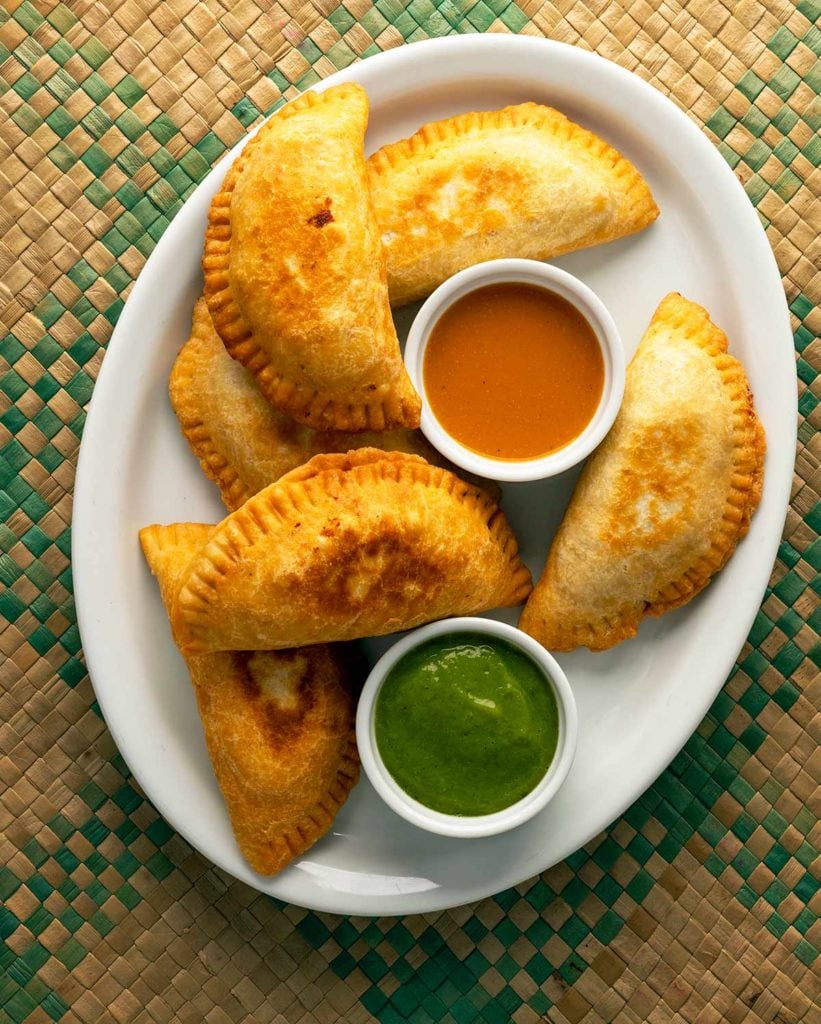 The key to fried empanadas is learning how to make a good empanada dough for frying. It's a lot different from my masa empanadas, where the dough is solely corn masa, as well as, say, puff pastry empanadas, which are always baked.
If you know how to make homemade flour tortillas, you know how to make empanada dough for frying. There's not a lot of difference — chief one being that you use ice water with empanada dough, and hot water for tortillas.
Another difference is the flour. It is a lot less important to use a soft wheat flour like Sonoran or Lily flour for empanadas than it is for flour tortillas. Any all-purpose flour will work.
Many recipes ask you to roll out dough and cut circles with something to make your empanadas, but I find that wasteful and, well, just harder than it is to make your dough, measure out balls about 50 grams, which is a little less than 2 ounces, set those balls in a plastic bag for an hour or two, then using a tortilla press to make perfect rounds every time.
The rest time lets the gluten in the empanada dough relax, which allows you to make the rounds with a press. If you don't wait, they will contract dramatically.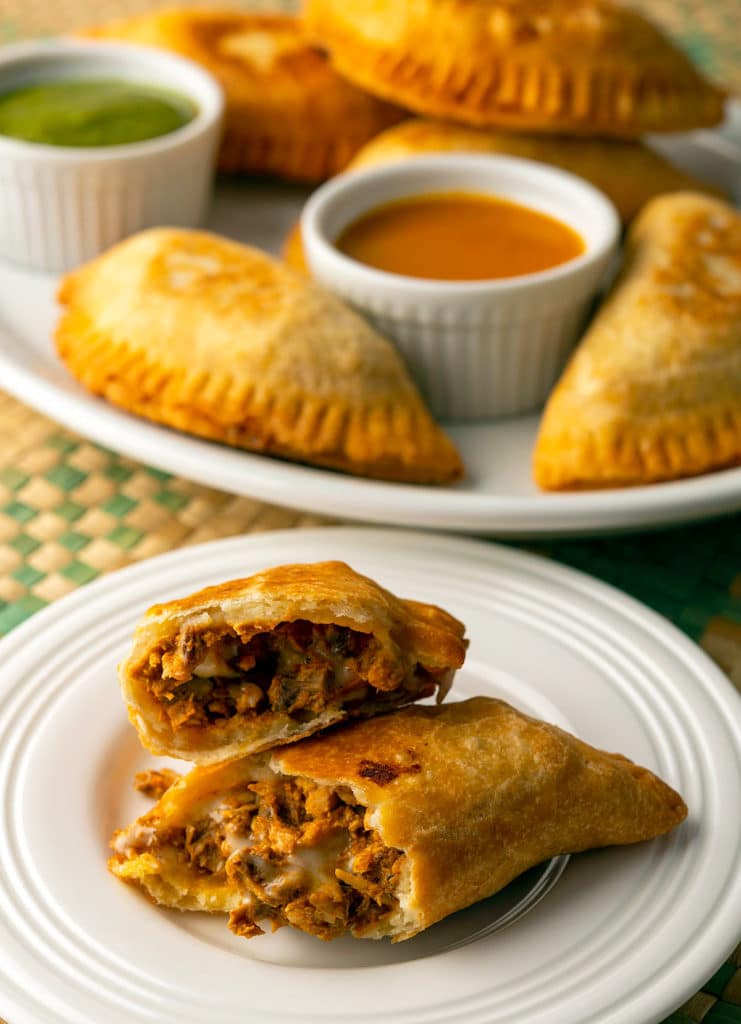 You can find tortilla presses in pretty much any Latin market, as well as online. I am partial to this tortilla press from Masienda, although admittedly it's expensive. Just make sure whatever kind you buy, it's heavy. Iron, not aluminum.
Also keep in mind that while this is an empanada dough for frying, it will work if you decide to bake empanadas instead. You will want to mix a beaten egg with 1 tablespoon of milk or cream and brush that on top of each empanada, so it will get pretty and golden.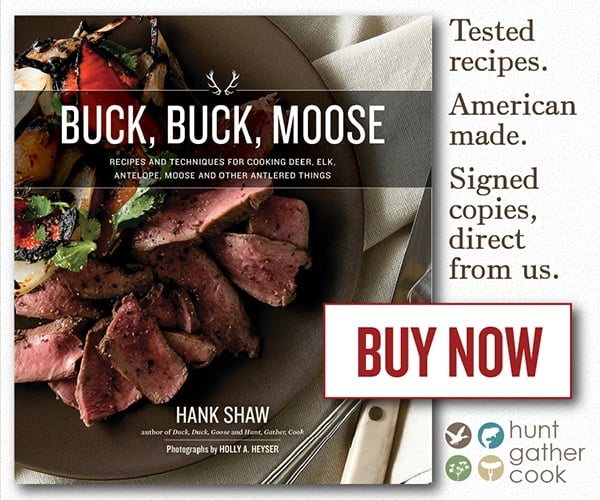 But let's face it: Fried empanadas are better. They just are — if you fry them correctly.
That means using enough oil or lard so they will float in it (you can strain and reuse the oil several times, so you don't waste it) and that oil needs to be at least 325F, and 350F is better. Oil that is too cool will make your fried empanadas greasy and sad.
I normally use canola oil for fried empanadas because it's flavorless and has a high smoke point. Lard tastes better, but you end up frying very close to lard's smoke point, which is tricky; when oil gets too hot it will taste acrid.
Fillings
Up to you. Really. Anything goes.
Chorizo and potatoes is classic, but leftovers are the classic filling for empanadas. Just be sure to chop whatever the filling is small, because you don't want to tear into one and have a big chunk of your filling pull out with one bite.
Here are some recipes that would be good as fried empanada fillings:
I've also made fantastic empanadas filled with smoked or shredded fish or crab, as well as mushrooms and other vegetables.
Fried Empanadas and Refried Empanadas
Empanadas are quite possibly the perfect make-ahead food.
First off, they are usually delicious cold or at room temperature, so carrying a few on a fishing trip, a hike or in the deer stand is always a good call. Many cultures have this sort of "hand pie," and I have recipes for venison pasties and Appalachian squirrel pies elsewhere on this site.
But if you do want to reheat fried empanadas, you can of course simply refry them for a couple minutes. That re-crisps them really well.
Popping them in a toaster oven at 350F for 15 minutes or so will do the trick, too.
Other Meat Pies to Try
I have a wide selection of other fantastic meat pies you might want to try. Some are bready, others use pie crust, some use other doughs. Keep in mind the filling meat can really be whatever you have lying around.
If you liked this recipe, please leave a ⭐️⭐️⭐️⭐️⭐️ rating and a comment below; I'd love to hear how everything went. If you're on Instagram, share a picture and tag me at huntgathercook.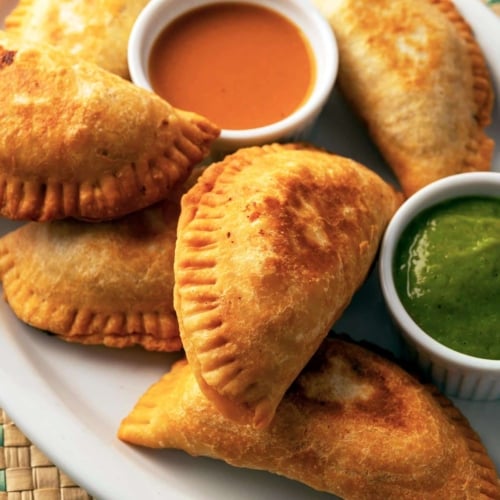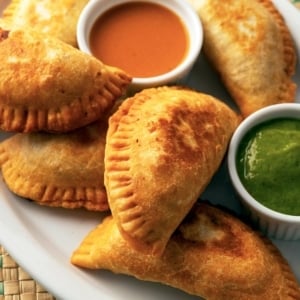 Fried Empanadas
This is largely how to make empanada dough for frying, since the filling is really up to you. Whatever it is, you will need about 1 pound of it. Once made, these empanadas will keep in the fridge a week, and they freeze well.
Ingredients
DOUGH
2 1/4

cup

flour

1

teaspoon

salt

1/2

teaspoon

baking powder

1/2

cup

lard, duck fat, butter, beef tallow or vegetable shortening

1/3

cup

ice water

2

teaspoon

distilled or white wine vinegar
SAMPLE FILLING
9

ounces

Mexican chorizo

1

cup

minced white or yellow onion

1

pound

potatoes,

peeled and boiled until tender

4

ounces

shredded Monterey jack cheese
Instructions
DOUGH
Mix the flour, salt and baking powder in a bowl. Add the lard and combine with your clean fingers until the mixture looks like sand. Add the ice water and vinegar and knead into a fairly soft and pliable dough. You can add a little more ice water if you need to.

Divide the dough into balls about 50 grams, or 1 3/4 ounces. You should be able to make 11 or 12. Put the balls into a plastic bag and set aside for 1 hour.
FILLING
While the dough is resting, make the filling. Cook the chorizo in a pan until the fat renders, then add the onion. While this is cooking, dice the cooked potato and add that to the mix. Let this all cook about 10 minutes, then remove from heat, let cook a few minutes, then pop the mixture in the fridge to cool.

When it is at least at room temperature, you can mix in the cheese.
FINISHING
Heat 2 or 3 cups of canola oil in a frying pan; you want it at least 1 1/2 inches deep, and 2 inches is better. (Remember you can later strain the oil and reuse it several times) You're looking for 350°F. Set a cooling rack over a baking sheet in your oven and set the oven to 200°F.

Get a little bowl of water ready and grab a fork to seal the empanadas.

While the oil is heating up, line a tortilla press with two pieces of plastic cut from a plastic bag. Squash one of the balls into a round. Fill it with a couple tablespoons of the filling, dip a finger into the water and wet the outside rim of the dough. Fold it over and seal. Pick the empanada off the plastic and set on a cutting board. Crimp the edges with the tines of the fork.

If you are good, you can do this assembly line style and just make and fry. If you are just starting out, you probably want to make at least half of the empanadas before you start frying.

When you are ready, slip a few empanadas into the hot oil, bottom side down. Usually only a little of the top will bob above the surface of the oil. Fry until golden, 2 or 3 minutes, then flip. When both sides are golden brown, move the empanada to the cooling rack in the oven and continue with the rest of the empanadas.
Notes
If you want to play around with flours, start by replacing the regular flour with 1/2 cup of your alternate. I like using acorn flour, barley or rye, chickpea, etc. Different flours will change the flavor and color of the empanadas. 
Keys to Success
Watch the oil temperature. Let it return to 350°F between batches, and tinker with the heat to keep it there. Never let it get below 325°F or higher than 365°F.
Don't be tempted to overstuff your empanadas. I love the filling as much as you do, but overstuffed empanadas explode. 
If you would rather bake these, set the empanadas on a parchment-lined baking sheet. Paint with a mixture of 1 beaten egg with 1 tablespoon milk or cream. Bake 20 minutes at 400°F.
Lard is the best fat for the dough, but those other fats I mention all work. I dislike vegetable shortening, however. I've done empanadas with oil, too, and it's a little trickier but it will work. 
If you want to make fried empanadas with a sweet filling, use butter in the dough and add 2 teaspoons of sugar. 
Nutrition
Calories:
238
kcal
|
Carbohydrates:
19
g
|
Protein:
7
g
|
Fat:
14
g
|
Saturated Fat:
7
g
|
Polyunsaturated Fat:
1
g
|
Monounsaturated Fat:
5
g
|
Cholesterol:
32
mg
|
Sodium:
559
mg
|
Potassium:
69
mg
|
Fiber:
1
g
|
Sugar:
1
g
|
Vitamin A:
180
IU
|
Vitamin C:
5
mg
|
Calcium:
89
mg
|
Iron:
1
mg
Nutrition information is automatically calculated, so should only be used as an approximation.