Smoked Duck Soup
February 18, 2016 | Updated July 04, 2020
As an Amazon Associate I earn from qualifying purchases.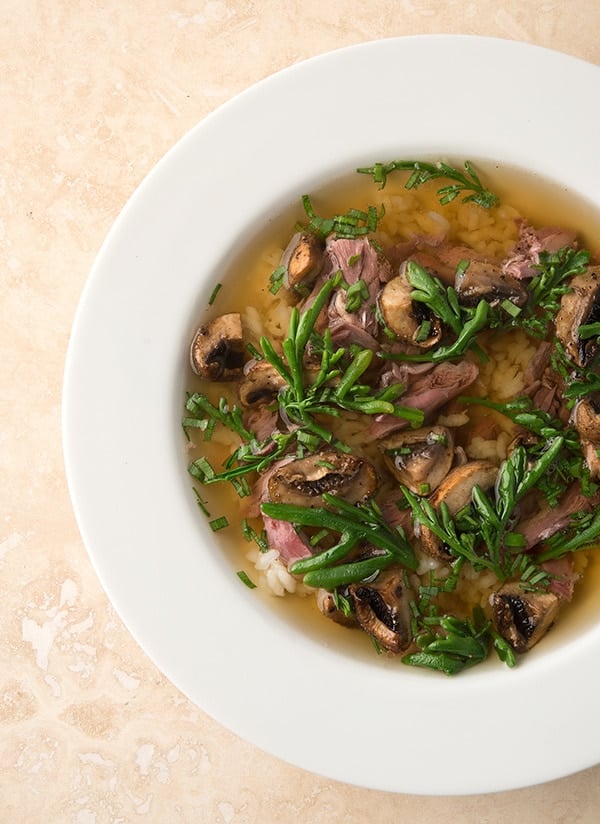 This is a duck soup with two stories behind it, not one.
The first has been a long time coming. I live in Northern California, and hunt ducks and geese in the Sacramento Valley, where we grow more rice than anywhere else but Arkansas — another excellent duck hunting state, and no, that is not a coincidence.
Hunting flooded rice fields is one of the main ways we chase these birds, and many is the day I stare at rice grains still on a stray plant, drying in the winter sun, while I am waiting for a wigeon or pintail or teal to fly by.
And no matter whether you are in the rice or in a natural marsh, you will be surrounded by wild mustards of various species. Every year, as the season closes at the end of January, the marshes and orchards explode with a canary carpet of mustard blooms. And, you should know, those mustard greens are the same variety you buy in the supermarket.
Interspersed among the mustards, hiding in wetter places, is the invasive three-cornered leek, a wild onion you should learn to identify, as it is as tasty as it is environmentally friendly to pick.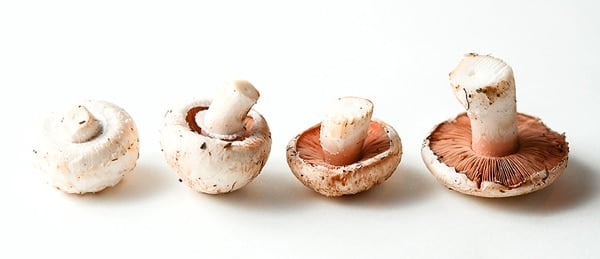 After a good rain, underfoot grow masses of meadow mushrooms, our local cousin to the plain ole' button mushroom you buy in the store. Whenever I find them, I pick them.
For many years, I've wanted to put all these ingredients together, along with wild duck, to make a dish that celebrates duck hunting where I live. But it took the carcasses of a fat canvasback and pintail to make it happen.
I don't leave too many of my ducks whole these days. I prefer to cook legs and wings slow and low, and breasts hot and fast. But when I do keep my waterfowl whole, it is mostly to smoke them over fruit woods. I love my recipe for smoked duck, but the fact is the legs and wings are often too tough to eat without further cooking if you smoke the breasts to perfection. What to do?
Make this soup. I used the meaty carcasses of two fine ducks, with the legs and wings still attached (I used the breasts for another dish) to make a clear broth, and then I shredded the meat remaining on the bones for this soup. Added to that are roasted button mushrooms and foraged green onions and mustard; actually in the picture I used sea rocket, a maritime cousin of arugula that works just as well.
The result was worth the wait.
Rice cooked in the broth, nicely roasted mushrooms, the peppery bite of the mustard, a little gentle onion-ness from the chives, and above all the slightly salty, smoky broth and duck meat. A squeeze of lemon juice from a backyard lemon tree tied the duck soup all together.
It is both the perfect use for leftover roasted or smoked duck and a lovely hat tip to our NorCal duck hunting grounds. I couldn't be happier with this recipe.
Duck Soup
There's a certain jazz involved with this soup. I use rice, but any grain you'd like to eat will do. Only be sure to cook the grain separately in the broth -- if you cook it in the soup, the grains will turn the pretty clear broth cloudy. Button mushrooms are easy to get and are very close to the mushrooms that grow in our duck hunting grounds, but any mushroom will do. I roast them in the oven first and then add them to the soup. Doing this will give you a better texture. Finally, you want a pungent green thing. Mustard is my choice, but arugula, watercress or turnip greens are all good alternatives. Finish the dish with a squeeze of lemon juice at the table.
Ingredients
BROTH
2

quarts

of premade duck or chicken broth

or water

Carcasses of 2 or 3 smoked ducks,

chopped into a few pieces
SOUP
1

pound

of fresh mushrooms,

cut into bite-sized pieces

2

tablespoons

melted duck fat or olive oil

1 1/2

cups

rice

Salt and black pepper

3/4

pound

mustard greens,

chopped small

1/4

cup

finely chopped chives

Juice of 1 or 2 lemons
Instructions
Start by making the broth. Heat up the premade broth or water to the steaming point, then add the chopped up smoked duck carcasses. If you are using water, feel free to add a chopped up onion, carrot and celery if you have them lying around. Let this steep at the steaming point -- don't let the broth simmer or boil -- for 4 hours. Then strain the broth. Put a sieve over a large bowl. Set a piece of paper towel in the sieve, then ladle the broth through this into the bowl. Keep the strained broth warm.

While the stock is cooking, preheat the oven to 375°F. Toss the mushrooms with the melted duck fat or oil and salt them well. Set them in a roasting pan and grind some black pepper over them. Roast for 15 minutes and then turn off the heat. Let the mushrooms continue to roast as you do other things. They can sit in the oven for up to 3 hours.

About 30 minutes before the broth is ready, pour off 2 cups and put that in a small pot. Add the rice and another cup of water and bring it to a boil. Cover the pot, lower the heat to its lowest setting and cook the rice. When the rice has absorbed all the water, about 15 minutes, turn off the heat but leave the lid on the pot.

While the rice is cooking, fish out the legs and carcasses of the ducks and pick off as much meat as you can.

To finish the soup, add the chopped mustard greens to the strained broth and let them cook until wilted, about 5 minutes. Put some shredded duck meat, rice and mushrooms in individual bowls and ladle over some of the broth and greens. Sprinkle chives on top and add lemon juice and black pepper to taste.
Notes
Note that most of the prep time is to make the smoked duck broth. 
Nutrition
Calories:
293
kcal
|
Carbohydrates:
47
g
|
Protein:
13
g
|
Fat:
7
g
|
Saturated Fat:
1
g
|
Sodium:
113
mg
|
Potassium:
881
mg
|
Fiber:
3
g
|
Sugar:
3
g
|
Vitamin A:
1787
IU
|
Vitamin C:
41
mg
|
Calcium:
104
mg
|
Iron:
2
mg
Nutrition information is automatically calculated, so should only be used as an approximation.