Seared Canada Goose Breast
As an Amazon Associate I earn from qualifying purchases.
This is the best Canada goose breast recipe if you want to eat it like a steak or a London broil: Reverse seared goose breast, sliced thin and served simply.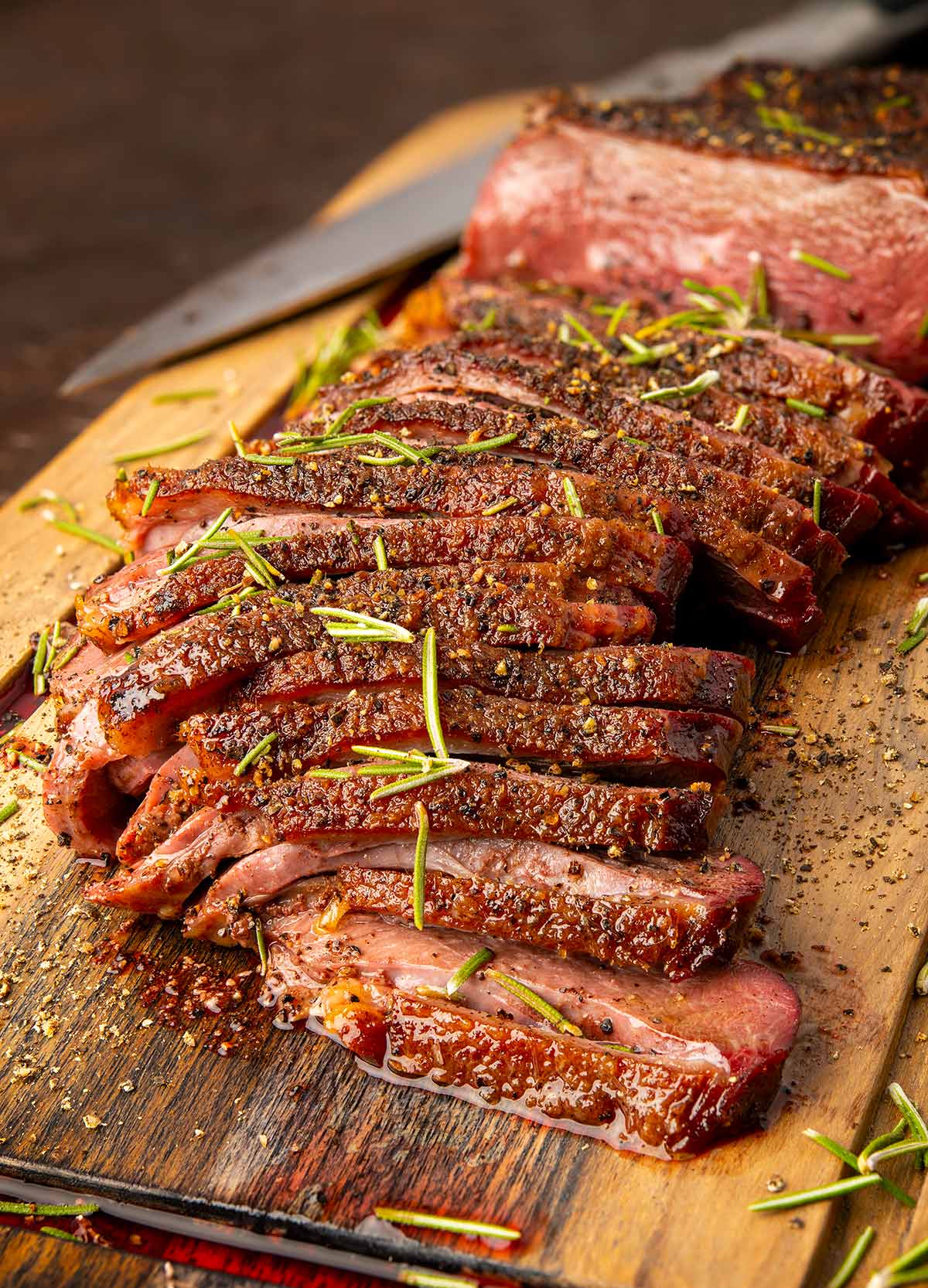 Cooking Canada geese can be problematic, and the birds have a bad reputation, both in life and on the plate. This is not entirely undeserved, but yes, you can eat Canada geese — and make them delicious.
Before we go any further, know that this goose breast recipe works with skin-on or skinless goose breast, with Canada geese or any other wild geese — specklebelly, snow, emperor, even swans — as well as with store-bought, farmed geese.
It is intended to combat the most common problem with cooking Canada goose breasts: Toughness.
Wild geese are far tougher than farmed for the simple reasons that 1) they fly around a lot, and 2) they can be incredibly old. Through leg band recovery data, the oldest known Canada goose was more than 33 years old! And it is not uncommon to shoot 10+ year-old geese on a daily basis during the season.
That's a tough goose breast, one that needs just the right recipe.
The two regular rotation goose breast recipes I do are for goose pastrami and goose jerky. Both are excellent recipes for even ancient geese.
But sometimes you get a young goose, or one that isn't obviously ancient. (Here's a short guide to aging Canada geese in the feathers.) For that you'll want this particular goose breast recipe: Slow-cooked to rare, then seared on one side crispy.
That's really all this is. A typical reverse sear, in a smoker if you have one. I do this with elk roasts, as well as big, thick steaks like an elk or bison steak. It is an ideal method for cooking large hunks of red meat perfectly, and Canada goose breasts fit that bill.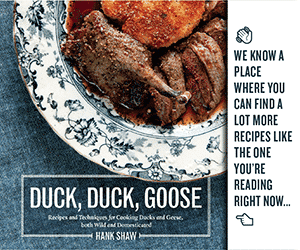 I use a probe thermometer to monitor temperature. I have one set up on my Traeger, but you can also buy a thermometer that has its own readout. Then you slowly cook the goose breast in the oven or smoker until the internal temperature hits about 120°F, and no more than 135°F.
Then you sear the skin, or the side the skin used to be on, hard to get a nice sear. Hit that side with black pepper and an herb of your choice while the meat is resting, then slice thin.
The thin slicing is key. Even a fairly young goose can be years old, far older than anything you'd buy in a market, so slicing it thin, like a classic London broil, shortens the meat fibers and makes the meat nice to eat, even if it isn't meltingly tender.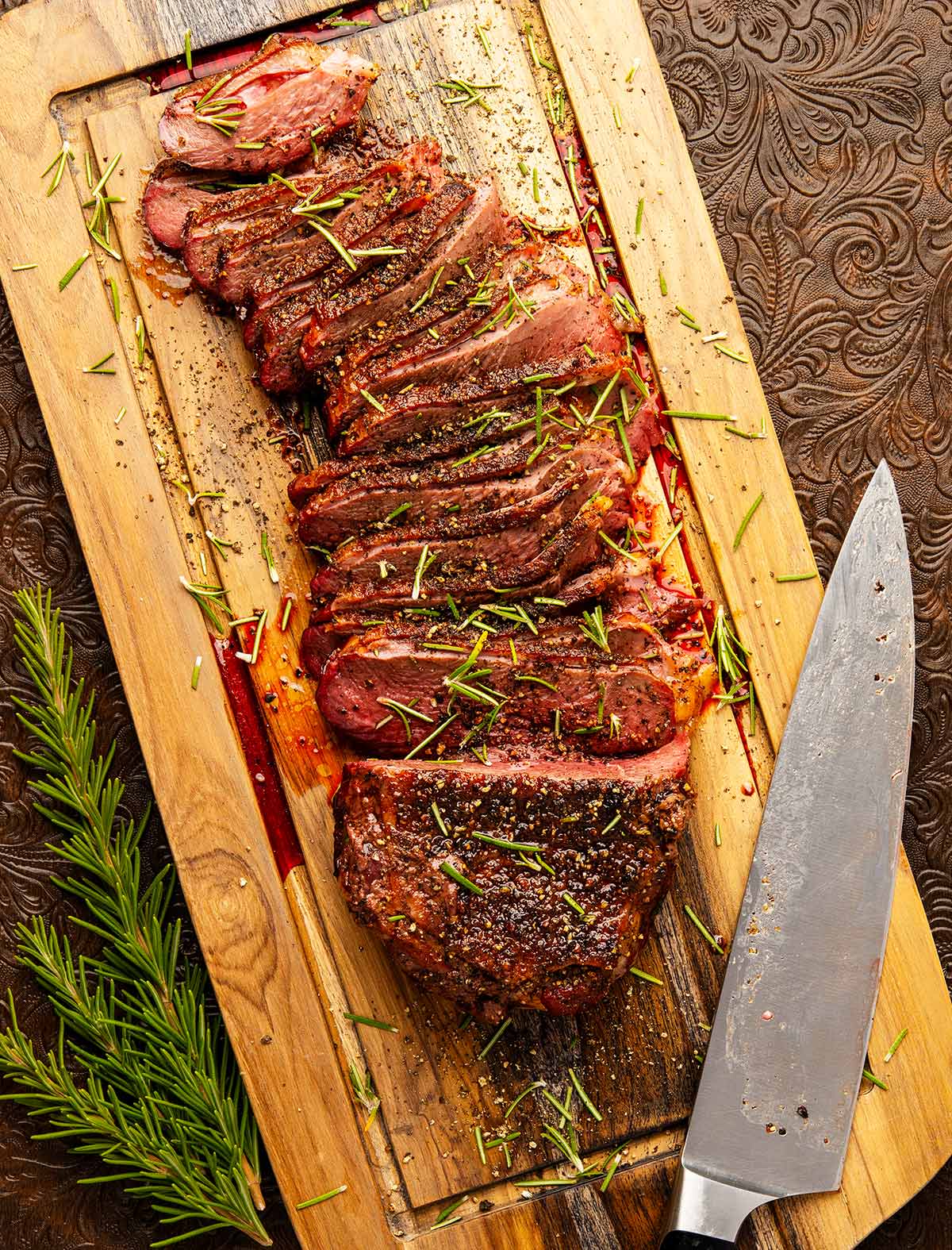 Getting a Tender Goose Breast
The slower you get the goose breast to temperature, the tenderer it will be. I take the meat right out of the fridge and smoke it at low-ish temperatures, about 170°F, for several hours before it gets to the target temp. The reason to start the goose breast cold is so that it develops a nice smoke ring.
This particular goose breast recipe does lend itself to sous vide, too. I normally seal the meat and immerse it in 130°F water for 2 hours. If you want to go longer, you will need to hard sear the entire surface of the goose breast for food safety reasons. If that's the route you go, I'd set the machine to 120°F.
Smoking is a better method here, however, because the smoke inhibits bacteria growth, is a hotter environment, so you can go longer, which will break down connective tissue more, and it adds nice smoke flavor.
Finishing
I sear Canada goose breasts hard in goose or duck fat, but any nice fat will do. You want the fat almost smoking, and the meat fairly dry. This gets a good sear fast so the interior of the meat doesn't heat up too much.
While resting, I grind black pepper over the meat, then some chopped herbs. rosemary is my herb of choice here, but chopped sage, savory, lovage, parsley, or oregano are all good options. Maybe a squeeze of lemon right as you serve.
This is goose breast as steak, so eat it as such, with potatoes, crusty bread, maybe a horseradish sauce, and a simple salad or green thing alongside. Red wine is a must.
If you liked this recipe, please leave a ⭐️⭐️⭐️⭐️⭐️ rating and a comment below; I'd love to hear how everything went. If you're on Instagram, share a picture and tag me at huntgathercook.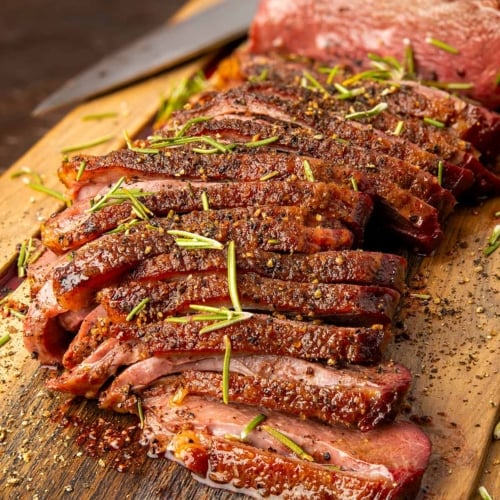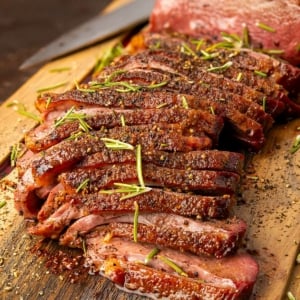 Seared Goose Breast
This is a fantastic goose breast recipe if you want to try eating it like a steak. Just be sure to start the cooking very slowly, rest the meat well, then slice thin.
Ingredients
1

goose breast,

both halves

Salt and freshly ground black pepper

2

tablespoon

minced fresh rosemary
Instructions
Salt the goose breasts about an hour before you plan to cook them. Keep them in the fridge. Get your smoker or oven to about 175°F to 200°F. For smokers, I use cherry wood here, but use what you have. If you are cooking sous vide, get the water to 130°F and vacuum seal the goose breasts.

Cook the goose, skin side up (whether or not the skin is still there) until the interior hits 120°F to 130°F. I use a probe thermometer to determine this. If you are using sous vide, this will take about 2 hours or so. It takes about the same time in a smoker, depending on weather and temperature of the smoker.

When you are ready to sear, get some oil, duck fat or goose fat hot, almost smoking. Sear the skin side (again, whether the skin is still there or not) hard for about 3 minutes. I like to put a heavy weight, like a bacon press or a small cast iron pan, on the meat to keep it flat.

Remove the goose breast, set it skin side up on a cutting board to rest, and grind black pepper over it. Sprinkle some rosemary on it, too. Slice very thin and serve.
Nutrition
Calories:
140
kcal
|
Carbohydrates:
0.2
g
|
Protein:
22
g
|
Fat:
5
g
|
Saturated Fat:
1
g
|
Polyunsaturated Fat:
1
g
|
Monounsaturated Fat:
1
g
|
Cholesterol:
87
mg
|
Sodium:
65
mg
|
Potassium:
310
mg
|
Fiber:
0.1
g
|
Vitamin A:
89
IU
|
Vitamin C:
7
mg
|
Calcium:
7
mg
|
Iron:
5
mg
Nutrition information is automatically calculated, so should only be used as an approximation.