Duck Terrine
March 04, 2022 | Updated May 25, 2022
As an Amazon Associate I earn from qualifying purchases.
Making a duck terrine is not as hard as you might think, although you do need some equipment. Why bother in the first place? Because terrines are the pinnacle of ground meat dishes, and can include all kinds of interesting bits inside.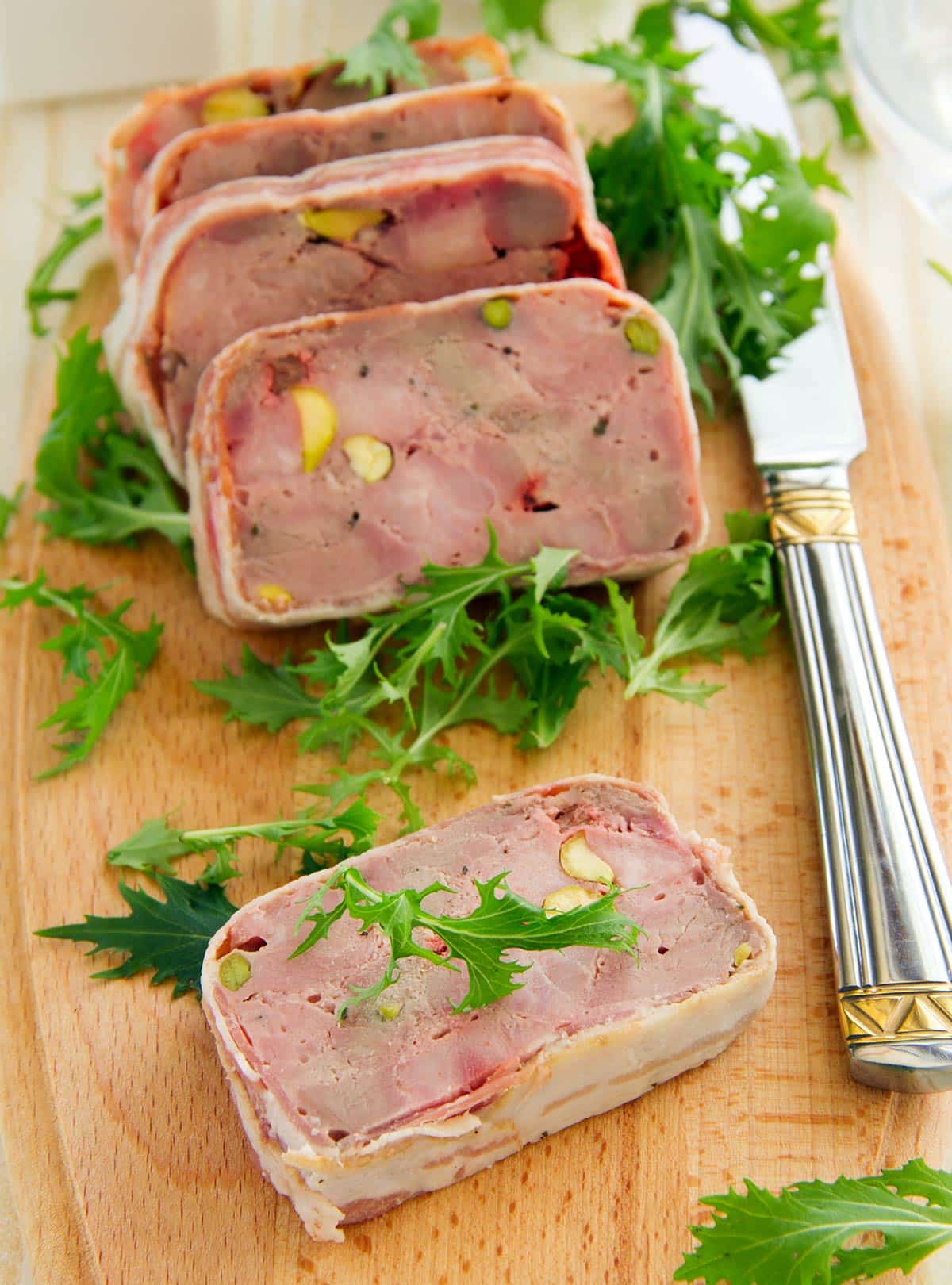 A terrine is essentially a firm pâté with something inside it. Either way, it is a rich, smooth mixture of meat and fat and spices that you eat either cool or warm. It is as good as a sandwich filling as it is seared briefly and served by itself.
Terrines and pâtés last a while, too. Most will keep in the fridge for up to two weeks, which is good — this duck terrine is very rich, so a little goes a long way.
The general model for this duck terrine is my master game terrine recipe. That is a classic Christmastime terrine with lots of different game meats, often duck included, wrapped in bacon and slow poached in a bain marie.
A wha? Yes, a bain marie is a hot water bath. You pack your duck terrine into a terrine mold, cover it, then put the mold into a larger pan that you've set in the oven. That pan has steamy hot water in it, and the level of that water should come up a little more than halfway up the sides of the terrine mold.
I have a nice Le Creuset terrine mold, and they're wonderful, but you can use a bread pan if you are just starting out. If you go that route, I strongly advise you to fashion a piece of wood that fits into that pan snugly. You'll use this piece of wood to compress the duck terrine after it's cooked.
So yeah, making a duck terrine is a bit of a project. It takes a couple hours to make one, a couple hours to cook, then you compress it and refrigerate it overnight. Then you serve. But as I mentioned above, they keep for a couple weeks in the fridge — and you can wrap them and freeze them.
For hunters, this is what you want to do with lots of skinless "off" ducks and geese, like spoonies, snow geese, Canada geese and sea ducks. For non-hunters, you can find duck breasts in many supermarkets and almost all butcher shops.
If this interests you, I have tons of recipes for pâtés, rillettes and similar charcuterie projects using pork and game on this page. A favorite one I like to serve alongside of this duck terrine is a more rustic duck or goose rillettes.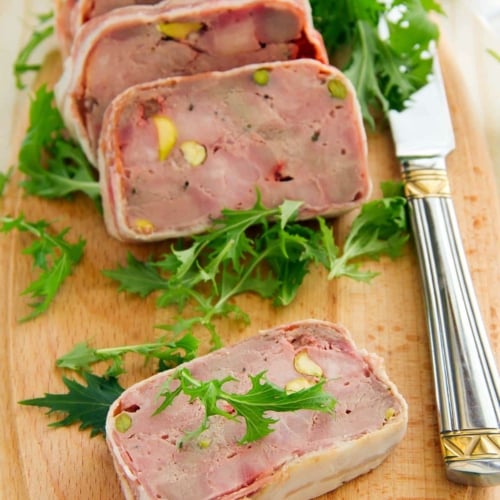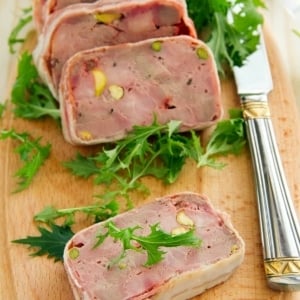 Duck Terrine
You need a meat grinder (or have your butcher grind your ducks for you) and a food processor to make a terrine.
Ingredients
1

duck breast,

skinless

1

pound

duck or goose meat

10

ounces

pork fat

1

tablespoon

duck fat

1

tablespoon

minced garlic

1

minced shallot

2/3

cup

sherry

1/3

cup

Calvados or other brandy

1/4

cup

milk

2

slices

bread,

crusts removed

2

teaspoons

black pepper

2

teaspoons

quatre epices

or Chinese five-spice powder

1

tablespoon

minced fresh sage

3

grams

Instacure No. 1, or 1/2 teaspoon

(optional)

1 1/2

tablespoons

Kosher salt
Instructions
Freeze all your grinder and food processor blades, and put the bowls you will use in the fridge.

Slice your duck meat (not the breast) and pork fat into chunks small enough to fit into your grinder and mix well with the Instacure, the salt, black pepper and quatre epices and set in a bowl in the fridge, or, if it is warm out, the freezer.

Tear the bread into pieces and jam it into a coffee mug or some other cup. Pour the milk over it and set the cup in the fridge.

Get the duck fat hot in a pan and pat the duck breast dry with a paper towel. Sear the duck breast over medium-high heat. You want a serious sear fast, so you get a crust but the inside is still raw. This should take 2 to 3 minutes per side, depending on the thickness of the breast.

Remove the duck breast and set it aside, and turn the heat down to medium. Add the shallot and sauté for 1 minute, then add the garlic. sauté this, stirring often, until it begins to brown. You don't want a lot of color, just a little.

Add the brandy and sherry to the pan and turn the heat to high. Boil this down by half, then turn off the heat. Pour the mixture into a bowl and, when it stops steaming, set it into the freezer to chill fast.

Put the duck breast into the fridge as well.

Meanwhile, grind the sliced duck meat and pork through the fine die on your grinder (4.5 mm) into one of the bowls you put in the fridge. Once it is ground, return it to the refrigerator and clean up the grinder.

Wait until the sherry-brandy-shallot mixture is at least room temperature before proceeding.

While you are waiting, wet the inside of a a terrine pan or loaf pan with water, then line it with plastic wrap. Leave a long end of wrap outside the pan so you can use it to cover the pan afterwards.

Preheat oven to 300°F, and find a large roasting pan — the kind you do the Thanksgiving turkey in.

Get your food processor ready; do not use a blender here. Working quickly, put the meat, shallot-brandy mixture, minced sage, and bread-milk mixture into the food processor and pulse it until it is a smooth paste. It took me about 12 pulses to get there. Don't over work the mixture, or it can break and it'll be cat food.

Thwack down the paste into the terrine using a rubber spatula. Lay down enough to go about halfway. Smooth it out, then lay in the seared duck breast halves, end to end. If they are too wide, trim them. Press them into the paste.

Thwack down the rest of the forcemeat and smooth it out. Cover with the plastic wrap and then with a layer of foil, or with the lid to the terrine pan.

Put the pan into the roaster, then fill the roaster up about halfway with the hottest tap water your tap will produce, or get a half gallon or so steaming hot on the stovetop. Gently put this in the oven and cook for 1 hour and 20 minutes. You want an internal temperature of about 150°F.

Remove and set the terrine pan onto a cutting board or other heat-proof place. Take the foil or lid off and put the cardboard top on it. Weigh down the top with cans or a brick. Let this cool.

Once it is room temperature, put the whole thing, weights and all, into the fridge overnight. To eat, slice thickly and serve with mustard and a green salad.
Notes
Keep in mind a terrine or pâté needs to chill overnight before you eat it.
Nutrition
Calories:
340
kcal
|
Carbohydrates:
4
g
|
Protein:
12
g
|
Fat:
28
g
|
Saturated Fat:
11
g
|
Cholesterol:
68
mg
|
Sodium:
932
mg
|
Potassium:
197
mg
|
Fiber:
1
g
|
Sugar:
1
g
|
Vitamin A:
38
IU
|
Vitamin C:
4
mg
|
Calcium:
25
mg
|
Iron:
3
mg
Nutrition information is automatically calculated, so should only be used as an approximation.