Nordic Goose Soup
October 26, 2017 | Updated August 10, 2022
As an Amazon Associate I earn from qualifying purchases.
This is a fantastic goose soup that uses Scandinavian ingredients, but takes its inspiration from Vietnamese pho. It's light, savory and fun to eat.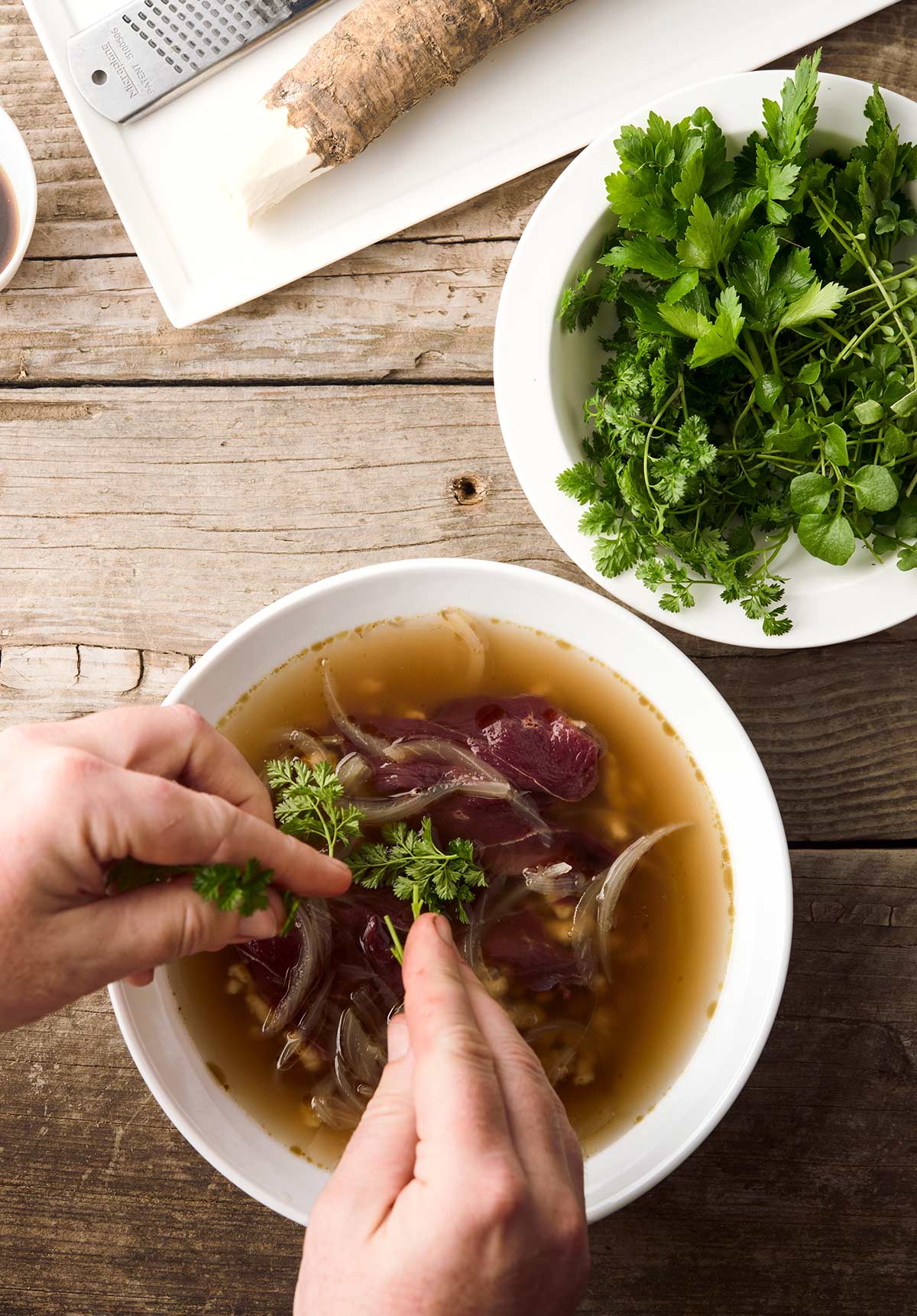 Vietnamese pho (pronounced "fuh") happens to be one of the great soups of the world. I eat it all the time. The other day I thought to myself, "Self: Why is pho so damn good?" I'll tell you why. It has it all: noodles, a mesmerizing broth, onions, various meaty things — usually long-cooked brisket and raw slivers of beef heated through by the broth — an array of fresh herbs to add, crunchy bean sprouts, lime wedges, chiles, and pretty much any sauce you feel like adding. Put simply, pho is the "choose-your-own-adventure" of soups.
It has savory. Sweet. Spicy. Crunchy. Starchy. Herby-bitter. Tangy, even funky if you add fish sauce. Everything our palates desire is in this bowl of soup. That's why pho is so good. But, I asked myself, why should the Vietnamese have a monopoly on this? Could you not take the principles of pho and translate them into another culture?
Damn straight you can. And I did with this goose soup.
I have another recipe for a heartier, bigger goose stew, so I wanted this one to be lighter. It's less complicated than the stew, richer than my recipe for smoked duck soup, although both are equally good.
I developed this goose soup in winter, and winter makes me think Nordic food. What excited me is just how fast I could come up with Scandinavian analogs for all of the things in a bowl of Vietnamese pho.
Pho begins and ends with broth. Pho broth is a wonderful clear base, with a noticeable aroma of star anise and cardamom. Cardamom? You mean the spice so beloved by the Swedes? Perfect. Start with a great broth and add crushed cardamom, or, of you can't get it, allspice, another Scandinavian favorite. The result is remarkably similar to real pho broth.
You eat pho mostly for the noodles in it, though. Vietnamese pho has long rice noodles, which is fine if you are eating with chopsticks. But if you've ever tried to eat long soup noodles with a spoon, you know how futile that is. So my "noodles" became the rye spätzle dumplings from my recipe for duck and turnips. Easy to eat, big flavor.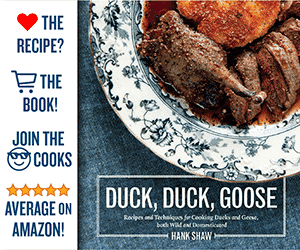 As for the meat, well, obviously this is a goose soup, so I went with goose. Duck works just as well. My favorite pho has slow-cooked brisket and raw beef. Easy to replicate by using shredded goose or duck confit and thin slices of goose breast, in this case a whitefront goose.
I know, I know, raw? Yes, raw. The meat is cooked by the scalding hot broth you pour over it. By the time you eat it, it's cooked.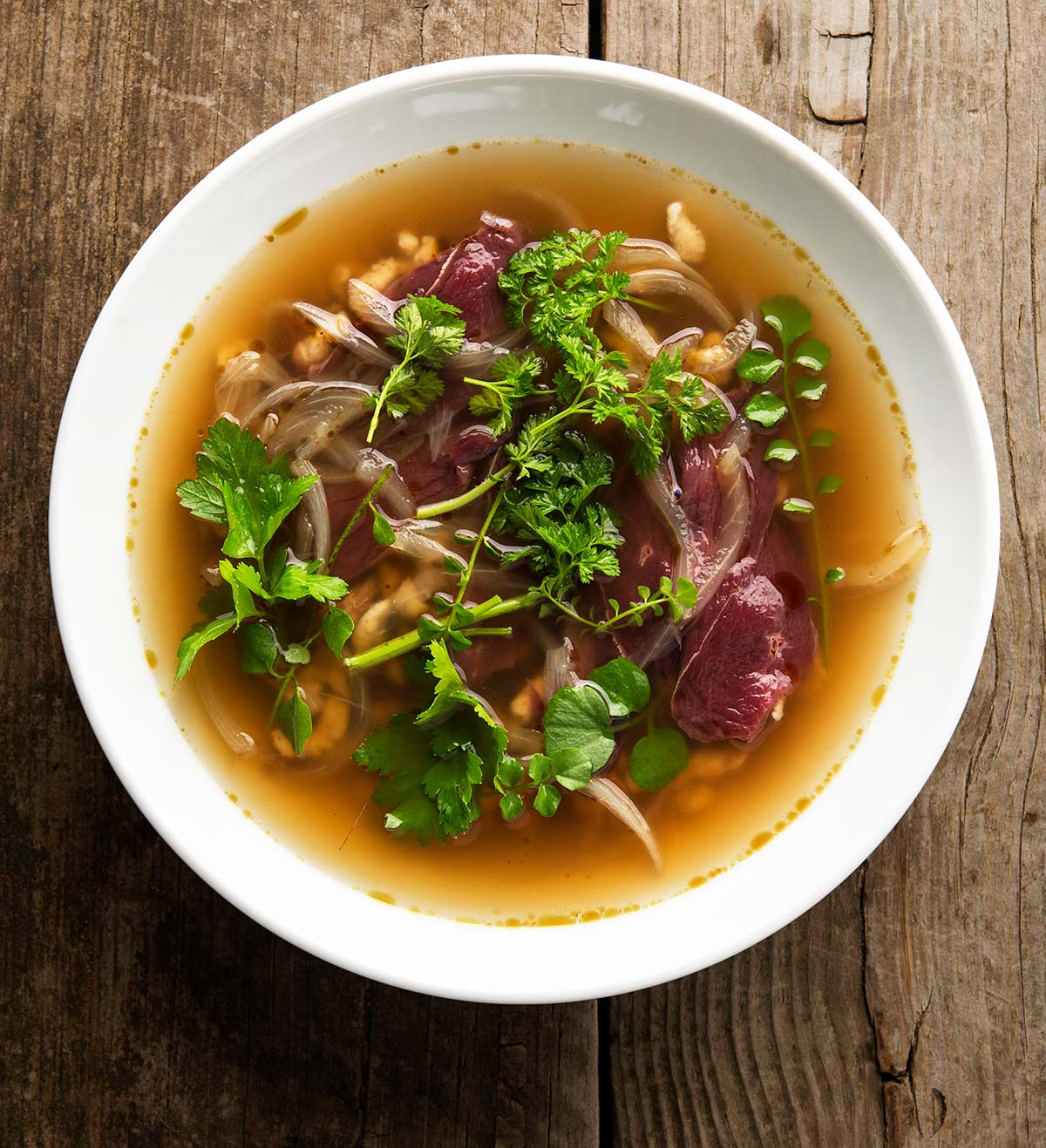 That left the accompaniments, which are vital to good pho. Herbs were an easy one. Vietnamese pho has basil and cilantro. Mine would have dill, chervil, parsley and chives — all herbs that figure prominently in Scandinavian cooking. Something crunchy to replicate the bean sprouts was easy, too: Thinly shaved red radishes, which were both crunchy and colorful.
There are no chiles in Nordic cooking, but they do have horseradish. And freshly shaved horseradish is every bit as stimulating as a chile; it really made the whole bowl of soup pop. Finally, the funky-acid one-two of fish sauce and lime can be approached with my malty, black beer vinegar, or malt vinegar if you don't have beer vinegar.
Everything adds on itself in this goose soup. The more elements you bring to it, the better. You want something herby, something acidic, something spicy or sharp, and something crunchy. Let your imagination run wild on this one.
A tip for slicing the goose breast really thin is to freeze it slightly first. Leftover duck confit works well for the shredded meat, if you have some. If not, you can simmer goose legs or duck legs in some of the broth until the meat falls off the bone.
This goose soup was an experiment that worked out beautifully. Everything that the Vietnamese version has, only darker, more brooding and wintry, if that makes any sense.
The experience made me think: Could you do this with Italian ingredients? Mexican? French? I bet you could. Our favorite soups are often interactive, allowing us to "doctor" them to suit our personal whims. This soup does that, in one particular way. But there are other potential paths. Follow them.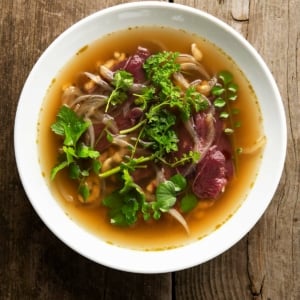 Nordic Goose Soup, Pho Style
It's not important to try and repeat this soup exactly, as good as it is. It's more important to recognize the fundamentals that make this recipe what it is: Good broth, a pasta/dumpling element, lean, rare meat, slow-cooked shredded meat if you want that, too, plus the array of condiments. If you want to do this with chicken breast and legs, it'll work. If you want to do this with venison backstrap and stew meat, that'll work, too.
Ingredients
BROTH
2

quarts

duck broth,

or beef broth in a pinch

About 10 allspice berries, crushed

(optional)

1

onion,

sliced thin from root to tip
DUMPLINGS
2

cups

rye or barley flour

1

egg

1/2

to 3/4 cup milk

1

teaspoon

salt

Vegetable oil for coating

(Use squash seed oil if you have it)
TO FINISH
1/2

pound

shredded

cooked goose, duck or venison

1

skinless goose breast,

thinly sliced

1

small bunch of parsley

1

small bunch chervil or dill

1

small bunch chives

1

small bunch cress

(optional)

4

to 8 small red radishes,

sliced thin

Malt or beer vinegar

to taste

Horseradish,

for grating
Instructions
If you haven't made the broth beforehand, you'll need that first. My recipe is here. You could of course use store-bought beef broth, but it will not be the same. Either way, once you have the broth, bring it to a gentle simmer and steep the allspice or cardamom in it for at least an hour. If you tie the spices up in a cheesecloth bag, it's easier to fish them out later -- and you can stew the onion in the broth at the same time. Otherwise, you will need to strain the broth and then stew the slice onion for 20 more minutes or so, until they soften.

While the spices are steeping in the broth, put a large pot of water on to boil for the dumplings. To make the dumplings, mix everything but the oil in a bowl, adding enough milk so the batter is about as loose as pancake batter. Use a colander with wide holes or a spatzle maker to drop the batter into the boiling water. Boil until they float, then 1 minute more. Remove with a slotted spoon and put them in one layer on a cookie sheet. Drizzle some oil over them so they don't stick.

By now you should be ready to rock. Set out the herbs, radishes, horseradish and vinegar on the table where everyone can grab them. Get a bowl for everyone. Put some dumplings in each bowl, then some of the shredded, cooked goose meat. Lay some of the thinly sliced goose breast on everything. Bring the broth with the onions still in it to a rolling boil. Pour over the soup
Nutrition
Calories:
317
kcal
|
Carbohydrates:
28
g
|
Protein:
26
g
|
Fat:
11
g
|
Saturated Fat:
6
g
|
Cholesterol:
86
mg
|
Sodium:
1237
mg
|
Potassium:
931
mg
|
Fiber:
4
g
|
Sugar:
2
g
|
Vitamin A:
354
IU
|
Vitamin C:
4
mg
|
Calcium:
207
mg
|
Iron:
3
mg
Nutrition information is automatically calculated, so should only be used as an approximation.