Barbecued Doves
August 27, 2018 | Updated June 16, 2020
As an Amazon Associate I earn from qualifying purchases.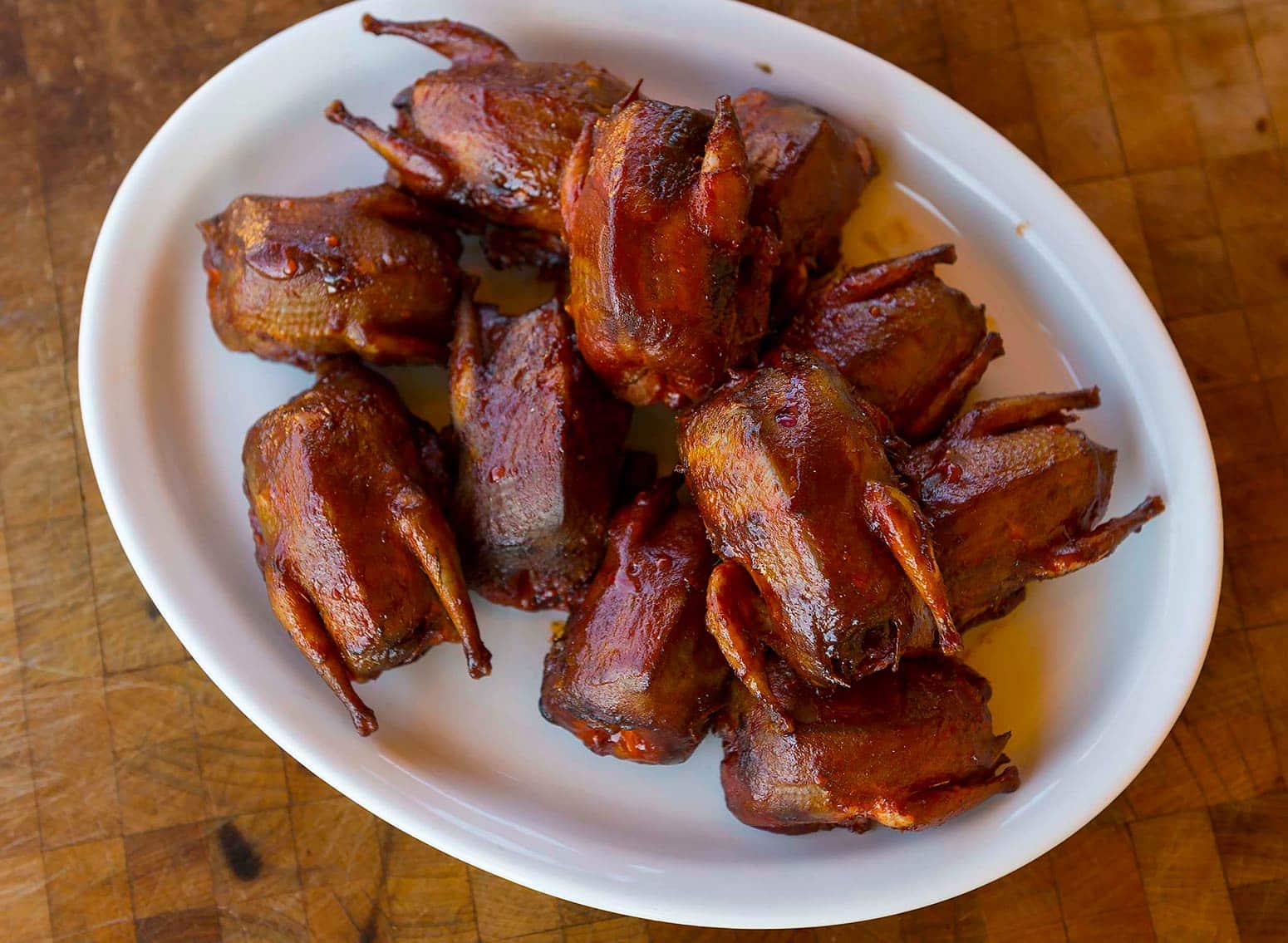 I've said for years that grilling doves is the best way to cook them. I might be wrong. Slow and low barbecued doves may just be better.
For many, the Labor Day weekend means dove hunting and doves cooked outdoors. September 1 is the traditional opening of dove season everywhere there is one, and grilled doves or dove poppers are traditional fare.
But slow and low, real-deal barbecue? Even I never thought of it, until recently.
What got me thinking is the new smoker I have been using. It's less of a grill and more of a smoker and barbecue pit extraordinaire. I've been slow barbecuing all kinds of thing on it, and I love how easy it is to get really good results. So why not doves?
Why not indeed. The technique is stupid easy: Salt your doves as they come out of the fridge, paint once with the barbecue sauce of your choice, then stick them in a covered grill away from direct heat. Cover the grill and shoot for a temperature of about 200°F. Hold this for about an hour to 90 minutes. Paint with your BBQ sauce several times in this process.
Take your barbecued doves out, slather once more and get after it!
What sauce to use? Really any barbecue sauce you want. I used a Korean BBQ sauce here, and it works really well. It has a couple semi-unusual ingredients, but nothing I can't find at my local supermarket. The "weirdest" thing is the gochujang, the Korean chile paste. You can buy gochujang online
, however.
The biggest difference between barbecued doves and grilled ones is tenderness. The slow and low technique produces the most tender birds I've ever eaten. And if you cook them slow enough, you get that cool smoke ring you see in barbecued brisket. Tender, smokey, sticky-spicy-sweet. You will absolutely eat more doves than you think possible with this recipe.
I guarantee it.
OTHER GREAT DOVE RECIPES
I have 25 dove recipes here on Hunter Angler Gardener Cook, ranging from bacon-wrapped doves to dove enchiladas. Some great Labor Day grilling or barbecue options include:
If you liked this recipe, please leave a ⭐️⭐️⭐️⭐️⭐️ rating and a comment below; I'd love to hear how everything went. If you're on Instagram, share a picture and tag me at huntgathercook.
Barbecued Doves with Korean BBQ Sauce
This is a recipe for slow barbecued doves with Korean BBQ sauce. This is not a grilled doves recipe; if you want that, try this recipe. That said, this barbecue sauce is good on all sorts of foods, from beef to chicken to salmon. Feel free to use whatever your favorite barbecue sauce happens to be.
Ingredients
16 to 20

doves, preferably whole and plucked

Salt
KOREAN BBQ SAUCE
1/4

cup

Korean gochujang chile paste

1

tablespoon

chopped garlic

3

tablespoons

fish sauce

3

tablespoons

sesame oil

2

tablespoons

minced fresh ginger

1/2

cup

brown sugar

1/2

cup

lime juice or rice vinegar
Instructions
Mix all the ingredients for the barbecue sauce together in a blender and puree until smooth. This can be made up to a week in advance. You might want to double the recipe, as it's amazing and goes well on any grilled or barbecued food.

Salt the doves well, inside and out. Paint with the BBQ sauce. Get your grill ready, making a spot where there are no coals so you can cook over indirect heat. You want a smokey fire, so have some wood chips handy. If you're using a smoker, set it to 200F.

Set the doves breast side up in the grill, cover it and cook slowly until the legs will come off easily when pulled, anywhere from 1 hour to 90 minutes. Paint with the BBQ sauce every 30 minutes or so.
Nutrition information is automatically calculated, so should only be used as an approximation.