As an Amazon Associate I earn from qualifying purchases.
Here's how to make a British hand-raised pie with game. A game pie is a classic hand pie made with a hot water crust and whatever wild game you have handy; I used grouse and pork.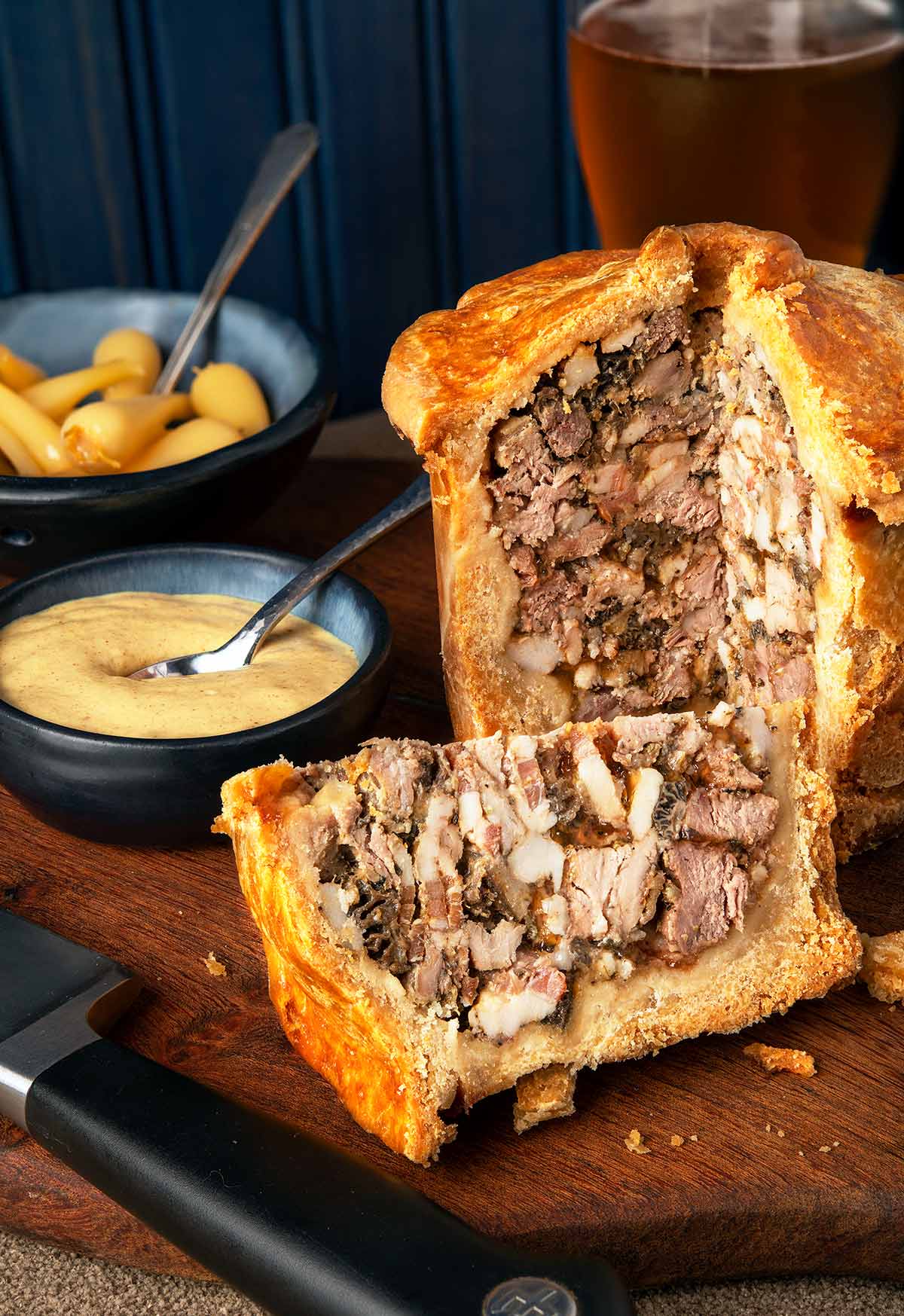 No lie: Making a hand-raised, hot-water crust game pie isn't super easy. I've hesitated to put this recipe on the site for years because of this, but I figured, hell… why not?
Game Pie Molds
Let me start with the elephant in the room, and that's how do you go about making the shape for a hand-raised pie properly? You have two choices: Use a mold or dolly, or McGyver it.
I use a mold for my game pie. Using a pork pie tin or mold makes the process so much easier, to the point where I rarely made them before I bit the bullet and bought four. I have the Master Class non-stick molds, and I love them.
You can also wrap your dough around a pie dolly, which is another good option and can be cheaper because you wrap dough around the dolly, fill it, then make another pie with the same dolly.
The McGyver method runs something like this:
Grease a jar the size of your proposed game pie. Pint Mason jars are a good size, although the etching on them is an issue. Smooth glass jars work better.
Wrap the dough around the greased jar, leaving about 1/2 inch of the jar exposed. Cut parchment paper to fit around the dough and tie with a string to hold the dough in place, then remove the jar.
Chill this for 30 to 60 minutes before filling.
Once you have your method for forming a hand-raised pie, you're most of the way home. The rest is easy.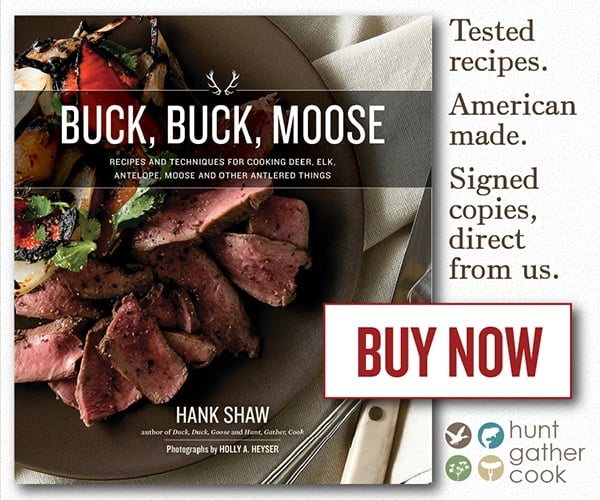 Hot Water Dough
A traditional game pie uses a hot water dough. This is a very sturdy dough that, while not wondrous to eat like, say, empanada dough, is fine to eat. More importantly, it makes a dough that you can tote around for a day or so at room temperature, or at least at English room temperature.
It's very fatty, and that fat is usually lard. Butter works, too, and if you want to be adventurous, use beef tallow. I've not seen a hot water dough made with oil, but I imagine it could work.
Basically you heat water (or milk) and the fat, then pour it into a bowl of flour and salt, mix well, then knead. If you are going to err, err on less moisture, as the dough can get pretty soft easily.
The Filling
Obviously game will be in a game pie. Duh. But beyond that one rule, it's kind of anything goes. Whatever game floats your boat, your choice of herbs, mushrooms if you want, onions, etc.
Mostly it's meat and fat, though. I ground some grouse meat with pork fat for part of it, and hand chopped more grouse for the rest. Doing both makes for a more interesting texture when you eat the game pie.
There's one more critical ingredient to a good game pie: jelly. Not sweet stuff, ew. Rather a really gelatinous stock that sets up at room temperature.
The reason for this is to close any air gaps in the pie — those air gaps can be breeding grounds for bad bacteria. The jellified stock helps a game pie keep longer.
To make this special stock, simply heat up some of your favorite stock, say, venison stock or pheasant stock, and dissolve some gelatin in it. Follow the gelatin box's instructions for the amount.
Or if you want to go all natural, simmer a pig's foot, or a whole bunch of chicken feet, in your stock for a couple hours, then strain.
Making a Game Pie
OK, you have your set-up, your dough and your filling all set. Now what?
Basically you set your pies out, fill them, cut out lids from excess dough, then cut a hole in the top. You'll then want to fashion a little ring of dough around the hole. Why? It will help you fill it with the stock.
Seal up the pies and paint them all over with an egg wash. Set them all on a baking sheet and bake slowly for up to 2 hours, depending on how big they are.
Remove, let them cool just a little, then very carefully pour the hot, gelatin-rich stock in the hole, bit by bit, until it pools up just below the little ring you made. Now let the pies cool to room temperature.
Chill overnight before eating. A game pie is normally eaten cold or at room temperature.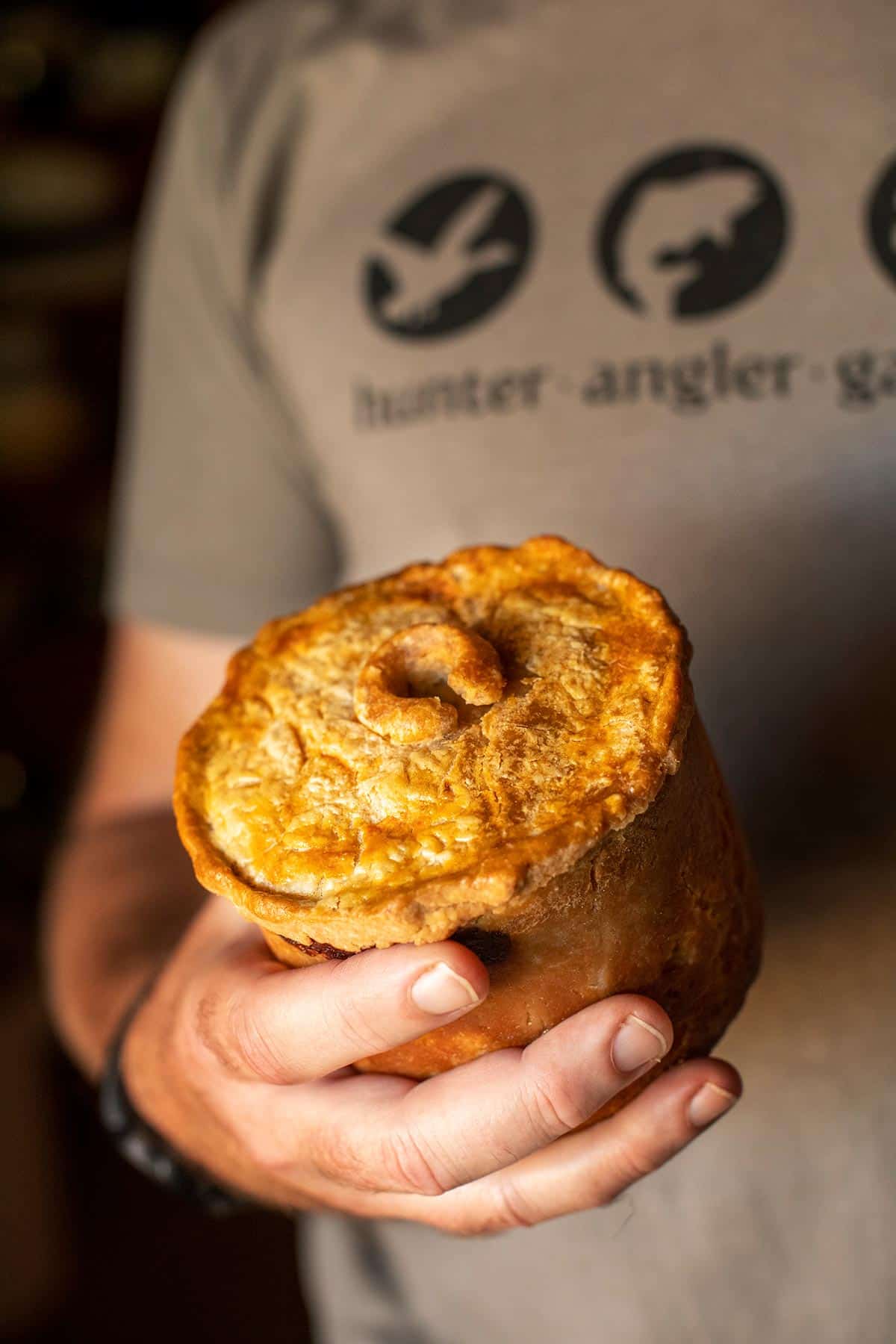 Accompaniments
Anything acidic, like mustard or pickles. You need it because you'll get the meat sweats with a game pie. It's sturdy food.
A bitter greens salad is a very good side dish, if you are not out and about when you are eating your pie.
Once made, a game pie will keep two weeks in the fridge. I reckon they can be frozen, but I've not tried it.
Other Great Hand Pies
I have a wide selection of other fantastic meat pies you might want to try. Some are bready, others use pie crust, some use other doughs. Keep in mind the filling meat can really be whatever you have lying around.
If you liked this recipe, please leave a ⭐️⭐️⭐️⭐️⭐️ rating and a comment below; I'd love to hear how everything went. If you're on Instagram, share a picture and tag me at huntgathercook.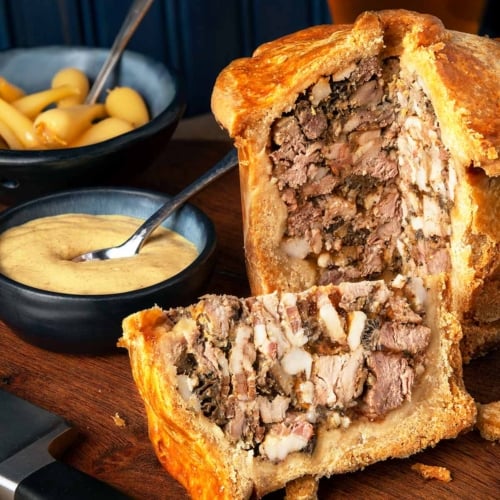 British Hand-Raised Game Pie
These are great pies to make for a hunting trip, a picnic, brunch or lunch. They keep a long time, and are worth the effort to make them. What follows is a recipe for 4 largish pies using the Master Class pie tins. If you don't use these, your results may vary in terms of the amount of dough and filling to make.
Equipment
4 pork pie tins,

4 inches across and 4 inches deep
Ingredients
FILLING
1

pound

meat,

grouse breasts, pheasant, venison, duck, whatever

1

pound

pork shoulder

8

slices

bacon

(optional)

1/2

pound

fresh mushrooms,

chopped

1

large yellow onion,

chopped

1

tablespoon

ground juniper berries

(optional)

1

tablespoon

chopped lovage or parsley

2

teaspoons

dried thyme

1

tablespoon

freshly ground black pepper

1

pinch

salt
DOUGH
1 1/2

cups

water or milk

12

ounces

lard or butter

2

pounds

all-purpose flour

2

teaspoons

salt
TO FINISH
2

eggs

2

tablespons

milk

2

cups

gelatin-rich stock

(see above)
Instructions
FILLING
Fry the bacon in a large pan to render the fat. Remove the bacon when it's crispy. Eat a piece and chop up the rest. Use the fat to cook the onions and mushrooms. Cook over medium-high heat until nicely browned, about 10 minutes. Let this cool.

Chop or grind the game meat and pork shoulder. I prefer to grind the pork and dice the game meat, especially if I am using the breasts of upland birds or waterfowl. Mix this with the cooled onions, bacon and mushrooms, along with the herbs, spices and a healthy pinch of salt, about a teaspoon or so.
DOUGH
Mix the flour and salt in a large bowl. Heat the lard and milk or water in a pot to the steaming point. Maybe 130°F tops, so not overly hot. Make a well in the center of the flour and pour the hot liquids in. Mix into a shaggy dough, then knead until it comes together. You want a soft dough, so you might need to add a little more water. If so, do so 1 tablespoon at a time.

Cut the dough into 4 equal pieces. Now cut each piece into a 1/3 portion and a 2/3 portion. This is your pie and lid. Keep these pieces covered so they don't dry out when you are making each pie.
MAKING THE PIES
Preheat your oven to 350°F. Roll out the large piece for a pie until it is about 1/4 inch thick. Set it in the pie tin and press it all around to conform to the edges. You want a little to drape over the edges of the tin.

Fill the pie with filling, making a little mound at the top. Roll out the small piece of dough for the top, and set that on the filling. Crimp the edges to seal, and remove any excess dough.

Cut a hole in the top of the pie. Use the excess dough to make a little ring to line that hole. Now repeat this whole process with the remaining dough and filling.

When all your pies are made, beat the eggs with the water or milk to make an egg wash. Paint the tops of the pies with this. Set the tins on a baking sheet and bake for 1 hour.

Check on the pies, which should be looking good. If the tops are getting too brown, cover them loosely with foil. Bake 1 more hour, or until the center of the pie reads 165°F on a thermometer. Remove the baking sheet from the oven and let the pies start to cool.

While that's happening, heat up your gelatin-rich stock. Use a funnel if you have one to fill the pies with this stock, little by little. It will fill any air pockets or gaps in the pie, and this makes the pies keep longer. When you're done, let the pies cool to room temperature before chilling overnight in the fridge. Eat cold or at room temperature.
Notes
To make the gelatin-rich stock, you will want to dissolve 1 tablespoon of standard, supermarket gelatin to every 2 cups of stock. This will help it set up. Do not use less than this amount, and you can go as high as 1 tablespoon per cup. 
Making Pies without a Tin
If you are using a pie dolly, you will want to cut the dough into 6 initial pieces instead of 4 because it's narrower, so you'll have more pies that are smaller. Grease the dolly with butter or lard, then wrap the dough around the dolly a little taller than you want the pie. 
Cut a piece of parchment paper to fit around the sides of the pie, tie it in place with string, and carefully remove the dolly. Set this in the freezer for about 15 minutes to firm up, then remove the parchment paper, fill the pie and proceed as above. 
Nutrition
Calories:
964
kcal
|
Carbohydrates:
90
g
|
Protein:
37
g
|
Fat:
50
g
|
Saturated Fat:
27
g
|
Polyunsaturated Fat:
4
g
|
Monounsaturated Fat:
15
g
|
Trans Fat:
1
g
|
Cholesterol:
218
mg
|
Sodium:
1076
mg
|
Potassium:
614
mg
|
Fiber:
4
g
|
Sugar:
2
g
|
Vitamin A:
1191
IU
|
Vitamin C:
3
mg
|
Calcium:
56
mg
|
Iron:
8
mg
Nutrition information is automatically calculated, so should only be used as an approximation.