Enchiladas Rojas
September 26, 2019 | Updated June 06, 2022
As an Amazon Associate I earn from qualifying purchases.
My answer to New Mexico's state question — red or green? — is almost always "Christmas," which means both sauces. I already have a great recipe for green chile enchiladas, so I thought I'd post up my recipe for enchiladas rojas, or red enchiladas.
So yes, I know that many New Mexicans prefer stacked enchiladas, and they are fantastic. That said, most people outside of NewMex prefer rolled, so I went with these. Also, yes, this is a Desert Southwest recipe, not a Mexican one. Hundreds of variations on enchiladas exist south of the border, and I will get to them, eventually.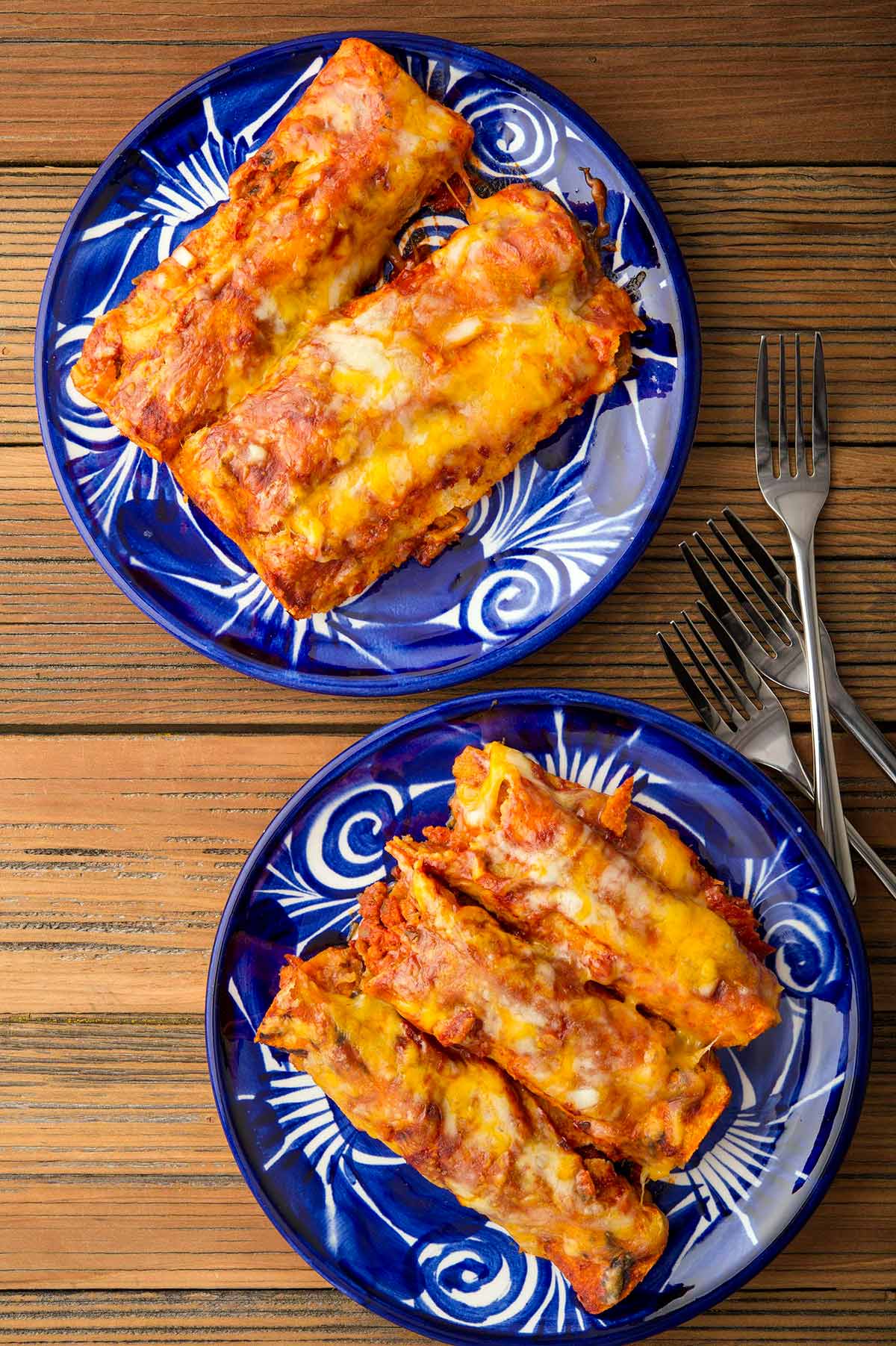 Enchiladas rojas are serious comfort food, not unlike lasagna in Italy. Soft, warm, just a touch picoso, they're also thrifty.
You can make fantastic enchiladas with leftover meat and stale tortillas, and you can make the red enchilada sauce up to a week, or even two weeks, ahead. With the bones of the dish hanging around in your fridge, you can make a batch of red enchiladas easily on a work night.
Any meat works here. I like to use either shredded leftover meat or tender, raw meat cut into small dice. Yes, raw. If you use something like venison loin, or grouse or turkey breasts, they will cook perfectly in the baking process; this avoids overcooking.
If this horrifies you, just cook the meat first. I won't mind. But know that the breast meat of any bird, or tender red meat, will cook beautifully this way.
(For a cool alternative to enchiladas, make Mexican enmoladas with mole sauce instead of a red enchiladas sauce.)
When you make your red enchilada sauce, you are looking for reasonably hot, not truly hot, dried chiles. Obviously the various NewMex chiles are good choices, as are chile colorado or California chiles, which are basically dried Anaheims. For Mexican chiles you'd want guajillos for a bright red sauce, or anchos or pasillas for a darker, more brick-red sauce.
If you want the sauce to be picante, my advice is actually to add the hot sauce of your choice at the table, rather than to include seriously hot chiles in the red enchilada sauce itself. That lets everyone get the heat they want.
A word on how I soften the tortillas for the enchiladas rojas. I prefer to limit the amount of fat in my enchiladas, so I don't fry the tortillas in oil first, the way many people do. I find that heating them up on a comal or cast iron frying pan, then letting them steam in a tortilla warmer or somesuch does the trick without the added oil.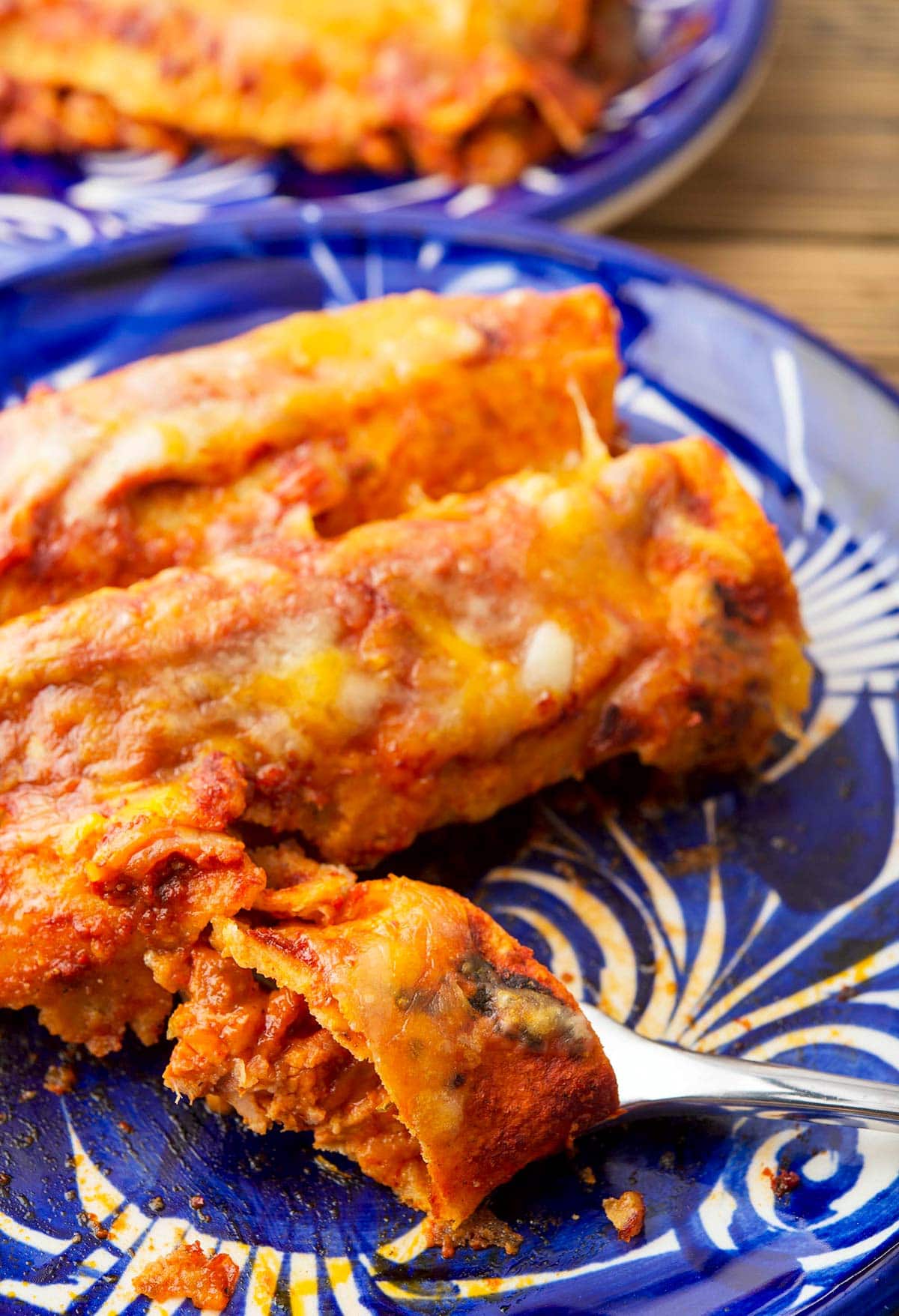 If you want to fry your tortillas, just pass them through the hot oil a few seconds to soften. Any more than that and they will become tostadas, which you don't want.
Once made, your enchiladas rojas will keep in the fridge up to a week, and are excellent reheated for weekday lunches.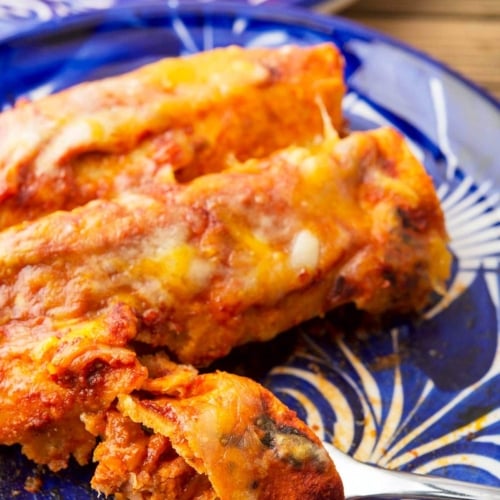 Enchiladas Rojas, Red Chile Enchiladas
Don't get all hung up on the exact array of dried red chiles here. The weight is more important, and even that doesn't have to be exact. And as with all enchiladas, any meat will work here, or if you are a vegetarian, mushrooms are a good choice.

Ingredients
Red Chile Sauce
½

pound

dried red chiles

(New Mexican, ancho, guajillo, etc)

3 

tablespoons 

lard or cooking oil

1 

large white onion,

cut in quarters

4 

garlic cloves,

whole and unpeeled

2 

teaspoons 

cumin

2

teaspoons

oregano,

Mexican if possible

1

quart

stock,

preferably homemade

Salt, 

smoked salt if you have it

Black pepper to taste
Filling
1

pound

diced meat

Salt, 

smoked salt if you have it

About 1/2 cup red chile sauce 

(see above)

2

tablespoons

chopped fresh sage

12 

ounces

shredded Monterey Jack and/or cheddar cheese

(5 ounces for the filling, the rest as topping)

1 

cup 

minced white onion

Fifteen 6-inch tortillas
Instructions
Prep the chile sauce. Start by taking the stems off and opening the chiles to shake out the seeds. Flatten them as best you can. Heat a cast iron skillet or better yet, a Mexican comal over high heat. When it is blazing hot, toast the chiles. Press them down with a spatula for just a couple seconds: When they blister, flip them and do the other side. Remove to a bowl.

When all the chiles have been toasted, char the quartered onion and the garlic cloves on the comal or skillet. You want some blackening. The garlic cloves will blacken first, so watch them.

Now that you have everything smoky and charred, tear the chiles in pieces. Chop the onion. Peel the garlic. Heat the lard or vegetable oil in a pot over medium-high heat. Add the chiles, onions and garlic and saute for a minute or two. Pour in the stock, add the cumin and oregano and bring to a simmer. Add salt to taste and simmer gently until the chiles are soft, about 20 minutes.

Puree the sauce in a blender. This sauce can be made up to a week in advance and stored in the fridge.

Make the filling. Cut the meat into pieces about the size of your fingernail. Salt well. Mix with about 1/4 cup of the red chile sauce, the chopped sage as well as about 5 ounces of cheese and the minced white onion.

Prep the tortillas. Heat the tortillas on a comal or other heavy skillet until they blacken a little. Then put them in a tortilla warmer, or stack on a plate and put a bowl over them. Let them steam a few minutes before building the enchiladas.

Build the enchiladas. Pour a little red chile sauce into a casserole dish. Dip a tortilla in the red chile sauce briefly and shake off the excess. Fill a tortilla with a little of the filling and roll it up. Place seam-side down on the casserole. Repeat until you're done. You should get about 15 tortillas.

Pour more red chile sauce over the enchiladas and top with lots of the shredded cheese. Bake at 350°F for 25 minutes and serve.
Video
Nutrition
Calories:
414
kcal
|
Carbohydrates:
27
g
|
Protein:
29
g
|
Fat:
23
g
|
Saturated Fat:
9
g
|
Cholesterol:
78
mg
|
Sodium:
337
mg
|
Potassium:
900
mg
|
Fiber:
9
g
|
Sugar:
14
g
|
Vitamin A:
7890
IU
|
Vitamin C:
14
mg
|
Calcium:
383
mg
|
Iron:
4
mg
Nutrition information is automatically calculated, so should only be used as an approximation.