As an Amazon Associate I earn from qualifying purchases.
Mexican sopes are probably the best way to begin cooking with masa. These little tartlets can be made without a tortilla press, are easy to make — kids love making them — and can be filled with pretty much anything.
Here's how to make them at home, and some suggestions on what to fill your sopes with.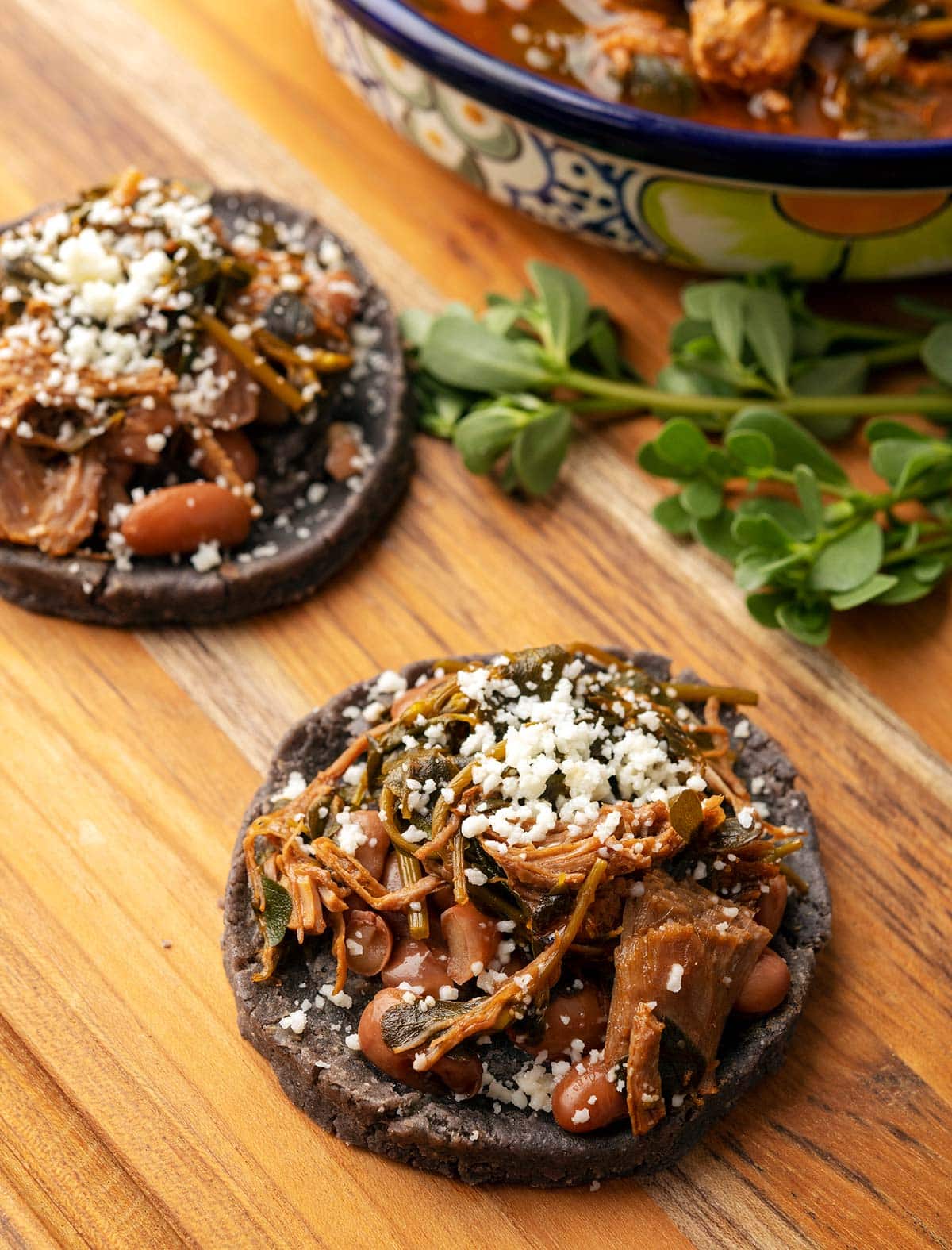 Mexican sopes, pronounced "so-pays" or "so-pez," are traditional botanas, or appetizers, and can be found all over Mexico. Always made from corn masa dough, they come in as many colors as there are colors of corn.
Sopes can be made with either fresh nixtamal or with masa harina, although they are better when made with fresh masa. And while you can make sopes with a tortilla press, I find that they are easier to pat out by hand.
Making Mexican Sopes
Sopes are made in one of two ways, and each has its advantage.
The first, and probably oldest method, is to pat out a gordita, a fat tortilla, by hand and then cook it over medium heat on the comal — or flattop, or cast iron skillet or griddle — for roughly 1 minute per side, just to start setting the dough.
Then you pull the gordita off the heat and immediately use your thumbs and forefingers to pinch out a raised rim around one side. This is what makes a Mexican sope a sope and not some other masa shape. It's easy enough, but it takes a little getting used to — that masa is hot!
Once shaped, the sopes can sit around until you are ready to fill them. When you are ready, you fry them in lard or vegetable oil until crispy on the outside.
The second method I see used more by Mexican chefs. In this method, you form the sope from raw masa, then they go right into the fryer to set. The advantage of this method is that you end up with a sope that has a taller, fuller rim. Th disadvantage is that this frying is a violent process, and you will lose a few sopes to it; they can rupture or form big air bubbles.
Here is a video I made of making Mexican sopes with the second method.
The more traditional comal method is more foolproof, but you will not get as nice a raised rim.
Once made, you really need to eat them within a few hours. In a pinch, you can let them sit a day in the fridge and then fry, or refry, them right before you serve, but Mexican sopes should be hot.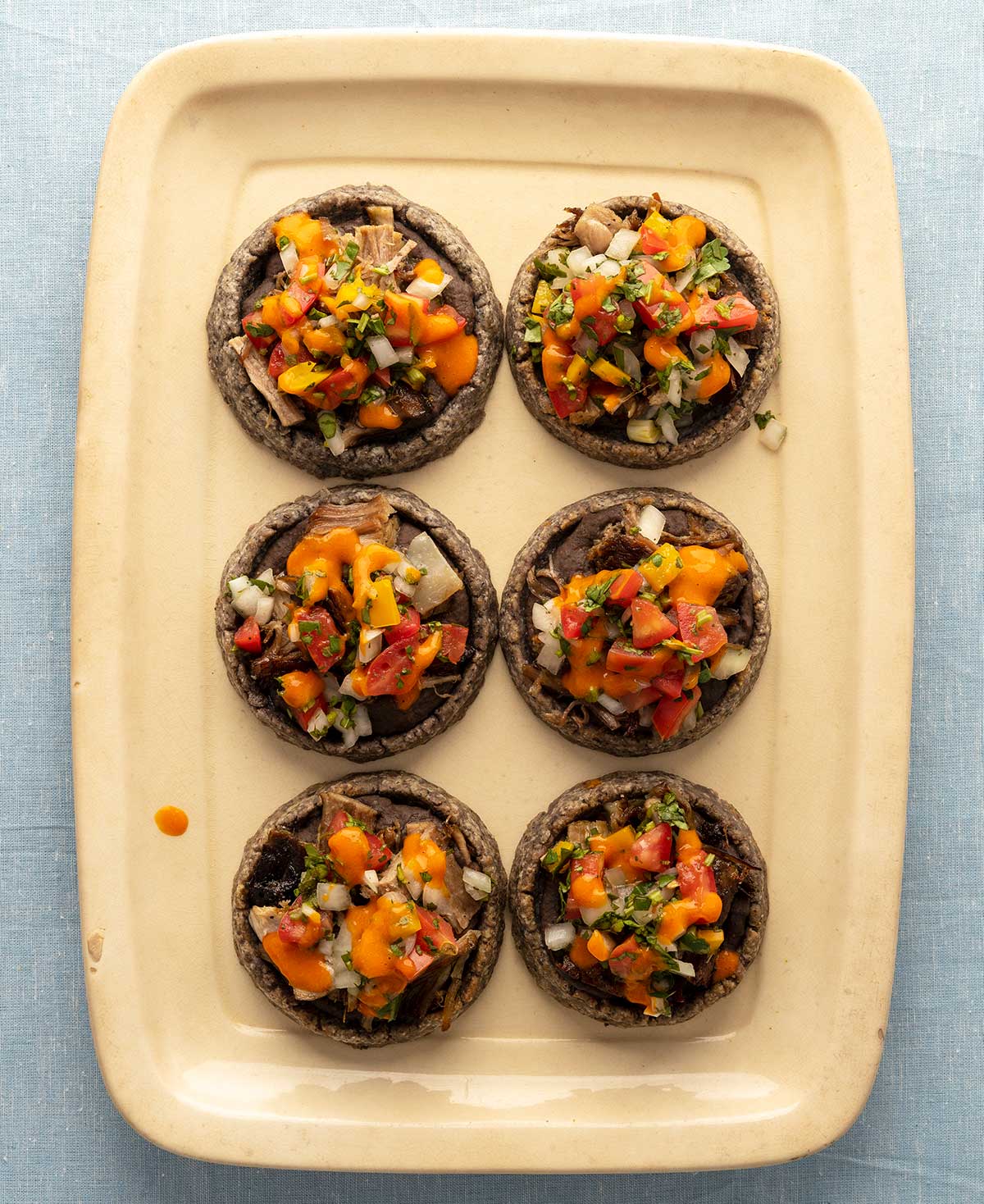 Filling Sopes
The only constant with Mexican sopes is the presence of beans, almost always refried beans. The reason for this is because refried beans serve as glue to keep whatever you put over them on the sope.
After that, anything goes.
That said, you will mostly see guisados on Mexican sopes. These are thick stews that can be more successfully eaten on a sope than in a taco, because the sturdy shell of a sope contains the juicy guisado better. Some good choices would be:
The pretty yellow masa sopes you see above are vegetarian, filled with a combination of fresh fava bean puree and my avocado-tomatillo salsa, plus sautéed quelites (wild, edible greens), caramelized onions and cotija cheese. Cilantro flowers make them fancy.
Those blue corn sopes on the tray are filled with refried black beans, real-deal carnitas Michoacanas — this is what all other forms of carnitas are based on — plus pico de gallo and hot sauce.
Your general rule for filling sopes is this: Refried beans + protein + salsa + queso fresco or other cheese + sour cream, if you want that.
Fish and seafood work in Mexican sopes, too, although whatever it is needs to be chopped small or flaked so you can eat it.
And that brings up the issue of size.
Most sopes I have eaten are meant to be eaten in no more than three bites. This is both because they are meant to be appetizers, and because the corn masa dough can only be made so big without it collapsing.
Roughly 45 to 50 grams is what you are shooting for, or about the size of a golf ball.
Ingredients
SOPES
2

cups

masa harina

1 3/4

cups

hot water

Vegetable oil for frying

(see below for amounts)
FILLINGS
refried beans

filling of your choice

(see headnotes)

Salsa of your choice

(see headnotes)

Queso fresco or cotija cheese,

to taste
Instructions
Mix the hot water with the masa harina. Add it about 1/2 cup at a time, kneading and mixing at first with a fork, then your hands. You will likely need all 1 13/4 cups of water, but this will depend on how dry your climate is, and how old your masa harina is. You want a very pliable, almost wet dough that doesn't stick to your hands when you roll it into balls.

Do a tester: Roll a ball of masa and then flatten it. If it cracks all over along the sides, you will need a bit more water; start with a tablespoon at a time. If it sticks horribly, add a tablespoon at a time of masa harina, mixing well after each spoonful.

Preheat a comal or griddle or cast iron skillet over medium heat. You want it less than 500°F, and about 350°F is best.

Form the masa into balls of about 45 grams, or the size of a golf ball. Pat them into fat tortillas, gorditas, between your palms. You want them about 1/4 inch thick or a little fatter. Nothing too thin yet.

Heat the gorditas on the comal. First side gets 1 minute. This will be the base of your sope. Flip and heat the other side for about 30 seconds.

Move the sope off the comal and use your thumbs and forefingers to form a lip around the edges of your sope on the side you just cooked, which will be more supple. Yes, it will be very hot. Push down the center of the sope a little so you have essentially a little tartlet. Repeat all this with the rest of the dough, setting aside the sopes for now. They can sit like this for several hours.

When you are ready to serve them, heat up a decent amount of lard or vegetable oil in a pan, enough to cover the bottom by about 1/4 inch. When it's hot, about 325°F to about 350°F, fry the sopes until crispy, which should take a couple minutes per side. You'll want to fill and serve them shortly after this.
ALTERNATIVE METHOD
Mix the dough as above and pat out those gorditas. Only this time, heat lots of oil or lard in a pan to about 325°F. You need enough for the sopes to float in the oil, so about 1/2 inch deep.

After you've formed the gorditas, use your thumbs and forefingers to form the rims on the uncooked sopes, rotating the sope as you go so it doesn't stick to the cutting board or table. Form all of them before you start frying.

Fry a few sopes at a time, starting cup side down, so flat sides up. Fry like this for about 2 minutes, then flip them. You will want to spoon hot oil into the cups immediately. You will see the insides bubble furiously, then calm down. When it calms down, remove the sopes to a cooling rack set over a baking sheet in the oven set to "warm."

These can hold for up to 1 hour before serving. Any more than that and you will need to refry them for about 1 minute per side to re-crisp them.
Notes
Follow these tips for better sopes:
Have all the fillings made before you even start the sopes. Make the refried beans and whatever toppings you are planning ahead. For most people, you make sopes a day or so after you've made the toppings so all you need to do is reheat and fill. 
If you want these as party appetizers, don't overfill or people won't be able to pick them up and eat them. If you plan on having people use a knife and fork, stack as high as you want. 
Don't stack the sopes themselves, or they will steam and get soft... and you will be sad. 
Broken or leftover sopes can be broken up and tossed in a stew. They're pretty great that way. 
If you are using fresh masa, not masa harina, I do not recommend the all-frying method because fresh dough is wetter than dough made from masa harina. I've had more sopes explode and break when I do this. The comal method is best for fresh masa. 
Nutrition
Calories:
104
kcal
|
Carbohydrates:
22
g
|
Protein:
3
g
|
Fat:
1
g
|
Saturated Fat:
1
g
|
Polyunsaturated Fat:
1
g
|
Monounsaturated Fat:
1
g
|
Sodium:
1
mg
|
Potassium:
75
mg
|
Fiber:
2
g
|
Vitamin A:
61
IU
|
Calcium:
39
mg
|
Iron:
2
mg
Nutrition information is automatically calculated, so should only be used as an approximation.