As an Amazon Associate I earn from qualifying purchases.
Carne con chile, meat with chile sauce, is a bedrock recipe not only in Sonora, Mexico, but also Arizona, as well as parts of New Mexico, too.
Not to be confused with chile con carne, which is basically just the long way of saying "chili," carne con chile is a very simple dish of braised meat, venison in this case, with a simple chile sauce, served with rice and beans.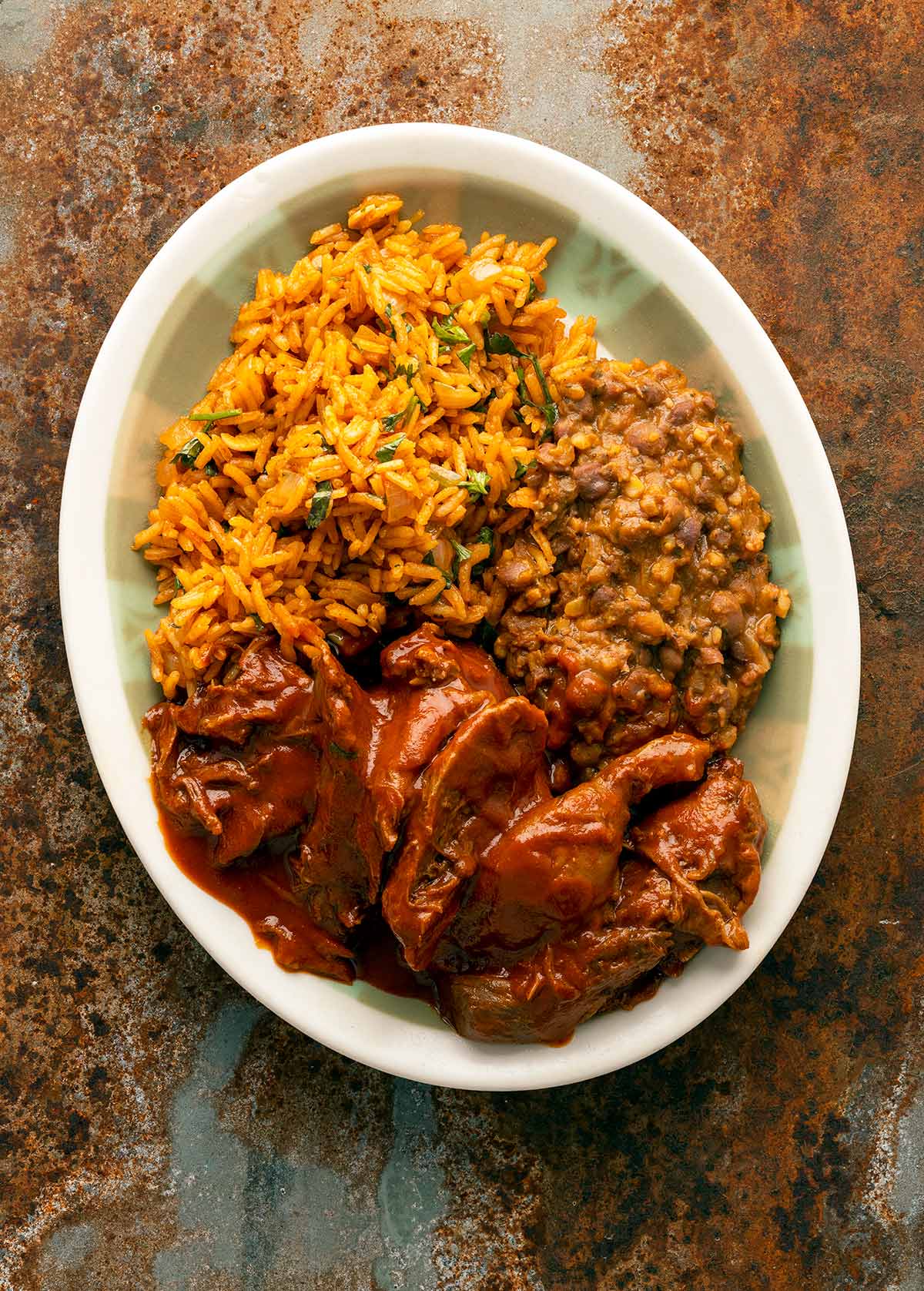 But if you've read anything on this website, you know what's coming next: With anything so simple, ingredients and technique make all the difference.
I've eaten this dish many times, and it can range from "meh" to mesmerizing. Everything on the plate matters. How well cooked is the meat? Is the chile sauce rich and complex, or has it been poured out of a can that arrived on a Sysco truck? Ditto for the beans and rice.
Let's get the beans and rice out of the way first, then deal with the carne con chile. I haven't posted my Mexican red rice recipe yet, so for now, use one from Pati Jinich, who has a great TV show on Mexican food I highly recommend. The beans are my frijoles fronterizos, or border beans. I use desert tepary beans for it, but pintos are also used a lot, as are the little pinquito beans, which are like mini pintos.
Now, on to the carne con chile itself.
Your best bet is to use some sort of meat with a lot of connective tissue in it. I prefer venison neck roast, or shanks, or venison shoulder. All of those parts on goats or sheep are perfect, too. With beef, shanks or oxtail or brisket or chuck is what you want.
I don't see this too often in Sonora or Arizona, but I always smoke my meat first. It adds a ton of flavor, and remember, carne con chile isn't complicated like, say, mole negro, so each little trick helps. I salt my meat overnight, or even for a couple days, then smoke big pieces at about 185°F for about three hours. Enough to get a nice smoke ring and smoky flavor.
Then we braise the meat. I pretty much always use the basic Mexican braising concoction I use for venison barbacoa, which is, roughly, a quart of stock, two quarts of water, a quartered onion, some smashed garlic cloves, a chipotle or three, and lots of aromatics: bay leaves, hoja santa leaves or epazote.
While that cooks, you make the chile sauce. This is the red chile sauce you see all over the Desert Southwest. Everyone makes it slightly different. Here's my version.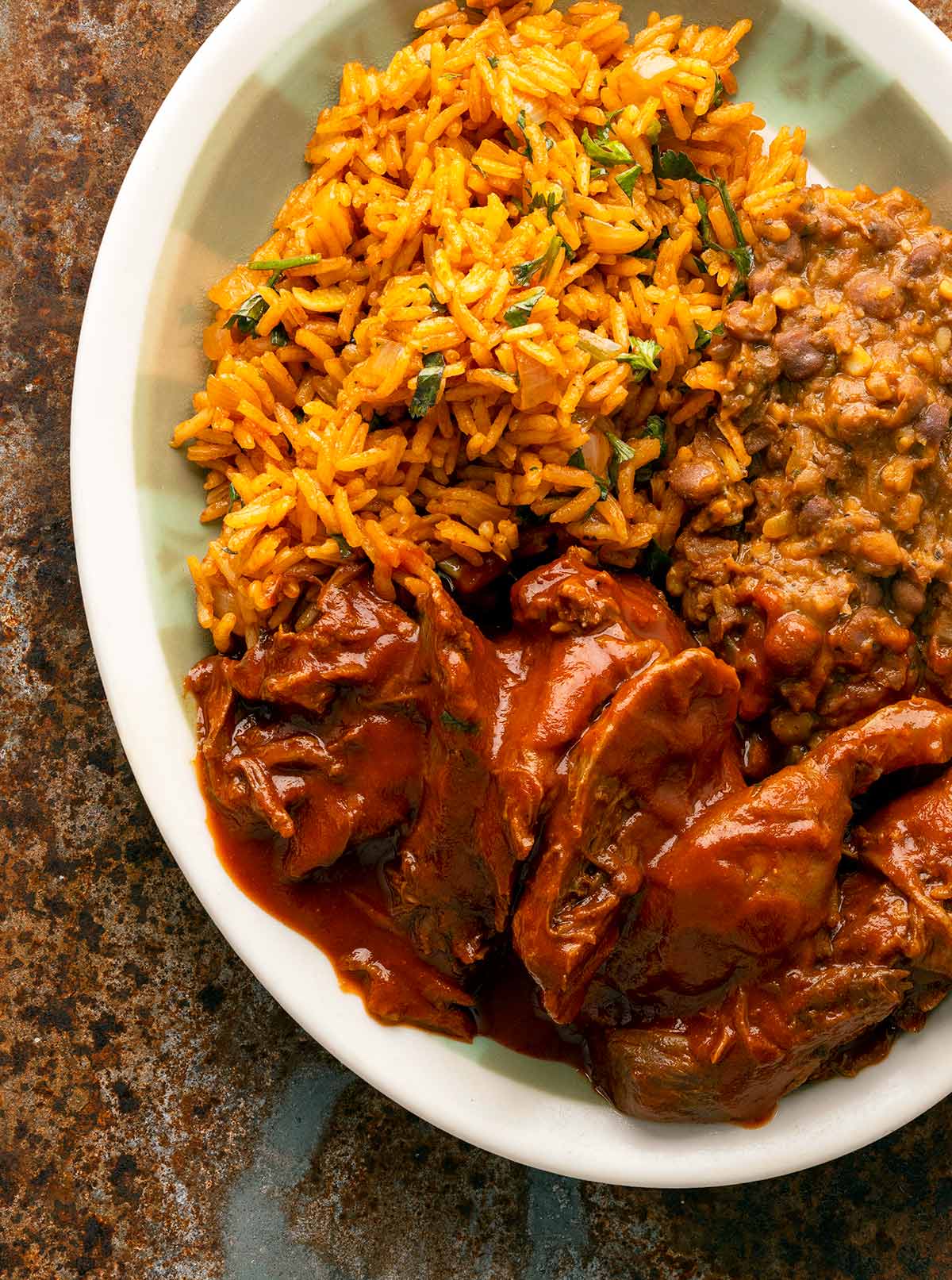 Lots of sandia chiles, which are like guajillos — bright red and mildly hot — charred onion and garlic, a few chiles morita (these are little red chipotles you see in cans), plus cumin and Mexican oregano, thinned with the braising liquid you cook the venison in.
The sauce lives or dies on the flavors of smoke and char. Toasted chiles and cumin seeds. Charred onion and garlic. And I use smoked salt to season it. So yeah, while it looks like a boring sauce, there's a lot going on in my carne con chile.
Serve this with the rice and beans, of course, and some homemade flour tortillas — carne con chile is from flour tortilla country, not corn, although I won't come to your house and beat you up if you prefer corn. Soak some chopped white onion in lime juice and chop some cilantro to finish it all off.
Once made, the meat will keep, refrigerated in its braising liquid, for a week. The chile sauce will keep for several weeks in the fridge. To serve, you shred the meat roughly, then toss with some of the warm chile sauce. I recognize that many versions of carne con chile cook the meat in the sauce, but I find that deadens the flavor of the sauce. You can do either.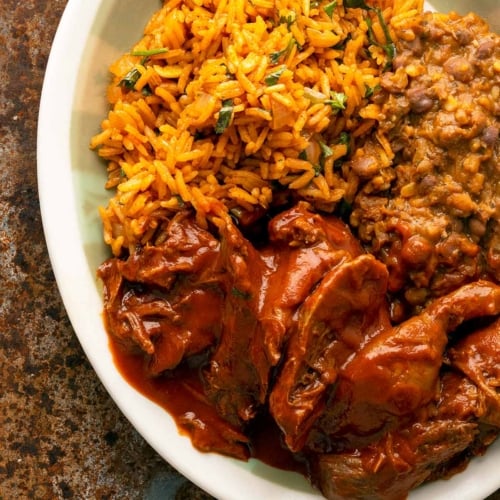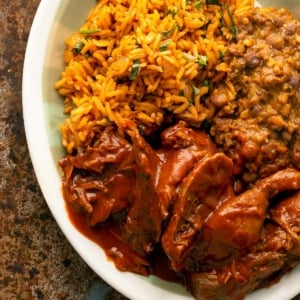 Sonoran Carne con Chile
While I use venison here, you can use beef, goat, lamb or jackrabbit. It should be a dark meat. Keep in mind that while there is a fair amount of prep here, almost all of it can be done in stages over several days if you want, and once it's all made, you can eat off it for days.
Ingredients
MEAT
3

pounds

venison neck or shoulder or shank

Salt

1

quart

venison or beef stock

4

bay leaves

1

hoja santa leaf

(optional)

1

onion, quartered

3

cloves

garlic, smashed
CHILE SAUCE
2 to 4

dried chiles morita

(or chipotles from a can)

10 to 15

guajillo, New Mexican, California or similar mild, red, dried chile

1

tablespoon

cumin seeds

1

white onion,

cut in quarters

5

cloves

garlic,

unpeeled

1

tablespoon

Mexican oregano

2

tablespoons

lard or vegetable oil

Salt and black pepper to taste

(smoked salt if you have it)
Instructions
COOK THE MEAT
Optional smoking step. Salt the venison the night before you plan on smoking it and set in the fridge. The next morning, smoke the meat at 185°F for about three hours. I use mesquite here, but whatever wood you like will do.

Braise the Meat. Put all the other ingredients for the meat in a stewpot and bring to a simmer. Cover the pot. You can simmer this on the stovetop or in a 325°F oven.
MAKE THE SAUCE
Toast the Chiles. Heat a comal or flattop or large, heavy frying pan over medium-high heat. While the pan heats up, remove the stems and seeds from the dried chiles. Using a metal spatula, toast all the chiles quickly, pressing on them to flatten. They will get pliable quickly. You'll only need about 30 seconds per side, and you can flip them back and forth if you want. Do not let them char or burn. Move them as you go to a large bowl. When they are all toasted, pour boiling water over them to soak.

Continuing, you will want to spread the cumin seeds on the hot comal. Let them toast, moving them more or less constantly, until they smell nice, about a minute or two, tops. Move them to a spice grinder and grind to a powder. Can you use ground cumin? Sure, but it won't be as good.

Now char the garlic and onion on the comal. Set them down on the hot surface and let them sit there until you get a nice char. You want blackening. Move them around to char on all sides. When they're ready, peel the garlic and roughly chop the onion.

Move the rehydrated chiles, onion, garlic, cumin, oregano and a healthy pinch of salt to the blender. Add a little soaking water or some braising liquid and puree. You want the sauce to have the consistency of heavy cream.

Optional Step: Push the sauce through a fine-meshed sieve to remove small bits of chile skin and seeds. They are not digestible, and doing this step makes a smoother sauce, and, well, largely prevents the "ring of fire" the following morning...

Heat a pot over medium heat and add the lard. When the lard is hot, pour the sauce in and stir, stir, stir until the fat emulsifies. Bring it to a very gentle simmer and keep warm.
TO FINISH
Once the venison is tender, somewhere between 90 minutes and 3 hours or so -- you'll know when you can pull it apart fairly easily with two forks -- time to serve. I like to pull the meat into largish pieces and put it in the sauce pot to bathe for a few minutes before serving.
Nutrition
Calories:
543
kcal
|
Carbohydrates:
13
g
|
Protein:
87
g
|
Fat:
14
g
|
Saturated Fat:
8
g
|
Cholesterol:
256
mg
|
Sodium:
503
mg
|
Potassium:
1209
mg
|
Fiber:
3
g
|
Sugar:
5
g
|
Vitamin A:
1827
IU
|
Vitamin C:
6
mg
|
Calcium:
68
mg
|
Iron:
13
mg
Nutrition information is automatically calculated, so should only be used as an approximation.