As an Amazon Associate I earn from qualifying purchases.
Mincemeat pies are a fun holiday treat that will surprise everyone with how good they are. These are venison mincemeat pies — and yes, long ago, mince pies did indeed have meat in them — made with a Scottish flair.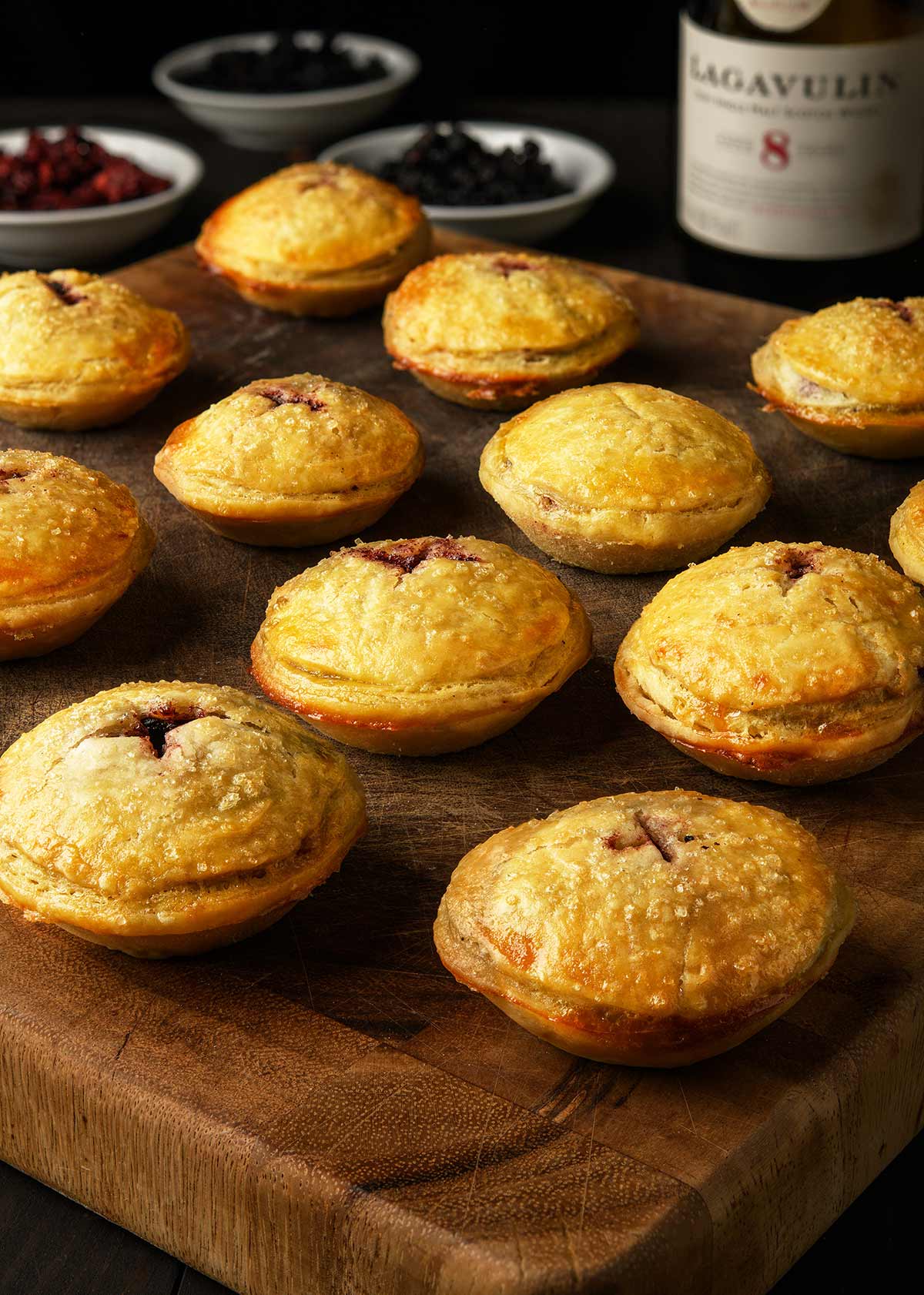 Everyone knows the term mincemeat, and, technically speaking, it's just a British term for what we Americans call ground meat; mince is another term you'll hear over there. I grew up calling it "chop meat" in New Jersey.
Most people also "know" that mincemeat pies don't have meat in them. They're largely correct, as the standard mincemeat pie recipes over the past century have largely skipped the meat.
But venison mincemeat pies have an ancient heritage, dating to the 1100s even. During the reign of the Tudors — think King Henry VIII — in the 1500s, mincemeat pies included meat, and it was often venison.
The pies also got smaller over time, and this gets into my recipe for venison mincemeat pies. I love them as little personal "pie-lets," teeny three- or four-bite wonders. And they are wonders, as I'll explain in a moment. But to do that I went out and bought a mincemeat pie pan for $20 online.
Lest you think this is crazy, a) these pies are worth the effort, and b) you can make jam tartlets with the pan the rest of the year.
Or you can make your venison mincemeat pie a regular pie in a regular pie pan, which is a thing. Or you can use any small tart pan you happen to have. The standard issue mincemeat pie pan gives you that pretty little shape though.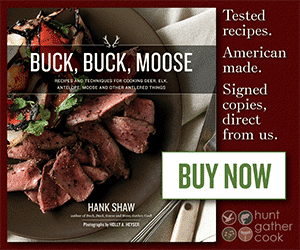 Why Make Mincemeat Pies?
Because they're made of awesome. No, seriously, there's a reason people have loved them since the Crusades — and I am not kidding. It's a sweet-tart-savory-fatty-crunchy thing. And I know of no member of the human race who does not like sweet-tart-savory-fatty-crunchy things.
You do have to get over the meat + sweet thing, but chances are, if you don't tell someone that there is actual venison in their venison mincemeat pies, they won't notice.
Why? Because you make the filling with almost equal portions of fruit and meat and fat. This gives the filling oomph without it screaming, "I'm chopped deer meat!"
I highly recommend you make these little mincemeat pies if you can, even with a cupcake tin if that's what you have, because that ratio of pie crust to filling really shines with a small pie.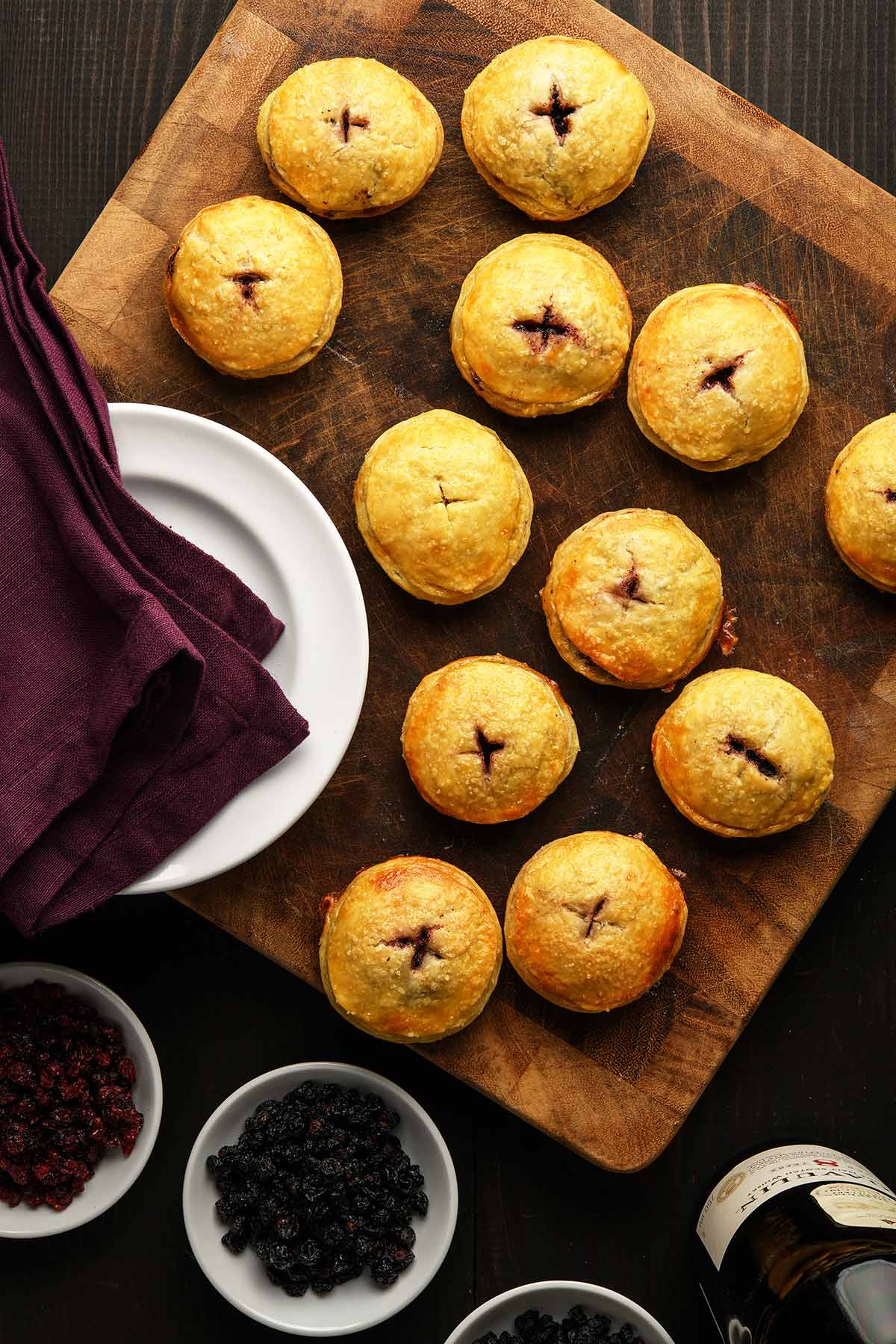 Fruit in Mincemeat Pies
All mincemeat pies, not just venison mincemeat pies, have fruit in them — usually dried fruit.
Most recipes will have you add raisins, sultanas, and "currants," which in this context are actually still raisins. Go figure. Boring!
Instead, use dried berries. Several kinds if you can get your hands on them. This mincemeat recipe has dried lingonberries, dried blueberries and dried black currants. The real kind.
I chose this mix for depth of flavor and tartness. You will absolutely want to include lingonberries or dried cranberries, which are a lingonberry's big cousin. Also, dried cranberries are way easier to find.
Other options that are good are chopped, dried apricots and dried blackberries, gooseberries, raspberries, huckleberries, mulberries or dewberries.
The one traditional mincemeat pie fruit I do use is fresh, grated apple. I use a granny smith, but any baking apple will do.
Spices and the Filling
The history of mincemeat pies holds that the originals were made with lots of spices the crusaders brought back from the Middle East, and you still see that today. Cinnamon, clove, mace, nutmeg, and later allspice (a spice of the Western Hemisphere) all play a part.
The filling is all cooked together for a long time, then left to cool a bit, then, traditionally, mixed with brandy or rum. I, being of Scottish descent, use Scotch instead. Ideally you then refrigerate the venison mincemeat for, well, a while.
Its acidity, fat and salt content and the presence of hard liquor all help preserve the filling for weeks, even months. It is said to improve over time, to the point where some cooks make their mincemeat pie filling in October or November for Christmastime.
But yes, you can absolutely just make it, let it cool and fill your pies with the fresh filling, too.
Venison Mincemeat Pie Crust
Any decent pie crust, even store-bought, will work.
My recipe, as well as the inspiration for the filling recipe, is from the excellent book by Ben Mervis, The British Cook Book. It's a pretty simple pie crust, only it adds an egg, which is unusual, at least in my experience.
You could use puff pastry, but that's not traditional, and you could even use a British hot water suet crust, like you would in a game pie or pork pie.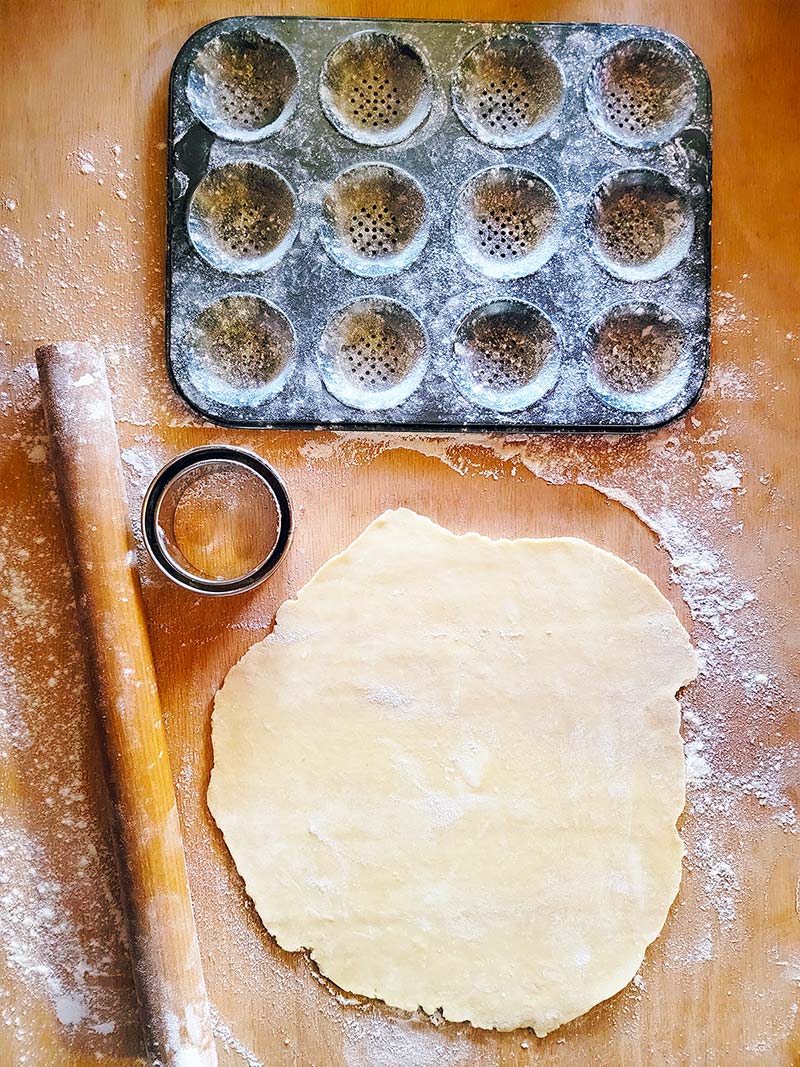 Storage
Once made, venison mincemeat pies will keep about 10 days or so in the fridge, but it's unlikely that any will be left after that long. You can freeze them, too.
To reheat, remember they're already cooked, so a toaster oven is ideal. Maybe 10 to 15 minutes at 375F will do. I do like these pies at room temperature, but not actually cold.
Other Meat Pies to Try
I have a wide selection of other fantastic meat pies you might want to try. Some are bready, others use pie crust, some use other doughs. Keep in mind the filling meat can really be whatever you have lying around.
If you liked this recipe, please leave a ⭐️⭐️⭐️⭐️⭐️ rating and a comment below; I'd love to hear how everything went. If you're on Instagram, share a picture and tag me at huntgathercook.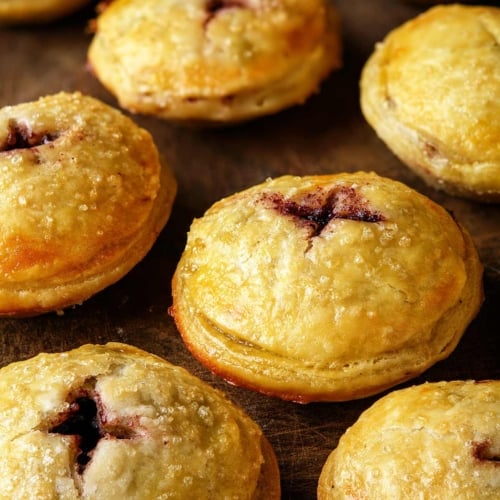 Venison Mincemeat Pies
This is an old school rendition of a British mincemeat pie, using meat and dried berries instead of raisins. I include a pie crust here, but you can use a store-bought crust if you want.
Equipment
1 mincemeat pie tin,

or muffin pan
Ingredients
DOUGH
250

grams

all-purpose flour,

about 2 cups

Pinch of salt

100

grams

unsalted butter,

diced

25

grams

bacon fat

(see below)

1

egg

1/4

cup

cold water
MINCEMEAT FILLING
125

grams

dried lingonberries or cranberries,

about 4 ounces

125

grams

dried blueberries or raisins,

about 4 ounces

125

grams

dried currants or other berries, or dried chopped apricots,

about 4 ounces

1

cup

brandy, rum or Scotch

325

grams

ground venison,

or other meat, about 12 ounces

Salt

1/2

cup

lard, beef suet or butter

125

grams

brown sugar,

about 1/2 cup

1/4

teaspoon

ground cinnamon

1/4

teaspoon

ground clove

1/4

teaspoon

ground nutmeg or mace

1

baking apple, such as granny smith,

peeled, cored and grated

Zest and juice of a lemon
TO FINISH
1

egg

1

tablespoon

milk or cream

Turbinado, brown, or demerara sugar,

for dusting
Instructions
FILLING
Make the filling first. In a perfect world, you would soak the berries in the alcohol overnight. If you can do this, it's better. You then strain off the alcohol to use later. But you can skip this if you are short on time.

Put all the filling ingredients except for the Scotch or brandy in a bowl and mix well. Put this in a lidded pot and cook at 225°F for 3 hours. Pull it out and stir well several times as it cools, which helps distribute the fat in the mix. When it's totally cool, add back the reserved alcohol. This mix can sit in a sterilized Mason jar for a month or so, or you can simply proceed with making pies.
DOUGH
If you are doing this all at once, make the dough while the filling cooks. Mix the salt and flour, then cut the fats into it with a cutter or your fingertips until the mix looks like a coarse meal. This will take a little while.

Mix in the egg and the ice water and work this dough into a nice ball. It's not totally necessary to be gentle with it like a regular pie dough because you want the crust on these to be a bit sturdy, so you can pick them up and eat them. Regardless, refrigerate for no less than 20 minutes, and up to a day.
MAKING PIES
Preheat your oven to 350°F. Grease a mincemeat pie or muffin tin, then dust it with flour.

Roll the dough out thin, to about 1/4 inch or even a little less. Depending on your tin, you will want to cut out one set of larger circles to fill the bottom of the tin, then another set of smaller ones for tops. You can also cut out stars with a cookies cutter to serve as tops. For my standard mincemeat pie tin, I use a 3-inch cutter for the bottom, a 2-inch for the top. Wine glasses or empty jars are good substitutes for a dedicated cutter.

Beat the egg with the milk or cream to make an egg wash.

Fill each tin with the bottom crust, then fill those with the filling. Paint the rim of a pie, set the top on, then crimp or pinch the edges all around to seal. Move on to the next pie.

When they are all sealed, paint them all with the egg wash, then dust them all with the turbinado sugar. Use a sharp knife to cut a cross in the center of each pie. Bake for about 30 minutes, or until they are pretty and browned.

Let them sit out of the oven in their tins for about 10 minutes, then move them to a rack to finish cooling. Eat warm or at room temperature.
Notes
You can use 125 grams of butter instead of mixing the fats. That equates to 9 tablespoons of butter. You can also use lard or Crisco instead. 
The dough recipe makes enough for 12 pies in a muffin tin, but will be a bit more than you need for a proper mincemeat pie tin. 
The filling recipe makes a lot, enough for several batches of pies. But since it keeps for weeks in the fridge, you'll want to make lots of these. 
Nutrition
Calories:
355
kcal
|
Carbohydrates:
41
g
|
Protein:
10
g
|
Fat:
12
g
|
Saturated Fat:
6
g
|
Polyunsaturated Fat:
1
g
|
Monounsaturated Fat:
3
g
|
Trans Fat:
0.3
g
|
Cholesterol:
69
mg
|
Sodium:
43
mg
|
Potassium:
289
mg
|
Fiber:
3
g
|
Sugar:
20
g
|
Vitamin A:
256
IU
|
Vitamin C:
1
mg
|
Calcium:
28
mg
|
Iron:
2
mg
Nutrition information is automatically calculated, so should only be used as an approximation.