Mexican Masa Empanadas
May 02, 2019 | Updated December 23, 2021
As an Amazon Associate I earn from qualifying purchases.
Empanadas, basically a half-moon dumpling with something yummy inside, are common wherever Spanish is spoken; this recipe is for Mexican empanadas, made with masa instead of flour.
Masa empanadas are seriously good, especially when you fry them instead of baking them. And honestly, if frying empanadas freaks you out, this is not the recipe for you.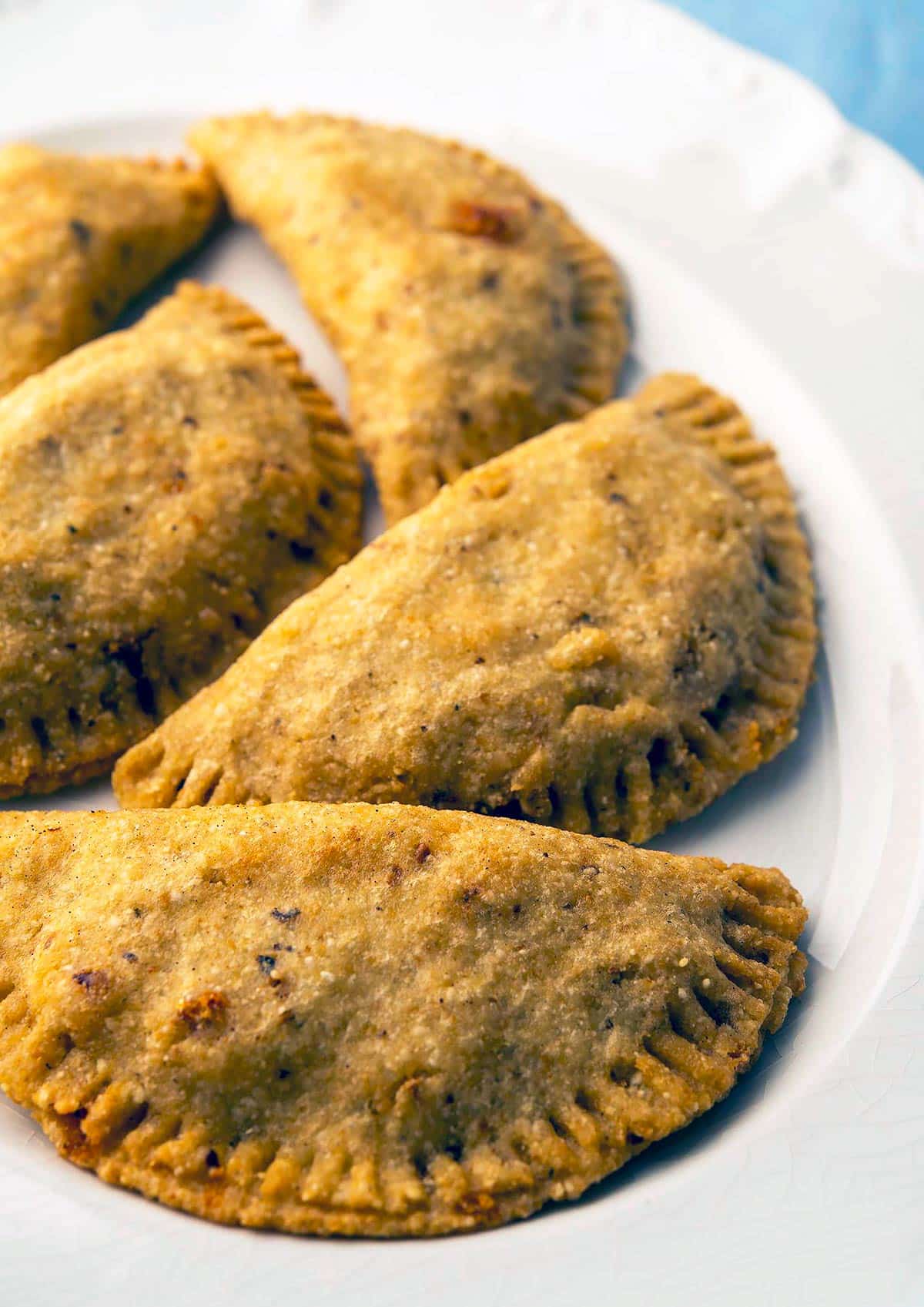 Let's start with what is masa? It's corn meal that has been nixtamalized, a chemical process that sloughs off the hard pericarp of the corn, making more of its nutrition available and changing its flavor, in my opinion for the better. You do this with an alkali solution to change the pH of the water in which the corn cooks.
I am admittedly hardcore. I buy real Mexican corn from Masienda, nixtamalize it myself, grind it and make these Mexican empanadas with it. I will walk you through how to do this, but I want to state at the beginning that you can absolutely make masa empanadas with masa harina, which is nixtamalized corn, ground and then dried into a fine meal.
Most people know it as Maseca, but that's a brand name, and while it is OK, easily accessible and cheap, I'd suggest buying masa harina from Masienda instead. (And no, they are not paying me to say this. I just like their products.) It's made from good corn that still has a lot of flavor.
OK. If you want to know how I make masa for empanadas, here goes:
The night before, I measure out the corn, usually about a pound. I then measure out 1 percent of that weight in slaked lime, calcium hydroxide. You can buy this as "cal" in any Latin market or online here. Bring twice the weight of the corn in water to a boil (or cover the corn by about 1 inch), then stir in the cal, and simmer for roughly 40 minutes to 1 hour. You stop cooking when you can bite a kernel in half and see that it's cooked about halfway; still chalky at the center. Turn off the heat and let it sit overnight.
The next morning, use your hands to rub the corn vigorously, sloughing off the now-slimy pericarp. Stir this water and save a cup. Drain the rest and rinse the corn briefly. You want some of the sticky stuff to hang around.
You need to grind the corn. I happen to have a fancy corn grinder called a Molinito, and yes you need a grinder that can handle wet corn. This is a huge stopper for most people. A regular grain mill won't work. A meat grinder does, however; use the 4.5 mm die. An old school Victoria hand grinder works OK, as does the Indian wet grinder called an Ultra Dura. Grind your corn as best you can.
Now you need to grind it again, so it's fine enough for tortillas or masa empanadas. I do this by putting a couple cups' worth of coarsely ground masa in a food processor and buzzing it, with a little of the soaking water, for about 3 to 5 minutes. Add just enough water to let the food processor move the masa around like dough. This works, albeit not as well as professionally ground masa.
Now you have your dough. Yeah, I get it: it's a process. This is why most people use masa harina. Here's how to make masa harina from scratch, and here is an excellent store-bought brand of masa harina.
Why bother? The flavor is that much better. It really is. And I like the slightly more rustic grind you get this way. It feels like what you might imagine "stone ground" cornmeal would be like.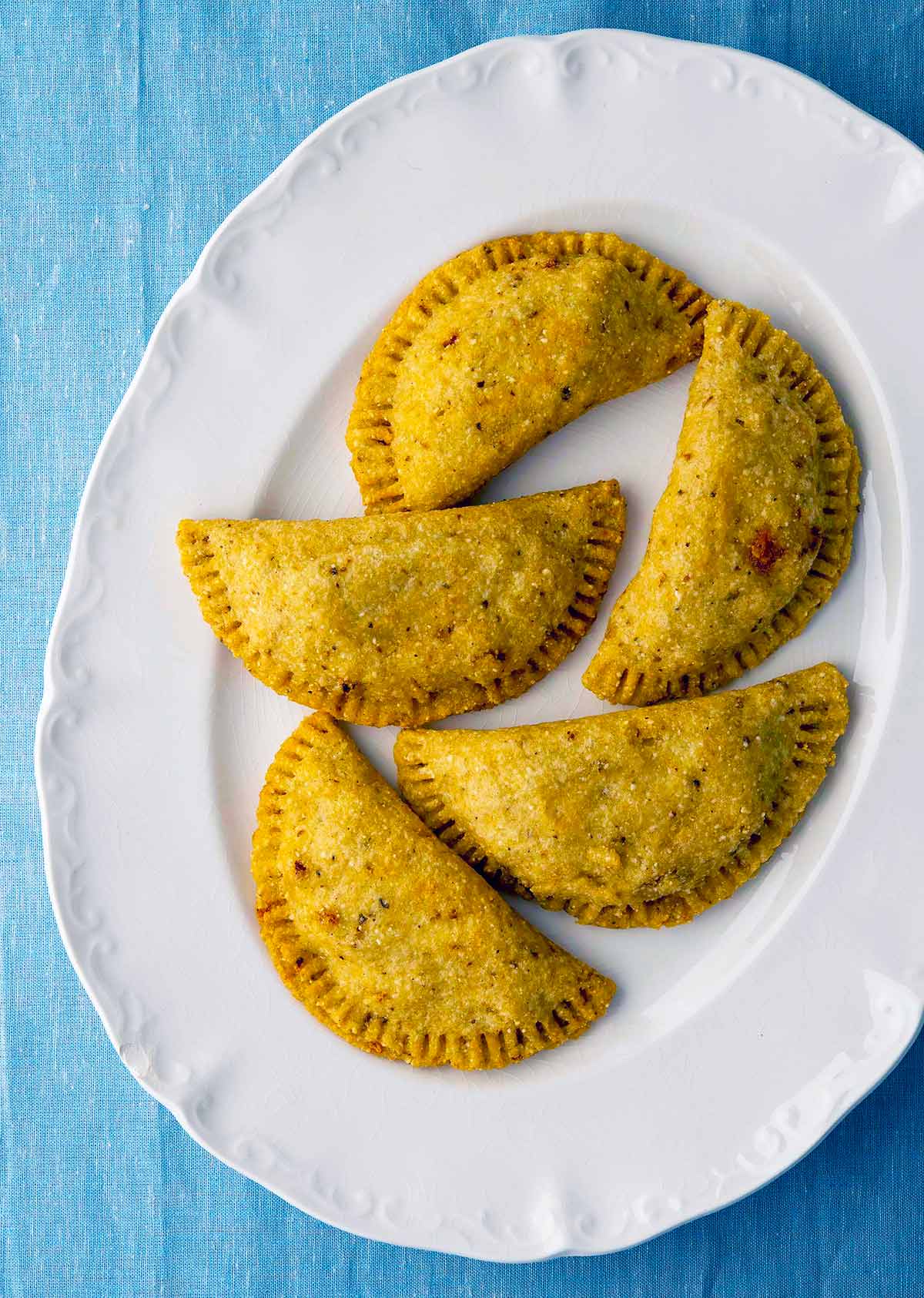 What to fill your Mexican empanadas with? Well, anything, really.
Empanada fillings should be chopped small, and not be too hard. Masa dough is very fragile, so things like nuts can pierce it. And every empanada I know of is better with cheese. Grate or shred your cheese, whatever it is, and you'll be in good shape.
Here are some recipes that would be good as Mexican empanada fillings:
I've also made fantastic masa empanadas filled with smoked or shredded fish or crab, as well as mushrooms and other vegetables.
How do you make a masa empanada? Very carefully. It's not a joke. Masa dough is fragile before it's fried, and you need to develop a touch for it. It took me two or three tries to get it where almost every empanada looks right.
First, you need a tortilla press. While I now use a spiffy hand-made one from Masienda, you will be fine with any cast-iron or wooden tortilla press; I also use this one. Can you make do without one? Sorta. You can squash your masa dough balls with a flat frying pan, but it's dicey.
Your best bet is to fry your Mexican empanadas one at a time, as you make them. I make one, gently slip it into the hot oil, and make another while the first one fries. Set them in a warm oven to sit while you make the rest. They are best hot, but OK at room temperature.
Make a bunch of Mexican empanadas at once. They store for a week in the fridge, and, once fried, freeze well. To reheat, put in a toaster oven at 350°F for about 12 minutes, or refry for 2 minutes.
There is a reason masa empanadas are my favorite: The corn flavor really shines, the fillings seems to go so well with it, and even though they are fried, Mexican empanadas seem lighter than those made with pie dough or bread.
Give them a go. It is a skill worth learning!
If you're interested in meat pies from around the world, try my Cornish pasties, Finnish meat pies or Sicilian meat pies.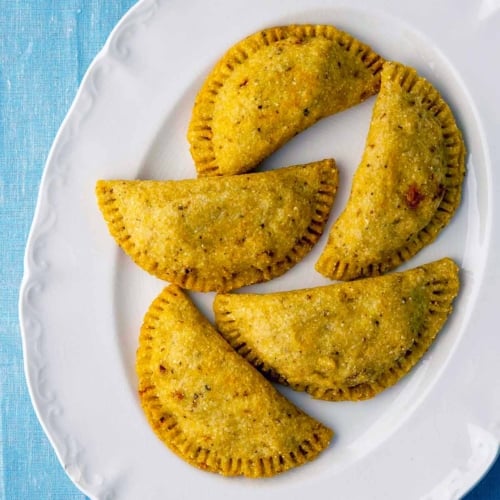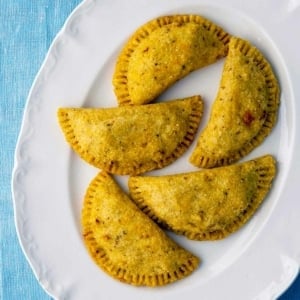 Mexican Empanadas with Masa
These are masa empanadas, which you can fill with whatever you like. Below are instructions on how to make them with masa harina; instructions for handmade nixtamal are above.
Ingredients
3

cups

masa harina, packed

3

cups

hot water

Filling of your choice

(see above)

Oil for frying
Instructions
Make your masa dough. Mix the masa harina with the hot water and knead into a cohesive dough, about 2 or 3 minutes. You may need slightly more or less water: What you want is a moist masa that does not stick to your hands. 

Cut out two sheets of plastic from a supermarket produce bag; the flimsy ones. These are better than heavy plastic. Put one sheet on your tortilla press, then pull off about 40 grams of masa dough, a bit larger than a walnut, or exactly the size of a walnut in its husk. Roll it into a ball and set it on the plastic. Put the other piece of plastic over it and press down with your hand a bit to flatten the dough somewhat. Lever your tortilla press down hard, but not all the way. Flip the tortilla over and lever it down again. This makes an evenly flat tortilla.

Get a large frying pan or heavy pot and pour enough oil to come up at least 1 inch up the sides, and ideally 2 inches. Heat it to between 325°F and 350°F. 

Peel off the top piece of plastic and spoon a heaping tablespoon, more or less, onto the side of the dough closest to the lever, leaving about 1/2 inch space from the edge of the dough. 

Gently fold the other side of the dough over the filling to form a half-moon. Carefully peel the plastic back and gently pat down the filling and seal the edges. Anchor the seal with the tines of a fork. Keep in mind the empanada is still sitting on the plastic.

Carefully lift the empanada off the plastic and slip it into the hot oil. It do this flat side down to start, then flip the empanada after about 2 minutes, letting the top fry about 90 seconds. Flip once more for another minute of frying, for a total frying time of about 4 to 5 minutes.

Make another empanada while you are frying the last one; usually you can have 2 or 3 frying at once. Lift the finished empanadas out and let them drain on a rack. Eat hot.
Video
Nutrition
Calories:
125
kcal
|
Carbohydrates:
26
g
|
Protein:
3
g
|
Fat:
1
g
|
Saturated Fat:
1
g
|
Sodium:
2
mg
|
Potassium:
90
mg
|
Fiber:
2
g
|
Vitamin A:
73
IU
|
Calcium:
47
mg
|
Iron:
3
mg
Nutrition information is automatically calculated, so should only be used as an approximation.