As an Amazon Associate I earn from qualifying purchases.
When I set out to develop a shrimp empanadas recipe, I really wanted to get a flavor of the Gulf of Mexico, home to some of the best shrimp in the world. I found inspiration in an obscure recipe for shrimp empanadas from the Mexican state of Tamaulipas. I think you're going to love it.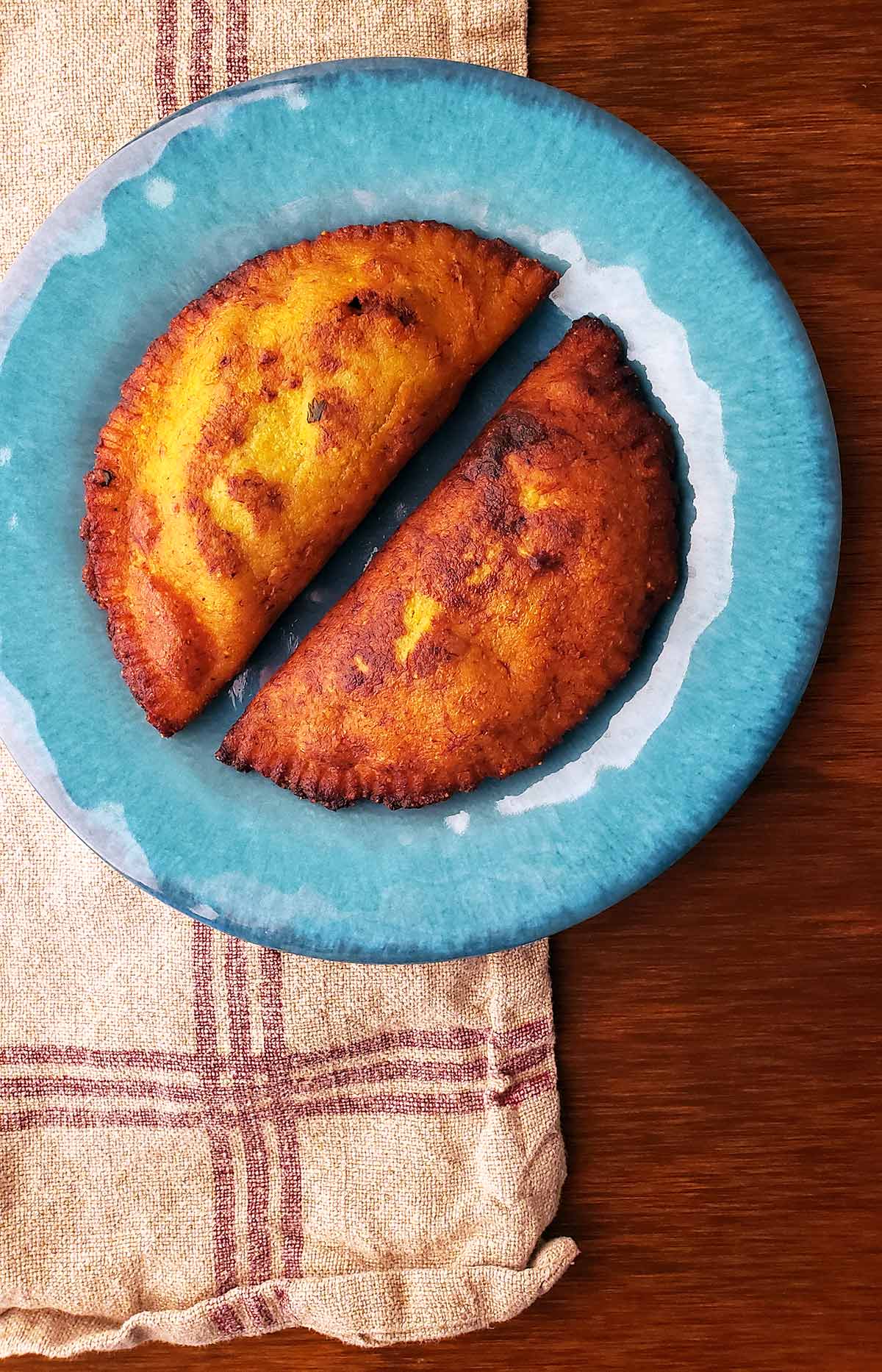 What sets this recipe apart from virtually all the other recipes I've seen for shrimp empanadas is the dough: It's made from plantains, those starchy banana cousins called platano macho in Spanish.
You see plantains used in lots of ways in the Gulf and even moreso in the Caribbean. Here they are used, along with masa harina, as an exceptionally tasty crust for these empanadas.
The filling for these shrimp empanadas is very Gulf-Caribbean, too. You see heavy Spanish influence here, and in this recipe that means olives and a classic sofrito of onions, garlic, tomato, olive oil and chile.
Obviously you'll want Gulf shrimp if you can get them, but really any shrimp will work, as would crawfish tails, chopped lobster bits or crabmeat.
Shrimp Empanada Dough
OK, I won't lie: The plantain dough is a little trickier to manage than, say, my standard dough for fried empanadas. But it is no harder to manipulate than the 100 percent masa dough for my Mexican empanadas, which, given that these shrimp empanadas are also Mexican, really ought to be called "masa empanadas."
You can use underripe plantains, the green ones, but I prefer yellow ones — don't use plantains that are black, which, while very sweet and nice for dessert, will have too much of the banana's starch turned to sugar. And that's a problem, as we'll see in a moment.
You cook the plantains until they're soft, then mash them with masa harina to make a dough. It's a lot like making gnocchi dough with mashed potatoes and flour.
As for the masa harina, I make my own. And while yes, you can of course use the ubiquitous Maseca brand, it's terrible. Bob's Red Mill has a good yellow one, as does Masienda.
Yellow is best because the plantains will be yellow, and it makes a prettier dough. White masa harina is fine, though. Don't use blue. It'll look bizarre.
You should also know that plantain empanada dough browns fast — really fast if the plantains are blackish. It's the sugar. So everything in the filling needs to be cooked because when you fry these shrimp empanadas, they cook up in a flash.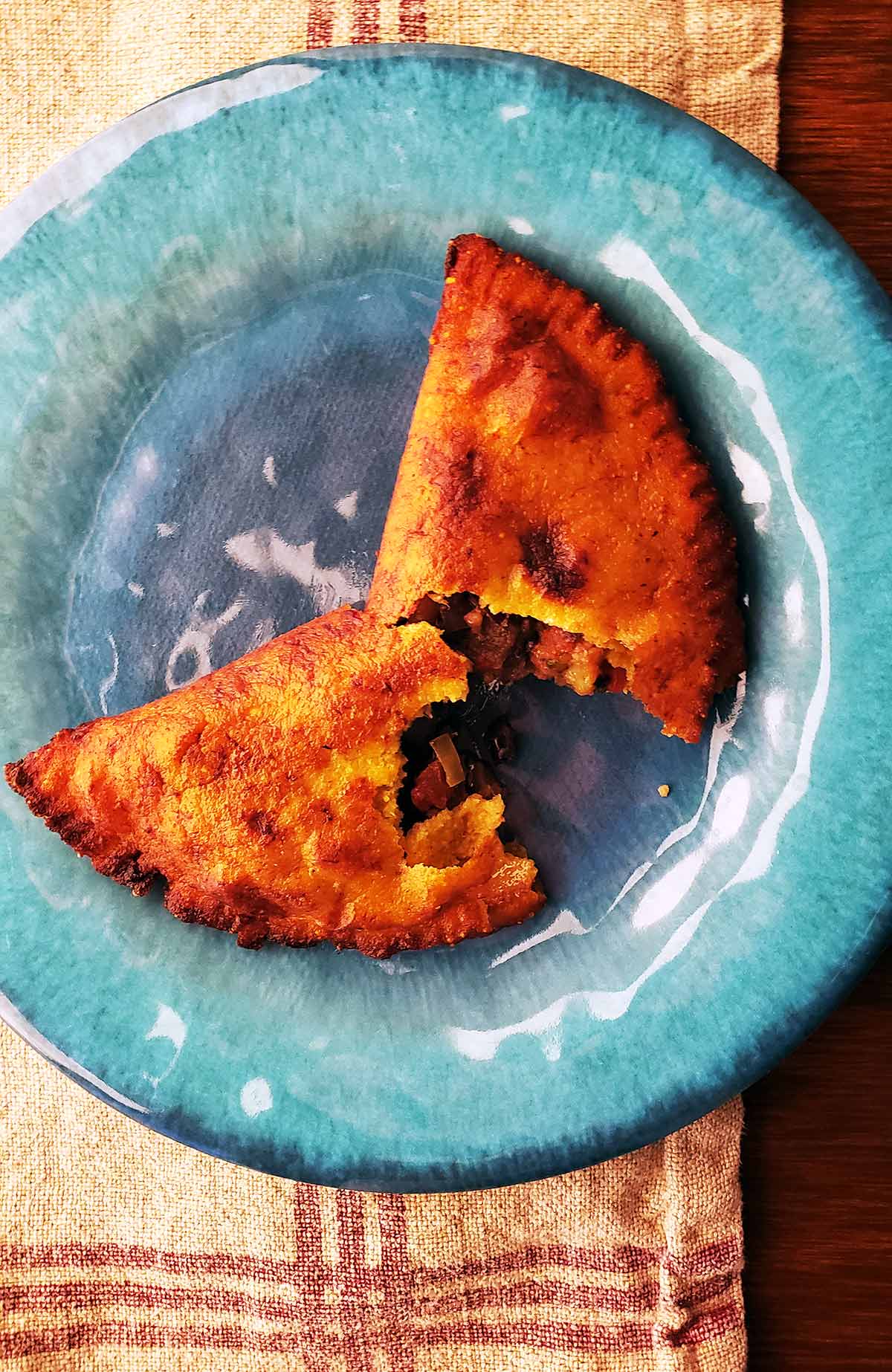 The Filling
You'll see my exact filling below, but there is no reason you can't use the plantain dough with other fillings, sweet or savory. The only caveat is that the filling needs to be minced fine because the dough is very soft, and so hard things can pierce it.
So something like my picadillo recipe is perfect, as would pumpkin filling, or Mexican chorizo with cheese, or refried beans and cheese would all be good.
Also, if you have them around, those little boreal shrimp from northern waters work really well for shrimp empanadas. They're usually sold cooked and shelled.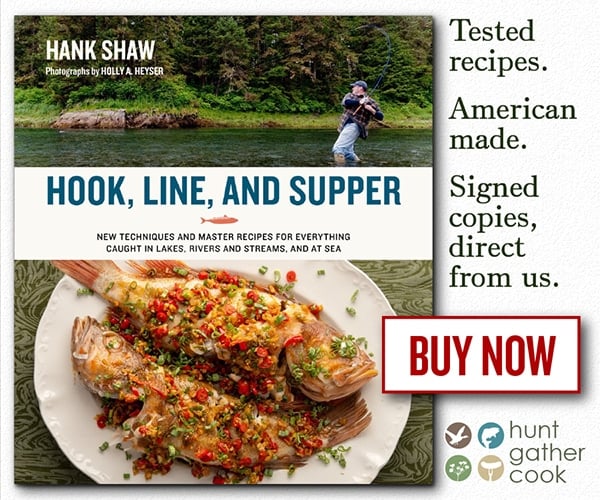 Other Meat Pies to Try
I have a wide selection of other fantastic meat pies you might want to try. Some are bready, others use pie crust, some use other doughs. Keep in mind the filling meat can really be whatever you have lying around.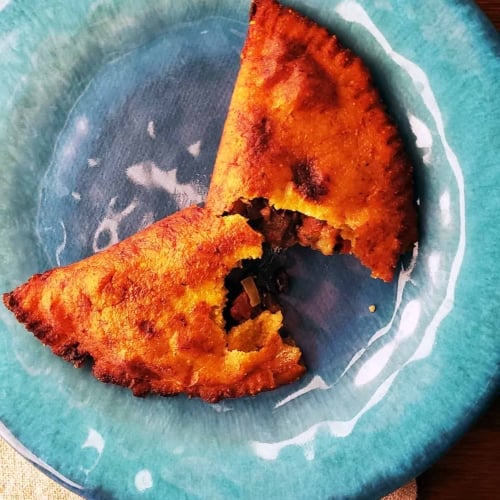 Ingredients
2

large yellow plantains

Salt

1

cup

masa harina

Oil for frying
FILLING
2

tablespoons

olive oil

1/2

white onion,

minced

1 to 3

serranos or other hot green chile,

minced

3

cloves

garlic,

minced

2

Roma tomatoes,

seeded and minced

1

pound

shrimp,

shelled

1/2 to 1

cup

green or black olives,

minced

1/4

cup

minced cilantro
Instructions
To form the dough, cut the plantains into 3 or 4 inch pieces, without peeling. Boil the plantains in salty water for about 20 minutes, then peel them. Mash with a potato ricer or a food mill or just really hammer on them — you want no lumps. Mix with the masa harina until you can knead the dough without it being too sticky. You might need more or less than 1 cup, so start with 1/2 cup and go from there. Put the dough in a plastic bag for at least 20 minutes to hydrate.

Heat the olive oil in a pan over medium-high heat, then sauté the onions and serranos until soft. Add the garlic and the tomatoes and cook another minute or two, then add the olives and the shrimp, and cook, stirring often, until the shrimp are cooked. Chop the shrimp small. Add the cilantro, taste for salt and pepper, and let this cool completely while the dough is hydrating.

Divide the dough into golf ball-sized balls. You will get anywhere from 8 to 12 depending on exact size you made them and the size of the plantains. Keep the balls in the plastic bag as you work with them so they stay moist.

Get several cups of vegetable oil hot in a large, wide pan. You want it to reach about 325°F. Set a baking sheet in your oven and put a cooling rack on top of it. Set your oven to 200°F.

Using your tortilla press (lined with two sheets cut from a plastic bag), press out a "tortilla" about 1/8 inch thick, so thicker than an actual tortilla, but still pretty thin. Remove the top plastic sheet and spoon about a tablespoon or two of the filling on one half of the dough circle. If you don't have a tortilla press. If you don't have one, roll the balls of dough out between two sheets of wax paper or plastic wrap until you have rounds of about 1/8-inch.

Fold over the other half and gently press it to seal. Carefully lift the empanada off the plastic — it's fragile right now — and use the tines of a fork to secure the seal. Make a couple of these, then start frying in batches of 2 or 3, making more as you fry.

Fry the empanadas for a couple minutes per side. They will brown in a hurry, so keep an eye on them. I find 2 minutes per side works. Put the finished empanadas on the rack in the oven while you do the rest.
Notes
These empanadas are best right out of the fryer, but they're still good at room temperature. If for some reason you have leftovers, they are best reheated in a toaster oven or by re-frying for a minute or two. 
Keys to Success
Make sure the oil is hot, but not too hot or the dough can burn. It's susceptible to that. 325°F is the sweet spot. 
If you have leftover filling, it's good on tortillas or in a burrito, or with rice. 
As I mention, crab, crawfish tails or chopped lobster are all good alternatives. 
Black or green olives are equally good. 
If you hate spicy food, use an Anaheim, poblano or green pepper instead of the serranos. 
Nutrition
Calories:
198
kcal
|
Carbohydrates:
28
g
|
Protein:
10
g
|
Fat:
6
g
|
Saturated Fat:
1
g
|
Polyunsaturated Fat:
1
g
|
Monounsaturated Fat:
4
g
|
Trans Fat:
1
g
|
Cholesterol:
71
mg
|
Sodium:
456
mg
|
Potassium:
385
mg
|
Fiber:
3
g
|
Sugar:
8
g
|
Vitamin A:
840
IU
|
Vitamin C:
12
mg
|
Calcium:
61
mg
|
Iron:
2
mg
Nutrition information is automatically calculated, so should only be used as an approximation.