Squirrel Pie
November 19, 2018 | Updated June 06, 2022
As an Amazon Associate I earn from qualifying purchases.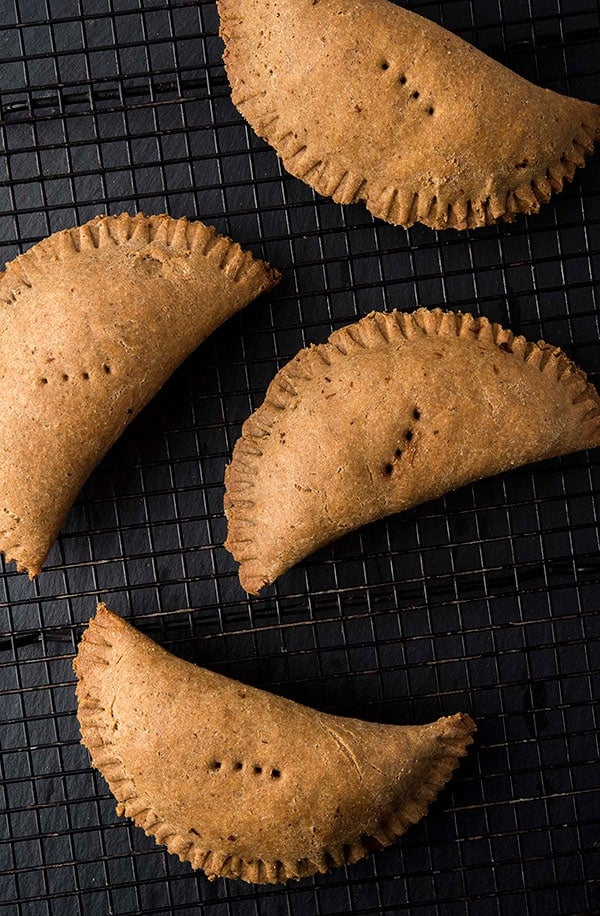 When I am on the road, I get asked on a daily basis what my favorite recipe is. It's a ridiculous question considering how much I cook, but I try to answer as best I can. And that answer always comes down to this: My favorite recipes are those that bring together elements of that hunting or fishing trip onto the plate. These squirrel pies fit that bill.
Here's the story. When my book tour hit Ohio, a reader — who is now a friend — name Jeff offered to take me out squirrel hunting near Mansfield, just north of Columbus. It was raining softly, which was a good thing. A little moisture lets you walk through the forest more quietly.
Squirrels, being smart, know this of course, and were their usual wily selves. Think I'm joking? Try hunting squirrels in a place where they are hunted. They are fiendishly elusive, and utterly unlike the park squirrels you may know best by their habit of begging for peanuts.
Still, Jeff and I are not new to the pursuit of tree ninjas. Using an heirloom .22 rifle, Jeff managed the first two squirrels of the day. I missed one, which was more than a little annoying, as the squirrel was right there — but managed to get the drop on another in a little patch of pine. My first bushytail of the season.
We ended up with six that day, which in my book is a decent day in the squirrel woods. What was I going to cook with them, Jeff asked?
An idea formed in my head as we drove to dinner that night. All around me during the hunt were crabapples, oaks and black walnuts. These ingredients I knew would need to be in the dish.
I definitely did not want this recipe to be fancy. First, it's a squirrel, for cryin' out loud, and second, going haute cuisine didn't seem right in Mansfield, Ohio. So I decided to make a squirrel pie, with acorn flour in the dough, and black walnuts and apples in the filling to go along with shredded squirrel meat.
And since I am fond of hand pies — empanadas by another name — I decided to make them instead of a larger pot pie.
I modified a dough recipe for venison hand pies I read in Ronni Lundy's great cookbook Victuals: An Appalachian Journey, with Recipes. (If you've noticed I've been inspired a lot by this book lately, you'd be correct. It's my current favorite cookbook.) Then I improvised a filling, extremely loosely based on Ronni's hand pie recipe.
The end result is wonderfully woodsy. You can taste the acorns in the dough, the squirrel meat shines through well, and the apples and cabbage play a good backup. Our second version of this used the same filling but added shredded gruyere cheese, which I think was even better.
This recipe makes about nine pies, and I use a very California hack on rolling out the dough: I use a tortilla press instead of a rolling pin. Works great. You can buy a tortilla press in any Latin market or you can buy a tortilla press online — or hell, use a rolling pin.
Black walnuts are what I use, and you can buy them in many markets in fall. Use regular walnuts if you prefer. And I happen to have acorn flour lying around — here's how to make it — but you can sub in any nice flour. Spelt, whole wheat, emmer, chestnut, etc.
And yes, if you are skeeved out by squirrels, use some other meat. Rabbit, chicken, pheasant, whatever.
Squirrel Pies
There are a number of hacks and subs you can do here. First, you can use any white meat for the filling. Rabbit, turkey, pheasant, quail, partridge and yes, chicken would all be fine. Next, you can skip the acorn flour and just use a whole wheat or some other darkish flour your like. Third, you can use regular walnuts for the black walnuts... or use whatever nut makes you happy. 
Ingredients
DOUGH
1/2

cup

acorn flour

1 3/4

cups

white whole wheat flour,

or regular AP flour

1/2

teaspoon

baking powder

1

teaspoon

salt

3/4

cup

whole milk

1/2

cup

duck fat, lard, butter or shortening
FILLING
3

tablespoons

bacon fat

1

cup

finely shredded cabbage

1

cup

minced yellow or white onion

3/4

pound

shredded and chopped squirrel meat

1

cup

diced apple, peeled and cored

(I use Granny Smiths)

1/2

cup

toasted, chopped black walnuts

1/2

teaspoon

Cavender's seasoning, or black pepper

1/2

cup

warm stock, squirrel, chicken or something light

2

teaspoons

sorghum syrup or molasses

1

cup

shredded gruyere, emmental or jarlsberg cheese

(optional)
Instructions
MAKE THE DOUGH
Mix the flours, baking powder and salt in a large bowl. In a small pot, heat the milk until it's steaming, then turn off the heat. Stir in the fat until it's mostly melted in; a few bits that aren't melted are fine.

Mix the wet ingredients into the dry with a fork until it's a shaggy mass. Knead this all together until you have a smooth ball, then shape it into a cylinder. Wrap the dough in plastic wrap and set it in the fridge for at least 2 hours and up to overnight.
MAKE THE FILLING
Heat the bacon fat in a large pan over medium-high heat and add the cabbage and onions. Saute until softened, about 6 to 8 minutes. Salt this as it cooks. Add the squirrel meat, apple, walnuts and Cavender's seasoning (or black pepper), stir well and cook for a few minutes.

Stir the sorghum syrup in with the stock until combined, then pour this into the pan with everything else. Stir this well and let it cook another few minutes so the ingredients absorb the liquid. Turn off the heat and let the filling cool.
MAKE THE PIES
If you have a tortilla press, get it out and cut a heavy plastic bag apart to make two plastic sheets that you'll use to keep the dough off the metal of the press. If you don't have a press, lay out a work space and flour it well.

Cut the dough into anywhere between 8 and 10 pieces, trying to keep them about the same size. Put half the pieces back in the fridge. Roll a piece into a flat, disc and set it on a piece of plastic on the press. Put the other piece of plastic over it and squash the dough into a thin disc. I find that I do one squeeze, then adjust the dough so it's perfectly centered in the tortilla press.

If you don't have a press, roll the dough balls into flat discs about 1/8 of an inch thick.

Remove the dough from the plastic and put about 1/4 cup of filling on one side of the disc. Sprinkle some shredded cheese on top if you'd like. Fold over the dough to make a half-moon and seal. Crimp the edges with a fork and set on a floured baking sheet. Repeat with the rest of the dough.

Bake at 400F for 25 minutes. Move to a cooling rack for about 10 minutes before you eat them. Best served hot, but they'll keep for a week or so in the fridge and are pretty good cold, too.
Notes
NOTE: I start with meat shredded off squirrels used in making stock. You can do this, or braise squirrels in salty water until tender, or you can just cut meat off the bones of raw squirrels and chop that up. All methods will work. 
Nutrition
Calories:
423
kcal
|
Carbohydrates:
28
g
|
Protein:
19
g
|
Fat:
27
g
|
Saturated Fat:
12
g
|
Cholesterol:
71
mg
|
Sodium:
436
mg
|
Potassium:
343
mg
|
Fiber:
4
g
|
Sugar:
5
g
|
Vitamin A:
502
IU
|
Vitamin C:
5
mg
|
Calcium:
223
mg
|
Iron:
2
mg
Nutrition information is automatically calculated, so should only be used as an approximation.