As an Amazon Associate I earn from qualifying purchases.
Making venison salami at home is possible, but dry curing sausage requires some skill before you try it. I'll show you how. What follows here are basic dry cured sausage making instructions geared for venison, but they work with most meats.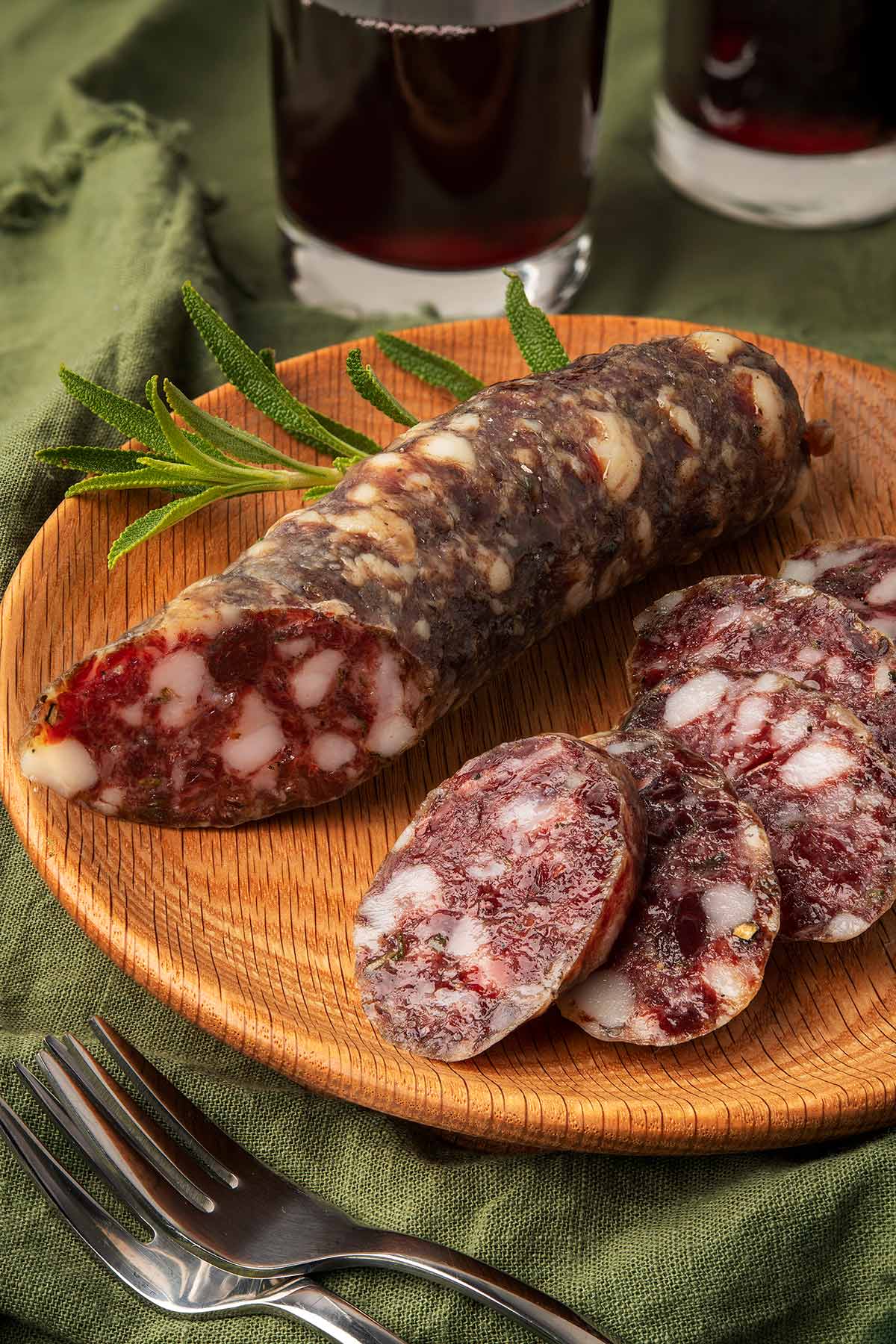 For starters, you will need some sausage know-how. Start by reading my tutorial on how to make sausage, which covers fresh and smoked sausages.
My basic salami recipe is another good place to start, as it will walk you through the process we're embarking on here.
Making a venison salami is a process that will take you at least a month, and likely more time than that. Most of that time is spent with the salami hanging to dry slowly, but you'll need to block out a couple hours to make the sausages, then you'll need to hang them somewhere warm and humid for a while, then you hang them in a cooler place to dry.
Venison Salami Basics
You need deer meat, obviously, to make a venison salami. You also need pork fat. Can you use beef fat? Yes, but it's not as good. You want a softer fat for salami, and fat from beef, lamb or goats is hard. (And no, venison fat isn't suitable for salami.)
In theory you can make salami with pre-ground meat, but I don't recommend it. The reasons are because dry-cured sausage has a higher percentage of fat in it than really anyone's grind mix, and because you want the meat and fat to sit with the salt overnight before you grind. Doing this helps the sausage bind to itself.
In a perfect world, you would use never-frozen meat and fat, as this will create a better bind in the sausage. But that's not always feasible, so don't sweat it if you are using frozen.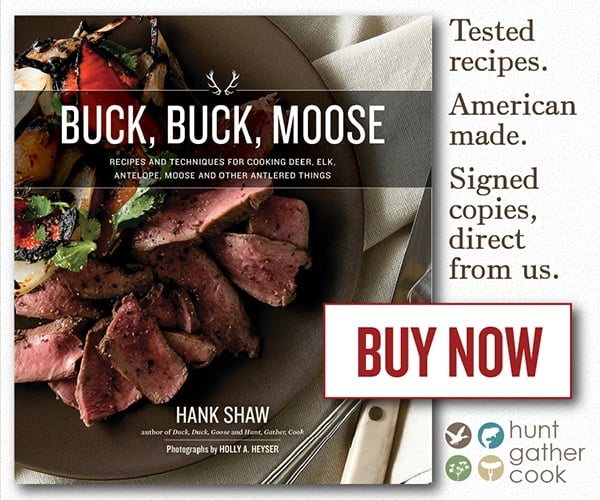 Equipment
There is significant gear you need to make salami, venison or otherwise. No getting around it. Your bare-bones gear needs are:
With these it is theoretically possible to make a safe salami by hand chopping meat and fat, mixing it with the salt and curing salt, and then hand stuffing it into casings through the funnel.
I've done this, and it sucks. Don't. There's a better way. But you'll need:
The hotlinks in these two lists are to products I recommend.
Culture and Curing Salt
Yes, you need both. Strictly speaking, there are those who use neither and make good salami, but they are all extremely experienced and know when things are failing. I am both of those things and I still use curing salt and starter culture.
Why? Control and peace of mind. Skip either and at some point you will get a bad batch. Nothing can save that. Curing salt helps prevent botulism, and it has been used in some form for 2,000 years. It is extremely safe when used in measured amounts.
Bacterial starter cultures are used to ensure that the good bugs beat the bad bugs. In many, possibly even most, cases, the good bugs will win anyway — I rely on this with my Swedish breakfast sausage — but when I am dealing with venison salami, which I make once a year, I don't want to leave it up to chance.
There are lots of different cultures, and they all hinge on temperature and tang. Some give you mild tang, like with Italian salumi; other cultures have a more pronounced tang, like Taylor Ham or Northern European cured meats.
With venison salami, it's your choice. I like the milder, Italian-style culture.
Final word: I use more culture than the package calls for because that is what is recommended by the experts for small, home batches of salami. We don't have commercial mixers, so adding more culture — which is harmless — helps ensure that it gets into every part of your meat mix.
It's a safety thing. If you think I'm wrong, go ahead and use less. It's on you, though.
Curing and Drying Environment
You need both if you're going to make venison salami, or any salami for that matter.
The first is hot and wet. I know, sounds like the last thing you want with meat. But this curing area needs to be at least room temperature — it depends on the starter culture you use — and often a lot warmer.
It also needs to be humid to prevent the sausages from drying out too much before the cultures do their thing. This process is never less than a day, and often 3 days.
I used to rig up contraptions to achieve this, but there's a better curing chamber: Your oven.
Just get some "S" hooks from the hardware store and hang your salami in the oven, turned off, of course. It's stable, warm enough, and you can use a spray bottle to spritz the links once or twice a day while they cure.
For drying, you need something a little more permanent, and cooler.
Broadly speaking, you dry salami between 40F and 60F in humidity between 65 percent and 80 percent.
Sometimes this is a basement or a garage. Lucky you if this is the case. Mostly, however, you'll need to buy a humidity and temperature regulator for a spare fridge and use that to control things.
If you end up making a lot of venison salami, you might want to invest in something like a Dry Ager. I have one and love it, but it's not cheap.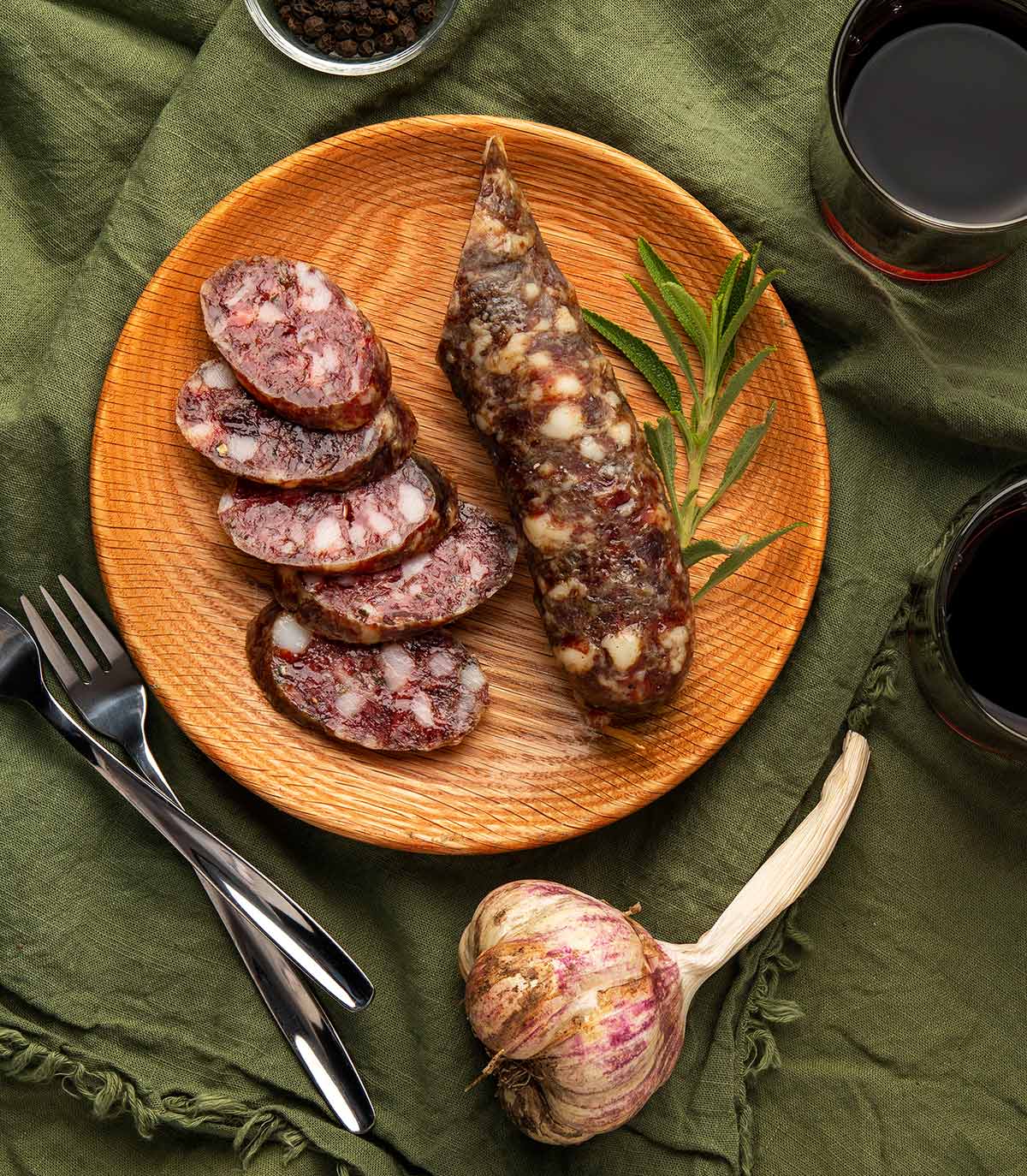 Making Venison Salami
OK, you start making venison salami by making venison sausages. Only main difference is that you will be adding curing salt and starter.
Again, read my tutorial on how to make sausage if you need a refresher.
I recommend using wide hog casings for venison salami because they still make a nice link, aren't too skinny, and aren't so wide, like beef casings, that you can run into issues with drying.
That said, if this is your first time, use whatever hog casings you can find. I do not recommend artificial casings.
Variations
I am providing a basic venison salami recipe below, but know that you can "salami-fy" many of my other sausage recipes with the addition of the curing salt and starter. Some good options include:
You can browse through my page of sausage recipes here. Most will work as a dry-cured sausage.
Troubleshooting
Things happen when you're making venison salami. Here are some of the most common problems, and some answers.
Is the meat cured? The initial step of hanging sausages in a warm, moist environment gives most sane people the heebie-jeebies. As it should. But with the correct amount of salt, which is never less than 2.5 percent by weight, and that starter culture, you'll be fine.
You will know the meat is cured by its look and smell. It should get ruddy red, and it should have that enticing "cured meat smell" that once you've smelled, you'll never forget.
If you want to be 100 percent certain, you'll need to test the meat's pH. I've never done this ever. But if you do, you want a pH of less than 5.3 you should be fine, and many cultures will get you to a tangy 4.0 pH, which is downright twangy.
Mold Matters. Mold isn't a requirement for salami, but it happens, and sometimes its a good thing. I've made many a batch of venison salami that got no mold.
Some people inoculate their sausages with good white mold; you can buy this, or just hang an existing sausage that's covered in the good stuff (buy one at a deli!) next to your new links.
Wild molds happen. Broadly speaking, white is fine. Green is, well, meh. Some green mold is harmless, some less so. I remove all green mold when I see it. Same with the pink stuff, which is rare, but happens.
Black mold is never good. Black mold is why you check on your salami every couple days. You want to remove it the moment you see it. It can ruin a batch.
Remove mold with a slurry of vinegar and salt. Use this with a paper towel to scrub off the outside of the link.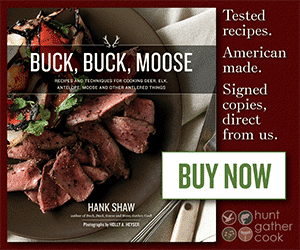 When is Venison Salami Done?
Your venison salami is done when it has lost about 30 to 35 percent of its weight — so if you use this method, you'll need to weigh the links before hanging to dry.
I rarely do this, because I've made salami for 20 years. I look for the meat to be firm but not rock hard, and when the salami is done, usually the fat bits will stick out a little because fat loses less volume when dried than meat.
With any sort of hog casing, you will not be ready in less than 2 weeks of drying time, and 6 to 8 weeks is better. Salami in a beef casing can hang for 6 months sometimes.
Once you have your venison salami where you like it — I recommend you start slicing to test a link after a month — take the links down and vacuum seal them, then put them in the fridge.
This "vac vacay" helps equalize moisture in the salami, lessening "case hardening," which is when the outside ring of meat in a dry-cured sausage is harder and darker than the center. You don't want this, thus the vacuum sealing.
Once vac sealed, salami will keep months in the fridge, and you can freeze it, too.
If you liked this recipe, please leave a ⭐️⭐️⭐️⭐️⭐️ rating and a comment below; I'd love to hear how everything went. If you're on Instagram, share a picture and tag me at huntgathercook.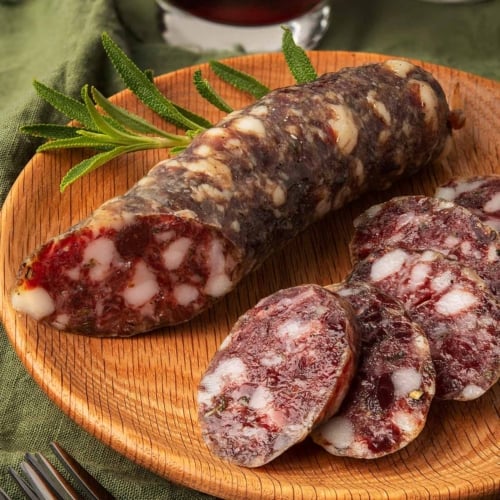 Venison Salami
This is a basic salami recipe for venison or other red meats. If you are not already an experienced sausage maker, you'll want to read my tutorial on making fresh sausages first. Salami is an advanced skill.
Equipment
1 Meat grinder

1 sausage stuffer

12 "S" hooks,

to hang links

1 spray bottle,

with water

1 baking sheet
Ingredients
1

kilo

venison meat

1

kilo

pork shoulder

500

grams

pork fat

63

grams

sea salt or kosher salt

6

grams

curing salt no. 2

(sodium nitrate)

30

grams

dextrose

(or regular sugar)

20

grams

minced garlic

20

grams

minced fresh sage

6

grams

freshly ground black pepper

5

grams

minced juniper berries

(optional)

10

grams

starter culture T-SPX

(see above)

1

cup

cold distilled water

Hog casings
Instructions
Cut your meats and fat into pieces you can fit into your meat grinder. Mix with the salt, curing salt and dextrose. Put this in the fridge overnight to set. This step helps the sausage bind to itself, but is not 100 percent necessary.

Soak about 10 feet of hog casings in warm water. Dissolve the starter culture in the distilled water.

When you are ready, mix the garlic, sage, pepper and juniper berries in with the meats and fat. Grind through a medium die (6.5 mm). If your meat is relatively free of silverskin and connective tissue, you should be fine. If you are grinding gnarly meat, run it through the grinder a second time.

Make sure the meat is cooler than 40°F, and ideally it should be closer to freezing. Mix the distilled water with the starter culture in with the meat and knead this with your (clean) hands for about 90 seconds to 2 minutes: You want to see the mass come together as one blob, and you will be looking for white streaks to form on the sides of the bowl or tub.

Pack the mix into the sausage stuffer. Thread on a casing, leaving about 4 inches free to tie off later. Fill a link about a foot long, then pinch it off and pull the casing off the nozzle until you have a "tail" about 8 inches long on the end. Cut this in half with scissors. You've made 1 link, and started the next. Repeat this process until you've stuffed all the links. you'll probably have about eight.

Carefully compress each link to fill the casings, then tie off one end and snip the excess. Compress a little more, carefully, and then use a needle or sausage pricker to remove any air pockets. Compress a touch more and tie off the other end, leaving the excess — you'll need this to hang the links. Repeat with the remaining links.

Tie the long end of the links around "S" hooks and hang in your oven off the top rack. Put a baking sheet underneath to catch drips. Leave like this for at least 24 hours — follow the directions for your particular starter culture. Use a spray bottle to spritz the links twice a day during this time.

Once the sausages have turned a pretty red and have the enticing smell of cured meat, move them to your drying chamber: My recommendation is 50°F and about 75% humidity. Hold them there for at least 3 weeks, but more likely 6 weeks. Start slicing one link to test how firm the meat is after 1 month. Store in the fridge indefinitely.
Notes
You either need distilled water, or you can boil water and then leave it overnight. 
Dextrose is easier for the good bacteria to consume as they acidify your salami. White sugar works, but not as well. 
If you want, hand dice the fat small. It makes the salami a bit more interesting. 
You can also make large loops instead of links. Tie each end of the loop off and hang the sausage from that. 
If you have extra meat, pat it into a fat disc and coat it in cornmeal. Cure alongside the links. When it's ready, you'll be able to slice it the same way. 
When you're done, vacuum seal the salami and store in the fridge. This helps equalize the moisture left in the meat. 
Nutrition
Calories:
229
kcal
|
Carbohydrates:
1
g
|
Protein:
0.1
g
|
Fat:
25
g
|
Saturated Fat:
10
g
|
Polyunsaturated Fat:
3
g
|
Monounsaturated Fat:
11
g
|
Cholesterol:
24
mg
|
Sodium:
1221
mg
|
Potassium:
10
mg
|
Fiber:
0.1
g
|
Sugar:
0.01
g
|
Vitamin A:
2
IU
|
Vitamin C:
0.3
mg
|
Calcium:
7
mg
|
Iron:
0.1
mg
Nutrition information is automatically calculated, so should only be used as an approximation.