Longaniza Sausages
May 20, 2019 | Updated January 22, 2021
As an Amazon Associate I earn from qualifying purchases.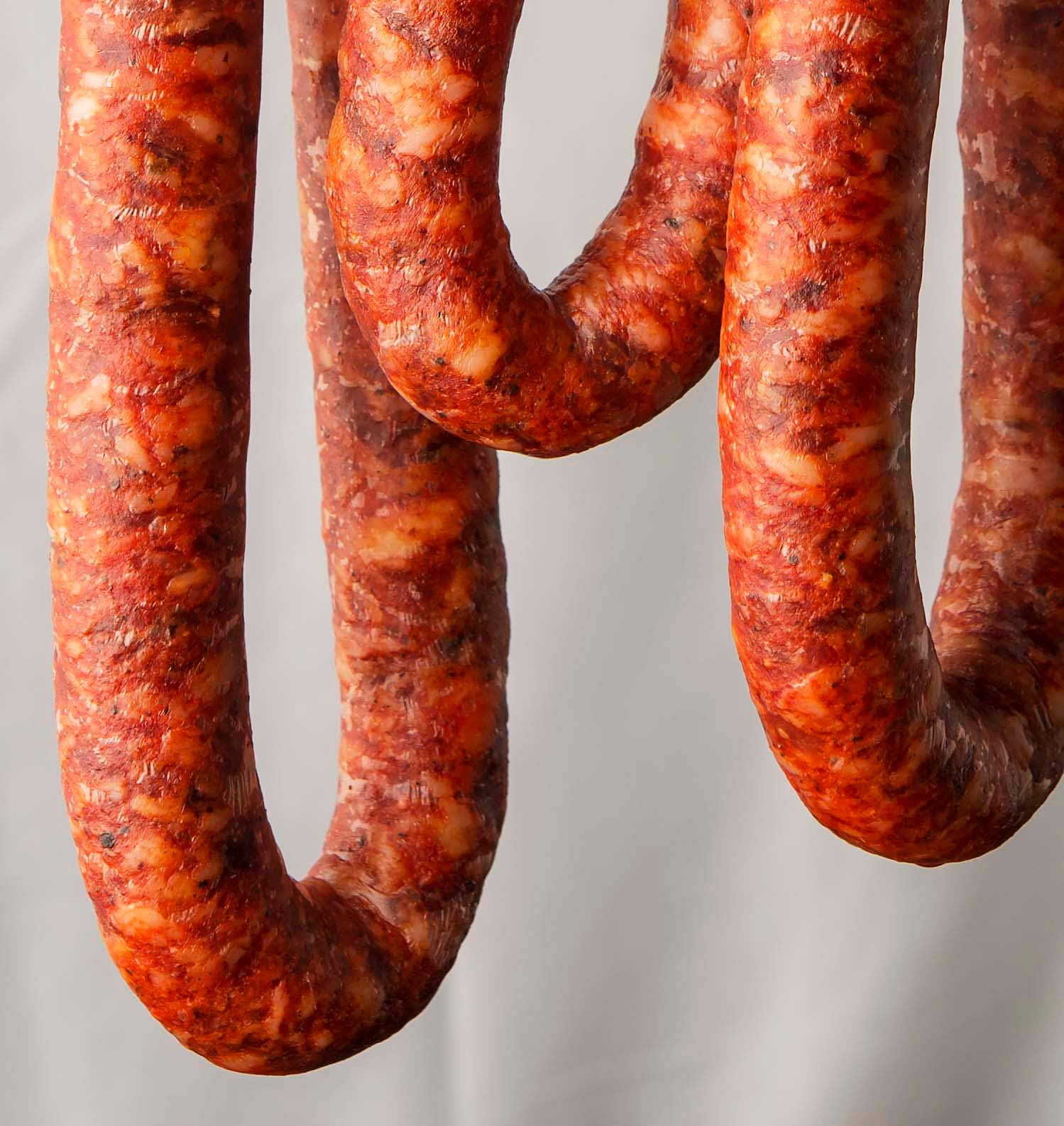 Longaniza is chorizo's lesser known cousin.
They are similar sausages, often red with chiles, paprika or annatto (achiote), sometimes spicy, sometimes not, sometimes with vinegar, sometimes just some citrus juice. Always garlic. Lots of garlic.
So as you can see, coming up with the One True Longaniza is a fool's errand, because not only do many countries have their own versions, many countries' versions vary from place to place within their own borders. If you want to read more on it, here's the Wikipedia article.
This longaniza recipe is from Mexico, from the state of Tabasco, to be specific.
I've cobbled it together from several sources, ranging from Diana Kennedy's books to a Spanish language cookbook focusing on Tabasco to the late David Sterling's phenomenal book Yucatán: Recipes from a Culinary Expedition, which includes a smoked version from Valladolid.
The presence of achiote paste and Seville orange juice makes this longanzia southern Mexican. They sound more exotic than they are. You can buy both in most Latin markets all over the United States. Look for achiote rojo, and get the bigger block, and jugo de naranja agria. Both will be shelf stable.
You can also buy sour orange juice
and achiote paste
online. Or you can make a good Seville orange substitute by juicing an orange and two limes and mixing them.
Oh, and you will notice that I use something called C-Bind. It's carrot fiber, and it helps a sausage retain moisture. A little bit added to the mixture helps a lot!
The result is a fantastically exotic sausage that isn't spicy. Of course, you can add hot chiles if you want. I like these grilled and served alongside various other Mexican grilled things, like flank steak. Uncased, longaniza makes a spectacular filling for Mexican empanadas, or mixed with eggs and stale tortillas for chilaquiles.
Really longaniza can be used in any way you'd use regular chorizo. And if you want to make your own regular chorizo, I have that recipe, too. You can also make this as a cured salami.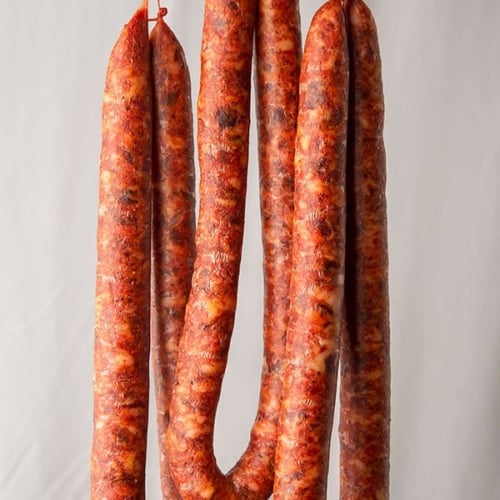 Mexican Longaniza
Keep in mind this is just one version of this sausage. Also, while it is typical to stuff this into narrow sheep casings, don't let that stop you from making this sausage. I've seen it in regular hog casings, or even loose, like bulk sausage.
Ingredients
5

pounds

fatty pork shoulder

34

grams

sea salt or kosher salt,

about 2 tablespoons

2

heads

garlic, peeled and chopped

(yes, two heads)

1

tablespoon

freshly ground black pepper

1

teaspoon

ground cumin

3

tablespoons

achiote paste

1/2

cup

Seville orange juice

(see above)

1

teaspoon

C-Bind carrot fiber

(optional)

Sheep casings

(see above)
Instructions
Cut the pork shoulder into chunks that will fit into your grinder. Mix this with the salt, chopped garlic, pepper and cumin, and refrigerate overnight, or up to 2 days. You can skip this step, but your sausage will not bind as well.

Get out about 15 feet of sheep casings and soak them in warm water. If you want, flush them with water; this helps the stuffing process and will let you know if you have any leaks.

Grind the meat through a medium (6.5 mm) die. Chill the mixture in the freezer until it is about 33 degrees Fahrenheit.

When the mixture is cold enough, mix the achiote paste and the orange juice together, then mix that into the meat along with the carrot fiber, if using. Mix well with your (very clean) hands for 60 to 90 seconds. Your hands will ache with cold. You'll know the sausage is ready when it coheres in one mass. You'll also start to see whitish streaks form on the side of the container you're mixing in. You can also do this mixing in a stand mixer on low.

Pack your sausage into a stuffer and thread on a length of casing. Slowly ratchet down the meat to remove all air from the stuffer and the tube the casing is on. Leave about 4 inches of casing off the end of the tube; you'll use this to tie off later.

Stuff about 2 feet of sausage rather loosely, leaving a couple inches of casing on either end. Do this with all the sausage and casings. When you have all the sausage in these lengths, gently compress each one looking for air pockets. Use a needle or sausage pricker to pop any air pockets. Gently compress the links to fill that gap. This takes finesse not to burst the casing.

When all you links are ready, tie the ends to each other to form an elongated loop. H

ang your longaniza to dry. At room temperature, hang an hour or two. Ideally, you'll hang links between 33 and 39 degrees Fahrenheit for 24 hours, or even up to 3 days. Barring that, leave them uncovered in the fridge overnight before eating or freezing.
Notes
NOTE: If you want to smoke your longaniza, do it after it has hung for a day. Smoke gently, less than 200F, for a few hours, or until the interior hits about 150F.
Nutrition
Calories:
110
kcal
|
Carbohydrates:
2
g
|
Protein:
14
g
|
Fat:
5
g
|
Saturated Fat:
2
g
|
Cholesterol:
46
mg
|
Sodium:
712
mg
|
Potassium:
265
mg
|
Fiber:
1
g
|
Sugar:
1
g
|
Vitamin A:
17
IU
|
Vitamin C:
5
mg
|
Calcium:
18
mg
|
Iron:
1
mg
Nutrition information is automatically calculated, so should only be used as an approximation.