Basic Venison Sausage
January 31, 2022 | Updated May 30, 2022
As an Amazon Associate I earn from qualifying purchases.
This is a rich, country-style venison sausage recipe where the dominant spices are ground bay leaves and garlic. These are especially good for grilling, as bay seems to go well with the flavors that come with cooking over an open fire.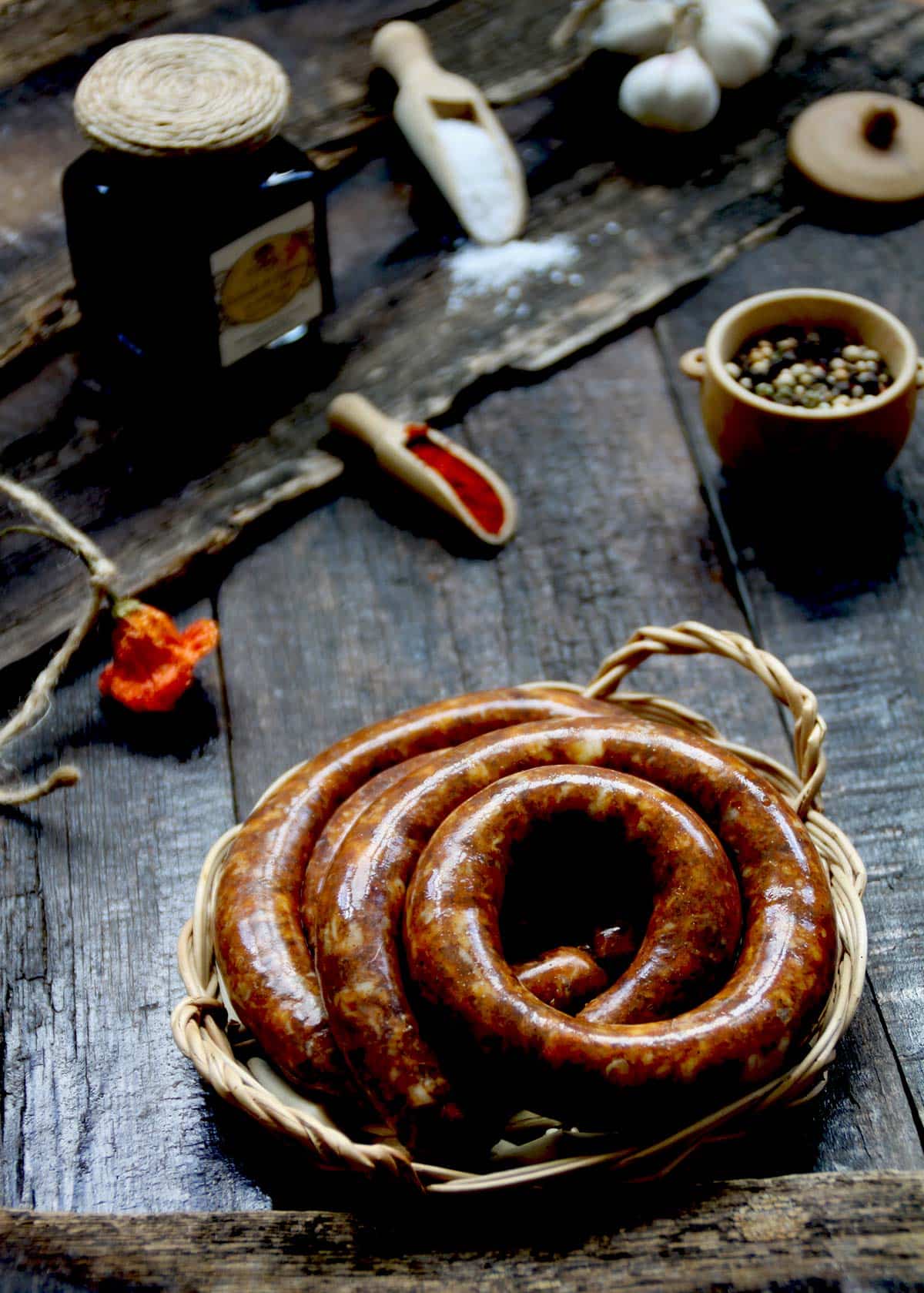 I like this as a coarse sausage, but you can grind it finer if you'd like. I also prefer a mix of venison and pork — and do your best to use pork that has never been frozen. This is important, because never-frozen meat, when ground, binds to itself better than pre-frozen meat.
And you will be judged on how nice your bind is with sausages. No one likes crumbly sausage. More on this in a bit.
You will want fatty pork shoulder or pork belly, or a mix of both. You can use beef fat, too, if you prefer; use fat trimmed from steaks and roasts.
As for the venison in this venison sausage, you'll want to use trim, mostly. No need for making a sausage from backstrap, although I do often add the "chain" off a whole backstrap. Stew meat, stuff between the ribs, neck bits, the odd and ends from squaring off roasts and steaks.
If you had your deer butchered at the processor, I would make venison sausage from roasts or stew meat.
Coarse or Fine Grind?
Coarseness in a sausage is best with "cleaner" meat, so if you do make your venison sausage from gnarly stuff, grind finer. Regardless, I grind twice. This will give you a more tender sausage. I prefer to grind with a 8 or 10 mm die, then again with a 6.5 mm die.
If you prefer a fine grind, take it down to the 4.5 mm die on a second or third grind.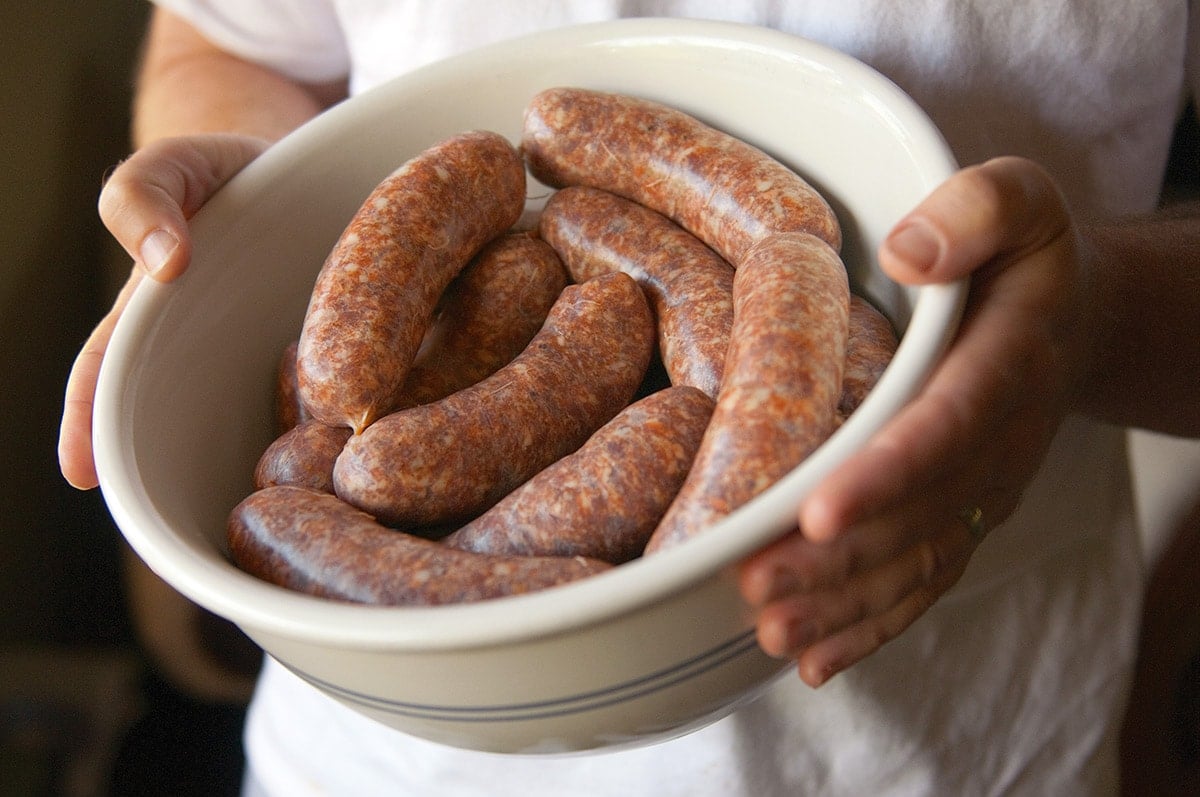 Additives
You'll see dry milk powder in the ingredients. It's totally optional, but dry milk powder is used to retain moisture in smoked sausages; you can also use products like carrot fiber, which work well to help sausages retain moisture.
Skip these if you don't plan on smoking your venison sausages — likewise with the Instacure No. 1. This is a curing salt that protects the meat from bad bacteria while you're smoking it. No need for curing salt if you are just making sausages for the grill.
I've also varied things by using narrow hog casings and making large coils of sausage, which you then stab a long wooden skewer through on each axis, making a cross that you can then use to flip the coil whole. Then you just slice off as much venison sausage as your guests want.
It goes without saying that while this is a venison sausage recipe, you can make it all pork, or any mix of meats.
Other Venison Sausages
Consider this venison sausage recipe as a master, a model to play with. It can be scaled up at will, and you can play with anything in it except for salt level. The 34 grams in this recipe will give you a sausage with 1.5 percent salt by weight, which most people find pleasing; note that salami and other dry cured meats need to have a higher salt content.
If you need to watch your salt intake, you can drop the salt as low as 23 grams, which will get you closer to 1 percent. Low for most people, but not awful.
New to making sausage? You can find my detailed tutorial on how to make sausages at home here.
Here are some other venison sausage recipes you can play with, once you get the basic technique down:
You'll find close to 40 other sausage recipes here.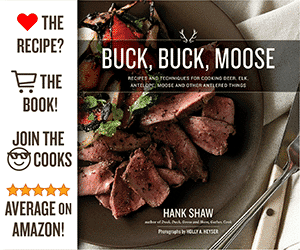 Storing and Preserving Venison Sausage
Once made, the links will keep a week in the fridge; closer to 10 days if you smoked them. Venison sausage also freezes well.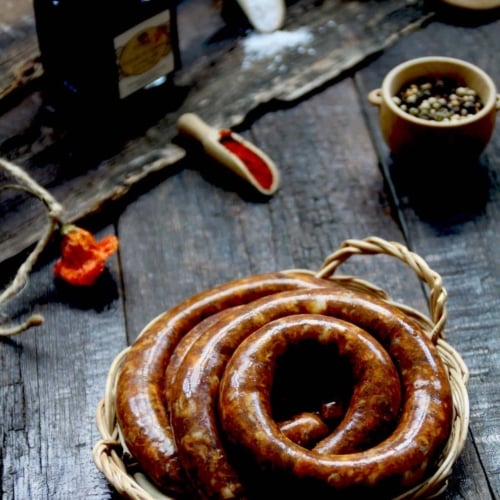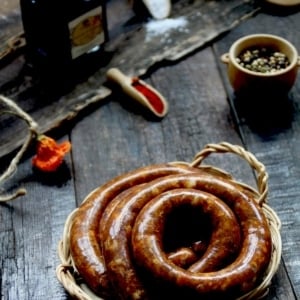 Venison Sausages with Bay and Garlic
This is a basic country style venison sausage. Use it as a master to play with. Vary anything you like, but pay attention to salt. Even a little difference in salt is noticeable.
Ingredients
3

pounds

venison

2

pounds

fatty pork shoulder or belly

34

grams

salt,

about 2 rounded tablespoons

4

grams

Instacure No. 1

(optional)

About 10 bay leaves,

ground to a powder

6 to 8

cloves

minced fresh garlic,

about 2 tablespoons

10

grams

ground black pepper,

about 2 teaspoons

3

grams

celery seed,

about 1/2 teaspoon

1/4

cup 

red wine

1/4

cup

ice water

20

grams

dry milk powder

(optional)

hog casings

about 12 to 15 feet
Instructions
Chop meat and fat into chunks that will for into your grinder. (Optional expert step: Mix the salt and curing salt – if using – with just the meat, grind very coarsely — 10 mm or 12 mm plate — and refrigerate overnight. If you don't have such a large plate, cut the meat a little finer and do the same thing. This will give you a tighter bind in the finished sausage, which is especially important, as this is a coarsely ground sausage.)

Take out some hog casings and set in a bowl of warm water.

When you are ready to grind, mix the meat and fat with all the herbs and spices. If you are using the dry milk powder, mix that in, too. I use it when I slow-smoke sausages; it helps them retain moisture and shrink less after they come out of the smoker. Make sure the meat and fat are 37°F or colder by putting the mixture in the freezer for an hour or so. Put the wine in the fridge.

Grind through your meat grinder (you can use a food processor in a pinch, but you will not get a very good texture) using the coarse die (6 mm or 7 mm).

Make sure your sausage is very cold, between 28°F and 32°F. When it's cold enough, take it out of the freezer and add the wine and water. Mix the sausage thoroughly either using a Kitchenaid on low for 60 to 90 seconds or with your (very clean) hands for 2 minutes. This is important to get the sausage to bind properly.

Stuff the sausage into the casings. Twist off links by pinching the sausage down and twisting and spinning it, first in one direction, and then with the next link, in the other direction; this helps prevent them from unwinding. (Here's a quick video on making the links) Or you could tie them off with butcher's string. Make sure you pierce the links wherever there are air pockets; I use a needle sterilized in the flames of my stovetop. Gently squeeze the links to remove all air pockets.

Hang the sausages in a cool place for up to a day (ideally hanging in a fridge, but even an hour at room temperature helps a lot). Once they have dried a bit, put in the fridge until needed. They will keep for at least a week refrigerated. If you are freezing the sausages, wait a day before doing so. This will tighten up the sausages and help them keep their shape in the deep-freeze.
Notes
Pro Tip: Use carrot fiber in place of the dry milk to help retain moisture. You will only need a teaspoonful for this batch.
Nutrition
Calories:
134
kcal
|
Carbohydrates:
2
g
|
Protein:
22
g
|
Fat:
4
g
|
Saturated Fat:
1
g
|
Cholesterol:
77
mg
|
Sodium:
721
mg
|
Potassium:
350
mg
|
Fiber:
1
g
|
Sugar:
1
g
|
Vitamin A:
25
IU
|
Vitamin C:
0.9
mg
|
Calcium:
29
mg
|
Iron:
2.8
mg
Nutrition information is automatically calculated, so should only be used as an approximation.