Swedish Breakfast Sausage
As an Amazon Associate I earn from qualifying purchases.
This is stångkorv, a fascinating Swedish sausage that contains barley, and is fermented until it gets tangy. It's really, really good for breakfast, and not terribly hard to make.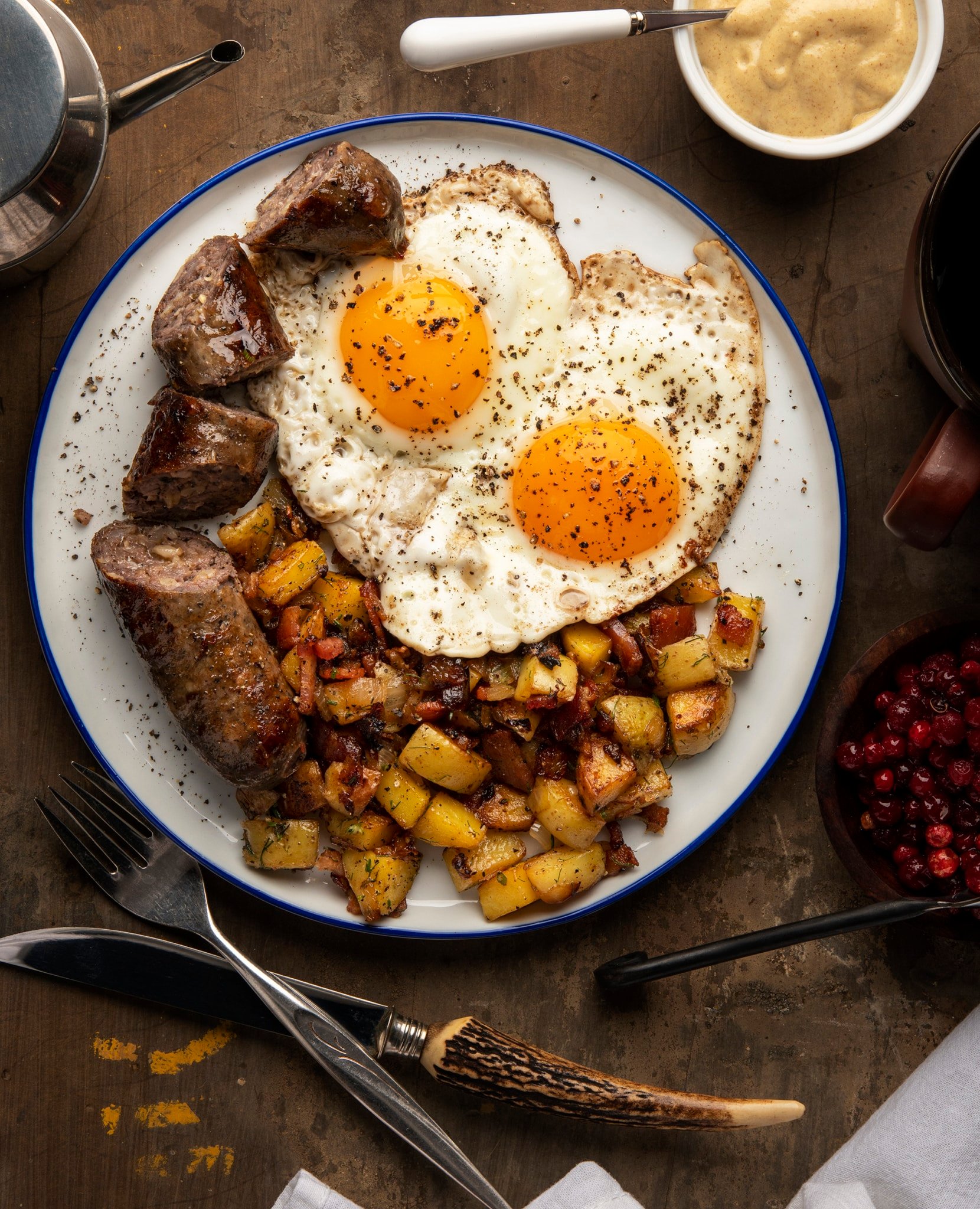 I learned about this sausage in the book The Nordic Cookbook by Magnus Nilsson, which I can highly recommend. It's part of a larger family of fermented sausages that is in itself a larger family of Northern European fermented sausages.
Many of you will wrinkle your noses at the concept of fermented meat, but if I replace it with the word "tangy" everyone's on board. Northern Europe tends to make these tangy sausages because of the weather, which is often wet — not ideal for making something like a basic Italian salami.
The addition of barley (cooked in salted water, drained and cooled) in the grind kickstarts the process. After you make this particular Swedish sausage, you hang it in a warm, humid place for a couple days to let the fermentation roll. Then you hang the links in a cool, drier place for another few days before eating or storing.
Fermenting and Drying
Because this is not a true dry-cured sausage, it's easy to make at home — if you know how to make a basic sausage. If you are a little foggy on that, I wrote a primer on how to make sausage at home.
You shouldn't need to buy and use a separate bacterial starter to make stångkorv, but if you want to be double-dog sure you're getting the right lacto-fermentation going, I recommend using the starter LHP, which gives you strong tanginess.
I hang this Swedish sausage from the racks in my oven for a couple days (you can use your stovetop during this time), then let them finish in my fancy Dry Ager.
You don't need a fancy curing chamber though. You can keep them in your regular fridge, uncovered, although they will make the fridge smell like delicious tangy meat. Or you can hang them in a basement or garage, so long as the temperature never gets above about 60F.
Because it's just for a week or so, that makes this a great cured sausage project for newcomers. German landjaeger and Polish kabanos are very similar.
What's the flavor? Addicting. I can't get enough of that tang, and the warming spices of clove and allspice really make stångkorv perfect for chilly morning breakfasts.
You should know that because of the barley, this particular Swedish sausage doesn't bind well. It's a lot like Swedish potato sausage, where the mixture is cased, but it will be crumbly, unlike, say, German weisswurst or braunschweiger.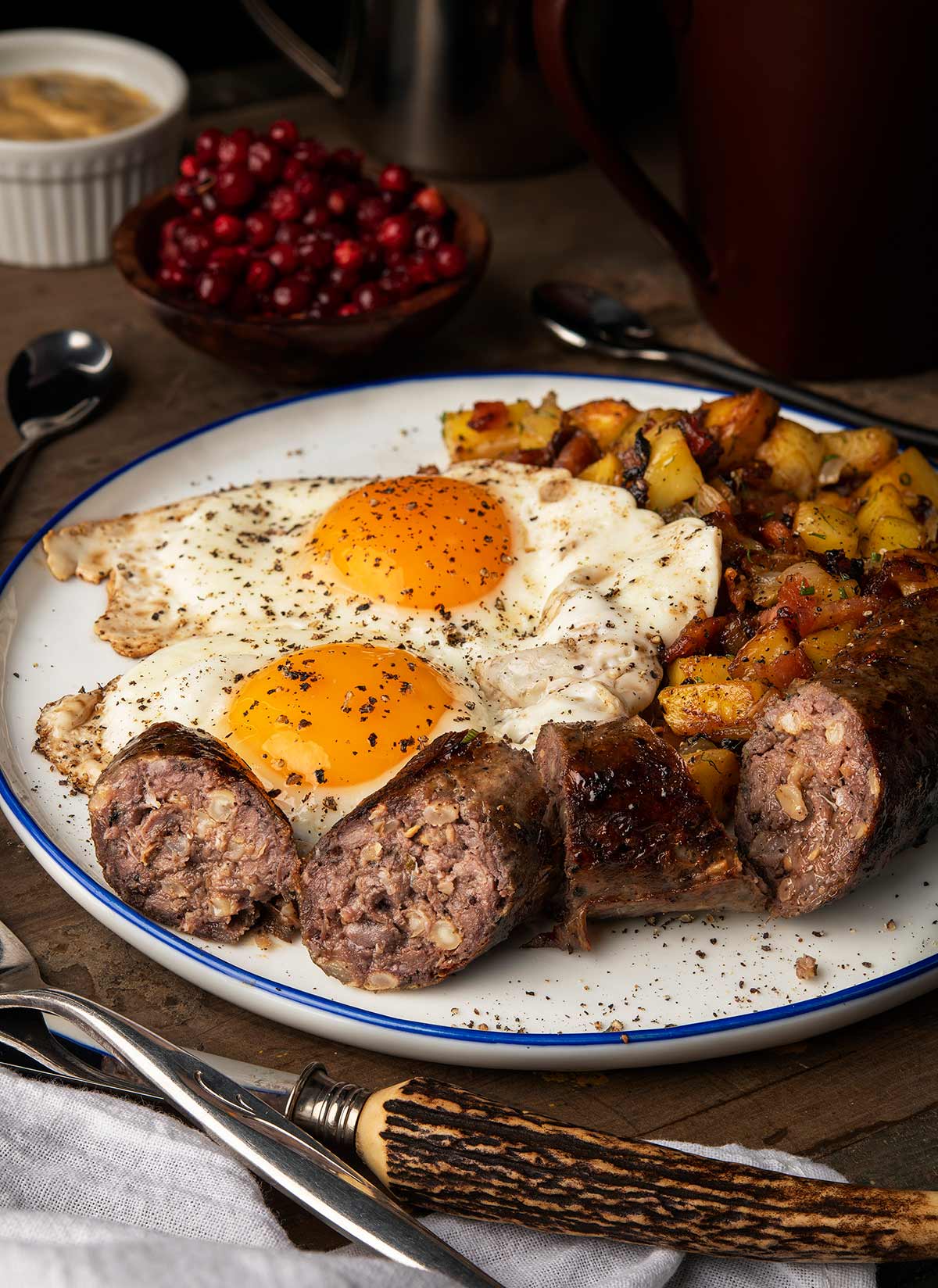 Serving Swedish Sausage
I tend to either cook stångkorv cased, and then tear into it like hash, or uncase it before cooking and actually cook it like hash; you do still need to initially case stångkorv because of the fermenting and hanging time.
It seems best as a breakfast sausage, with fried eggs and some form of potatoes, usually hash browns. It would also be excellent as part of a holiday stuffing or dressing, or added to Polish bigos.
Stångkorv will keep in the fridge for several weeks, and freezes very well.
If you liked this recipe, please leave a ⭐️⭐️⭐️⭐️⭐️ rating and a comment below; I'd love to hear how everything went. If you're on Instagram, share a picture and tag me at huntgathercook.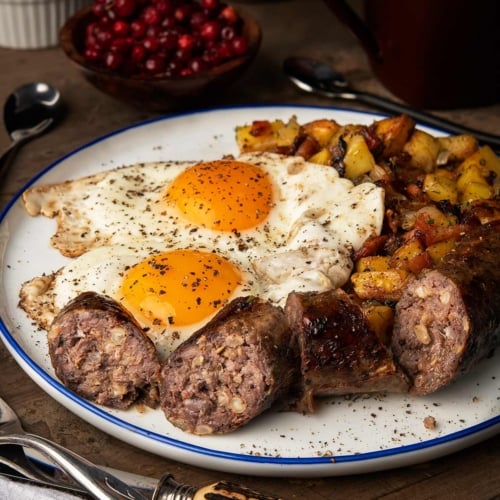 Swedish Breakfast Sausage
This is a sausage of barley, pork fat and meat — pork, beef or venison — that is fermented at room temperature a few days and then hung to dry a few more before eating. It's deliciously tangy.
Equipment
1 Meat grinder

1 sausage stuffer
Ingredients
1

kilogram

lean meat

(pork, venison, beef, lamb, etc.)

500

grams

pork fat or pork belly

36

grams

sea salt

(or kosher salt)

175

grams

yellow onion,

chopped

butter or oil for frying

300

grams

cooked barley

10

grams

freshly ground black pepper

(about 1 tablespoon)

4

grams

ground allspice

(about 2 teaspoons)

2

grams

ground cloves

(about 1 teaspoon)

1/2

cup

ice water

(distilled if possible)

4

grams

LHP starter culture

(optional)

Hog casings
Instructions
Cut the meat and fat into chunks that will fit in your grinder. Mix well with the salt, then put in a covered container in the fridge overnight, or up to a day.

Cook the onion in a little butter or oil until just barely browned. Sprinkle with a little salt and set aside to cool. This can be done a day ahead.

Get about 10 feet of hog casings ready by soaking them in warm water. If you want, run fresh water through them to check for leaks and to flush any excess salt out of them.

Mix the meat, fat, cooked onion and barley with the spices. Grind this through a very coarse die. I use 10 mm. If you only have "coarse" and "fine" options use the coarse.

If the meat mixture has warmed beyond 40°F, put it in the freezer while you clean up and get ready to grind again. When the meat mixture is cold enough — and this can be immediately after the first grind in some cases — grind it a second time through a 6 mm die, or the "coarse" die one more time.

If you are using the starter culture, dissolve it in the distilled cold water (if you're not using the culture, the water need not be distilled). Let it sit about 15 minutes.

Mix the cold water with the meat mixture and work and knead it with your clean hands or a stand mixer on low for about 2 minutes. This sausage doesn't bind like a normal one because of the barley, but you want it to bind as best you can, and mixing does this.

Thread the casing onto the sausage stuffer tube and stuff it with the mixture. Stuff a whole coil before making links. When you're done, twist off links by spinning one away from you, then, working down the line, the next link towards you, then away from you, and so on. Here's a video showing you how.

Hang the links in your oven (turned off, of course), with a baking sheet underneath. Let them ferment like this for 2 to 3 days. Spritz them with water at least once a day. You want a warmish, stable, humid environment. They should start to smell nice, meaty and tart-smelling, if there is such a thing.

Finally, hang the fermented links in a cool place, ideally dark and below 60°F, for at least a day, and ideally a week or even two. Then they are ready to eat or store. They keep in the fridge for a couple weeks, and freeze well.
Notes
The weight of the barley is after cooking. This tends to be about a cup dried. 
Nutrition
Calories:
222
kcal
|
Carbohydrates:
6
g
|
Protein:
14
g
|
Fat:
16
g
|
Saturated Fat:
6
g
|
Polyunsaturated Fat:
2
g
|
Monounsaturated Fat:
7
g
|
Trans Fat:
0.2
g
|
Cholesterol:
49
mg
|
Sodium:
740
mg
|
Potassium:
256
mg
|
Fiber:
1
g
|
Sugar:
0.4
g
|
Vitamin A:
8
IU
|
Vitamin C:
1
mg
|
Calcium:
14
mg
|
Iron:
2
mg
Nutrition information is automatically calculated, so should only be used as an approximation.