Basic Pork or Wild Boar Salami
August 07, 2014 | Updated July 03, 2020
As an Amazon Associate I earn from qualifying purchases.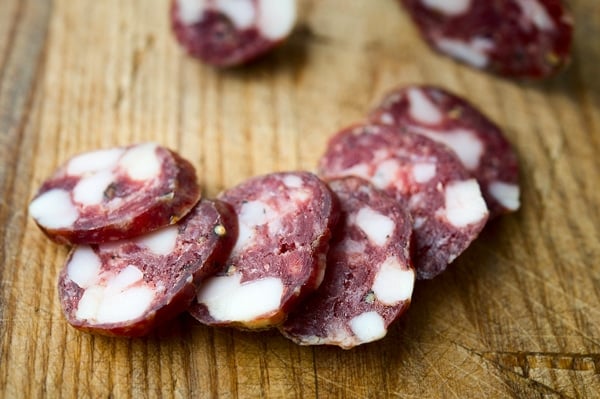 With the possible exception of a whole dry-aged ham, to my mind salami is the highest form of the butcher's art.
The careful crafting of raw meat, salt, spices and time create something very different from a fresh sausage. It is not crazy to call it alchemy. But making salami is no joke. It takes time, an attention to detail (and sanitation), plus a careful eye to troubleshoot problems. Doing this at home is not for beginners.
But when you do pluck up enough courage to make your own at home, this is the salami recipe you should start with. It is the classic, the "little black dress" of a salami, flavored only with salt, black pepper and a bit of garlic. The meat is the star here, not the spices.
Every salami-making culture makes a version of this sausage, and recipes are similar whether you look to Spain or France or Italy or Hungary or Germany — although these last two nations tend to smoke their salami, too.
If you've never made fresh sausages before, bookmark this recipe and come back when you've made a dozen or so batches. You need to be comfortable with the basic sausage-making process before you take the step of curing them. You also need some special equipment. Don't try to shortcut salami making. You will pay for it eventually.
First, you need a good grinder. For small batches I use the KitchenAid grinder attachment, but with anything larger than 5 pounds, I use a Weston grinder. You need a sausage stuffer, too. Can you hand-cut the meat and fat? Yes, but it requires a sharp knife and an awful lot of patience.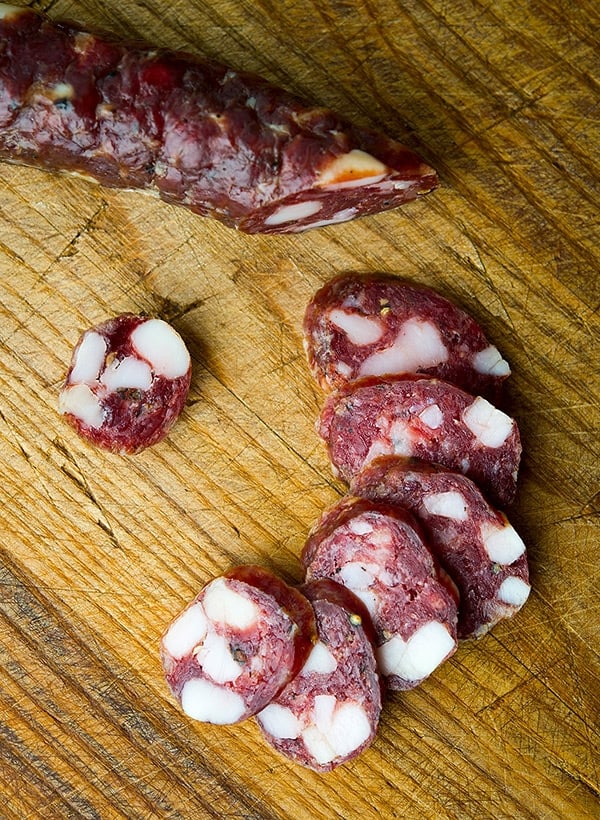 To hang your sausages for the few days it takes to ferment them, I use a simple wooden clothes rack. I also buy "S" hooks from the local hardware store to hang the links. You'll also need a humidifier both for the fermentation process and while your links are drying. I use this one , and it's worked well for me for 3 years now.
Finally, you must have a curing chamber; my friends at Elevated Wild have a DIY tutorial here, and I use a fancy Dry Ager, which ain't cheap, but it's great.
The salami-making process is this: You make sausage, only with added sodium nitrate (Instacure No. 2) and a starter culture, then ferment the sausages at room temperature for a few days to let the good bacteria in the starter beat back any bad bugs within the meat. Do you need these? Absolutely.
Yeah, I hear you: "But can't salami be made without them?" Yes. But you can't. The people who can work in places where they've made salami for decades or even centuries, and the ambient air has the good bacteria already; it's like a sourdough. For you and me, nitrate and starter culture is an insurance policy against botulism and listeria.
The last stage is to hang the links to dry out slowly in the chamber or in a basement.
The key to successful drying is to let the sausages dry slowly, little by little. Why? This does two things: First, you prevent the dreaded "case hardening," where the outside of the salami dries too fast and prevents the interior from drying properly. And second, the longer you cure your salami, the better it will taste.
Truly great salami has a distinct funk to it, like cheese. I've made a lot of decent salami, some mediocre and a few crappy ones. Only once in a while does everything work perfectly. The batch of wild boar salami in these photos was one such time. I cured these links for more than 2 months, with slowly decreasing humidity until they had that sweetish meat funk we all know and love.
Don't know what I am talking about? That's because 90 percent of all salami made in the United States is not cured long enough. It's fine, but hasn't had the time to develop. We Americans are always in a hurry.
Follow this recipe, get decent equipment, and you should be fine. But remember: Sausage making is a sprint, salami making is a marathon. You must be careful and clean at the start — remember we're dealing with raw pork here — and you cannot forget about your salami while it cures or you may be very, very sad. Still, this ain't rocket science.
You can make salami at home, and when you do, it is one of the most satisfying things you can make with your own two hands.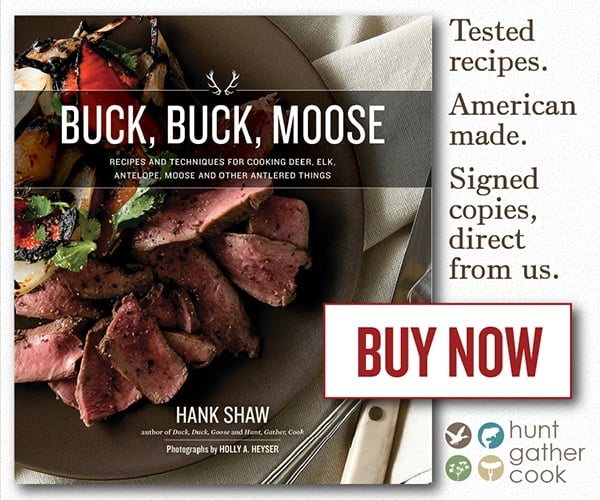 This is my master recipe for making salami. It works well with most meats, and over the years I've done it with pork, wild boar, venison, duck, goose, bear and lamb. The fat is always pork fat, with rare exceptions.
If you have something against pork, use the fat trimmed from lamb or beef steaks and roasts, not suet or kidney fat, which is too waxy.
There is no substituting the Instacure No. 2 in this recipe. Nitrate has been used in salami making for 2000 years, and I don't intend to break that tradition. And for those of you freaked out by nitrates, know that a serving of spinach or celery will give you 100 times more nitrates than you will get by eating this salami.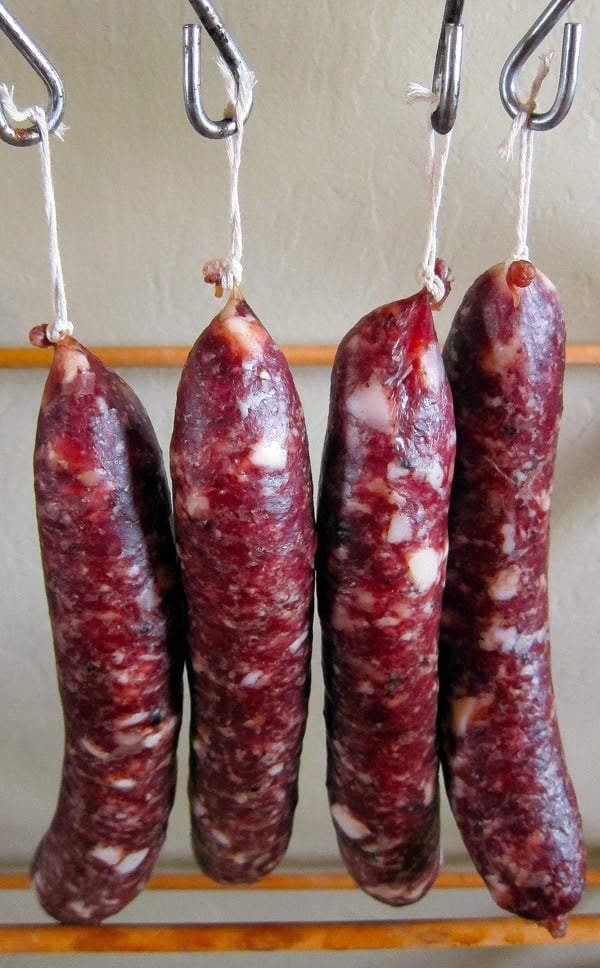 As for the starter culture, I know it's a lot. Technically you could cut the amount of culture a a few grams, but you'd need to make sure the meat is really well mixed to get it distributed right. The amount I use is essentially the "better safe than sorry" approach. If you want to use less, that's on you.
Finally, I prefer using really wide hog casings instead of beef middles, as is customary in Italy. Why? They're easier to cure, and are still plenty wide enough to get a nice slice.
I get my wide hog casings, starter culture and Instacure all online from Butcher and Packer.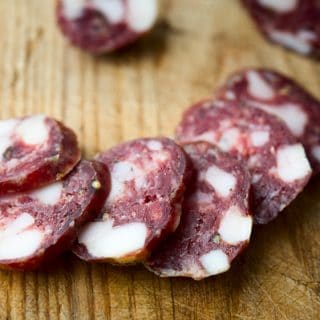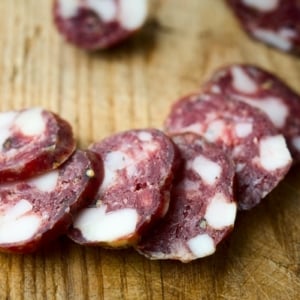 Basic Salami
This is a master recipe for making a dry cured salami. To properly make this recipe, you will need some special ingredients: Bacterial starter culture, to make sure the good bacteria beat out the bad ones, curing salt, to protect against botulism, and wide hog casings, which are best bought online. 
Ingredients
4

pounds

pork shoulder or wild boar meat

1

pound

pork fatback

51

grams

salt

6

grams

Instacure No. 2

12

grams

sugar or dextrose

1

tablespoon

coarsely ground black pepper

2

tablespoons

minced fresh garlic

1/3

cup

red wine

1/4

cup

distilled water

5

grams

FRM-52 starter culture,

or T-SPX culture

Hog casings,

preferably 38-42 mm wide casings
Instructions
Start by setting out 1/2 to 2/3 pound of the pork and dicing it fine. I like doing this because it varies the grind within the sausage from very fine to chunky. To me, this is more interesting. You can run it all through the grinder if you prefer, or if you think someone will get all crazy if they see big pieces of fat in their salami. Cut the remaining fat and meat into chunks that will fit into your grinder. Trim as much sinew and silverskin as you can.

Put both the diced and chunked fat into separate containers in the fridge. Mix the salt with the meat and put it in the fridge overnight. This helps develop myosin, which will give you a tighter bind when you stuff the links later.

The next day, put the fat and your grinding equipment -- blade, coarse and fine die, etc -- in the freezer. Mix the Instacure, garlic and half the black pepper into the meat. Put that in the freezer, too. Let everything chill down until the meat hits about 28°F or so. It won't freeze solid because of the salt. Normally this takes about 90 minutes. While you're waiting, soak about 15 feet of hog casings in a bowl of warm water, and put the red wine in the fridge.

When the meat and fat are cold, take them out and mix together, but keep the diced fat separate for now. Grind 1/2 to 2/3 of the mixture through the coarse die of the grinder. Grind the rest through the fine die. I do this to vary my grind, which makes for a better texture in my opinion. Sometimes I do 3/4 fine and 1/4 coarse, depending on my mood. The key is variability.

Put the meat and fat back in the freezer while you clean up. Dissolve the starter culture in with the distilled water.

When the meat mixture is back below 35°F, you can mix it. I put the mixture into a big plastic bin with the diced fat, the remaining black pepper, the red wine and the starter culture mixture and mix it by hand for about 2 to 3 minutes. If you do this, you'll know the mixture's cold enough if your hands ache from the chill. Or, you can put everything into a big stand mixer and mix on low for 90 seconds to 2 minutes. I prefer to mix by hand.

Put the sausage in the fridge while you clean up. Run some clean water through your casings to flush them and to see if you have any leaks. Cut lengths of casing of about two feet to 30 inches and set all but one back in the water. Thread the one onto your sausage stuffer.

Pack the sausage into your stuffer and get ready to make the salami. Leave 4 to 6 inches of casing hanging from the edge of the stuffer as a "tail;" you'll use this to tie off the salami in a bit. Start working the meat into the casing, using your fingers to flush any air out of the casing and to regulate the flow. I prefer straight links of about 10 inches to a foot. Remove the link from the stuffer and repeat with the remaining casings and sausage.

Now gently compress the meat within each casing, watching for air bubbles. Heat a needle or a sausage pricker in the flames of your stove to sterilize it, and prick the links to let any trapped air out. Tie off both ends of the link in a double or triple knot (you don't need a specialized butterfly knot with hog casings) and then tie a loop of kitchen twine to one end, making sure the twine knot is underneath the casing knot you just made: This will prevent the twine from slipping off. Hang your sausages from "S" hooks or somesuch on a wooden rack.

To ferment your links, you will need to keep them warm and moist. I do this by putting a humidifier under the hanging sausages and then tenting the whole shebang with big garbage bags that I've sliced open on one end. I also use a water sprayer to spritz my sausages a couple times a day. Doing this prevents the casings from hardening. Keep your sausages hanging at room temperature (65 to 80°F) for two to three days.

Now you need to dry your sausages and turn them into salami. Hang them in a place that is about 50°F to 60°F with about 80 to 90 percent humidity. In most cases you will need to put a humidifier under your links. I also spritz them with water once a day for the first 2 weeks. After the first week of hanging, drop the humidity to 70 to 80 percent. On the third week drop it again to 65 to 70 percent and hold it there until a total of 5 to 10 weeks has elapsed since the salami went into the chamber.

You now have salami. To store long-term, vacuum seal them individually and keep in the fridge. They will last indefinitely this way, and the vacuum sealing will keep them from becoming rock hard. You can also freeze them.
Notes
Note that prep time does not include curing or drying time, which will take about 45 days or so. 
Nutrition
Calories:
1369
kcal
|
Carbohydrates:
6
g
|
Protein:
58
g
|
Fat:
120
g
|
Saturated Fat:
43
g
|
Cholesterol:
250
mg
|
Sodium:
5166
mg
|
Potassium:
1079
mg
|
Fiber:
1
g
|
Sugar:
3
g
|
Vitamin A:
34
IU
|
Vitamin C:
3
mg
|
Calcium:
56
mg
|
Iron:
4
mg
Nutrition information is automatically calculated, so should only be used as an approximation.