As an Amazon Associate I earn from qualifying purchases.
Here is a fish sausage recipe that isn't fishy and tastes great grilled or seared. Homemade fish sausage isn't hard to make, freezes well, and will work with most fish.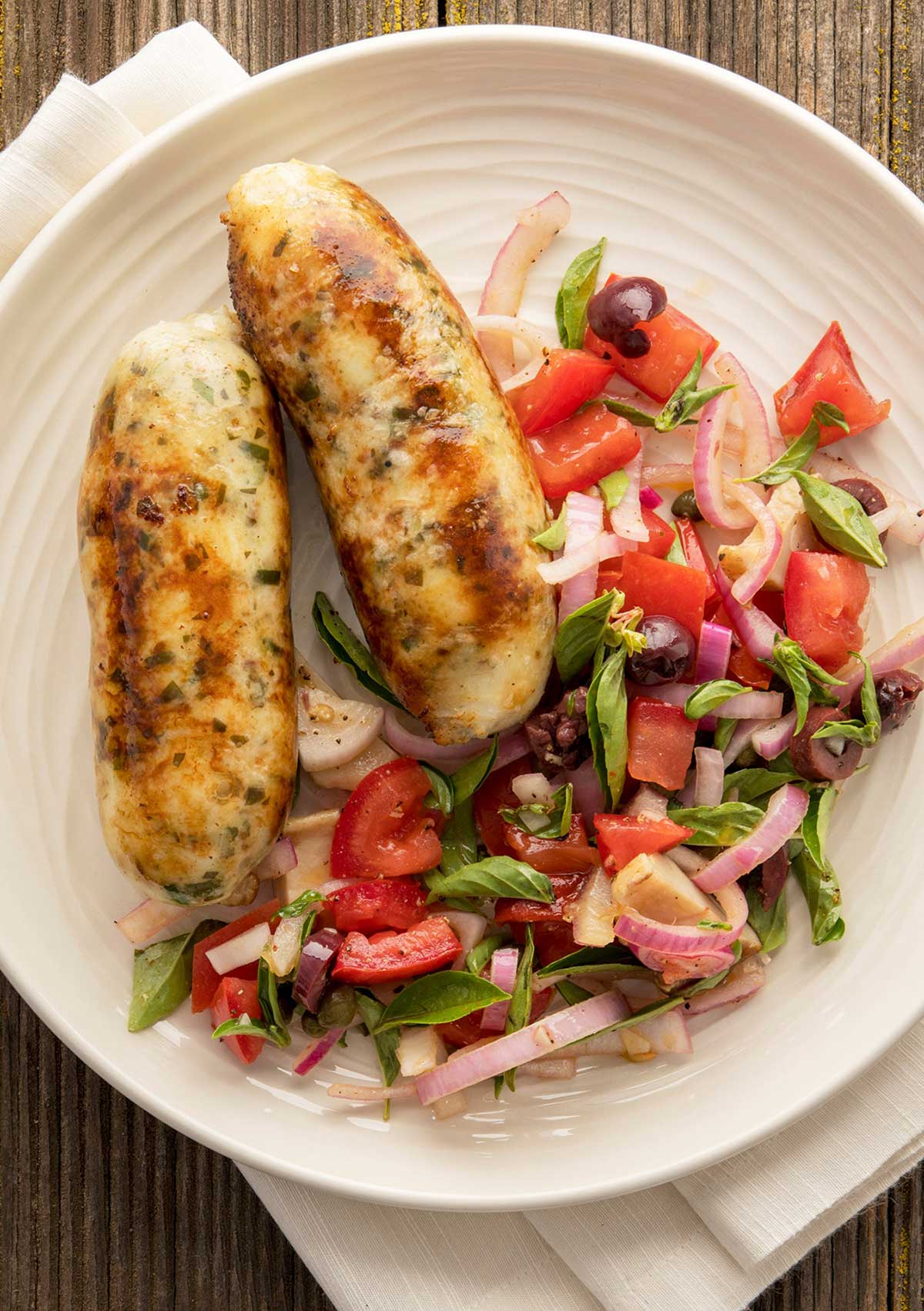 The idea of a fish sausage has always fascinated me. When I was younger, it sounded just… gross. Then I ate a salmon sausage at my sister Liz's wedding party back in the 1990s. It was amazing: Rich, savory, not fishy at all.
Over the decades, I have played with the concept of fish sausage many times. I find they primarily fall into two categories: A mousse stuffed into a casing, or a combination of finely ground fish with hand-cut fish.
This recipe is the latter. The mousse-style sausages are OK, but other than a salmon "hot dog" I made once, they've all underwhelmed me.
This fish sausage has a lot more going on. It has good texture, and it grills or fries up well. You can also poach it in steaming water to pre-cook the links, making them heat-and-eat.
But making a good fish sausage requires a bit of knowledge. I'll walk you through it here.
Fish in Fish Sausage
This one is fairly easy: Basically anything goes.
However, what you put in a fish sausage affects the end result. You'll see my recipe has both fatty and lean fish. This mimics what you'd do in a regular sausage with meat and fat.
This is very important in this style of sausage, as opposed to the fish mousse style, where the meat is emulsified with fat. In this style, the fatty fish bits form the backbone of the fish sausage, while the lean bits are left larger to give you texture.
In an ideal world, you'd make this sausage with fatty salmon belly and something lean, like rockfish, lingcod, or halibut. That would be a Pacific Northwest rendition. Inland, trout and then any panfish, walleye, bass or perch would work.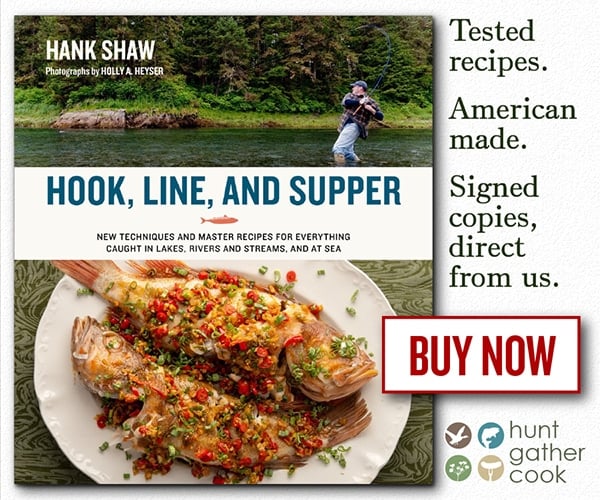 An all-catfish sausage would be good, too, since catfish can get fatty. Use smaller fish, however, because the fat on big cats gets strong-tasting. Snapper and tuna belly is a great choice, too.
You can also go all fatty or all lean.
If you go all fatty, the fish sausage will be great, but very perishable. Make them and eat within a few days. And they won't freeze well for more than a month or two before getting fishy.
If you go all lean, you will need to add about 1/3 cup heavy cream to get at least some fat in there. Otherwise, the sausages can taste chalky and dry.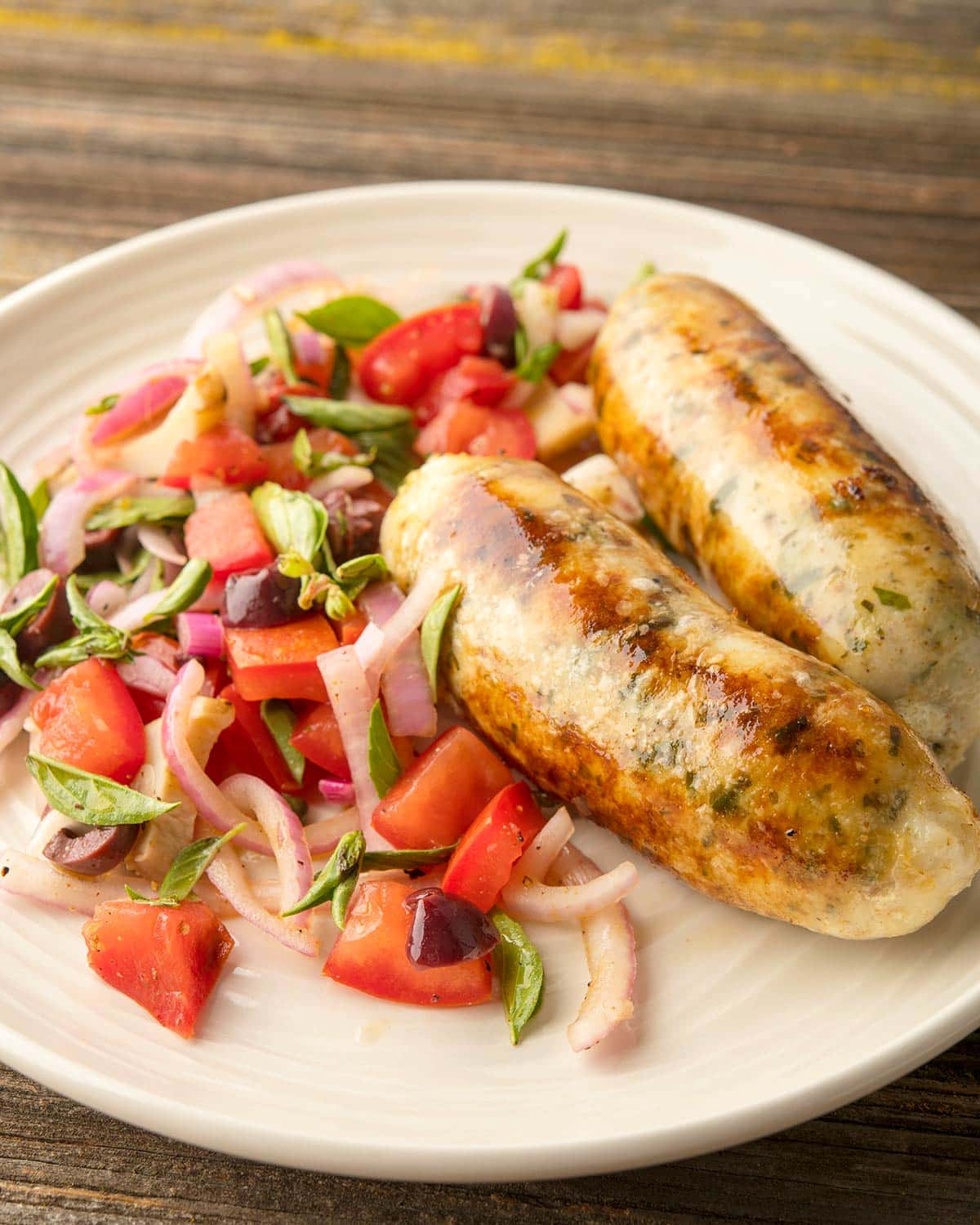 Casings or Not
A word on fish sausage casings. You want casings as thin as you can get them, and while thin hog casings work, sheep casings are better.
The issue is that the sausage itself is delicate, so biting into a link made with a hefty hog casing will mar the experience: You need to put so much pressure on the casing when you bite it that the filling spooges out. This doesn't happen with sheep casings.
I buy my sheep casings here.
You can also choose to leave your fish sausage uncased. In that case, you'll make little patties and serve them like a high-class fish cake. This works really well, and is the way to go if you don't own a sausage stuffer.
Fish Sausage Tips
Another factor in making fish sausage is that you need to work colder than you would with pork. Fish fat is far less saturated than pork fat, and to properly emulsify it, you need to whip it when it's practically frozen. A good hack is to add a little crushed ice when you whip it.
Seasoning is up to you. What I have in the recipe below makes a great fish sausage where you can taste the fish, but if you want to season your links as if they were chorizo or Italian sausage, that works, too.
You'll notice precise measurements here. They matter. If you want to make decent sausage of any kind, you need a scale. Sorry, there are no two ways about it.
Fish sausages will keep for a few days in the fridge and they freeze well.
If you liked this recipe, please leave a ⭐️⭐️⭐️⭐️⭐️ rating and a comment below; I'd love to hear how everything went. If you're on Instagram, share a picture and tag me at huntgathercook.
Fish Sausage
The best fish sausage is made with both fatty and lean fish, but you can make it with only one or the other if you want. The oilier the fish, the quicker these sausages will get fishy, so keep that in mind.
Equipment
1 sausage stuffer

(see notes below)
Ingredients
45

grams

unsalted butter,

about 3 tablespoons

325

grams

minced white or yellow onion,

about 3 cups

500

grams

diced fatty fish,

like salmon or tuna belly or trout

500

grams

lean white fish,

cut into ¼-inch dice

21

grams

salt,

about 2 tablespoons

4

grams

white pepper,

about 1 teaspoon

4

grams

ground anise seed or fennel seed,

about 1 teaspoon

6

grams

whole anise or fennel seed,

about 2 teaspoons

4

tablespoons

chopped chives

4

tablespoons

chopped parsley or lovage

Sheep casings
Instructions
Soak the sheep casings in warm water to rehydrate.

Heat the butter in a pan over medium heat and sauté the minced onion until soft and translucent, but without browning it, about 8 minutes. Turn off the heat and let this cool, then refrigerate the onions. You want them cold before proceeding.

Put the salmon or other fatty fish into a food processor, along with a handful of crushed ice. Process into a fluffy puree, about 1 minute or so. Move this to a large bowl.

Add all the remaining ingredients, along with the cooled onions and any butter you can scrape from the bowl, and mix well with your (very clean) hands until it all comes together in one big ball. This should take about 90 seconds to 2 minutes of kneading and mixing.

Put this mixture into a sausage stuffer and thread the sheep casings onto the funnel. Fill the casings, erring on a little looser than tighter, as sheep casings are fragile. If you break one, move the fish mixture away from the break so you can tie it off, then continue with a new coil. It happens.

When you have the mixture all stuffed, you will want to pinch off links. I like links in sheep casings about four to five inches long. To do this you can tie them off with string, or pinch down with your fingers to make two links – the end link and the one between your fingers. Spin the link between your fingers away from you to tighten the link. You may see air pockets forming underneath the casing; we'll deal with them in a bit. Now move down the coil and pinch off another two links. This time you spin the link towards you. Repeat this process, away from you, then towards you, all the way down the coils. (Here's a video showing you this process.)

When you are done, gently compress the fish mixture in a link at the end, then tie off that link. Do the same on the other end. Now get a needle or a sausage pricker and set the point in a burner until it glows; you are sterilizing it. Us this to prick every air pocket you can find in the links. When you get them all from a link, rotate it in the direction it was made (toward or away from you) to compress the meat into the link and seal up any air pockets.

Put your links in the fridge, uncovered, for up to a day. This tightens them and allows the links to bloom a bit. They will keep for a few days in the fridge and freeze well. I generally grill or pan fry them and serve with a seasonal salad.
Notes
If you want, you can make this fish sausage into patties instead of linking them. If you do this, they will be like high-class fish cakes. 
Nutrition
Calories:
170
kcal
|
Carbohydrates:
4
g
|
Protein:
21
g
|
Fat:
8
g
|
Saturated Fat:
3
g
|
Polyunsaturated Fat:
2
g
|
Monounsaturated Fat:
2
g
|
Trans Fat:
0.1
g
|
Cholesterol:
62
mg
|
Sodium:
865
mg
|
Potassium:
473
mg
|
Fiber:
1
g
|
Sugar:
1
g
|
Vitamin A:
322
IU
|
Vitamin C:
6
mg
|
Calcium:
34
mg
|
Iron:
1
mg
Nutrition information is automatically calculated, so should only be used as an approximation.