Smoked Doves
August 29, 2019 | Updated November 06, 2020
As an Amazon Associate I earn from qualifying purchases.
Smoked doves are easy to make, versatile and are good hot or cold. What's not to love?
There are two origins to this dish. The first is that I'd been meaning to smoke doves for ages. After all, they are a Labor Day tradition in much of the country, and once you have your annual fix of dove poppers, you need some other recipes — preferably those that can be done outside.
Second, as many of you know I've been studying Mexican food a lot lately, and I came across a curious dish of stewed doves in a guajillo sauce in a Spanish-language cookbook that covers the Mexican state of Sonora. And, well, Sonora is just on the other side of Arizona, where I hunt doves a lot. Bingo!
I don't generally like stewed doves. Overcooked dove tastes like liver to me, and not in a good way. But if you cure and smoke your doves first, then just bathe them in your sauce, whatever that sauce may be, you have a fantastic compromise.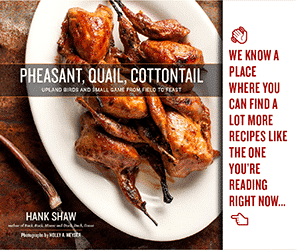 Making smoked doves is easy: Put 1/4 cup of kosher salt (I use Diamond Crystal) into each quart of cool water, along with a teaspoon of Instacure No. 1. This is curing salt, and you use it when smoking meats for food safety and to give meats that characteristic rosy color. You can get it in butcher shops and online. And you can skip it, but I prefer the flavor with the curing salt.
Incidentally, I use plucked doves here. It is super easy to pluck doves, and we have a video here on how to do it.
Submerge your doves in the this brine, in the refrigerator, for 12 to 24 hours, then briefly rinse and drain them. In this state they can sit in the fridge for a day or more.
Arrange your doves breast side up and smoke them over the wood of your choice — mesquite or oak is mine — for about 2 hours over low heat. I use a Traeger, and set it at 170°F. This gives you enough smoke time and you won't incinerate your doves.
If you want to sauce your smoked doves, all you need to do is either paint on the sauce in the last hour, or toss the finished doves in the sauce, wrap in foil and heat in a 350°F oven for 25 minutes or so.
OTHER GREAT DOVE RECIPES
I have 25 dove recipes here on Hunter Angler Gardener Cook, ranging from bacon-wrapped doves to dove enchiladas. Some great Labor Day grilling or barbecue options include:
No doves? This dove recipe works with pigeons or squab, teal, woodcock, rails, quail, or yes, even Cornish game hens.
If you liked this recipe, please leave a ⭐️⭐️⭐️⭐️⭐️ rating and a comment below; I'd love to hear how everything went. If you're on Instagram, share a picture and tag me at huntgathercook.
Smoked Doves with Guajillo Sauce
Consider this a master recipe for smoking small birds. Doves, pigeons, teal, snipe, rails or quail will all work with this recipe. The sauce is something I like a lot, but you can use whatever sauce you'd like.
Ingredients
16 to 20

doves, quail, snipe or sora rails, or 8 pigeons or teal

1/2

cup

kosher salt

(I use Diamond Crystal)

2

quarts

water

1

teaspoon

Instacure No. 1

(optional)
GUAJILLO SAUCE
8

dried guajillo peppers,

stems and seeds removed

2

tablespoons

tomato paste

1

small white onion,

quartered

5

cloves

garlic, unpeeled

1

teaspoon

dried Mexican oregano

1/4

teaspoon

allspice

1/4

teaspoon

ground coriander

2 to 6

hot chiles, such as arbol

Salt and lime juice to taste
Instructions
Dissolve the salt and curing salt into the water and submerge the doves in it. Set this in the fridge for no less than 4 hours, and no more than 24 hours; I prefer 12 hours. Remove, rinse briefly and pat dry.

Get your smoker going to about 170F to 200F. Use whatever wood you like, but I prefer mesquite or oak. Smoke your doves for 2 hours, with smoke going the whole time.

Meanwhile, make the sauce. Pour boiling water over the dried chiles to rehydrate them. While this is happening, char the onion and garlic in a hot, dry skillet until you get some nice blackening. Peel the garlic and put it in a blender. Roughly chop the onion and put that in there, too.

Put the guajillo chiles and all the remaining ingredients into the blender and puree. Thin the sauce with some of the chile soaking water, lager beer or water. Adjust the seasoning with salt and lime.

You can either paint the doves with this sauce in the last hour of cooking, or you can remove the birds from the smoked, cut then in half with kitchen shears or a knife, and then bathe them in the sauce. Serve with plenty of napkins and a bone bowl. Watch out for birdshot!
Nutrition
Calories:
60
kcal
|
Carbohydrates:
11
g
|
Protein:
2
g
|
Fat:
2
g
|
Saturated Fat:
0.4
g
|
Polyunsaturated Fat:
0.4
g
|
Monounsaturated Fat:
0.5
g
|
Cholesterol:
4
mg
|
Sodium:
14244
mg
|
Potassium:
287
mg
|
Fiber:
3
g
|
Sugar:
5
g
|
Vitamin A:
1996
IU
|
Vitamin C:
7
mg
|
Calcium:
52
mg
|
Iron:
1
mg
Nutrition information is automatically calculated, so should only be used as an approximation.